This article is about the episode. You may be looking for the song of the same name.
All or Nothing
is the twenty-second episode of
Glee's
fourth season
and the eighty-eighth episode overall. It is the season finale and it premiered on May 9, 2013.
Regionals is finally here, but due to an inconvenient situation, the competition is held at McKinley High. But before New Directions can hit a single note, drama occurs when Brittany comes back from her MIT visit with a different attitude and yet, an opportunity, while Marley covers up the catfisher that Ryder has been searching for, causing Ryder not wanting to perform at Regionals. Due to Brittany's unusual behavior, Sam tries to solve it by bringing Santana back to Ohio, while also trying to convince Blaine to stop his planned proposal between himself and Kurt. In New York, Rachel prepares for the callback for Funny Girl. 
The episode was directed by Bradley Buecker and written by Ian Brennan.
Plot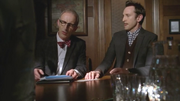 Brittany's interview at MIT results in two contrasting revelations: while the staff determines that from her test scores Brittany appears to have little to no academic ability, the numbers she's doodled on the back of her notepad to get them out of her head appear to be of great scientific significance when viewed in various sequences. They have dubbed it "The Brittany Code." Believing that she might be a singular, Einstein-level intellect in some respect, MIT plans a unique proposition for her.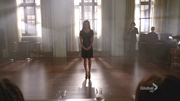 Will reveals that the Regionals competition will now be held in the William McKinley Auditorium, and reminds New Directions that they need to bring everything they've got to the stage; "All or Nothing." Ryder is preoccupied wondering about the still-mysterious identity of his "catfish," Katie. Meanwhile, performing Celine Dion's To Love You More, Rachel auditions for the role of Fanny Brice in Funny Girl. She pours everything into her performance, ending with tears running down her cheeks, but the reaction of the casting team is utterly unreadable.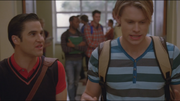 Sam urges Blaine to reconsider his plan to ask Kurt to marry him, but Blaine is determined - not only is he going to go through with it, he wants Sam to be his best man. As Joe and Sugar return to the glee club, Will runs down the set list, but Brittany insists on changing everything to showcase her, by singing My Cup with Artie before unleashing a ridiculous set of demands based on her new confidence in her "megawatt star power." When her friends are stunned by her behavior - including Sam, whom she dumps via text message - she says she's just embracing Will's "All or Nothing" mentality.
Brittany dramatically quits the Cheerios, burning her uniform in front of Coach Roz and posting a manifesto filled with reasons why she can't be on the squad anymore. Ryder demands that "Katie" reveals herself or he won't participate in Regionals. Finally, Marley admits that it was her, despite her previous insistence that she wasn't responsible, and Ryder's shock is compounded when Jake defends her.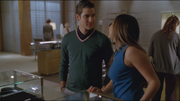 Tina helps Blaine shop for a wedding ring, and he's aided by Jan, a compassionate jewelry store employee who's proud that the LGBT community is on the brink of marriage equality. Sam shows up to support Blaine, and Jan offers to help Blaine navigate his plan so he can "see what's possible when two people really love each other."
When Will and Sue confront Brittany about her demanding behavior, she insists she'll only discuss things on her own terms - on her Internet chat show "Fondue For Two" Among Brittany's revelations, she's determined that singer Michael Bolton is the father of Sue's daughter, Robin. Meanwhile, a concerned Sam asks for help from Santana, the only person he thinks can get through to Brittany and learn what's really happening.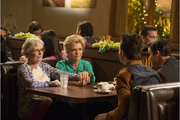 Kurt and Blaine have dinner at Breadstix with Jan and her partner Liz, who recount how different it was for them growing up as lesbians during their formative years - but somehow they made it work. Blaine's taken aback when Kurt casually points out that he and Blaine aren't a couple, but the evening takes a happier turn when Jan asks Liz to marry her.
Marley tries to apologize to Ryder and bring him back to the glee club. He demands an explanation as to why she's strung him along all this time, but the answer is even more shocking: Unique reveals herself as the real Katie. After she was drawn in too deep in her anonymous online flirtation with Ryder, Unique revealed her secret to Marley. She says she never felt so close to someone without her exterior getting in the way. She apologizes, hoping they won't lose what they have, but Ryder tells her they don't have anything and that he'll never speak to her again. Meanwhile, back on "Fondue for Two," Santana confronts Brittany about her behaviour and Brittany says that she has to tell her something really important.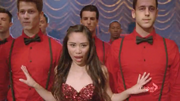 As Regionals kick off, The Waffletoots start the competition by singing Paul Williams and Kenneth Ascher's Rainbow Connection. Back in the choir room, Ryder has decided to perform with the New Directions, seeing as he is only angry with Unique and doesn't want to punish the rest of the glee club, but tells them that he'll be leaving the New Directions after Regionals. The Hoosierdaddies and their lead singer Frida Romero power through their dynamic set of Zedd's Clarity and Little Mix's Wings, but Sam is pleasantly distracted by the surprise arrival of Brittany.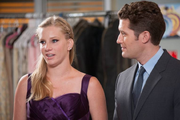 During their show circle, Brittany reveals that MIT offered her an early admission and wants her to leave immediately, causing her to have a meltdown. Having been told she was stupid her entire life, she feels that when glee club helped her believe she might be smart after all, the whole world started to believe it, too. Paying a tearful tribute to her friends, especially Sam and Santana, she says that they're like family to her and that she's really gonna miss all of them, before heading into her final performance.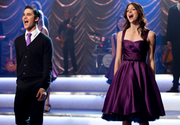 New Directions launch their performance with Hall of Fame by The Script and will.i.am, followed by Icona Pop's I Love It, and culminating with Marley's original song All or Nothing. The judges' scores come in, and once again New Directions take first place at Regionals, while the Hoosierdaddies take second place.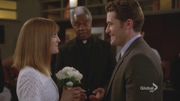 Back in the choir room Emma makes an unexpected appearance with a priest in tow; she and Will are throwing a surprise wedding. The New Directions, Mercedes, Kurt, Santana and Mike hum the wedding march as Emma walks down the aisle and ties the knot with Will amid cheers as Blaine clutches his own ring box and plans to pop the question to Kurt.
Songs
Guest Cast
Guest Stars
Amy Aquino as Funny Girl producer
Patty Duke as Jan
Bob Bancroft as Donald Langdon
Jack Plotnick as Leonardo Hauptman
Absent Cast Members
Trivia
The letters in the title-card are written in colorful crayon and the Glee logo holds the notation "By Brittany," also written in crayon.

This is the ninth time that the episode is named after a song sung in it, the others being Home, Dream On, Silly Love Songs, Blame It on the Alcohol, Born This Way, I Kissed a Girl, Extraordinary Merry Christmas, and Diva.
"Wemma," Will and Emma's ship name, is mentioned for the first time in the series.
This is the first episode where we see Santana blonde (with highlights).
This is the first season finale where Will did not sing a solo.
This is the only finale where Mercedes and Kurt did not sing.
This is the only finale where Marley is present.
This is the first season finale where Finn, Quinn, and Puck are absent.
This is also the first season finale where Finn and Puck do not sing at all.
This is the last episode where Brittany, Mercedes and Mike appear as main characters.
This is the second time a season ends with a Regionals competition. The first being Season One.
This is the first season finale that ends in a competition where New Directions win. New Directions won the 2015 Nationals much later in Dreams Come True.
This episode had a rating of 2.0 with 5.92 million viewers. Source
This is the second time a wedding takes place after Regionals. The first time was the planned wedding between Rachel and Finn in the episode, On My Way.
The Regionals dresses worn by the girls are the same style as the dresses in On My Way.
This episode marks the last appearance of Sugar and Joe until A Wedding and The Rise and Fall of Sue Sylvester.

This is the last time they are seen as a William McKinley High School student as they would graduate off-screen later.

This episode was submitted for consideration of Patty Duke for the 2013 Emmy's.
Brittany mentioned her "95 Theses" when she is nailing a paper into Roz's office is a reference to Martin Luther's Ninety Five Theses that he nailed to the Church of Wittenberg's door.
When Brittany goes around the circle describing the members of Glee as her family, she does not mention Kurt, Rachel, Quinn, Puck or Finn even though they were with her for three years and Quinn was a part of the Unholy Trinity.
This and Dreams Come True are the only finales to not be directed by Brad Falchuk.
This is the last time on the series that the season finale was in the twenty-second episode. Season Five ended on its twentieth episode while the final season of the show, Season Six ended on its thirteenth.
Deleted Scenes
An extended version/scene of the Wemma ceremony where Blaine pops a bottle of champagne was shown in the promo for the episode. Source
A mini dialogue between Kurt and Santana while they were crying in the auditorium. Source
Errors
In the beginning of the episode, one of the men in the room with Brittany says that she has never gotten higher than a D minus, according to her 0.2 GPA. But in Britney 2.0 she shows Sue a test and says she got a C minus.
At the end of Hall of Fame, Joe can be seen with his hands behind his back. However in the next shot, his hands are by his sides.
Quotes
"

This is our moment.

"

—Will Schuester
"

Brittany, you lack a basic understanding of even the simplest arithmetic.

"

—Leonardo Hauptman
"

I thought you were gonna tell me that I was an idiot and, that's bullying and I won't tolerate that.

"
"

Brittany: Tina, please make an exact replica of Jennifer Lawrence's Oscar dress.

Tina: Aaahnn, no.

"

—Brittany Pierce and Tina Cohen-Chang
"

As fascinated as I am by your down-filled, pillow-soft lips, that are ten times too big for your face, I really miss my sweet sweet lady kisses. Sorry slash not sorry.

"
"

Oh! Lord Jesus, this fool done tried to set my hair on fire!

"
"

Ryder: I can't take it anymore! It's tearing me apart. And someone in this room is playing games with me and I want to know who!

Kitty: Well, now nobody is going to admit it for fear of being murdered.

"

—Ryder Lynn and Kitty Wilde
"

Well, If you were asking me to marry you, I'd want that big one. My fingers are on the larger side, and you have to figure with my build, after we have a few babies, I may put on a couple of pounds.

"

—Tina Cohen-Chang
"

I mean, he wants to do me, but we're just friends.

"
"

Tonight's guests are two sworn enemies who became friends, then became enemies again, then became friends again, then enemies, and then everybody stopped caring.

"

—Brittany Pierce
"

Do you plan on having children or just continue to have weirdly intimate relationships with high school students instead of children?

"

—Brittany Pierce
"

And just in case you're wondering, Michael Bolton is a fantastic lover. We did it all night, Will. We did it every which way.

"
"

I'm sorry, did hell just freeze over or did you just White Chocolate butt-dial me?

"
"

My entire life, people have always told me that I was stupid. And after a while I started to believe them. And It wasn't until I walked in this room and I joined this club that I really started believing in myself. And as soon as I did that, as soon as I started believing that maybe I was smart after all, I think the whole world did, too. And I'm really gonna miss you, guys. 'Cause you guys are like my family.

"

—Brittany Pierce
"

Will, just as I know that the sky is blue, I know that you and I are meant to be together.

"

—Emma Pillsbury
Gallery
Community content is available under
CC-BY-SA
unless otherwise noted.