Spider-Man: No Way Home Trailer Dropped - The Loop
Play Sound
Amber Patrice Riley, born February 15, 1986,[1] is an American actress, dancer, and singer. She is known for her role as Mercedes Jones on Glee.
Personal Life
Riley was born to Elwin Riley and Tiny Hightower[2] in Los Angeles, California.[1] She grew up in La Mirada, California and has two older sisters, Toyia and Ashley.[2] She attended La Mirada High School.
Riley announced her engagement to boyfriend, Desean Black, in November 2020.
Career
Film and Television
Riley auditioned for American Idol at age seventeen but didn't make it past producers.[3]
She auditioned for the role as Effie White in the 2006 movie musical Dreamgirls however Jennifer Hudson was chosen instead.
Riley was casted as Mercedes Jones in 2008 and has had a main role on Glee from 2009 - 2012. Her role from then on was reduced to a guest role.
Riley was announced, in August 2015, to have joined NBC's upcoming live-action remake of The Wiz, titled "The Wiz Live". It aired on December 3rd and she portrayed Addaperle, the Good Witch of the North. [4]
Riley appeared in UP's television movie musical My One Christmas Wish as Jackie Turner, which is based off a true story of Turner.[5]
In 2017, Riley appeared as a judge on BBC One musical theatre talent show Let It Shine. 
Riley began filming for Tyler Perry's film Nobody's Fool on April 4, 2018. Filming lasted through April 20, 2018. Riley has wanted to work with Perry for sometime. During an interview with AOL Build, Riley stated: "It was amazing. I actually put Tyler in the bullseye of my dream book. I do a dream book at the end of the year and he was in the bullseye on the page. I really wanted to work with him. And I got the audition in January and then I booked it, and was like 'Wow that was fast God, thanks!' ... I had to bring my A Game and I had so much fun. Everyone was just inviting ... It was a dream come true. I hit the bullseye." [6] The film went on to earn $33.5 million at the box office.  
Stage
In 2012 Riley made an impressive New York stage debut, in an off-Broadway production of Cotton Club Parade. [7]
On August 1st, 2014 Riley starred in 'Hair the Musical' alongside friend and Glee co-star Jenna Ushkowitz. The Adam Shankman directed production was shown at the Hollywood Bowl. [8]
On February 5, 2016 it was announced that Riley would star as Effie White in the West End production of Dreamgirls musical at the Savoy Theatre. Riley went on to win the 2017 Olivier Award for Best Actress in a Musical for her turn as Effie. [9] Her run with the production lasted from December 2016 to November 18th 2017. [10]
On Feburary 24, 2018 Amber performed 'I Never Loved a Man (The Way I Loved You)' with American singer and stage actress Shoshana Bean at Bean's concert, 'For The Record Presents Shoshana Bean' at Spectrum Live in Los Angeles. [11][12] She had an amazing time saying Bean "melted my face with her vocals!"
On June 14, 2018 Amber sang at the 2018 National Geographic Awards at GWU Lisner Auditorium on June 14, 2018 in Washington, DC.
Music
Riley's debut single was titled "Colorblind". It was premiered live on April 3, 2014, on The Queen Latifah Show. The song was written by Emeli Sandé, Claude Kelly and Steve Mac. The song was later performed by Riley on Glee on an episode titled Bash (Season Five, Episode Fifteen).
The Leading Ladies
In 2017 Amber joined British soul singer Beverley Knight and British theatre star Cassidy Janson to form a musical theatre supergroup, known collectively as Leading Ladies and signed to East West Records/Warner. Amber is the only American member of the British-American group.
Formation
The idea for forming Leading Ladies was developed by Beverley Knight after she was approached by her label East West to record a musicals themed album. Knight turned down the idea, as she did not want to record a solo album of show tunes. [13] However, after Knight had a health scare she decided to try something new. Amber was approached by East West for the Leading Ladies, after Knight saw Amber performing "And I Am Telling You I'm Not Going" live on The Graham Norton Show while promoting Dreamgirls. [14] [15]
Songs From the Stage
Their debut album, Songs from the Stage, was released on November 17, 2017. Produced by Grammy Award-winning British producer Brian Rawling, the album features fourteen songs from musicals including Hamilton, Cats, Rent, Dreamgirls, Funny Girl, The Bodyguard, Memphis, and Beautiful: The Carole King Musical. [16] [17] Amber has two solo tracks on the album:  "The Wind Beneath My Wings and "Have Yourself a Merry Little Christmas"
The music and vocal arrangements were done together as a group. However, because of their busy individual schedules most of the recording occurred separately within a two-week period. During the recording of Songs from the Stage, Riley and group member Janson were still both contracted to perform in the West End. Beverly Knight was recovering from surgery and due to go on her I Love Soulsville UK tour. [18]
The Leading Ladies released their debut single, "One Night Only" (originally from the musical Dreamgirls) on October 6th 2017. [19] The single peaked on the A-list at BBC Radio 2. [20]  
Amber appeared on the Graham Norton Show for a second time, this time with her Leading Ladies group members. Because Amber would eventually be returning to America , questions were raised by Norton about whether the singing group was "going to be an ongoing thing". Riley responded: "We've had so much fun doing it. We're just trying to see what this album is going to do. We don't really know what this is (motioning to Leading Ladies members) exactly. But, we know that we like the way that it sounds, and the way that it feels, and we're having fun."
The group promoted the album by performing the track "Wind Beneath My Wings" on BBC Children in Need [21] and "I'm Every Woman" on Strictly Come Dancing [22].  The second single from the album was revealed on 27 November 2017 to be a double A-side single of "I'm Every Woman" from The Bodyguard and "Have Yourself a Merry Little Christmas" from Meet Me in St. Louis.
"Songs from the Stage" debuted within the top 20 of the UK Albums Chart and the Scottish Albums Chart. [23] [24]
Songs From the Stage Track list
| No. | Title | Writer(s) | Producer(s) | Length |
| --- | --- | --- | --- | --- |
| 1. | "One Night Only" | Tom Eyen & Henry Krieger | Brian Rawling & Paul Meehan | 3:00 |
| 2. | "Seasons of Love" | Jonathon Larson | Brian Rawling & Paul Meehan | 3:02 |
| 3. | "I'm Every Woman" | Valerie Simpson & Nickolas Ashford | Brian Rawling & Paul Meehan | 4:35 |
| 4. | "(You Make Me Feel Like) A Natural Woman" | Gerry Goffin, Carole King & Jerry Wexler | Brian Rawling & Paul Meehan | 3:14 |
| 5. | "The Wind Beneath My Wings" (Amber Riley solo) | Larry Henley & Jeff Silbar | Brian Rawling & Paul Meehan | 4:01 |
| 6. | "Helpless" (Rap by Sky Adams) | Lin-Manuel Miranda | Brian Rawling & Paul Meehan | 3:54 |
| 7. | "Memory" | Andrew Lloyd Webber, T.S. Elliot & Trevor Nunn | Brian Rawling & Paul Meehan | 4:29 |
| 8. | "Somebody to Love" | Freddie Mercury | Brian Rawling & Paul Meehan | 3:48 |
| 9. | "Falling Slowly" | Markéta Irglová & Glen Hansard | Brian Rawling & Paul Meehan | 3:53 |
| 10. | "Love Will Stand When All Else Falls" (Beverley Knight solo) | Joe DiPietro & David Bryan | Brian Rawling & Paul Meehan | 3:28 |
| 11. | "Raise the Roof" | Lippa | Brian Rawling & Paul Meehan | 3:11 |
| 12. | "Will You Love Me Tomorrow" | King & Goffin | Brian Rawling & Paul Meehan | 3:57 |
| 13. | "Don't Rain On My Parade" (Cassidy Janson solo) | Jule Styne & Bob Merrill | Brian Rawling & Paul Meehan | 2:47 |
| 14. | "Have Yourself a Merry Little Christmas" (Amber Riley solo) | Hugh Martin & Ralph Blane | Brian Rawling & Paul Meehan | 2:34 |
| | | | - | - |
| | | | Total Length: | 49:53 |
Fashion
Riley was called a "Curvy Style Icon" by Huffpost for her stylish figure flattering fashion choices. [25] She and her sister Ashley launched a plus-sized online clothing boutique, "Rileyland Fashions," in January 2014.[26] As of 2018, the boutique is still in operation.
McRiley
She and Kevin announced that they will co-host a radio show every Friday. It airs on Dash Radio and is titled "McRiley", their ship/mashed together name; it began on September 26, 2014 - the same day it was announced.[27][28] The radio show lasted for eleven episodes from September 26, 2014 to January 23, 2015.
Dancing with the Stars
Riley and Dancing with the Stars partner, Derek Hough, won the seventeenth season.[3] This win makes Riley the first African American woman to win Dancing With the Stars. [29]
Performances:
Week #
Dance/Song
Result
1
Cha-Cha-Cha/"Wings"
No Elimination
2
Jive/"Reet Petite"
Safe
3
Charleston/"Bang Bang"
Safe
4
Tango/"Love Lockdown"
Safe
5
Foxtrot/"Try a Little Tenderness"
Safe
6
Samba/"Get It Right"


Switch-Up Challenge

No Elimination
7
Paso Doble/"Diablo Rojo"


Group Dance Freestyle/"The Fox (What Does the Fox Say?)"

Safe
8
Rumba/"If I Could Turn Back Time"
Safe (Immunity)
9
Quickstep/"That's It!" 


Salsa (Trio challenge)3/"Que Viva la Vida"

Safe
10

Semi-finals

Jazz/"Locked Out of Heaven"


Viennese Waltz/"Locked Out of Heaven" (Acoustic Version)

Safe
11

Finals

Charleston/"Bang Bang" 


Samba relay/"No Scrubs"
Freestyle/"Can You Do This"

Safe
Quickstep & Samba Fusion/"(Your Love Keeps Lifting Me) Higher and Higher"
WON
Filmography
Year
Title
Role
Notes
2002
St. Sass
Toby
2009-15
Glee
Mercedes Jones
Series regular (Seasons 1-4, 6)

Recurring guest star (Season 5)

93 episodes

2009
Entertainment Tonight
Herself
The Teen Choice Awards 2009
Herself
The Bonnie Hunt Show
Herself
2010
The Simpsons
Aeisha
Episode, "Elementary School Musical"
2011
Glee: The 3D Concert Movie
Mercedes Jone
Concert Film
2012
Cotton Club Parade
Performer
New York City Center, Off-Broadway
2013
Dancing with the Stars
Herself
Season 17 winner
2014
Hair
Dionne
Hollywood Bowl
2015
My One Christmas Wish
Jackie Turner
Television Film
The Wiz Live!
Addaperle
Television special
2016
Crazy Ex-Girlfriend
Dream Ghost #2
Season 1: Episode 15: Josh Has No Idea Where I Am!
2016-17
Dreamgirls
Effie White
Savoy Theatre, West End
2017
Let It Shine
Herself/Guest Judge
Auditions stage
2018
Nobody's Fool
Post-production
Links and Social Networks
Trivia
She auditioned for American Idol when she was 18, but she was rejected.
The first song she sang in front of an audience was "Just a Prayer Away" by Yolanda Adams.
She's best known for being the "prankster" of the Glee Cast.
She's obsessed with shoes.
She loves fish and had one for 3 years.
She loves pizza.
She had never been to New York until Glee sent her.
When she heard about the Glee audition, she thought it was just a singing role.
Amber has a tattoo of the "not of this world" (A Christian clothing company) logo on her wrist.
She claims that her "life was made complete" when she performed for President Obama in 2010.
She appeared on Barney & Friends as a child.
She is obsessed with guys who have braces.
One of her favorite things is Oprah.
Her twitter name was originally MsAmberRiley, however, after her account was hacked, she deleted her account. She returned as MsAmberPRiley.
She auditioned for Glee with And I'm Telling You, which song she also sung in Sectionals.
Nip/Tuck creator Ryan Murphy cast her in his failed pilot St. Sass; he later cast her in Glee.
She used to work at the Ikea in Carson, California. They also had singing competitions for the employees and she always won.
She's a light lyric soprano, with her range being F3-C6.
She auditioned in 2006 for the movie Dreamgirls, but was turned down because of her age.
Chord Overstreet thinks that she is the best singer he has ever heard.
Before the panel presentation on Tuesday May 1, she fainted on the red carpet.
Like Naya Rivera, she is also working on a solo album. Music producer Adam Anders who produces Glee's music will also be producing hers.
She appeared on American Idol winner, Fantasia's new album, Side Effects of You.
She appeared in the 17th season of Dancing With the Stars, and was announced the winner alongside Derek Hough who is also Riker's cousin. She is the first African American woman to win Dancing With the Stars.
Her Dancing With the Stars partner Derek tried bribing his sister and former dance partner, Julianne, with ten dollars to give them a good score for their tango during week 4. Julianne overall gave them a 9. 
She is the first Glee star to be on DWTS, the second being NeNe Leakes who played Coach Roz Washington. 
She cowrote The Saturday's "Leave A Light On", which is on their album Living For the Weekend.
Her first single "Colorblind" debuted on April 8, as well as being sung in the episode Bash.
Her favourite Michael Jackson song is Human Nature which she sang on Glee with Chord Overstreet.
Jenna, herself, Chris and Kevin referred to their friend group as "Jack".
Quotes
"

As long as you are being true to yourself, you will always find happiness.

"

—Amber Riley
"

I have great friends around me that are positive and I think that's the key to life is making your own path. Set your own rules because there is no set rule, there is no set look, there is no set anything. You make your own rules in your life. You make your own decisions.

"

—Amber Riley
"

I love myself.

"

—Amber Riley
"

I want to encourage young women to stand up for each other and speak up when they see others in a tough situation.

"

—Amber Riley
"

If I could be anything other than an entertainer, I would be an event planner. I love planning parties.

"

—Amber Riley, Twitter
"

I mix my own natural oils and oil it every weekend. Also wrap my hair every night and take biotin.

"

—Amber on her hair regimen
"

There is nothing like the smell of the pages in an old book, the internet can't provide that.

"

—Amber Riley
"

Shine from the inside out, work on being a person. Don't put so much effort in the outside. Put SOME effort but not at all!  Source

"

—Amber Riley
Gallery
Videos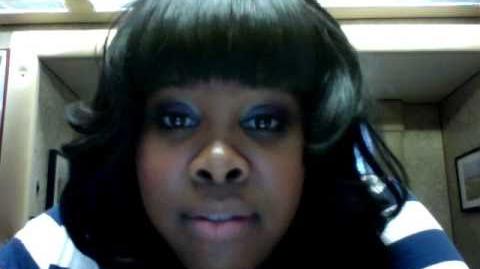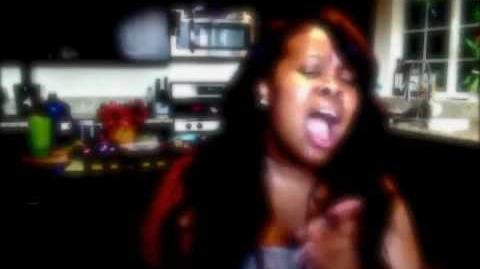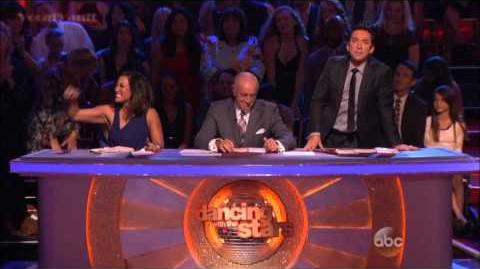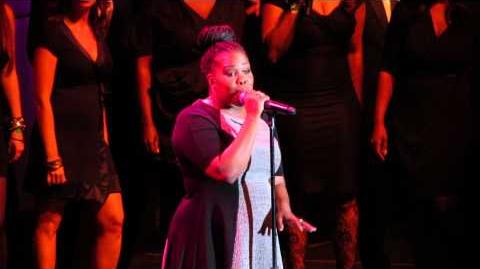 ---
References