Aural Intensity is the Glee Club of Westvale High School in Fort Wayne, Indiana. They competed at the 2010 and 2011 Midwest Regional Championships. Their Modus Operandi is to "kiss up" to the judges of the competitions they go to by singing songs that appeal to them.
Season One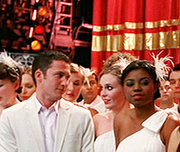 As was overheard from New Directions' green room, they performed a mash-up of Magic and You Raise Me Up sung by Olivia Newton-John and Josh Groban respectively, coming second to Vocal Adrenaline. Sue voted them as the runners-up, and while it's assumed that the other judges did as well, their votes were never revealed. Sue calls them the "not at all stupidly named" Aural Intensity.
Season Two
Mr. Schuester announces that Aural Intensity will once again compete against them at Regionals this year. Sue announces at the end of the episode that she has become their director of the group saying that she had "the music in her" and as such can continue threatening New Directions' existence. Later, in Blame It on the Alcohol, Sue reveals that she pushed the "chipper homosexual" director of Aural Intensity down the stairs twice, in order to suffeciently injure him to take over the job.
Aural Intesity "kiss up" to the judges again by singing
Jesus Is My Friend
. The rest of their set
-list is unknown, though Sue implied that it contained similar songs. They do not win over all the judges as Sister Constance believes it to be "cheap pandering" which she hated even as a stripper and Rod presumably agrees, though it wins over Tammy-Jean. As a result they do not win leaving Sue very angry and she punches Carla Turnington-Stevens.
Known songs
Trivia
Neither of their songs were released.
Comfort Fedoke and Lauren Froderman from So You Think You Can Dance perform in Jesus Is My Friend. Fedoke also appears as a back-up Troubletone in Season 3.
First Glee Club from Indiana, with the second being The Hoosierdaddies and the third Throat Explosion.
Gallery
Community content is available under
CC-BY-SA
unless otherwise noted.