Rebecca "Becca" Grace Tobin
, born January 18, 1986,
[1]
[2]
is a 32-year-old American actress. She portrayed Kitty Wilde on
Glee
, making her first appearance in the first episode of
Season Four
,
The New Rachel
and her last appearance in the thirteenth and final episode of
Season Six
,
Dreams Come True
.
Personal life
Becca grew up in Marietta, Georgia as the youngest of two girls and the daughter of two attorneys.[3] She was a cheerleader in seventh and eighth grade, but says it wasn't for her[4] and did dance after that.[5] She transferred schools halfway through her senior year. Having transferred from a theater arts school to a public one, she began to get bullied by girls who called her "theater freak" and "nerd."[6] They told her she would never become successful or a star,[3] and one girl threatened to beat her up.[7] She also received harsh text messages and her only friend began to ignore her. Because of the bullying, she began skipping school events, like pep rallies,[8] and didn't walk at her graduation.[7]
She supports anti-bullying and is the female spokesperson for Bullyville.[6] She graduated from Wheeler High School in 2004.[3] She is an alumnus of AMDA, a performing arts college.[9]
Tobin graduated as valedictorian[10] of AV University in June 2013 after seven years.[11]
She was in a relationship with Matt Bendik[12] up until his passing on July 10, 2014.[13]
On May 17, 2016, Tobin announced on Tuesday´s episode of her LadyGang podcast, that she and boyfriend Zach Martin got engaged.[14] She and Martin married on December 3, 2016. Jane Lynch, fellow Glee co-star, officiated the ceremony.[15]
Career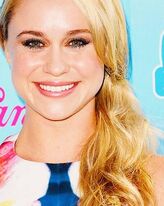 The first time Becca stepped on stage was at age four as a Christmas tree in her school's holiday pageant.
[16]
She moved to New York when she was eighteen to get working right away.
[3]
 She has worked on Broadway as an understudy and replacement for the musical Rock of Ages.
She's done other small theater projects, though most of  them were as an understudy, and toured with the Trans-Siberian Orchestra in 2011.
[5]
She plays Kitty Wilde in the Fox television show Glee. Tobin made her first appearance in the fourth season premiere episode, The New Rachel, and was a regular recurring guest star for the season. It has been reported that she will be a member of the show's main cast in the fifth season. Glee is her first big project. 
She appears in the May 2013 issue of the magazine Maxim.[17][18][19]
She was chosen, along with fellow Glee cast members Jacob Artist, Melissa Benoist, and Dean Geyer as an ambassador for Coca Cola's new product, P10 300 ml Coke Mismo.[20][21] In June 2013, they were flown to Manila, Philippines to endorse the product by visiting different malls and meeting with fans.[22][23]
June Moss
Tobin launched her personal style blog June Moss. It was named after her grandmother June and Kate Moss.
LadyGang
She co-hosts PodcastOne's "Fempire" with Keltie Knight and Jac Vanek. It debuted on December 8, 2015 and is subsequently released weekly (Tuesdays). However, the name would change to "LadyGang" in February 2016. In March 2018, LadyGang began to release quickies that are subsequently released weekly (Thrusdays).
In September 2018, E! announced that the LadyGang would be their new topical series and was inspired by the podcast. The series debuted in October and is subsequently released on Sundays.
Filmography
Broadway
| Year | Title | Role | Notes |
| --- | --- | --- | --- |
| 2009-2011 | Rock of Ages | Multiple roles | Broadway musical |
Television
Year
Title
Role
Notes
2009
Wiener & Wiener
Heather
Episode: "Beyonce's Walk-In Closet"
2012–2015
Glee
Kitty Wilde
Recurring (Season 4 and Season 6)
Regular (Season 5)
2013
Watch What Happens: Live
Herself
Episode: "Shirley Manson & Becca Tobin"
Master Chef
Herself
Season 4: Episode 10
The Late Late Show with Craig Ferguson
Herself
Season 10, Episode 45
Dancing with the Stars
Herself
Season 17, Episode 3
Good Day L.A.
Herself
September 25, 2013
Teen Choice Awards 2013
Herself
August 11, 2013
2014
Drop Dead Diva
Empress Katia
Season 6: Episode 11
Mystery Girls
Kimmee
Season 1: Episode 5
House of DVF
Herself
Omg! Insider
Herself
August 11, 2014
2015
NCIS: Los Angeles
Blaze Talcott
Episode: "Blades of Glory"
2016
SINs
Cordelia Jagger
Episodes: "The Gateway Drug", "The One Who Got Away... ", and "And Then There Were Two "
2017
Dropping the Soap
Tammy O'Rourke
Episodes: "Julian's Choice"
2017
Do I Say I Do?
Jessica Bender
Television film
2018
Love at First Dance
Hope
Television film
2018-present
LadyGang
Herself
Host
Links and Social Networks
Snapchat - @itsbeccatobin
Quotes
"

I wasn't always great at coping with bullying, but I learned over the years. I would sometimes get so sick of being bullied that I would gain courage to strike back at my antagonists, which rarely made me feel better. I definitely had to learn to rise above the animosity or I would have crumbled into a million pieces.

"

—Becca Tobin
"

People say things they would never have the courage to say in person, and it gets really cruel sometimes. Even now, being on the show, I deal with a lot of people saying really mean things to me on Twitter, but I know if I ever met these people that they would never be able to say these things to my face. Or I hope they wouldn't. When I read these things, I just wish so badly that people could be more sensitive and know how much words can hurt.

"

—Becca Tobin
Trivia
Her father is Jewish.[26]
Naya Rivera gave her the best advice out of the original cast members, which was always know your lines and be on time.[24]
Her favorite reality show is The Real Housewives, and she prefers the Beverly Hills and New York shows.[25]
Her guilty pleasure is anything that has chocolate.[25]
She was starstruck when she met Ellen Barkin at a party of Ryan Murphy's.[25]
She spent Thanksgiving of 2012 with Jane Lynch, who invited people who were not able to make it home for the holiday.[25]
She would like to sing country songs on the show. The Dixie Chicks and Miranda Lambert are her favorites.[25]
Her favorite A-list couple is Jennifer Aniston and Justin Theroux.[25]
The best gift she ever received for Christmas was her dog Sophie from her parents seven years ago.[26]
She is a fan of Grease.[16]
Her parents are both attorneys and her older sister also grew up to be an attorney.[3]
Her dog Sophie has a tumor.
Her audition song for Glee was I Kissed a Girl by Katy Perry.[29]
One of her most embarrassing moments on the set of Glee was during shooting for Sadie Hawkins. She tripped in front of a lot of people.[30]
Her favorite Lady Gaga song is You and I.[31]
She prefers action movies to scary movies.[32]
Her favorite thing about Kitty is her attitude.[33]
She prefers pancakes to waffles.[34]
Her favorite food are French fries.[35]
Twix are her favorite candy bar.[36]
Greece is a place she's always wanted to visit.[37]
Although her character Kitty is still in high school, she is older than Lea Michele, Dianna Agron, Amber Riley, Naya Rivera, Heather Morris, and Jenna Ushkowitz who play the six female alumni of Glee.
Her favorite television show is Curb Your Enthusiasm.[38]
If she had to describe the whole Glee cast in one word, she would use "bomb.com."[39]
Her parents' wedding anniversary is September 3.[40]
She prefers coffee to tea.[41]
Colt Prattes, a backup dancer to P!nk, was her prom date.[42]
She co-hosted the twelfth Annual AIDS Project Los Angeles Oscar Viewing Party. Artist Jason Mecier made a portrait of her entirely out of Hot Tamales. It was signed by her and auctioned off to raise money for the organization.[43]
She is a big fan of Grease and Annie. Both made her realize acting is what she wanted to do for a living.[44]
She loves Olivia Newton John, but her favorite character in Grease is Rizzo.[44]
Her best friends are Blake Jenner and Jenna Ushkowitz (confirmed in an interview).[citation needed]
She owns a fashion blog called June Moss.
She stated on her Twitter that the late Paul Walker was her very first Hollywood crush.
Gallery
Videos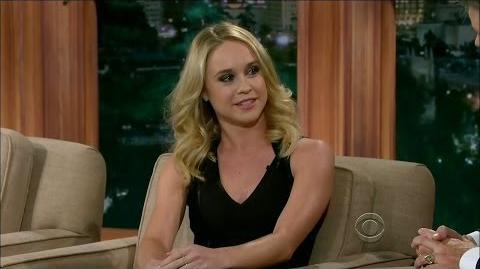 References
Community content is available under
CC-BY-SA
unless otherwise noted.