"

I'm Queen Bee, and I can sting like a bitch! Bzz

"

—Becky Jackson, Dynamic Duets
Rebecca "Becky" Faye Jackson is a recurring character on Glee. She is an alumna of William McKinley High School and also served as Sue's secretary. She was a member of the Cheerios, Sue's minion, and is one of the four characters featured on the show with Down's Syndrome (the other three being Sue's sister Jean Sylvester, Jason (Becky's date in Prom Queen) and Sue's daughter, Robin Sylvester). In her Cheerios audition, Sue speculates there is something special about her. She graduated from McKinley in New Directions, along with Blaine, Tina, Sam, Artie, Brittany and the rest of the seniors. Some time after this, she started a relationship with Darrell.While she served Sue she was considered her daughter.
She is portrayed by actress Lauren Potter.
Biography
Becky was born with Down Syndrome. In Wheels, she is a social outcast and has very few friends, with the exception of Brittany. She later tries out for the Cheerios; resulting in success. She is shown to be Sue's assistant, following her direction and always being with her. She is special to Sue because she reminds her of her sister, Jean.
Personality
When Becky is introduced, she is a kind, innocent and sweet-hearted girl and wants to fit in and be treated just like everyone else. She makes the ambitious move to try out for the Cheerios, and in the end, is successful.
As the series has progressed, she seems to have absorbed much of Sue's personality into her own, often making snarky or sassy comments, though it seems that she doesn't realize how her attitude effects others. Most recently, in Season Five, she became particularly angry, often lashing out at people for reasons that were never explained.
Relationships
Main article: Artie-Becky Relationship (Artecky)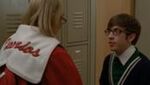 Becky develops a romantic interest in Artie in
Yes/No
, and plans to get him. Throughout the episode, Becky's inner thoughts were heard about her love life. She requested a date, and he accepted, which both had a great time. She was later turned down on another offer, and ultimately dumped. She pretended to assume that it was because she was too intimidating, though Becky really thought it was because she had "Down's," or Down's Syndrome. However, it is clear that Becky still has romantic feelings for Artie in
Naked
when she asks him to sign her Men of McKinley Calendar and is very happy when he complies, hugging it close to her chest. Also, in
A Katy or A Gaga
, Becky is clearly upset when she sees Artie kissing his girlfriend, Kitty. In
Movin' Out
, Artie encourages Becky to consider college for her post-high school plans despite her fear of not being accepted. Artie tells Becky that the only way they both can overcome their fears is to face them and move forward. Artie assures Becky that her friends will always have her back, and the two share a hug. Artie takes Becky to the University of Cincinnati for a tour of an inclusive college program for people with developmental disabilities. With Artie's help, Becky decides that she is ready for college after all and is ready to move on from McKinley High School.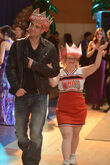 Main article: Becky-Puck Relationship (Pecky)
In
Prom-asaurus
, she attends the
anti-prom
created by Rachel.  When everyone leaves, Puck and Becky play strip poker. Once he loses, Puck crowns Becky as the anti-prom queen with a beer box hat, and then takes her to the senior prom. After that, they plan to put alcohol in the punch and succeed. 
In Prom Queen, she is seen dancing with a boy named Jason. It is revealed in Yes/No that she broke up with him because he likes pizza and she likes hot dogs. In Sadie Hawkins, the two get together again for the Sadie Hawkins dance.
In Jagged Little Tapestry Becky returns to Lima to introduce Darrell, her new boyfriend to her family. It is revealed that Darrell and Becky met at the Quiznos sandwich shop across from where they both go to college. When Quinn, Tina, Roz, and Sue grill Darrell about his intentions with Becky (he does not appear to have a disability) Darrell points out that Becky has a right to have a relationship just like anyone else. Darrell makes it clear that he really likes her. He has also done his research with disability rights advocate groups. Becky and Darrell go on a date to BreadstiX where they talk about how there will be pressure on them because not everyone will understand their relationship. However, Darrell says he will have her back which Becky is pleased by. Becky also apologizes to Darrell for having lied about being the president of some many clubs at McKinley in order to impress him. Darrell is not upset about her lies and even says he had suspected that she might have been exaggerating. They appear to enjoy each other's company on their date.
Appearances
Trivia
Becky was one of the only Cheerios that never had a ponytail in her hair, even a pinup. However, there are Cheerios seen in Bust Your Windows, It's Not Unusual, and Run the World (Girls) who do not have a ponytails.
Becky is possibly the only one that Sue Sylvester never hated, besides her sister, due to her having down syndrome which reminds Sue of her sister.
Becky's favorite movie is Schindler's List. Toy Story 3 is a "close second." (Yes/No)
Prior to Season Three, she was the only person who tried to enter to New Directions but didn't get it. As of The Purple Piano Project, she shares this title with Sugar Motta. However, unlike Sugar, she was denied entry due to time constraints and was offered to audition in the next year.
In Prom Queen, she is seen dancing with a boy named Jason. He is not seen after that though. It is revealed in Yes/No that she broke up with him because he likes pizza and she likes hot dogs. In Sadie Hawkins the two get together again for the Sadie Hawkins dance.
In I Kissed a Girl, Sue states that Cooter is the best thing to happen to her since the day she met Becky.
In Yes/No, Becky stated she could alter her inner thoughts voice to whatever she pleased. In her head, she speaks in the voice of Queen Elizabeth II, voiced by the actress Helen Mirren.
Becky is an excellent poker player. (Prom-asaurus)
Becky is a better speller than Brittany.
In Wheels, it is stated that Brittany cheats off Becky for tests.
She thinks making toast is silly, since bread is already baked. (The Purple Piano Project)
She seems to be very picky when it comes to relationships. She broke up with Jason because he likes pizza and she likes hot dogs, she rejected Puck as a possible boyfriend because she doesn't like his mohawk, she also rejected Rory because he smiles too much and Mike because she was no "rice queen."
She wants to have sex, but claims she will never get it (Yes/No, Prom-asaurus).
She is the only person to be rejected from the New Directions without an audition.
Becky is Nicki Minaj's allegedly biggest fan. (Feud)
In The Quarterback, Santana tells Kurt a story about Becky leaving a piece of chocolate birthday cake on her chair-which Santana sat on, and Finn had to walk behind her so her "chocolate butt" wouldn't be seen by the other students.
In A Katy or A Gaga, Becky claims not to know either Katy Perry or Lady Gaga when Sam approaches her for help getting the word out about the Applause performance. Later on in the episode, she is seen wearing a Gaga costume.
In Movin' Out, during the college tour, Becky is seen out of her Cheerio's uniform for the first time since Funeral.
Although Becky has appeared in other tribute episodes, Movin' Out is the first tribute episode where she has a significant storyline.
Becky is lactose intolerant. (Puppet Master)
Becky has been in detention more times than any other student, which is apparently due to her use of "bad words." For this reason, according to Figgins, detention was also named after Becky: the "Beck-Fast Club." (Puppet Master)
She is possibly bisexual because in Previously Unaired Christmas, she wanted to French kiss Tina and Sam. She has also admitted to making out with a girl, which turned out to be Brittany. (Deleted scene from Mash Off), however these are more than likely throwaway lines to add a comical effect to her character.
She is one of the only recurring characters who doesn't sing on the show.

She was supposed to sing in Puppet Master along with Jake and Blaine, but it was cut.
Gallery
Quotes
"

Am I dreaming? Is this really happening? ...this is really embarrassing.

"

—Becky Jackson about Finn's tryout for the Cheerios, Audition
"

I didn't ask him what I wanted to ask him. I didn't ask if the reason he didn't want to be my boyfriend was because I have Down's. I didn't ask him because I know the answer is yes.
Some days, it sucks being me. This is one of those days. Focus, Becky. Don't let them see you cry.

"

—Becky Jackson about Artie Abrams, Yes/No
"

Puck: So...uh... What should we do now?
Becky: Duh... Play Stip Poker! *whispers* I got condoms!
Kurt: Becky, Blaine and I are gay, remember?
Becky: Never stopped me before! *winks*

"

—Becky Jackson, Prom-asaurus
"

Becky: The meteor made me realize that there is something I really wanna say to you. Brittany, I've always looked up to you!
Brittany: Thank you, Becky.
Becky: Let's both not ever graduate. The world out there is really scary. Someday they will make me leave here.. and I don't know what I'm going to do.
Brittany: Okay, but Becky, I can't stay here. I aced my SATs, which means that if I graduate, I can go to whatever college I want to.
Becky: But I can't go to college.

"

—Becky Jackson and Brittany Pierce, Shooting Star
"

Brittany: Becky, I know it's scary. And it would be so cool to be a Cheerio again with you next year. But I have to move on and so do you. And if you really prepare yourself, the world won't seem like such a scary place.
Becky: Pinky promise?
Brittany: Pinky promise that.

"

—Becky Jackson and Brittany Pierce, Shooting Star
"

Becky: I love you Brittany.
Brittany: I love you, too, Becky.

"

—Becky Jackson and Brittany Pierce, Shooting Star
"

Becky: I was scared, Coach, about graduating, the unknown world, with no one to protect me!
Sue: Honey, I told you: you will always have a place here.
Becky: No! I wanted to be prepared and protect myself! I need hope!

"

—Becky Jackson and Sue Sylvester, Shooting Star
"

Becky: What if I go [to college] and everybody makes fun of me again? What if everybody calls me stupid like they always used to?
Artie: They won't because you will have all these awesome professors and counselors and new friends that will have your back. And your old friends will have your back too. Like me.
Becky: You're really my friend?
Artie: Always.

"

—Becky Jackson and Artie Abrams, Movin' Out
Community content is available under
CC-BY-SA
unless otherwise noted.