'Glee' Profile: Blaine-Kurt Relationship
Play Sound
The Blaine-Kurt Relationship, most commonly known as Klaine, is the romantic relationship between Kurt Hummel and Blaine Anderson.
They meet in the Season Two episode Never Been Kissed, when Kurt attempts to spy on the Warblers, and immediately become friends. They begin dating in Original Song, after Blaine kisses Kurt, forming the first male-male couple on Glee. In The Purple Piano Project, Blaine transfers to McKinley to be with Kurt, telling him that he can't stand being apart from the person he loves.
The couple break up in The Break-Up, but they started dating again in Love, Love, Love, where Kurt accepts Blaine's marriage proposal. In New New York, Blaine moves to New York to live with Kurt, but they soon realise that their relationship is stronger if they live separately, and he moves out. At the end of the Season Five finale, Rachel is shown moving out of the loft as a result of moving to Los Angeles, while Blaine arrives there to move in.
In Loser Like Me it is revealed that Kurt being argumentative has resulted in their break-up. While Kurt remains in love with Blaine, the latter has begun dating David Karofsky. They eventually reconcile and spontaneously get married in a double-ceremony with Brittany Pierce and Santana Lopez.
Overview

Kurt and Blaine meet in Never Been Kissed, when Kurt spies on the Dalton Academy Warblers, due to a suggestion made by Puck during a meeting of the New Direction boys about how to beat the girls in the Boys vs. Girls competition. Kurt gets caught by Blaine and two fellow Warblers, Wes and David, where Kurt thinks it is nice of them to buy him coffee before beating him up. Blaine and Kurt have instant chemistry and soon develop a friendship. Blaine gives Kurt advice on how to handle Karofsky's bullying, and goes to Kurt's school to confront Karofsky about his actions, but when the bullying becomes unbearable, Kurt transfers to Dalton Academy and joins the Warblers in Special Education, resulting in him and Blaine continuing to grow closer. Blaine often acts as a mentor and source of courage for Kurt, before making the transition into a romantic interest.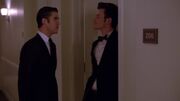 In A Very Glee Christmas, Kurt reveals to Will that he is in love with Blaine, and that Blaine is actually gay. The two perform their first duet, Baby, It's Cold Outside. Then in Silly Love Songs, Kurt admits to Blaine that he has feelings for him after Blaine fails to serenade a guy he likes at "the Warblers Gap Attack." Blaine confesses that he has no idea what he is doing when it comes to romance, and the two agree to stay friends. They remain just friends until Blaine realizes he is in love with Kurt in Original Song (when Kurt sings Blackbird by The Beatles). This is the episode in which they share their first kiss, and it is assumed that they start dating very soon afterwards. In the episode New York Blaine tells Kurt that he loves him for the first time, to which Kurt replies that he loves him too.
Their relationship is taken to the next step in Season Three when Blaine transfers to McKinley and the New Directions, because he can't stand to be apart from the person he loves.
Kurt and Blaine share loving looks during some songs and rarely fight, only having three fights during the course of their relationship so far (The First Time, Dance with Somebody and The Break-Up). They have been dating for over a year, their one-year anniversary was on March 15, 2012. They also lost their virginities to each other in The First Time. Near the end of the year, Blaine and Kurt are dismayed by the idea of Kurt graduating and moving to New York while Blaine will be left behind for one more year. However, they persist on always being together.
Kurt and Blaine's relationship is tested when Blaine convinces Kurt to move to New York in The New Rachel, by singing It's Time to him. They maintain their long distance relationship successfully at first via skyping and texting, but with conflicting schedules, things start to slide quickly. In The Break-Up, Blaine surprises Kurt by showing up in New York early. During Blaine's acoustic performance of Teenage Dream, he becomes very emotional, which Kurt notices. Eventually, Kurt asks Blaine what the problem is, resulting in Blaine telling him that he was with someone else back in Lima (presumably Eli.C). Kurt leaves heartbroken and ends up giving him the silent treatment. In The Role You Were Born to Play, Blaine admits to Sam that since the break-up, he hasn't been the same and is afraid that he lost the love of his life. Kurt and Blaine make up in Thanksgiving, and then as a Christmas present, Burt brings Blaine to New York in Glee, Actually, and, while ice skating, Kurt and Blaine duet White Christmas. At the end of the season, Kurt arrives in Lima to support his dad at his appointment, having recently found out that Burt has stage 1 cancer, and visits McKinley with Mercedes and Mike to see the New Directions. Blaine flirts with Kurt, and in Wonder-ful Blaine asks permission from Burt to ask Kurt to marry him. Burt, while happy that Blaine is so in love with his son, explains to Blaine that they are too young, and that they are meant to be together so he should just relax and everything will be OK.
In Love, Love, Love Blaine convinces Kurt to get back together with him, after finding out that the relationship between Kurt and Adam Crawford didn't work out, after which they sing Got To Get You Into My Life, a song prepared by Kurt and performed with a marching band. Blaine then asks the New Directions, The Warblers, the Haverbrook School for the Deaf and Vocal Adrenaline to aid him in his proposal to Kurt by singing Help!, which they all readily agree to. Burt drives Kurt to Dalton Academy, where Blaine and all the choirs proceed to sing All You Need Is Love, along with Rachel, Mercedes and Santana, before finishing at the very staircase on which Kurt and Blaine first met. Blaine gives a heartwarming speech about his and Kurt's love, before asking Kurt to marry him, which, through tears, Kurt agrees to.
After graduation, Blaine gets accepted into NYADA and moves in with Kurt in New York. Their relationship is once again tested by their new lifestyle and Kurt's newfound confidence that puts them in an uncomfortable position, and Blaine finally decides to move out to draw lines between them and learn how to live in the big city. After awhile, when Rachel moves to LA, Blaine moves back in with Kurt and they live together in the loft.
Blaine and Kurt broke up sometime before the beginning of the season. Their constant arguments made Kurt believe they were not meant to be after all and broke off the engagement. Blaine then returned to Lima after his depression got his grades to slip and eventually cut out of NYADA.
Kurt eventually realizes his mistake and rushes back to Lima in hopes of earning Blaine's forgiveness. Much to his disappointment, Blaine is already seeing someone: Karofsky. With Sue's help, they eventually realize their lingering feelings for each other. While originally helping out at Brittany and Santana's wedding, the brides and Sue convince them to hijack the wedding and get married alongside them.
Blaine eventually moves back to New York to attend NYU while Kurt goes back to NYADA. Five years later, they are now successful actors and parents, with Rachel as their surrogate.
Episodes
Songs
Duets
Sang Together (In a Group Number)
Song
Episode

Solos with

My Favorite Things
Extraordinary Merry Christmas
Mercedes and Rachel
Do They Know It's Christmas?
Artie, Brittany, Finn, Mercedes, Puck, Rachel, Santana, and Tina
Love Shack
Heart
Brittany, Mercedes, Rachel, and Sugar
My Love Is Your Love
Dance with Somebody
Artie and Mercedes
Big Girls Don't Cry
Prom-asaurus
Rachel
Paradise by the Dashboard Light
Nationals
Brittany, Finn, Mercedes, Mike, Puck, Rachel, and Santana
Related Songs
Duets
Sang Together (In a Group Number)
Song
Episode

Solos with

Don't Speak
The Break-Up
Finn and Rachel
The Scientist
Brittany, Emma, Finn, Rachel, Santana, and Will
You're the One That I Want
Glease
Brittany, Finn, Marley, Rachel, Ryder, and Santana
Have Yourself a Merry Little Christmas
Glee, Actually
Brittany, Jake, Marley, Puck, and Sam
We've Got Tonite
I Do
Artie, Betty, Finn, Jake, Marley, Quinn, Rachel, and Santana
Mamma Mia
Guilty Pleasures
Kitty, Marley, Rachel, Sam, Santana, and Unique
Related Songs
Duets
Sang Together (In a Group Number)
Song
Episode

Solos with

Just the Way You Are
Movin' Out
Rachel, Sam, and Santana
Hold On
Trio
Artie, Dani, Elliott, Rachel, Sam, Santana, and Tina
Don't Stop Believin'
New Directions
Artie, Rachel, Tina, and Will
Downtown
New New York
Artie, Rachel, and Sam
No One Is Alone
Bash
Rachel
Take Me Home Tonight
Old Dog, New Tricks
Artie, Maggie, Mercedes, Rachel, Sam, and Santana
Pompeii
The Untitled Rachel Berry Project
Artie, Brittany, Mercedes, Rachel, and Sam
Related Songs
Duets
Sang Together (In a Group Number)
Related Songs
Trivia
Both have had crushes on other boys in the show before dating: Kurt has had crushes on Finn and Sam, and Blaine has had a crush on Jeremiah.
By big parts of the fandom, kisses, cuddles and sex between the couple are known as "Klisses," "Kluddles" and "Klex," respectively.
Both are each other's first boyfriend.
Both had moved to Dalton due to severe bullying.
In I Kissed a Girl, Blaine mentions the couple enjoys singing Pink's song, Perfect, in the car together.
Both love Vogue, Marion Cotillard, fashion and musicals.
Blaine has a picture of Kurt on his nightstand, shown first in Michael.
Both kiss a girl prior to their relationship: Kurt kisses Brittany in Laryngitis and Blaine kisses Rachel in Blame It on the Alcohol.
The First Time is the first episode where Blaine calls Kurt his boyfriend.
Both have pictures of each other in their lockers. In Never Been Kissed, Kurt has the word COURAGE made out of magazine letters, above is a picture of Blaine in his Dalton uniform. In Big Brother, you can see a poster from Kurt's campaign for class president in Blaine's locker.
In Dance with Somebody, Kurt states that he and Blaine have scheduled make-out sessions.
In Dance with Somebody, when Blaine says, "I love you so much," he is wearing the same cardigan that he wore when he first told Kurt that he loved him in New York.
Rachel and Santana have indirectly sang a duet about how Kurt or Blaine feels while they are talking to that other man; A Boy Like That/I Have A Love for Blaine and Sebastian and So Emotional for Kurt and Chandler.
They apparently watch a lot of reality TV shows together including 'The Bachelorette', 'Being Bobby Brown', and 'Jersey Shore'. As shown in Props, they also went trick-or-treating and dressed up as Snooki and The Situation.
In Extraordinary Merry Christmas, Blaine had saved Kurt's favorite gum wrapper so that he could make it into his promise ring to give to Kurt. Since it was deleted content and not in the actual episode, it was considered non-canon, until a scene in Dreams Come True, where Kurt shows Blaine his time-capsule locker and that he had kept that ring.
Both of them ran for Senior Class President in their respective senior year. Kurt lost, but Blaine won.
It has been implied that Kurt picks out some of Blaine's clothing in Big Brother, Movin' Out and again in New New York.
Blaine has a scrapbook with pictures of Kurt as seen in The Role You Were Born to Play.
Both have had a crush on Sam: Kurt in Duets and Blaine from Sadie Hawkins to Guilty Pleasures.
Both have performed a song with the New Directions Girls while wearing an elaborate costume. Kurt, Bad Romance and Blaine, Diva.
Santana stated in Girls (and Boys) on Film that Come What May is the song they want to sing at their wedding.
They have had a duet in three of the Christmas episodes: Baby, It's Cold Outside in season two, Let It Snow in season three and White Christmas in season four.
All three of the songs that Blaine sings in the courtyard are for Kurt.
In I Do, they have sex in the hotel room number 206, similar to Never Been Kissed (2.06) which is the episode where they first meet.
In Love, Love, Love, Kurt and Blaine share a kiss in the courtyard after singing Got to Get You into My Life which is the first time they kiss openly at McKinley High School.
They get engaged on the same staircase that they met on.
They are the second young couple to get engaged on the show after Finchel.
They are the only couple in the show that gets back together and gets engaged in the same episode.

They are also the only couple to get back together and get married in the same episode.

"Klaine" was nominated for a People's Choice Award (2014) for Favorite On-screen Chemistry.
Both have been part of the Cheerios at some point. Kurt was a Cheerio member during the first season, while Blaine was a Cheerio member during the fourth season.
In The Back-Up Plan they share more kisses and I love you's than any other couple in a single episode.
In Season Five, they share more kisses than in all previous seasons combined.
Their kiss in The Hurt Locker, Part Two lasts longer than any other kiss shown in the series.
Kurt and Blaine have the same anniversary as Santana and Brittany since they married on the same day.
Their first kiss was included in Glee's Top 5 On-screen Kisses countdown.
They were included in Glee's Top 3 Unsinkable Ships countdown.
They made it to the Top 4 of E! Online's TV's Top Couple Tournament in 2015, but lost to Once Upon a Time's Hook and Emma.
They are the second couple (after Finchel) with the biggest amount of duets.
They both have been gay-bashed. Blaine's was mentioned to happen before the series, and Kurt in the episode Bash.
Quotes
Season Two
"

Kurt: Oh, excuse me! Um, hi, can I ask you a question? I'm new here.
Blaine: My name's Blaine.

(They shake hands)

Kurt: Kurt. (smiles)

"

—Kurt and Blaine, Never Been Kissed
"

Kurt: On the count of three, name your favorite 2010 Vogue cover. 1...2...3!
Blaine and Kurt: (together) Marion Cotillard!
Blaine: (gushes) Oh my god, stop it!
Kurt: I know, I know. She's AMAZING!
Blaine: She's amazing!

"

—Kurt and Blaine, The Substitute
"

Kurt: Gay, gay, gay, gay, gay, gay, gay, gay...
Blaine: Gay, gay...
Kurt: Oh my God, I opened my mouth and a little purse fell out! How'd that get there?
Blaine: That's so gay!

"

—Kurt and Blaine (in Mercedes imagination), The Substitute
"

Kurt: Has anyone read Patti LuPone's new book?
Blaine: (looks confused)...I'm kidding! Of course I have!
Kurt: You scared me so much there!

"
"

Blaine: I was just talking about the Buckeyes; I'm a college football fan. I like sports too, you know.
Kurt: Oh, way to break the stereotype!

"

—Kurt and Blaine, The Substitute
"

Blaine: (to Kurt) I need you to sing with me, well, rehearse with me. I got a gig singing Baby it's Cold Outside in the the King's Island Christmas Spectacular.
Kurt: Ah a personal favorite! Too bad they'd never let us sing it together... I mean as two artists.

"

—Kurt and Blaine, A Very Glee Christmas
"

Kurt: Why hasn't Finn told me anything about this? We live together. I bring him a nice glass of warm milk every night just in hopes that we'll have a little lady chat.
Blaine: Warm milk? Really?
Kurt: It's delicious.

"
"

Barista: What can I get you?
Blaine: A Medium Drip, and a Grande Non-Fat Mocha for this guy, and maybe I can get him to split one of the Cupid cookies.
Kurt: You know my coffee order?
Blaine: Of course I do.
Barista: That'll be $8.40.

(Kurt and Blaine both start to pull out their wallets)

Blaine: Don't even bother dummy, it's on me.

(Blaine walks away after paying)

Kurt: (to barista) I do believe I have a new favorite holiday. (laughs)

"

—Kurt and Blaine, Silly Love Songs
"

Kurt: So, it's just like 'When Harry Met Sally'. But I get to play Meg Ryan.
Blaine: Deal. (pauses) Don't they get together in the end?
Kurt: (smiles and ignores the question)

"

—Kurt and Blaine, Silly Love Songs
"

Kurt: Why did you pick me to sing that song with?
Blaine: (nervously) Kurt, there is a moment when you say to yourself, "Oh, there you are. I've been looking for you forever." (places hand on Kurt's) Watching you do Blackbird this week, that was that moment for me... About you. (pause) You move me, Kurt. And this duet would just be an excuse to spend more time with you. (leans in and kisses Kurt, then sheepishly) We should... We should practice.
Kurt: (smiles) I thought we were.

(kiss again)

"

—Kurt and Blaine, Original Song
"

Kurt: Has anyone literally died on stage?
Blaine: (looks over) Are you nervous?
Kurt: Please don't judge me. This is the first time I've had a solo in front of a competition audience. I have this nightmare that I'm going to forget the lyrics or I'm going to sing and nothing is gonna come out. (looks over at Blaine) Okay, you can judge me.
Blaine: I think it's adorable. I think you're adorable. And- and the only people who're going to die tonight are the people in that audience because you and I are going to kill this thing. Come on, let's go.

"

—Kurt and Blaine, Original Song
"

Kurt: (shovels dirt onto Pavarotti's grave)
Kurt: Farewell, sweet prince.
Blaine: I'm so sorry, Kurt. This must be really upsetting for you it reminds you of your Mom's funeral, doesn't it?
Kurt: The casket was bigger. But yes. It's not just that, though. Honestly, I'm upset that we lost Regionals.
Blaine: The competition season maybe over but we'll still get to perform. We do nursing home shows all the time. And you know how many Gaps there are in Ohio? Tons.
Kurt: Yeah, I just really, really wanted to win.
Blaine: You did win. So did I. We got each other out of all this. That beats a lousy trophy, don't you think?

(both walk off hand in hand)

"

—Kurt and Blaine, Original Song
"

Blaine: I'm crazy about you.
Kurt:...So I'll take that as a yes?
Blaine: Yes, you and I are going to prom.

"
"

I'm going to show them that it doesn't matter if they are yelling at me or whispering behind my back, they can't touch me. They can't touch us or what we have.

"

—Kurt to Blaine, Prom Queen
"

Blaine: May I have this dance?
Kurt: Yes, yes you may.

"
"

Kurt: We all just looked at the top ten list for showcase and we all just went numb. And then Jesse just kept going on and on about how Rachel and Finn's kiss was what cost us nationals.
Blaine: While I do understand passion I do think that was unprofessional. Sorry, keep going.
Kurt: And then we get back to the hotel, and Santana loses it.

(Flashback to Santana angrily yelling at Rachel in Spanish and being held back)

Kurt: I mean, on the plane ride home it was completely silent, like no one said a word. We just sat there with our faces buried in our complimentary issues of SkyMall.
Blaine: Wait a second...I don't get it. You don't seem that sad at all.
Kurt: It was still amazing. I mean, I flew in a plane for the first time in my life, I had breakfast at Tiffany's, I sung on a Broadway stage.
Blaine: I love you.
Kurt: (silent for a few seconds) I love you too. You know when you stop to think about it, Kurt Hummel's had a pretty good year.

"
Season Three
"

You promised me by the first day of school you'd make a decision and there you sit, cute as ever, but still in your Warbler's blazer.

"
"

Kurt: If you stay at Dalton you and I are competitors.
Blaine: That's true.
Kurt: And I'm just not sure that our budding love can survive that.
Blaine: Let me get this straight, I have to transfer 'cause you're just afraid I'm gonna beat you at sectionals.
Kurt: No I'm afraid I'm going to beat you, and I know what that does to you when I win.

"
"

I just want my senior year to be magic, and the only way that's gonna happen is if I get to spend every minute of every day with you.

"
"

I came here for me, because I can't stand to be apart from the person I love.

"
"

Kurt: Don't you ever have the urge to rip off each other's clothes and get dirty?
Blaine: Yeah, but that's why they invented masturbation.

"

—Blaine and Kurt, The First Time
"

Blaine: And besides, tearing off all your clothes is sort of a tall order.
Kurt: Because of the layers?
Blaine: Because of the layers.

"

—Kurt and Blaine, The First Time
"

Blaine: (to Sebastian) I just never want to mess my thing up with him in any way. He is really great.
Kurt: (overhears) Who's really great?
Blaine: You!

"

—Blaine about Kurt, The First Time
"

Kurt: You take my breath away. And not just now! Tonight, on that stage. I was so proud to be with you.
Blaine: (Choked up) I hope so... I want you to be.

"

—Blaine about Kurt, The First Time
"

Kurt: But what are you promising?
Blaine: To always love you. To defend you even if I know you're wrong. To surprise you. To always pick up your call no matter what I'm doing. To bake you cookies at least twice a year and to kiss you whenever and where ever you want. Mostly to make sure that you always remember how perfectly imperfect you are. I know it's not something Elizabeth Taylor would've worn---
Kurt: I love it. I love you.
Kurt: Merry Christmas,it's Our first Christmas together.
Blaine: The first of many.

"

—Extraordinary Merry Christmas, cut scene
"

However, I can not let a single moment pass without first raising a zero-calorie toast to one Mr. Kurt Hummel, aka NYADA finalist! Yay!

"
"

Hello! I'm Margaret Thatcher Dog! My relationship with the Queen was ruff!

"

—Kurt to Blaine, Big Brother
"

I confiscated this little guy to give to you, since there was no convincing you to coming with us.

"

—Kurt to Blaine about the stuffed puppy, Big Brother
"

Kurt: I like the way he makes me feel. I mean, when was the last time you complimented me or told me how special I was?
Blaine: I transferred schools to be with you - I... I changed my whole life! That doesn't make you feel loved?

"

—Blaine and Kurt, Dance With Somebody
"

You are the love of my life, Kurt.

"
"

Blaine: And, While we're being perfectly honest, I don't like, that with every conversation we always end up talking about NYADA. What song you're going to sing, and what - what outfit you're going to wear to your call back, How amazing New York is! And it's like New York is the only thing we talk about now, Kurt. And it's like, it's like you can't wait to get out of here. How's that suppose to make me feel? In a few months, you're going to be gone. With this brand new life, and this brand new friends, this brand new everything, and I'm going to be right here, by myself. You're right, I have been distant, and I'm sorry. But I'm just, trying to practice what life is going to be like without you. You are the love of my life Kurt, and I am pissed off, that I have to learn that next year, what being alone is going to be like.
Kurt: But you're not going to be alone! I'm going to Skype you every day, and you're going to come visit me in New York every weekend as far as I'm concerned. But I promise! You're aren't going to lose me.
Blaine: I love you so much.
Kurt: I love you too.
(They hug)

"

—Blaine and Kurt, Dance With Somebody
"

Kurt: I'm starting from scratch. I need something fresh. I need something edgy. Something completely unpredictable... Or maybe I just need more candles...
Blaine: Oh God no... No more candles...

"
"

Blaine: I'll be right back
Kurt: Don't you dare! I love finally getting to see the real you. The man without the product, and I want everyone here to know, just how proud I am, of my brave, handsome, bushy haired boyfriend. Come on, Borat.

"

—Blaine and Kurt about Blaine's hair, Prom-asaurus
"

Kurt: Trick or Treat! Bada-bing!
Blaine: Hey, what's a guy gotta do to get a candy situation up in here? (Laughs)

"

—Kurt and Blaine as Snooki and The Situation from Jersey Shore on Halloween, Props
"

Blaine: You know how hard long-distance relationships can be — we both saw The Notebook.
Kurt: Do you wanna know how I picture the end of my life? Just like in The Notebook. I'm sitting in a nursing home talking endlessly about my high school sweetheart, my first love, going on and on about every detail as if they matter. Only in my version, he's there with me telling me to shut up so he can finish watching the American cinematheque salute to J. Lo.
Blaine: So, we're gonna be alright?
Kurt: Yes, we're gonna be alright. I told you, I'm never saying 'goodbye' to you.

"
Season Four
"

Blaine: Can I give you some advice? You can't be here anymore, Kurt.
Kurt: I get it, I know I'm pathetic.
Blaine: No, you're not pathetic. It's just that you're stuck. You don't belong here anymore. You belong in New York. I don't want to see you go, but I can't stand to see you stay here. It's killing you, and that's killing me.
Kurt: What about us?
Blaine: In a year, I'll be there too. But right now is your time. You're ready.

"

—Kurt and Blaine, The New Rachel
"

Blaine: Sam...Kurt was my soulmate. We talked about spending the rest of our lives together, about moving to Provincetown and buying a lighthouse and starting an artists' colony. And now he won't even return my calls, he won't text me, and that Gilmore Girls box set I sent him was returned to me, unopened. He's gone! Maybe...forever.

"
"

Blaine: Everything in this room reminds me of him! We were a dynamic duo in here. Kurt was my anchor, and now that he's gone I feel like I'm floating.

"

—Blaine to Finn, Dynamic Duets
"

Blaine: It was a guy who friended me on facebook. I went over because it felt like Kurt was moving on with his life and I wasn't a part of it. I got to thinking that maybe Kurt and I weren't meant for each other. That we weren't supposed to spend the rest of our lives together. But the horrible thing is that right after I did it I knew that we were.

"

—Blaine to Sam, Dynamic Duets
"

Blaine: It's not okay, Sam. Because I cheated on the one person that I love more than anything in this world; I hurt him. So of course he's not going to trust me. He's never going to forgive me.

"

—Blaine to Sam, Dynamic Duets
"

Kurt: Look, you've said you're sorry a million times, and...I believe you. And I'm trying to forgive you, but I'm just not there yet. But...it's Thanksgiving, and Sectionals, and...I miss you like crazy.
Blaine: *looks like he's going to cry*
Kurt: And I can't stand not talking to you even if I'm mad at you, 'cause you're still my best friend.
Blaine: You're mine too.

"

—Kurt and Blaine, Thanksgiving
"

Blaine: Package for Kurt Hummel!
Kurt: Blaine?
Blaine: Surprise! Your dad called me out of the blue and wanted to fly me out here just so I can see that look on your face, and it's pretty priceless. Actually, he told me everything, and I promise, I'll keep an eye on him for you. But the reason why I'm here is because he didn't want us to miss out on another important holiday tradition.
Kurt: Our Christmas duet?
Blaine: You are happy to see me, right?
Kurt: Yeah, yeah. Always.
Blaine: Come on, get your skates on, it's almost midnight. Hurry up!

"

—Blaine and Kurt at the Rockefeller Ice Skating Rink, Glee, Actually
"

Blaine: No matter what, no matter where, even if we're not together, we're always gonna be there for each other.
Kurt: (hugs Blaine)

"

—Blaine and Kurt, Glee, Actually
"

Kurt: (Moaning) Had I known I was gonna get groped in the back of a Prius, I would've brought a change of clothes. I'm gonna go in there looking like Prom: Morning After.
(Kissing and moaning)
Kurt : What I am doing? I'm sort of dating somebody in New York.
Blaine : Uh, you're not in New York. And it's not exclusive, right? You in this fey bowtie… dude, it's my Kryptonite.
(Kissing and moaning)
Kurt : Wait, this doesn't mean that we're back together, right?
Blaine : No, no, no, It's-it's cool. I know, I know, it's-it's… This is just bros helping bros.
Kurt: I love it when you talk fratty.
(Kissing and moaning) Knocking
Kurt: Tell me that's not Tina again!

"
"

Blaine: Tell me now that we're not back together.
Kurt: (buttoning his sleeves) Mean, it was fun. But...
Blaine: Don't- I'm not gonna let you minimize this, Kurt. It's no accident that we were together on Christmas and again, on Valentine's Day. And we're going to be together for many, many more no matter how much you pretend that this doesn't mean anything.
Kurt: (whispering) I'll see you downstairs.


"
"

Kurt: What a wonderful, wonderful week.
Blaine: And with you in it, a wonderful life.

"

—Blaine and Kurt, Wonder-ful
Season Five
"

Blaine: We met right here. I took this man's hand and we ran down that hallway. And for those of you who know me know I'm not in the habit of taking people's hands I've never met before. But I think that my soul knew something that my body and my mind didn't know yet. It knew that our hands were meant to hold each other, fearlessly and forever, which is why it's never really felt like I've been getting to know you. It's always felt like I was remembering you from something, as if in every lifetime you and I have ever lived, we've chosen to come back and find each other and fall in love all over again, and over and over for all eternity. And I just feel so lucky that I found you so soon in this lifetime because all I want to do, all-all I've ever wanted to do, is spend my life loving you.

So, Kurt Hummel, my amazing friend, my one true love, will you marry me?

Kurt: Yeah! Yeah!

"

—Blaine's proposal to Kurt, Love, Love, Love
"

Blaine: Thanks for knowing me. I love you.

Kurt: I love you too. And we're in this together. I can't stop you from failing, but I can promise to make it safe if you do.

"

—Blaine and Kurt, Movin' Out (Episode)
"

Blaine: I think I should move out.
Kurt: I'm not sure that's what I want.
Blaine: Me neither, but I think we need to take a step back for a second, together, and just look at the situation... honestly. (pause) It's not working out... After graduation I just... moved in and we didn't have a conversation about it, we never weighed the pros and cons, we never really discussed if this was the absolute best thing for our relationship.
Kurt: We just wanted to be us. Together.
Blaine: And we are together, we are SO together. But I just think that maybe living together... In less than ideal circumstances...
Kurt: Maybe we don't need that pressure right now. It's such a scary decision to make. I, I just feel like I...
Blaine: I know, I know. It is scary. But I think it's a little less scary if we make the decision together.
Kurt: We can't go backwards.
Blaine: We're not going backwards. I think we're being smart.
Kurt: By protecting something that is very precious to me... You know that, right?
Blaine: Of course I know that. Of course. Always, I know.
(hug)
Kurt: No matter who we become, even if we do need alone time, which is completely valid, we'll always belong to each other.

"

—Blaine and Kurt, New New York
"

Kurt (while Blaine's kissing his neck): And even though this, this wasn't a fight, just, you know, a grown up, adult conversation, you know, we are now going to have the hottest make up sex ever.

"

—Kurt to Blaine, New New York
"

Blaine: Do you want to know why we haven't been intimate? It's because I feel insecure around you. I feel insecure around my own fiancé, and fratboyphysicals.com isn't gonna judge me.
Kurt: And neither will I. Ever.

"
"

Kurt: What do you think it's like to fly for the first time? I mean, here you are up in this nest, which is the only home you've ever known, and even though your DNA and millions of years of evolution are telling you that if you jump, you won't hit the ground like a stone, you can never really know. Relationships are like that.

"
Gallery