The Blaine-Kurt Relationship, most commonly known as Klaine, is the romantic relationship between Kurt Hummel and Blaine Anderson.
They meet in the Season Two episode Never Been Kissed, when Kurt attempts to spy on the Warblers, and immediately become friends. They begin dating in Original Song, after Blaine kisses Kurt, forming the first male-male couple on Glee. In The Purple Piano Project, Blaine transfers to McKinley to be with Kurt, telling him that he can't stand being apart from the person he loves.
The couple break up in The Break-Up, but they started dating again in Love, Love, Love, where Kurt accepts Blaine's marriage proposal. In New New York, Blaine moves to New York to live with Kurt, but they soon realise that their relationship is stronger if they live separately, and he moves out. At the end of the Season Five finale, Rachel is shown moving out of the loft as a result of moving to Los Angeles, while Blaine arrives there to move in.
In Loser Like Me it is revealed that Kurt being argumentative has resulted in their break-up. While Kurt remains in love with Blaine, the latter has begun dating David Karofsky. They eventually reconcile and spontaneously get married in a double-ceremony with Brittany Pierce and Santana Lopez.
Overview

Kurt and Blaine meet in Never Been Kissed, when Kurt spies on the Dalton Academy Warblers, due to a suggestion made by Puck during a meeting of the New Direction boys about how to beat the girls in the Boys vs. Girls competition. Kurt gets caught by Blaine and two fellow Warblers, Wes and David, where Kurt thinks it is nice of them to buy him coffee before beating him up. Blaine and Kurt have instant chemistry and soon develop a friendship. Blaine gives Kurt advice on how to handle Karofsky's bullying, and goes to Kurt's school to confront Karofsky about his actions, but when the bullying becomes unbearable, Kurt transfers to Dalton Academy and joins the Warblers in Special Education, resulting in him and Blaine continuing to grow closer. Blaine often acts as a mentor and source of courage for Kurt, before making the transition into a romantic interest.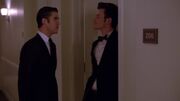 In A Very Glee Christmas, Kurt reveals to Will that he is in love with Blaine, and that Blaine is actually gay. The two perform their first duet, Baby, It's Cold Outside. Then in Silly Love Songs, Kurt admits to Blaine that he has feelings for him after Blaine fails to serenade a guy he likes at "the Warblers Gap Attack." Blaine confesses that he has no idea what he is doing when it comes to romance, and the two agree to stay friends. They remain just friends until Blaine realizes he is in love with Kurt in Original Song (when Kurt sings Blackbird by The Beatles). This is the episode in which they share their first kiss, and it is assumed that they start dating very soon afterwards. In the episode New York Blaine tells Kurt that he loves him for the first time, to which Kurt replies that he loves him too.
Their relationship is taken to the next step in Season Three when Blaine transfers to McKinley and the New Directions, because he can't stand to be apart from the person he loves.
Kurt and Blaine share loving looks during some songs and rarely fight, only having three fights during the course of their relationship so far (The First Time, Dance with Somebody and The Break-Up). They have been dating for over a year, their one-year anniversary was on March 15, 2012. They also lost their virginities to each other in The First Time. Near the end of the year, Blaine and Kurt are dismayed by the idea of Kurt graduating and moving to New York while Blaine will be left behind for one more year. However, they persist on always being together.
Kurt and Blaine's relationship is tested when Blaine convinces Kurt to move to New York in The New Rachel, by singing It's Time to him. They maintain their long distance relationship successfully at first via skyping and texting, but with conflicting schedules, things start to slide quickly. In The Break-Up, Blaine surprises Kurt by showing up in New York early. During Blaine's acoustic performance of Teenage Dream, he becomes very emotional, which Kurt notices. Eventually, Kurt asks Blaine what the problem is, resulting in Blaine telling him that he was with someone else back in Lima (presumably Eli.C). Kurt leaves heartbroken and ends up giving him the silent treatment. In The Role You Were Born to Play, Blaine admits to Sam that since the break-up, he hasn't been the same and is afraid that he lost the love of his life. Kurt and Blaine make up in Thanksgiving, and then as a Christmas present, Burt brings Blaine to New York in Glee, Actually, and, while ice skating, Kurt and Blaine duet White Christmas. At the end of the season, Kurt arrives in Lima to support his dad at his appointment, having recently found out that Burt has stage 1 cancer, and visits McKinley with Mercedes and Mike to see the New Directions. Blaine flirts with Kurt, and in Wonder-ful Blaine asks permission from Burt to ask Kurt to marry him. Burt, while happy that Blaine is so in love with his son, explains to Blaine that they are too young, and that they are meant to be together so he should just relax and everything will be OK.
In Love, Love, Love Blaine convinces Kurt to get back together with him, after finding out that the relationship between Kurt and Adam Crawford didn't work out, after which they sing Got To Get You Into My Life, a song prepared by Kurt and performed with a marching band. Blaine then asks the New Directions, The Warblers, the Haverbrook School for the Deaf and Vocal Adrenaline to aid him in his proposal to Kurt by singing Help!, which they all readily agree to. Burt drives Kurt to Dalton Academy, where Blaine and all the choirs proceed to sing All You Need Is Love, along with Rachel, Mercedes and Santana, before finishing at the very staircase on which Kurt and Blaine first met. Blaine gives a heartwarming speech about his and Kurt's love, before asking Kurt to marry him, which, through tears, Kurt agrees to.
After graduation, Blaine gets accepted into NYADA and moves in with Kurt in New York. Their relationship is once again tested by their new lifestyle and Kurt's newfound confidence that puts them in an uncomfortable position, and Blaine finally decides to move out to draw lines between them and learn how to live in the big city. After awhile, when Rachel moves to LA, Blaine moves back in with Kurt and they live together in the loft.
Blaine and Kurt broke up sometime before the beginning of the season. Their constant arguments made Kurt believe they were not meant to be after all and broke off the engagement. Blaine then returned to Lima after his depression got his grades to slip and eventually cut out of NYADA.
Kurt eventually realizes his mistake and rushes back to Lima in hopes of earning Blaine's forgiveness. Much to his disappointment, Blaine is already seeing someone: Karofsky. With Sue's help, they eventually realize their lingering feelings for each other. While originally helping out at Brittany and Santana's wedding, the brides and Sue convince them to hijack the wedding and get married alongside them.
Blaine eventually moves back to New York to attend NYU while Kurt goes back to NYADA. Five years later, they are now successful actors and parents, with Rachel as their surrogate.
Episodes
Kurt and Blaine first meet while Kurt is spying on the Dalton Academy Warblers. Kurt stops Blaine on the stairwell at Dalton where the students are hurriedly rushing past. He introduces himself and asks: "What's going on?" Blaine informs Kurt that there is an impromptu performance of the Warblers taking place and invites him along. Blaine leads Kurt by the hand, running through the picturesque hallway shortcut to where the performance takes place, and then sings Katy Perry's Teenage Dream, seemingly to Kurt.
After coming back another day, Blaine invites Kurt to have a cup of coffee, and is accompanied by two council members of the Warblers, Wes and David for questioning. Kurt asks whether Dalton is a gay school, which causes them to laugh good-naturedly. Blaine says that Dalton is not a gay school and that Wes and David have girlfriends, but informs Kurt that he is indeed gay. Blaine notices Kurt's unhappy response and asks if Wes and David could give him a moment with Kurt alone. An upset Kurt then confides in Blaine about his bullying situation in private, who is sympathetic and admits that he used to go to a school where the teachers did nothing to prevent the bullying that happened to him, which is why he transferred to Dalton Academy. However, Blaine confesses he regrets "running away" and encourages Kurt to make a stand against those who try to hurt him, to not give up as he himself did. Kurt really appreciates Blaine's reaching out to him. Blaine texts him "courage," which means a lot to Kurt, who puts the word up in his locker to remind him of staying strong, implying that Kurt really looks up to Blaine, and perhaps also as an indication that he is in the process of developing feelings for Blaine. Later, Kurt follows Blaine's advice to confront the bully, Dave Karofsky. He discovers that Dave is a closeted gay when he forces a kiss upon Kurt. Shocked, Kurt asks for Blaine's help in confronting Dave. Dave shoves Blaine up against the fence and threatens both of them. Kurt defends Blaine by shoving Karofsky who finally leaves, disgruntled. Blaine tries to lighten the mood by saying "Well he's not coming out anytime soon." Noticing that Kurt is still upset, he asks him what's wrong. Kurt tells him that up until then, he had never been kissed, before adding "Atleast, one that counted." referring to when he pretended to be straight and dated Brittany. Blaine offers to buy Kurt lunch and they walk off together. Later, it becomes clear that Kurt is rapidly becoming infatuated with Blaine, as proven by the framed picture of Blaine he has in his locker with the word "courage" beneath it. Despite the rivalry between their respective Glee clubs, their friendship blossoms, with Blaine increasingly taking on the role of mentor.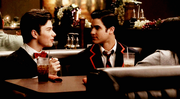 In The Substitute, Kurt and Blaine's friendship developed greatly; to the point where they spent a great deal of time together, mainly eating dinner and seeing plays. This results in Kurt inadvertently alienating himself from his friend Mercedes Jones. Kurt explains to Mercedes that while he's not sure what might happen between himself and Blaine, he doesn't want to lose the friendship that he and Blaine have started. While he doesn't state it explicitly, it is implied that he is hopeful that something more could come from the relationship.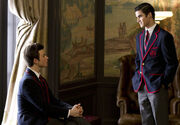 Unfortunately, Kurt does not make the cut since he has seemingly tried too hard and doesn't fit neatly within the status quo by singing Don't Cry for Me Argentina. Blaine reminds him that Dalton is about fitting in, hence the uniforms. Kurt ends up confiding in Rachel Berry that the Dalton boys don't exactly want his panache. When Blaine comes up to him to tell him they're calling places, he places his hand on Kurt's shoulder and smiles directly at him. During their Sectionals performance of Hey, Soul Sister, Blaine clearly sings some key parts of the song to Kurt, another possible sign of his romantic interest. Sometime after the performance, Kurt texts Blaine worriedly when he thinks the Warblers' canary, Pavarotti, is dying. Blaine hurries to his aid, but informs him that he's only malting and goes into a spiel about the bird's life cycle that can be taken as a metaphor for Kurt's assimilation into Dalton Academy. Blaine also gives Kurt an encouraging pat on the knee after telling him not to forget about choir practice, he stands and leaves Kurt to tend to Pavarotti. Blaine characteristically stays very near Kurt in all their scenes together and Kurt seems relieved when he realizes he's pleasing Blaine.
Baby, It's Cold Outside
, which he has to sing for an event. Typically, it's a duet usually performed by two members of the opposite sex, which Kurt notes. As they sing and dance around the Dalton Academy senior commons, they act out the suggestive and flirty lyrics, dancing playfully around one another.
At the song's end, the two boys are sitting very close on the sofa, and Blaine assures Kurt that he sang way better than the girl he's going to perform it with will. Blaine leaves and Kurt is surprised by a visit from Mr. Schuester, to whom he confesses that he and Blaine are just friends even though he wants more, saying, "No, he's just a friend. On the upside, I'm in love with him and he's actually gay. I call that progress" which is likely a reference to
his past with Finn
or
alliance with Sam
.
At the beginning of the episode we see the Warblers performing Bills, Bills, Bills. During this song Blaine sits next to Kurt for a while, causing Kurt to smile nervously, to which Blaine seems oblivious. Kurt also gives Blaine a few flirtatious looks. Kurt and Blaine then meet with Rachel and Mercedes at The Lima Bean to talk McKinley's football team. During their conversation, Kurt says, "Blaine and I love football. Well, Blaine loves football. I love scarves." and Blaine chuckles in return. They end up going to the game together, accompanied by Burt and Carole.
Blaine and Kurt are once again at the Lima Bean, discussing Valentine's Day. Blaine tells an unenthusiastic Kurt that Valentine's Day is his favorite holiday, because the day encourages people to "lay it all on the line, and say to somebody, 'I'm in love with you'." At this point Kurt is staring at Blaine, before quickly snapping back to reality as they move forward in the queue. Blaine looks to Kurt for advice, revealing that he has a crush on a guy who he has only known for a short period of time, and wants to confess his feelings to that person, but is unsure if he should do so in a song. Kurt, who suspects that this "guy" is himself, encourages Blaine's intentions. Blaine then orders both of their coffees, which comes as a surprise to Kurt who asks, "You know my coffee order?" Blaine replies incredulously, "Of course I do." He also pays for the both of them, and when he walks away Kurt tells the barista at the counter that he believes he has a new favorite holiday, in reference to what Blaine mentioned previously.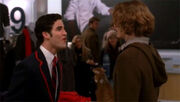 Later, back at Dalton Academy, Kurt is seen drawing a valentine heart that encircles "Blaine + Kurt" when Blaine approaches him and tells Kurt that he has called an emergency Warblers' meeting. At the meeting, Blaine tells the council of his intentions to sing a love song to his crush. Kurt believes that Blaine must have feelings for him and pushes for the public declaration, swaying the Warblers into allowing the live performance. When the proposal is accepted, Kurt is utterly shocked and disappointed when Blaine tells him that his crush is Jeremiah, an assistant manager at the local Gap store. The Dalton Academy Warblers accompany Blaine to the store to perform a sort of flash mob. Blaine becomes noticeably nervous and attempts to back out. Kurt stops him and instills confidence in him, despite his disappointment about Blaine's romantic intentions. With the assistance of the Warblers, Blaine serenades Jeremiah with Robin Thicke's When I Get You Alone, a song, which sends Kurt into a noticeable swoon. Towards the end of the song, Kurt is seen leaning on a mannequin, staring longingly at Blaine as he serenades Jeremiah. Kurt can also be seen moping near the counter of the store while Blaine and the rest of the Warblers dance around and on the table in front of the checkout register. He looks irritated and perhaps a little jealous of Jeremiah in the corner of the screen. After the performance Jeremiah is fired and rebuffs Blaine. Jeremiah tells Blaine that his GAP co-workers were shocked by the performance because "nobody here knows I'm...gay." Kurt quickly cuts in behind them. "Can I be honest? With the hair... I think they do!" Jeremiah soon ends the conversation and leaves Blaine and Kurt together. Blaine turns around to Kurt looking bewildered and heartbroken.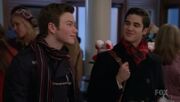 Later in the coffee shop, as they both stand waiting in line together, Kurt confess his feelings to Blaine, who is surprised, having not suspected Kurt's feelings to consist of anything more than friendship. Blaine tells Kurt that he cares for him, but is terrible at romance and doesn't want to risk damaging their friendship. However, Kurt does say, "It's just like When Harry Met Sally." and Blaine says, "Don't they get together in the end?" Kurt ignores the question and orders coffee for both Blaine and himself. Towards the end of the episode, the Warblers including Blaine and Kurt sing Silly Love Songs in Breadstix to all the people that were in the cafe, mainly New Directions members. Throughout the song, Blaine and Kurt give flirting looks.
Kurt and Blaine go to Rachel's party with the rest of the New Directions. Blaine gets drunk while Kurt stays sober because he's still "trying to impress Blaine." Later that night, Rachel and Blaine share a drunken kiss via Spin-the-Bottle and break into Don't You Want Me. Kurt is noticeably disturbed by this as he says: "Okay.....I think we've had enough of that."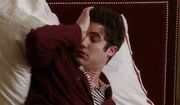 The next morning, Burt walks into Kurt's room asking about a cooking recipe. Thinking that the figure in the bed is Kurt he carries on talking in that direction. Kurt replies "I'll be down in a sec..." whilst moisturizing at his dressing table in the other room. Burt then looks back at the bed to see Blaine waking up confused and hung-over. This noticeably shocks Burt and he awkwardly leaves.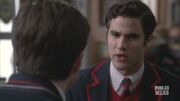 Later in the episode, Kurt and Blaine are having coffee when Rachel calls Blaine to ask him out on a date. Blaine says yes, which confuses Kurt. Blaine says that it's great that Kurt is completely sure of his sexual orientation, but that "some of us aren't as lucky," meaning that he doesn't know if he's actually homosexual or not. Kurt is upset that Blaine would think he is bisexual and Blaine responds by accusing Kurt of treating him similarly to how Karofsky treated Kurt. After their argument, Blaine leaves. Later, Kurt and Burt talk about Blaine and Rachel and Blaine's "experimenting." Burt mentions that Blaine is not the only one "experimenting" and asks Kurt to apologize for being inappropriate for having a guy spend the night. Kurt apologizes reluctantly after mentioning that they were both fully clothed the entire night. He promises not to have any more sleepovers with anyone that "might be gay" without asking Burt's permission first. Kurt "just happens" to be in Rachel's neighborhood at 10pm to help Rachel clean up the mess in her basement from the party the night before. He asks about Rachel's date with Blaine to which she replies it was lovely—the date consisted of them watching Love Story at the revival theatre and dressing up as the characters from the play, mouthing the dialogue, but not kissing. Kurt mocks her enthusiasm and makes comments about how 'gay' the date was (as, as he insists, is Blaine). Rachel then bets Kurt that if she kissed Blaine while he was sober there would still be a spark. At the end of the episode, Kurt and Rachel are waiting for Blaine at the Lima Bean. Once Blaine arrives, Rachel rushes up to him and before he can greet her, she kisses him. In response, Blaine realizes once and for all that he is gay and thanks Rachel for clearing up his confusion. Rather than being upset, Rachel tells Kurt that it is "song writing gold" to have had a failed romantic experience with a gay man. Kurt and Blaine eventually resolve their argument.
In this episode, the Warblers perform Animal to Dalton's sister school, Crawford, in order to practice being "sexy" in response to Sue Sylvester's information on the activities of New Directions. ("The Warblers gotta do something sexified!" Blaine says.) During the performance, which features Kurt and Blaine on lead vocals, Kurt makes weird facial expressions and movements that he thinks are "sexy." After the performance, Blaine addresses his misconceptions and proposes that they take the time to practice Kurt's "sexy faces." While Blaine and Kurt are in front of a mirror, Blaine asks Kurt to use his sensual and sultry faces, but the face that actually comes out is "uncomfortable." Kurt explains to Blaine that he knows nothing about sex, and Blaine tries to initiate a talk about sex so that Kurt is educated, but Kurt becomes exceedingly nervous and uncomfortable culminating in his asking Blaine to leave. Worried, Blaine finds Burt and tells him that he should talk to Kurt about sex, as he thinks that if Burt waits until Kurt is ready to talk about it, the conversation might come too late.
A while later, a reluctant Burt goes to an even more reluctant Kurt, and although he refuses to listen at first, beginning to sing "La la la la la la!" in order to drown out Burt, they have "the talk," during which Burt tells Kurt not to just "throw yourself around, like you don't matter 'cause you matter" and to wait until he is ready, indicating that for his 30th birthday it might be a good present to himself. Burt then gives Kurt, who is now less reluctant, but still uncomfortable, pamphlets about "male" sex.
The Warblers open up the episode with Misery, in which Blaine has the lead vocals and Kurt and the Warblers sing backup vocals. Kurt participates in the song, halfheartedly and in an almost bored fashion. During the song, Blaine puts his head on Kurt's shoulder and Blaine sings coquettishly. After the performance, Blaine senses something is wrong and asks Kurt about it. Attempting to be completely honest without hurting him, a perturbed and jealous Kurt tells Blaine that sometimes he feels they aren't "The Warblers," but "Blaine and the Pips." Blaine realizes that Kurt is right; the Warblers have been relying too heavily on his vocals, and that they will not beat New Directions or win Regionals that way. Later in the episode, the Warblers' canary, Pavarotti, dies while in Kurt's care. Interrupting the Warblers' Council, a tearful Kurt asks for permission to sing a song in tribute to their beloved pet, as opposed to them "doo-wopping behind Blaine in a medley of P!nk songs," to which they concede. Kurt begins to perform Blackbird by the Beatles, Blaine and the other Warblers joining in with background vocals.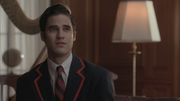 During the song, after the first verse, we see Blaine look up, but then double take at Kurt as if he was awestruck. Blaine's eyes then follow Kurt around the room as he finds himself pondering over his view of Kurt. Realizing that he does have feelings for him. He stops singing and simply stares at Kurt ardently with a smile for the remainder of the song. Later at the Warblers Regional meeting, Blaine is distinctly trying to catch Kurt's eye because Kurt seems distant from the discussion over the competition—over who should get the lead solo. The Warblers sing praises only for Blaine to take the lead. To which Blaine states "Enough, I'm tired of this." He glances over to Kurt again, but Kurt is staring down immune to these advances. Blaine takes over and explains that he doesn't want to silence anyone else's voice (referring to Pavarotti), the Warblers agree. Kurt speaks up, asking to have his name put on the audition list, but Blaine interrupts him. He explains that he doesn't want there to be any auditions, and asks to "sing [his] duet... with Kurt." The Warblers unanimously agree to Blaine's proposal. Kurt remains oblivious to Blaine's feelings as the council finalizes the decision and congratulates him. We see Blaine clapping with the other Warblers and then flutter his eyes. In the next scene, Blaine slowly approaches Kurt, interrupting him decorating Pavarotti's casket to rehearse their duet for Regionals. Blaine declares that his choice of song for their duet is Candles by Hey Monday, which impresses Kurt, who remarks that he's "usually so top 40." He tells Kurt that he was looking for a song that was a little more emotional. This makes Kurt curious, and he inquires why Blaine chose him as duet partner. Nervously, Blaine looks deep into Kurt's eyes and says: "Kurt, there is a moment... When you say to yourself: 'Oh, there you are. I've been looking for you forever.' Watching you do Blackbird this week... that was the moment for me - about you. You move me, Kurt... and this duet would be just an excuse to spend more time with you."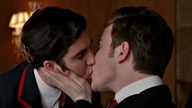 Kurt looks speechless and remains still as Blaine leans forward to kiss him. Blaine meets Kurt's lips whilst gently caressing Kurt's cheek with his hand. After the initial surprise, Kurt reciprocates the kiss, touching his hand to Blaine's cheek. As they part, they're both short of breath and flustered. Blaine smiles and says, "We should practice," to which Kurt impishly replies, "I thought we were." Both boys lunge towards each other for a second kiss. Later at Regionals, Kurt is nervous about performing in front of a competition audience for the first time as a soloist. Blaine reassures him that he will be wonderful, but that Kurt's nervousness is absolutely adorable. Kurt opens the number, Candles and Blaine soon joins in. The boys sing to each other for most of the song, making the performance more personal. The song receives a standing ovation, and Blaine playfully positions Kurt in the spotlight prompting him to bow. The Warblers perform their second song, Raise Your Glass, with Blaine as the lead.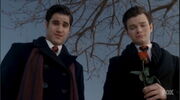 In the judges' room, Sister Mary Constance seems to think that Dalton Academy appears to be a gay school (Kurt and Blaine's body language during the song may have contributed to that observation), which immediately wins the disapproval of the conservative politician. In the end, they do not win Regionals. The New Directions, Kurt's old glee club, moves on. Afterwards, Kurt and Blaine bury Pavarotti in a fancy casket. Blaine asks if it reminds Kurt of his mom's funeral and Kurt confesses that it does though the casket was bigger. Kurt also says he is disappointed over their loss, and that he really wanted to win. Blaine says, "You did win, so did I. We got each other out of all this. That beats a lousy trophy, don't you think?" Blaine, smiling, offers his hand to Kurt. Kurt takes it, and smiles as they walk away from beneath the tree of Pavarotti's final resting place, holding hands.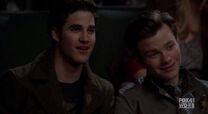 Before the "Night of Neglect" starts, Kurt gives Blaine a tour of his old school. While walking, they run into Brittany and Artie who tell them to hurry up and get a seat in the auditorium. Brittany and Artie thank them for coming and say supporting them is a very cool thing to do. When they walk off, Blaine can tell Kurt misses them and comments on it. A moment later, Karofsky appears and starts making negative gay comments towards Blaine and Kurt. After a few hurtful and derogatory words are exchanged, Blaine becomes angered and shoves Karofsky, who immediately shoves him back, while Kurt stands by and watches. The fight doesn't last long as Santana shows up and threatens Karofsky with physical violence: "I have razor blades hidden in my hair." Intimidated and bewildered, Karofsky leaves. Later, after intermission, Blaine tells Sandy, who's been heckling New Directions, that he is a horrible person. Kurt then tells Blaine to calm down by pointing him in the direction of their seats, where they enjoy the rest of the concert together.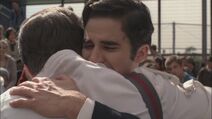 In the beginning Kurt, Blaine, Santana, Mercedes and Tina are seen discussing Nationals at the Lima Bean. When Kurt is asked about New Directions going to New York, Kurt is obviously bitter about the Warblers not moving on to the Nationals. The girls say they miss Kurt and want him back, asking if Kurt could transfer back to McKinley. Blaine answers, saying that if it weren't for Karofsky he would be completely fine with Kurt rejoining New Directions, but that he has to be safe. Later, Kurt is called in to the principal's office at McKinley to talk with Karofsky, Karofsky's father, Will, Burt and Principal Figgins. Karofsky apologizes and when the two boys are alone, Kurt demands to know what he's really up to. Dave confesses that he is helping Santana win Prom Queen by getting him back to McKinley. Kurt believes him and returns on the condition that he and Dave start a PFLAG program at McKinley, to which Dave consents.
At McKinley High, just after twelve, Kurt has made the transfer official and is greeted by his fellow New Directions members on the lunchtime steps. Blaine comes to surprise Kurt because he and the Warblers wanted to say goodbye. He casually claims, "I'm sad to see you go, but we all know this is something that you really want" and "I'll still get you after school and on the weekends, but these guys won't." He also confirms that Kurt was a great addition to the Warblers and made them a better team. Blaine and the Warblers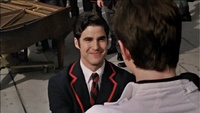 serenade
Somewhere Only We Know
to Kurt as his "goodbye song." Blaine passionately looks at Kurt throughout the performance, fighting back emotions. Midway through the song, Blaine takes Kurt's hands in his and they share a loving look. The Warblers all line up to give Kurt a farewell hug each, which makes him cry. Blaine becomes teary eyed towards the end of the song. At the end of the song, Kurt and Blaine embrace, overcome with emotion. While in each other's arms, Kurt, as if responding to the hug says,
"I'm never saying goodbye to you"
. They leave each other's embrace and Kurt is welcomed by his group of friends saying,
"we love you"
. Blaine lingers, standing alone, and gives Kurt one last happy, teary-eyed glance, and leaves McKinley. Before he leaves, you can see Blaine mouth "thank you." Blaine and Kurt are not seen together for the rest of the episode.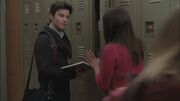 In Rumours, Rachel and Finn are on a stakeout at Sam's motel to see if Quinn is cheating on Finn with Sam. Instead they see Kurt leaving the motel and touching Sam on the arm comfortingly, leading them to believe that he's cheating on Blaine. Rachel confronts Kurt and asks why he would betray Blaine. Kurt laughs this off, saying that he has missed her insanity. It's then revealed that Sam's family has hit a financial low. The truth is that Kurt was only being supportive by donating clothes to Sam and his family in their time of need. It is shown that while Rachel is confronting Kurt, he's already put the picture of Blaine back up in his locker with the word 'COURAGE' underneath. It seems that Blaine was never informed of the supposed 'cheating' as he didn't appear in the episode and it wasn't mentioned that he knew.
In Prom Queen, Kurt and Blaine go to Breadstix. Kurt asks for Blaine's hand to hold across the table and proposes that they go to prom together. Blaine is initially reluctant and reveals to Kurt that when he asked the other only gay guy to a Sadie Hawkins dance at his old school, that three boys "beat the living crap out of us," therefore making school dances a sore spot for Blaine. Kurt tells Blaine that if he is uncomfortable at all, they'll forget about prom and go see a movie instead. Blaine replies, "I'm crazy about you." Kurt looks for an answer and says, "So, I'll take that as a yes?" which Blaine confirms. Kurt yelps with glee and grins from ear to ear, unable to hide his happiness. Back at home; Kurt comes down to show Blaine, Finn, and Burt the kilt he has made himself for prom. Finn thinks it rocks and calls it "Gay Braveheart." Burt thinks that Kurt should not wear the kilt, because he doesn't want it to be a target for bullies. Blaine, affected by his previous experience, takes an unusually conservative view and agrees with Burt. Kurt tells him that "Prom is about joy, not about fear" and decides that he is going to wear the kilt with or without Blaine's company. At the actual prom, Blaine and Kurt dance towards the stage during Friday, but avoid slow dancing together during Jar of Hearts when it looks like every other couple seems to be enjoying their intimate moment, possibly so as not to attract attention as Blaine has said earlier.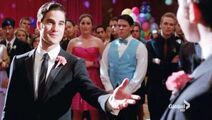 Blaine is next to perform I'm Not Gonna Teach Your Boyfriend How To Dance With You with Tina and Brittany as back up to Kurt's direction whilst a fight ensues between Finn and Jesse over Rachel. In a shocking twist, Kurt finds that he has been voted as the Prom Queen with the king being David Karofsky. Kurt, who believed and thought that McKinley students had accepted or at least learned to ignore that fact he's gay, is emotionally hurt after realizing the fact that the students decided to humiliate him by secret ballot using write-in votes, rather than saying it to his face. Kurt runs out crying with Blaine chasing after him. While in the hallway, Blaine attempts to comfort him, telling him that it was just a "stupid joke."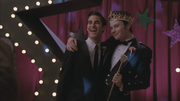 He regains composure and courage with Blaine in the hallway. Blaine tells Kurt that they don't have to go back to the prom if Kurt doesn't want to. Kurt, however, tells Blaine that the prom was supposed to be about redemption and that, if he runs, it will only instill a fear of prom in both of them. Adamant that he is not going to let the people who voted him Queen win by thinking they have hurt him, Kurt goes back to get coronated Queen after telling Blaine, "I'm gonna show them that it doesn't matter if they're yelling at me or whispering behind my back. They can't touch me. They can't touch us or what we have." Back at prom, Kurt gets crowned and announces, "Eat your heart out, Kate Middleton" after he receives the scepter. Rachel begins applauding, which slowly spreads out amongst the entire student body. Principal Figgins then announces that as per tradition the King and Queen are to dance together. Karofsky gets up and walks with Kurt to the dance floor, during which Kurt suggests that perhaps this is the time for Dave to come out to the school. However, as the music starts, Karofsky finds himself unable to go through with it and rushes off in a huff leaving Kurt uneasy on the dance floor by himself. Blaine, however, steps in like prince charming and asks Kurt: "May I have this dance?" Kurt answer is: "Yes, yes you may." Mercedes and Santana sing Dancing Queen. Blaine and Kurt spend the rest of the night relaxed and happy to be seen firmly together and finish the night with the couple portrait.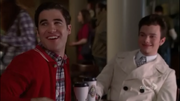 While in New York, Kurt tells Rachel that he and Blaine are planning to move to New York after graduation. After coming in 12th place at Nationals, when the glee club is back in Ohio, Kurt and Blaine have coffee at the Lima Bean, and they talk about Kurt's trip. Kurt continues to explain all the events that happened after Nationals. The whole time Blaine is staring lovingly at Kurt while propping his cheek upon his hand.
Kurt smiles at Blaine after recounting what happened, and Blaine asks Kurt why he isn't really upset about the loss. Kurt says that even though they lost, the experience of New York was amazing—he went on his first plane ride, had breakfast at Tiffany's, and sang on a Broadway stage. Blaine keeps staring at Kurt and, out of nowhere, tells Kurt for the first time that he loves him, whilst Kurt is drinking his coffee. Kurt, at first, is shocked and surprised at the same time and just stares at Blaine in silence before telling Blaine that he loves him too and he then says "You know when you stop and think about it Kurt Hummel's had a pretty good year." They are then interrupted by Sam and Mercedes who grab a coffee together.
Kurt and Blaine are at the Lima Bean having coffee and teasing each other. Kurt is shown urging Blaine to transfer to McKinley, insisting that he had promised by the first day of school he would have made a decision about transferring. Blaine claims he hasn't decided because he'll miss his Dalton friends, to which Kurt replies that he wants his senior year to be magic, but the only way that'll happen is if he gets to spend every single minute with Blaine. Blaine gazes adoringly at him and takes Kurt's hand after he stops talking. Later in the episode, Blaine arrives at McKinley, not in his Dalton uniform and greets Kurt by his locker. He brings up the fact that he's not wearing his Dalton uniform and Kurt realizes that Blaine has transferred. Kurt excitedly hugs Blaine and he hugs him tightly back, but Kurt draws back. Kurt says he worries that Blaine transferred for him, but Blaine insists it wasn't, it was for himself because he can't stand to be apart from the person he loves. Kurt brings up New Directions and Blaine says he already has a number in mind.
Blaine performs It's Not Unusual in the McKinley courtyard with the Cheerios to warm New Directions up to him, which unfortunately leads to the burning of the 3rd purple piano. A few Glee members, most notably Finn, initially resent his presence in New Directions. Later in the episode, Blaine arrives in New Directions, sitting next to Kurt. Kurt talks about becoming senior class president, as the two boys act coupley in the choir room. They then dance next to each other in You Can't Stop the Beat.
West Side Story
with a smashing rendition of
Something's Coming
.
Kurt sneaks into Blaine's audition and watches Blaine perform with a bittersweet smile on his face. Overwhelmed and impressed, Artie then makes a point of asking Blaine to read for the lead role of Tony, even though he had requested to play Bernardo or Officer Krupke. Blaine's expression is torn, and Kurt leaves the room teary-eyed. Blaine is shaking his head as the episode fades to black. The episode ends with a cliffhanger, it is unknown if Blaine chooses to audition for the lead.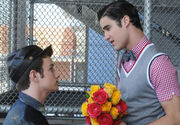 Kurt and Blaine's relationship is not heavily featured in this episode, however the couple has one intimate scene together. Kurt surprises Blaine on the stairs of McKinley High with a bouquet of roses, stating that the cast list for West Side Story is going up soon and that Blaine is guaranteed to get the role of Tony, which Kurt believes Blaine deserves. Kurt says that he killed his audition because of him. Kurt thinks that Blaine is the perfect Tony. Blaine is touched by Kurt's sentiment and the couple shares a sweet moment as Blaine motions to kiss Kurt, but they notice a large group of students nearby; worried about the reaction a PDA between them could bring, both boys agree to just a loving touch on Kurt's shoulder. Kurt then smiles and says "okay" and turns around to walk back down the stairs. Blaine follows him happily and continues to smell the roses. During Rachel and Mercedes' call-back, Blaine and Kurt can be seen sitting closely in the audience together and talking. Kurt has his elbow leaned on the top of Blaine chair. At the end of the episode when the cast list goes up and Blaine is revealed to be Tony, he turns to Kurt and gives him an exhilarated hug to which Kurt eagerly hugs back, but appears to still be disappointed at not getting the leading role.
There aren't very special moments between Kurt and Blaine, however, they dance with each other during Last Friday Night. (Blaine twirls Kurt around and then pinches his waist playfully). They also sit next to each other during choir practice. Blaine takes Kurt out of the seats and dances with him.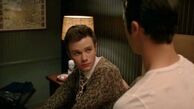 In The First Time, Kurt and Blaine's relationship is not only featured heavily, but is advanced upon and matured at last. Their first scene together shows Blaine dancing around in his bedroom as Kurt watches from his bed. Kurt asks him whether he thinks that he is boring, to which Blaine replies, "Are you crazy? You're the singularly most interesting kid in Ohio!" Kurt smiles and sits up, but elaborates, explaining that he meant sexually. He admits that they are "playing it very safe by not granting our hands visas to travel south of the equator." Blaine continues to dance, but his face softens as he tells Kurt that he thought that was what he and Kurt wanted. Kurt agrees that it is, but wants to know whether Blaine had "ever had the urge to rip each other's clothes off and get dirty." They must be very comfortable together, as Blaine bluntly replies, 'Well yeah, but that's why they invented masturbation." Kurt still blushes and pretends that it's too hot in the room. Blaine bounces onto the bed, and they playfully banter for a bit about the multiple layers of Kurt's clothes. Then Blaine places both hands on Kurt's face and leans in for a kiss. After it, he jokingly says "Mwah!"
Their next scene together is in the hallway of McKinley, when Kurt meets Blaine at his locker. Blaine asks whether Kurt thinks they are too sheltered as artists. They have a small conversation about adventurousness, and Kurt admits to making a bucket list - he reads some of the items on his list out to Blaine. Blaine scans Kurt's face endearingly while Kurt talks. And Kurt gets embarrassed when he reads number five ("Have relations on a dewy meadow of lilacs with Taylor Lautner before he gets fat."). Kurt embarrassingly says, "Oh I know, it's stupid, it's stupid." Blaine says that it is not and that it's hot. It seems that the play, Artie's direction and Blaine's own primal urges have been awakened as he says "Don't you think now is the time to be adventurous, while we're still young?"
Blaine visits Dalton Academy with the intention of inviting all his friends to the McKinley production of West Side Story, but a problem arises in the form of
Sebastian
, who is very much interested in Blaine.
Kurt walks in on the two of them having coffee and takes a possessive role over his boyfriend, taking Blaine's arm and cuddling up against him in their seats. When Sebastian asks if they would like to attend a gay bar, 'Scandals', with him, Blaine immediately, but politely turns him down on behalf of himself and Kurt, but Kurt speaks up and says they should go - he sees a power play with Sebastian that he can win saying "We have a whole bunch of firsts to start crossing off our lists." The next time they are seen in the episode is at Scandals, the gay bar. They get in with very poorly made fake I.D.'s. They have a small conversation about the drag queens at the bar before being spotted by Sebastian. Sebastian is later seen dancing with a tipsy Blaine, but he calls Kurt out onto the dance floor. Kurt and Sebastian argue non-verbally over who gets to dance with Blaine.
A short period of time is skipped and Kurt is seen helping Blaine out of the door of the bar, their arms around each other. Blaine is drunk while Kurt is still sober and when he gets to the car he demands that Kurt kiss him. Kurt refuses with a laugh, helping him into the back seat of the car. As soon as Blaine is seated, he pulls Kurt down into his lap, kissing and licking at his neck. Kurt is surprised, but doesn't stop him until he says that they should "do it." Kurt pulls away then, or tries to; as Blaine tells him the reasons they should have sex. Kurt says that he doesn't want to have sex at that moment, but Blaine tells him that it's about them as a couple, not where they are. Kurt finally pulls away, out of the car and nearly crying. He agrees that it is about them, yelling, "Right, it's about us! Which is why I don't want to do it on a night that you spent half of dancing with another guy! And that you're not sober enough to remember the next day!" Blaine scrambles forward and asks "Why are you yelling at me?," confused in his drunken state. Kurt tells him that he's never felt less like being intimate with someone and either Blaine doesn't know, or he doesn't care. Blaine gets dolefully out of the car, yelling sarcastically that he's sorry for trying to be spontaneous and fun. He says that he can walk home and leaves Kurt, crying, alone for the drive. After America, in West Side Story, Blaine talks to Rachel about how nervous he is about performing because they are both virgins. She tells him it's not about sex, it's about finding your soul-mate against all odds - she tells him that they have both experienced that and he looks ready to cry.
The next scene Kurt and Blaine have together is after the opening night - Blaine is rehearsing a move that he messed up. Kurt comes up behind him and says he should be celebrating. Without making eye contact, Blaine continues to dance, explaining that he screwed up. Kurt tells him that he thought the dance step had been perfect and Blaine stops dancing, finally meeting Kurt's gaze. They exchange congratulations and thanks before Kurt says that the Warblers - and Sebastian - had been in the audience. Blaine changes from being distant to address the issue between them and calls Kurt over to him. He tells Kurt to give him his hand and to hold it against his heart, Kurt making a light joke by saying "Just like the song?" to which Blaine replies "Like the song." Blaine says Kurt's name with a lot of emotion behind his voice, pauses, and then reassures him that Sebastian means nothing to him. He starts tearing up as he entwines their hands and apologizes for his actions of the other night. Kurt states jokingly it is better than last time he was drunk and made out with Rachel. They both laugh. Kurt apologizes in return, saying that he "wanted to be your gay bar superstar, but try as I might I'm still just a silly romantic." Blaine tells him that it isn't silly at all, and initiates a passionate kiss. Kurt kisses back and wraps his arms around Blaine's neck, but still pulls away to whisper against his cheek "You take my breath away. Not just now... but tonight on that stage. I am so proud to be with you." Blaine tears up yet again and whispers back "I hope so. I want you to be." His voice is choked and looks down. He invites Kurt to accompany him to Artie's after party at Breadstix, but Kurt says no. He looks hurt, but Kurt quickly says, "I want to go to your house." Blaine whispers "Okay."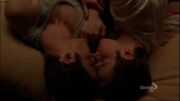 Their final scene together is intercut with Finn/Rachel during the One Hand, One Heart song. They are seen lying in Blaine's bed with their legs touching, arms linking, and exchanging Eskimo kisses. The last shot of them together is a close up of Blaine's face splitting into a loving smile as he runs his hand down Kurt's neck and shoulder, pushing down his shirt.
As Kurt is giving his presidential speech of stopping bullying at McKinley High, Blaine looks at him with admiration and love. Blaine is also shown wearing a button of Kurt's presidential campaign, showing his support for his boyfriend. They both dance in I Can't Go For That/You Make My Dreams. Kurt wears a pink shirt and a grey jacket. Blaine wears a blue shirt and a pink tie.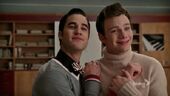 Kurt and Blaine sing Perfect to show Santana that they support her and accept her for who she is. Blaine mentions that they sing it to each other in the car all the time. Blaine is seen at the beginning by the piano, rapturously watching Kurt sing. They are also seen looking at each other with loving looks throughout the song. During the performance of I Kissed A Girl, they film the performance with their phones, sitting closely together. When Kurt is called to Figgins' office, Blaine looks over to Kurt very concerned and worried. After Figgins accuses Kurt of stuffing the ballot box, he leaves crying and bumps into Finn and Rachel, telling them he lost the election and that he has to find Blaine, knowing that he'll comfort him.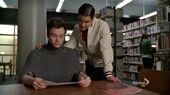 Kurt then congratulates Brittany for becoming president, but says that he won't have anything to put on his NYADA application. Blaine then says, "Don't give up hope, ever. We'll figure something out." During Constant Craving, Blaine looks at Kurt lovingly and Kurt is seen returning the look. When Kurt is filling out his NYADA application in the library, he is upset by how empty it is. But Blaine pats him on the back for reassurance.
In the beginning they have one of their coffee dates at the Lima Bean. They discuss the ND chances in sectionals and Sebastian shows up. Blaine sharply gets up to order a new coffee and rolls his eyes behind Sebastian's back. Once Blaine is out of earshot, Kurt bluntly tells Sebastian "I don't like you." Sebastian laughs and quickly replies "fun.....I don't like you either." They exchange witty and hateful one-liners to each other. Until Sebastian finally tells Kurt that he is trying to steal Blaine. As Blaine returns to the table, they both pretend to be getting on. With Sebastian leaving with the last word's "take care of that Warbler, Kurt." When Sam rejoins New Directions and sings, Red Solo Cup, Kurt says to Blaine, "What's wrong with you?" to which Blaine replies back with something along the lines, "It's just fun." Kurt doesn't seem to like the song, while Blaine is into the song. Blaine experiments with a dance move in rehearsals for Sectionals and Kurt says that it's cute. During the performance of ABC Kurt bitterly spots Sebastian in the audience. After they perform at Sectionals, when they are walking back into the choir room talking to each other, Blaine has his arm at Kurt's waist and Kurt has his arm around Blaine's shoulder.
After Rachel applauds the Christmas tree's appearance, Kurt and Blaine can be seen arriving at rehearsal together. When Rory dedicates his performance of Blue Christmas to his family and "The King," Kurt asks if he is referring to Jesus, and Blaine shakes his head. After Artie tells Rachel that her rendition of River made him want to kill himself and didn't fit in "The Vision," Rachel asks him what "The Vision" is he explains his desire to set it in Switzerland and to star Kurt and Blaine who he calls "the perfect hosts." They both seem very pleased to have been singled out.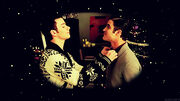 During the opening credits of the special, Kurt appears to be adjusting Blaine's tie. The two are shown in a Swiss Chalet in The Alps. They sing Let It Snow together and Blaine repeatedly reaches out to touch Kurt. After they sing they introduces themselves. Kurt about Blaine: This is my uhhm... friend and holiday roommate Blaine Anderson. Blaine also shoots sexual innuendos out to the audience to hint at what will be happening later on when they are alone. When Rory is reading his book, Kurt looks lovingly at Blaine. At the end of the episode during the performance to Do They Know It's Christmas?, they sing together and look to each other.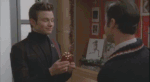 In a deleted scene that Ryan Murphy released on his Twitter and YouTube page, infamously known as the "Klaine Box Scene," Kurt and Blaine are walking through the halls of McKinley as time is quickening to Christmas vacation. Blaine notices Kurt is in a funk, and tries to get him into the holiday spirit. Although Kurt says that the holidays bring him a sort of "melancholy," Blaine immediately suggests it's because of the Elizabeth Taylor jewelry auction ended at midnight, and Kurt admits to being outbid on everything and calling it "auction porn." Blaine then questions how on earth Kurt would be able to afford them since they sold for millions, but then confesses that people don't even know how he can afford half of his wardrobe - and Kurt says that he has an eye on bargains. Blaine then pulls him aside and pulls out a small little red box, as their relationship as reach a new high. Immediately Kurt says that if it's an engagement ring, he would say yes, but when he opens the box, he is presented a ring made out of gum wrappers (Wrigley's Juicy Fruit - Kurt's favorite) in the shape of a bowtie, and Blaine tells him that it's a promise ring. Blaine promises to Kurt that he will always love him, to defend him even if he's wrong, to surprise him, to always pick up his phone calls, to bake him cookies twice a year, to kiss him wherever and whenever, and mostly to remind Kurt how "perfectly imperfect" he is. Throughout this scene, both Blaine and Kurt exchange numerous looks of love and affection for each other, and in some scenes, looked as if Kurt was going to cry. At the end, Kurt loves the ring and the heartfelt meaning (most likely more than any Liz Taylor jewelry) and charges Blaine with a warm, powerful and loving hug. Both then exchange "Merry Christmas," counting this Christmas as the first of many that they will spend together, and walk away arms linked together.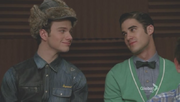 During Rachel's song, Without You, the two share a loving look as this emphasizes the lyrics being portrayed in each other and expresses what they would do without each other. It appears that Blaine leans over to kiss Kurt on the cheek when he is seen leaning over behind Finn. In the pool scene, they are sitting back-to-back on the raft.
Santana, Mercedes, and Brittany walk down the hall with Kurt and Blaine as the girls express their disappointment that they missed out on performing Michael Jackson at Sectionals. When Mr. Schuester suggests they also perform Michael Jackson at Regionals, Blaine breaks into Wanna Be Startin' Somethin' while Kurt and the others dance with him. Kurt and Blaine are in The Lima Bean with other members of New Directions discussing their favorite Michael Jackson memories when Sebastian appears. Kurt wonders why Sebastian always seems to be there. Sebastian mentions that he and the Warblers have usurped New Directions' idea for covering Michael Jackson for Regionals. Kurt wonders how often Blaine and Sebastian talk when Sebastian mentions that Blaine told him their plan on the phone that morning.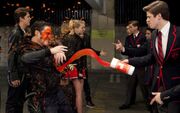 When the New Directions strategize how to handle the disagreement over who will perform Michael Jackson songs, Blaine has the idea to "take it to the streets" and the two show choirs perform a dueling version of Bad in a parking garage. At the end of the song, Sebastian attempts to throw a slushie at Kurt, but Blaine shoves Kurt out of the way, resulting in getting a slushie (later determined to contain rock salt) to the face. He collapses to the ground in pain. Kurt, after being frozen for a moment, shocked that Blaine took the slushie for him, immediately rushes to his side, deeply concerned. Kurt tells everyone that Blaine has a deep corneal scratch, which will require surgery. Looking completely devastated, he says that Sebastian deserves to be punished, as his voice breaks. Kurt makes a list of ways to get back at Sebastian and Santana gives out a few violent suggestions, but he decides he needs to take the high road. When his father comes to give Kurt the letter from NYADA, he starts to panic, saying, "What's wrong? Is Blaine okay?"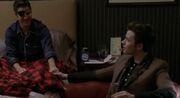 After Kurt gets his finalist letter from NYADA, he visits Blaine, who is wearing an eye patch, in his bedroom. He can be seen reading a magazine for Blaine. Then, Finn and Rachel enter, and Blaine makes a toast to Kurt for making it into NYADA. Blaine then says that he is upset that he'll miss Michael Week and Finn tells him that they decided to bring Blaine 'a little bit of Michael' to him. Kurt then sings Ben for him and is joined by Finn and Rachel while Kurt and Blaine hold hands. In a deleted scene, Kurt and Blaine, along with Santana, Artie and Rachel walk down the halls of Dalton Academy where they witness Sebastian and the Warblers showing their interpretation of Michael Jackson with his Jackson 5 song, I Want You Back. Throughout the performance, all five of them give disgusted and irritated looks, but none more so then Blaine and Kurt. During the performance, the quintet breaks up into two smaller groups, which consisted of Blaine and Kurt in one, where Sebastian made sure to show them up the most. Blaine has moments of showing fear and concern, however Kurt remains the most hostile and furious towards Sebastian in particular, knowing that it wouldn't be out of Sebastian's character to prove to him that he is better than Kurt, and better for Blaine. At the end, they all walk out, while also helping Artie up the stairs.
At a sleepover, Kurt thanks Rachel and Mercedes for spending time with him while Blaine recovers, but wonders why the girls are being so weird and serious. When Rachel confesses that she and Finn are engaged, Kurt is upset with her. When he says he's going to leave so he can go yell at Finn, she argues that he's not being fair and asks Kurt what he'd do if Blaine proposed to him today. Kurt turns suddenly silent and looks away, indicating he would've done the same, and perhaps thinking back to the deleted box scene from Extraordinary Merry Christmas where Blaine gave him a promise ring.
In the choir room, Kurt is alone and depressed since Blaine is still healing from his surgery. Later, Kurt walks into the cafeteria, excited and happy by the cards and the gorilla gram that he receives from a secret admirer, whom he automatically assumes is Blaine. He tells Puck, the boys, and Tina that this is "true love."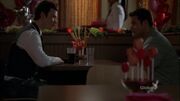 Kurt arrives at Breadstix early to meet up with his secret admirer before Sugar's party. The person in the gorilla suit appears, and Kurt is confused when the card he is given reads "I think I love you"; considering Blaine has already said "I love you" to Kurt in season two, he questions, "Wait, you think you love me?" Then the person in the gorilla suit pulls his mask off, and Kurt is shocked to see that Karofsky has been his secret admirer all along. They sit down, and Karofsky confesses to Kurt saying that he "hated who he was" for bullying Kurt, and that he is trying to be honest with what he is feeling. Kurt is flattered and proud of Karofsky, but eventually turns him down by saying that he doesn't really love him, and also that he is with Blaine. Kurt also tells Karofsky that he likes him as a friend, but only as friends. Disappointed and heartbroken, Karofsky tries to leave, but eventually runs into his friend, Nick, who suspects Kurt and Karofsky are hanging out for Valentine's Day. Kurt explains that they used to go to the same school, and they've just bumped into each other. Nick still suspects the two, and Karofsky leaves.
When Sugar's party (aka. Sugar Shack) starts, Kurt is alone, surrounded by all the couples in the party. He looks a bit disappointed that Blaine isn't there, but after Cherish/Cherish ends, Sugar introduces the surprise guest, who is revealed to be Blaine in a heart shaped eye patch. Kurt is surprised by Blaine's appearance, and his face brightens up. Blaine dedicates the song to "all the lovers in the room," and starts off the song Love Shack by throwing his eye patch away, showing that he has fully recovered from his injury. During the number, Blaine offers his microphone to Kurt to sing. Kurt shakes his head, but to Blaine's surprise, Kurt has his own microphone and joins in. Blaine pulls Kurt to the stage by his tie, and the two boys dance, sing, and laugh together throughout the song.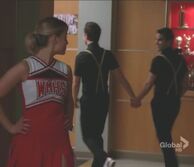 Blaine is upset to learn of Sebastian's blackmail attempt and invites Kurt to the auditorium to listen to him sing Cough Syrup as a possible Regionals song about inspiration. Before singing though, Blaine snaps when Kurt brings up Sebastian, but quickly apologizes, saying he doesn't want to think about Sebastian, only about winning. Kurt and Blaine along with Santana and Brittany confront Sebastian at The Lima Bean, only to find an apologetic Sebastian. He apologizes for the slushie incident, which Blaine does not accept. Sebastian also rescinds his blackmail attempts, but Kurt and Blaine are skeptical until Sebastian seems heartfelt in his declaration following the news of Karofsky's suicide attempt.
When the New Directions are discussing the things they are looking forward to, Blaine mentions he is looking forward to marriage equality in all 50 states, which Kurt smiles at. As they announce the judges for Regionals, Kurt quickly reaches for Blaine when the late night vampire horror host is announced. Blaine quickly turns to jokingly "rawr" at Kurt. After the competition, Kurt and Blaine walk down the hall holding hands. Kurt and Blaine wait as part of the bridal party with Rachel as they prepare for Finn and Rachel's Justice of the Peace wedding.
As they walk down the hallway, Kurt indicates that Blaine seems preoccupied. Blaine says it's because his brother is in town and is planning to take him to lunch. Kurt indicates that he's quite curious about Blaine's mysterious brother who he won't talk about. When Cooper arrives, Kurt is awestruck and recognizes him from his commercials. He flails at Cooper, telling him his commercial is his ringtone. Kurt follows the brothers down the hall, staring at Cooper saying, "Blaine, your brother is the best looking man in the whole of North America." When Cooper talks about their past Duran Duran duets, Blaine is reluctant to perform with him. Kurt says, "No Blaine, you have to. You're both so handsome and good." Kurt gives them a "round of applause" at the end of their performance of Hungry Like the Wolf/Rio.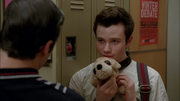 Kurt takes notes during Cooper's acting master class. Blaine notices this and asks why he's bothering to write down what Blaine thinks is bad advice from Cooper. When Kurt returns from Senior Ditch Day, he surprises Blaine with a stuffed dog, sneaking it around Blaine's locker and making a voice for "Margaret Thatcher Dog" whose relationship with the queen was "rough/ruff." Finn won it playing skeeball, but Kurt says he confiscated it to give to Blaine since he wouldn't join them. Blaine laughs to amuse Kurt, but clearly still has a lot on his mind. Kurt sympathizes with Blaine and his brother issues. Kurt encourages Blaine to try to resolve his issues with Cooper. When Blaine says that talking to him doesn't work, Kurt implies he should sing to him. Blaine takes it to heart and sings Somebody That I Used to Know with Cooper and the two resolve some of their issues.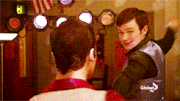 While Mr. Schue is choreographing the dance routine with the wooden models Blaine and Kurt can be seen sitting talking with Rachel and Mercedes about the future. During Santana's performance of If I Can't Have You, Kurt can be seen staring lovingly at Blaine. They also dance together during More Than a Woman, alongside Finn and Rachel, Brittany and Santana, and Mike and Tina. While they are dancing to More Than a Woman, Kurt can be seen jumping about acting very energetic and Blaine is grinning lovingly at Kurt.
Kurt approaches Blaine at his locker talking about which Whitney Houston song he's going to sing. He eventually decides that he "kill two birds with one stone," by using one for the assignment and one for his upcoming NYADA audition. Blaine appears distant and says he won't be able to go with Kurt to get the sheet music. When Kurt goes to the music store, he meets Chandler who compliments his outfit and the two enthusiastically discuss their upcoming auditions for different New York schools. When Chandler asks Kurt for his phone number, Kurt hesitates for a moment, realizing what could be happening. Rachel sees Kurt's reaction upon receiving a text and assumes it is from Blaine. He shares with her the flirty puns he's been sharing with Chandler. He comments that he and Blaine are becoming like an old married couple and haven't had an unscheduled make out session in a month. He refers to Chandler's texts as innocent. Rachel points out that it isn't as innocent as Kurt believes if he wouldn't show Blaine the texts.
During Santana and Rachel's performance of So Emotional, Kurt is receiving more text messages from Chandler and laughing and sharing them with Sam. Meanwhile, Blaine is sitting uncomfortably noticing that something is clearly wrong with how much Kurt is enjoying whatever is happening with his phone. He leans over; trying to see what Kurt is looking at, but is too far away to see anything. Kurt walks into his bedroom with snacks to find Blaine looking devastated with Kurt's phone in his hand. Blaine asks who Chandler is. His phone had been buzzing repeatedly because Chandler had been texting him.
Kurt insists it is innocent, but Blaine believes it is cheating. Kurt compares it to Blaine contacting Sebastian, but Blaine says that he didn't like Sebastian. He believes Kurt likes Chandler. Kurt admits he likes how Chandler makes him feel and questions the fact that Blaine hasn't made him feel special lately. Blaine points out that he changed schools for him and gave up his changed life to be with Kurt. Kurt says it's difficult to have an alpha gay boyfriend who gets all of the performances. Blaine tells him he should have just talked to him about his unhappiness instead of cheating. Kurt still insists it wasn't cheating and says it's okay. Blaine follows up saying, "It's not right, but it's okay..."
Blaine gives an angry performance of It's Not Right, But It's Okay in the choir room. He introduces it by saying, "This song is for anyone that's ever been cheated on." Kurt responds with "This is insane. I didn't cheat on you." Everyone in the Glee Club immediately looks at Kurt suspiciously and are largely uncomfortable at first. Kurt is extremely upset. Once Blaine has finished the song he storms out angrily.
After Kurt has a bonding moment with his father, who admits he's been avoiding the fact that Kurt will be leaving and how much he'll miss him, Kurt sings his apology to Blaine in a very heartfelt rendition of I Have Nothing, bringing Blaine to tears, though he is still clearly hurt.
Kurt asks Ms. Pillsbury to provide couples counseling for them. Blaine admits that he doesn't like how Kurt snaps his fingers at wait staff and how he slips bronzer into his moisturizer, because he only uses it on his hands, and it looks weird if a person only has tan hands before confessing the real issue. He is frustrated that they only talk about New York, and he thinks that Kurt can't wait to start his new life and leave Blaine behind. He continues by saying he's been distant because he's trying to get used to life without Kurt, who he refers to as "the love of his life." Kurt replies that he won't be alone, and promises that they will Skype every day, and Blaine will visit him every weekend. Blaine says, "I love you so much" to which Kurt replies, "I love you too," they share a loving embrace and all is forgiven.
Blaine approaches Kurt's locker. When Kurt gets a text, he tells Blaine that he told Chandler not to text him. Blaine replies that it's from him, and Kurt is surprised because it is clearly a very suggestive and this time unscheduled plan to skip Glee practice. Earlier in the episode, Kurt had mentioned to Rachel that he and Blaine schedule make-out sessions, and that they haven't had an unscheduled make-out session in a month. When Kurt reads the text, he looks up at Blaine and says "How unscheduled of you," so it seems that Blaine wanted to blow off glee practice to make out. They eventually decide to go to Glee because they only have so many left together. The two attend Glee together, holding each other and interacting lovingly during the performance of My Love Is Your Love.
Kurt rehearses The Music of the Night in the auditorium for his NYADA audition piece while Blaine watches from the seats. At the conclusion of the song, Blaine jumps to his feet in applause, shouting, "Fantastic! I loved it!" Kurt, however, is unsure and suggests adding sequins to his cape, or singing in German, or in the nude. Blaine is surprised by his ideas. Kurt wants to show he's ahead of the curve and thinks that this performance is too safe and boring. When Kurt suggests he might just need more candles, Blaine looks at the hundreds of candles on the stage and tells him that's definitely not it.
Rachel confronts Kurt saying she heard from Blaine that Kurt is planning to perform Not the Boy Next Door for his audition. She says that would be a huge mistake and that she believes he is sabotaging himself without sticking to what is safe. Kurt is terrified to learn that they will be auditioning for Carmen Tibideaux. He abruptly switches from The Music of the Night to Not the Boy Next Door when he sees her reaction to his introduction. Blaine, Will, and Rachel watch from the audience behind Ms. Tibideaux. All three love his performance and begin clapping, though they cut themselves off, knowing it isn't appropriate during the audition. When Ms. Tibideaux praises Kurt's performance, Blaine looks quite proud of him.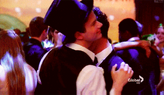 Kurt and Blaine are sitting beside each other when Brittany comes in to tell New Directions that the theme of the prom is dinosaurs, and that one of the rules is that you can't wear hair gel, an idea Blaine laughs and finds ridiculous. Kurt and Blaine sing with Rachel during the performance of Big Girls Don't Cry sharing loving looks throughout the performance. It's there that all three of them express discomfort into attending the prom for their own reasons. They decide to throw their own prom, called the "Anti-Prom," enlisting on some of the glee club members to join. On the night only Rachel, Kurt, Blaine, Puck and Becky turn up to the hotel room (where the Anti-Prom was being held). Boredom quickly sets in and the group soon starts to question their motives for being there and not at the McKinley Prom. Blaine's argument is that he's scared to show himself to Kurt without gel. After Finn convinces Kurt and Blaine to come to prom, Brittany tells Blaine that he can't join unless he gets rid of the gel in his hair. Kurt looks at Blaine and tells him that he can do it, and Blaine leaves.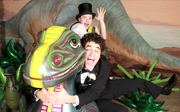 Later during the prom, Blaine rejoins the prom with all eyes on him in shock, including Kurt and Brittany. After Brittany realizes that Blaine needs the gel, she tells him that he can go back and apply the gel. Just when he leaves, Kurt stops him, telling him that he loves him no matter what his hair looks like. Kurt said that he wants everyone to see how proud he is of his brave, handsome, bushy-haired boyfriend." and Blaine agrees and they spend most of the night dancing. When Quinn stands up in Take My Breath Away, they pause their dancing to look at her, shoked with Kurt mentioning it was a miracle. Later during the song, they are shown slow dancing and Blaine is shown nuzzling/kissing Kurt's neck before they take their prom picture.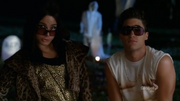 The two of them are at the mall in the massage chairs. Blaine agrees with Kurt that although they are gay, there's no reason that Kurt has to cross-dress on Sue's order and Kurt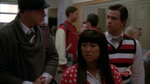 agrees. When they see Tina, Kurt tells her that they are going to get a hot pretzel and that she's welcome to join the two of them. When Tina falls into the fountain, both of them come running up to help her out.
In Tina's Dream, they trade places with Finn and Puck - Finn being Kurt and Puck being Blaine.
During Paradise By The Dashboard Light, Kurt and Blaine sing a duet together and can be seen dancing together during the rest of the song. When the judges announce the winner, they are holding hands and hugging each other. During the hallway celebration in Tongue Tied, a jock (possible a bully) comes up and hugs a surprised Kurt while Blaine laughs happily and smiles.
When Will brings up the assignment of farewells, Blaine and Kurt share a moment of their own as they stare at each other, around the same time Will points out that people will be leaving. As they walk into a classroom together, Kurt tells Blaine that his father dance of
Single Ladies (Put A Ring On It)
was the best graduation present he had received, a comment Blaine questioned about, with his gift of monogrammed towels. Kurt replied that he doesn't need to give him a gift. Blaine makes Kurt face the facts that Kurt is graduating and would that they would have to have a long distance relationship. Kurt tells Blaine that he imagines his life as the ending of "The Notebook." He would be in a nursing home, talking about his high school sweetheart and first true love. The difference is that in his version, he would be telling this to his high school sweetheart, implying that he wants to be with Blaine, even at the end of his life. Kurt reassures him that he would never say goodbye to him and that they could make a long distance relationship work. Blaine looks relieved to hear this, and changes to topic to Kurt's final song and how he would say goodbye. Kurt sings
I'll Remember
to the group, but especially to the males of the club. The seniors also perform a "swan song" of their own,
You Get What You Give
. During this song, Kurt mimics a fishing rod to Blaine and they share a dancing moment. As they release, Kurt and Blaine share a meaningful look and Kurt shrugs, almost in defeat. During
In My Life
, Blaine sings the song to Kurt and the other graduating members, and they continue to share various amounts of eye contacts and smiles. It seems that they might have hugged after the performance, but you can't see too well. At the ceremony, Kurt walks up to Blaine and starts to cry. Blaine gives him a handkerchief and sends him off to the stage.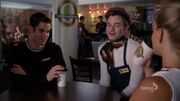 Kurt and Blaine's first scene, accompanied by Brittany, is in The Lima Bean, where Kurt is on his shift. He is extremely excited for the upcoming Glee Club auditions, and questions whether it's sad that he's more excited than Brittany and Blaine are. Before the conversation can completely continue, Kurt is called over by Kitty, who complains that her iced latte is "too cold." Immediately after, his boss tells him to refill the biscotti jar. He looks back to Brittany and Blaine, who are leaving. Blaine gestures with his hand that he'll call Kurt later, and then the two leave. During the Glee Club auditions, Kurt and Blaine are seated next to each other, but there is no real interaction between the two during that scene.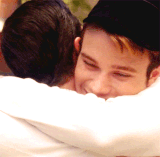 Later, Kurt and Blaine are drinking coffee in the courtyard. After Kurt gives Blaine advice on being the new lead soloist, which was decided beforehand, Blaine asks if he can give Kurt some advice as well. Blaine tells Kurt that he doesn't belong in Ohio anymore. Kurt agrees, saying he knows that he is pathetic. Blaine is quick to reply, saying that Kurt isn't pathetic, just stuck. He said that Kurt belongs in New York. He says that he would hate to see him go, but he knows that it's killing Kurt to stay in Lima, and that that's killing him. Kurt reminds Blaine that he's going to re-audition for NYADA, but Blaine says that he doesn't need NYADA. Kurt asks "What about us?," and Blaine ensures that he will be there next year, but that it was Kurt's time, and he's ready. With the help of the Cheerios, he serenades Kurt with It's Time. The two share loving and flirtatious looks throughout the song. When Blaine is done, the two hug tightly, and Kurt tells Blaine that he will miss him.
While talking to Rachel in their new, spacious apartment, Kurt informs her that Blaine told him about the second Britney week. This hints that he and Blaine have communicated in some form after Kurt left Lima. Besides this, Kurt and Blaine took a backseat in this episode.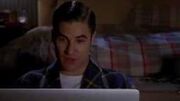 The episode starts with the first Blaine voiceover. He talks about how he's joining so many clubs to fill the void since Kurt was in New York, and he gazes at a picture of him and Kurt in his locker with his head on Kurt's shoulder. It also shows Kurt and Blaine having a "Skype date" while watching Treme with Kurt, and he slides the popcorn bowl towards the computer while Kurt eats a piece of popcorn. After Rachel's makeover, Kurt and Blaine talk on Skype. Blaine, while incredibly happy for Kurt and his success, is visually upset because Kurt keeps talking about how amazing it all is. When Blaine tries to interject, Kurt seems uninterested. Kurt dismisses Blaine's question about what bow tie he should wear for the debate and Blaine is clearly hurt by Kurt's seemingly lack of concern. It seems that Blaine is feeling like Kurt is so busy and taken with his work that he'll forget about him. During the party following Blaine's election as class president, Artie asks Blaine what Kurt's response was to hearing about Blaine's triumph, to which Blaine says Kurt was planning him a whole inaugural ball. He lied. Blaine had not told Kurt yet. Blaine decides to call Kurt to share the news. Kurt, who is talking with colleagues, guiltily declines the call. Blaine confides in Sam that he feels alone because he only came to McKinley for Kurt, and he did all of this for him and now that he's gone it feels like none of it matters. Sam gives him some good advice, and the two boys' friendship strengthens.

While Kurt is at work and Blaine is at school, Kurt calls Blaine, who immediately lights up when seeing Kurt's calling. Their conversation is interrupted however by the Vogue office phones ringing off the hook. Kurt tells Blaine he doesn't want to miss their phone dates, but that this could be a career for him. Blaine says he understands, but he misses Kurt. Kurt tells Blaine he misses him too and reminds Blaine that he is coming to visit in two weeks. Kurt then gets a call from a good gossip source and tells Blaine he will call him later. Blaine's "I love you" is responded with a dial tone. Blaine breaks into Barely Breathing, and pictures Kurt in the auditorium, watching him. Kurt is wearing the same outfit he wore when he first met Blaine at Dalton. At the end of the number, we see Blaine messaging someone named Eli on Facebook, and is asked to go over his house. At that point, we're unsure whether or not Blaine accepted the invitation. Blaine surprises Kurt in New York two weeks early, bringing a bouquet of roses. He says he couldn't wait any longer and missed Kurt so much. Kurt is elated, and the two share a quick, but desperate kiss.
That night, Blaine, Kurt, Rachel, and Finn go to "Callbacks" a local piano bar for NYADA students. Kurt comments on Blaine seeming a bit off, but Blaine dismisses the comment, blaming it on a long flight. After Brody and Rachel's performance, Blaine says he wants to sing something. Blaine performs the acoustic version of Teenage Dream saying that this was the song he sang when he first met the love of his life. Blaine breaks down during it and making Kurt worried. It is finally revealed during their walk in the park that Blaine was with someone. He said it didn't mean anything, and that he was just lonely and it was only a hookup. Kurt broke down, saying that he felt lonely too, and he had temptations, but he never did anything because he knew what it meant. They, along with Finn and Rachel, sang Don't Speak and went to sleep without speaking.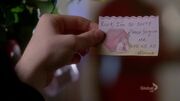 At work, Kurt receives a large bouquet of red and yellow roses, with a note from Blaine that says he's sorry and begging for forgiveness. After a brief conversation with a co-worker, he throws the note away. The episode ends with Kurt and Blaine singing part of The Scientist with a flashback to the day they first met. Their dating status is currently uncertain
The Role You Were Born to Play
In the beginning of the episode, Blaine is with Sam while he signs up to audition for Grease. Blaine tells Sam that he doesn't think he's in the right headspace to be in Grease; since his break-up with Kurt, Blaine hasn't been sleeping, lost his appetite, and hasn't been gelling his hair on weekends. He says that Kurt is his soul mate, and that they were planning to spend the rest of their lives together. Now, Kurt won't talk to him at all, and Blaine fears that he's lost Kurt forever. Blaine begins to sing Hopelessly Devoted To You while flipping through a scrapbook of pictures, all of Kurt. When the song ends, Blaine is onstage for his Grease audition, where Artie and Finn tell him that he was amazing and perfect for Danny Zuko. Blaine interrupts tearfully, saying that he can't do it. He says he can't possibly play a romance when he himself had just ruined his own. He says he could possibly play Teen Angel, but probably not. He then runs offstage in tears. It is revealed later that Blaine has received the role of Teen Angel. When he finds out, he looks at Finn like he's trying to smile, but can't.
Kurt begins helping Rachel for her off-Broadway play audition. When Cassandra walks in, she starts asking more questions about the musical. They tell her that they're nervous to attend because both of their exes are somehow involved in the musical. She ends up convincing them to go see Grease after Kurt admits he's barely sleeping (living off Ambien and The Notebook) and needs to see Blaine. Before the play, Kurt and Rachel run into Blaine, where he is caught off guard. Later Finn shows up which results in an extremely awkward and painful for all of them. During this encounter, Blaine barely takes his eyes off Kurt, while Kurt barely makes any eye contact with Blaine. When they both walk away to get ready, Kurt starts to break down and tell Rachel that he can't do it and it was a mistake coming, but Rachel tells him that it will be alright. During Blaine's performance of Beauty School Drop Out, he and Kurt share a few pained looks holding in several emotions - especially Blaine as he's almost about to break character and cry.
Towards the end of the play, Kurt imagines a sort of fantasy where he and Blaine are singing You're the One That I Want together, both happily dancing and singing as if nothing was wrong. Afterwards, Kurt and Blaine have a cold, sad conversation. Blaine tries to tell Kurt what happened between him and the guy he hooked up with, but Kurt refuses to listen. He tells Blaine that relationships are about trust, and that he doesn't trust Blaine anymore. He leaves with Rachel, leaving Blaine obviously devastated.
In the Superheroes Society Club, Tina - as Asian Persuasion - texts Blaine - as Nightbird - on whether or not he has made any contact with Kurt. Blaine immediately turns it down, saying that her persuasion powers can't help him talk to his ex. After the New Directions' Nationals trophy was stolen by The Warblers, Blaine goes to Dalton to get it back, where the Warblers' new captain Hunter Clarington tries to lure him back to Dalton by reminding him that he only went to McKinley for Kurt, and even himself should know that McKinley is not where he belongs. Later, Blaine tells Finn about singing with the Warblers, about how it just felt right to him. Finn asks if it was about Kurt, and Blaine tells him that everything in the choir room reminds Blaine of him; Kurt was his anchor, and now that they're broken up, Blaine feels like he's floating.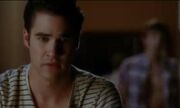 While Blaine is cleaning out his locker, Sam comes up to him and asks him why he is going back to Dalton Academy. Blaine admits that he just wants to further punish himself for cheating on Kurt. Blaine explains that he cheated because he felt that Kurt was moving forward without him, and that maybe they weren't meant to be together. However immediately after, Blaine realizes that they are meant to be and is devastated. Blaine tells him that everything is not all right because he hurt the one person he loves more than anything in the world. Sam tells him that he needs to say that to Kurt, but Blaine replies that Kurt isn't talking to him, and he doesn't blame him, openly acknowledging that his actions broke the trust they shared. Sam tells him that exiling himself to Dalton isn't going to make what Blaine did any better, and that he has to try and forgive himself.
During a dinner date with a majority of the McKinley Glee alumni, questions start brewing about Rachel and Kurt, and whether anyone has heard anything from them. Mike speaks up saying that Blaine has been texting him, but Kurt has still not replied. Meanwhile, Kurt and Rachel are walking the streets of New York talking about how they will celebrate Thanksgiving, with Rachel getting Kurt to agree that although New York makes them feel lonely at times it is better not to return home to Lima for the holidays, despite Kurt missing his father in particular. Rachel makes a point of it being better to stay away from Finn and Brody, and Kurt adds "and Blaine," though he does not look quite as convinced as Rachel. He looks wistful as if deep down he did long for home and pine for his ex-boyfriend. He makes Rachel "pinky-promise" that it'll be the best Thanksgiving celebration. Later on, as Kurt is about to leave work, he discovers that Isabelle is still sitting at her desk, so he has a brief chat with her. Isabelle remarks on Kurt's mood, saying that he appears to be a bit more cheery than he had been during the preceding weeks and inquires whether Kurt has had some closure on his relationship troubles. Kurt replies that Blaine has sent him numerous texts, but he has told him to stop apologizing and contacting him, as he refuses to care for a cheater. However, Isabelle sees through Kurt's tough exterior, realizing that Kurt is merely trying to ignore his pain, and advises Kurt not to shove Blaine away because people can only really deal with hurtful situations by either apologizing or forgiving the person at fault by accepting their sincere apologies. On Thanksgiving, Isabelle brings a group of friends to Rachel and Kurt's apartment to have a "Kiki," seemingly to calm Kurt's nerves as the song Let's Have a Kiki/Turkey Lurkey Time implies. After the performance, there is a cut to sectionals, where the New Directions are getting ready to go on stage. Blaine is sitting amongst the other Glee members looking depressed, implying that he is thinking of and missing Kurt. Blaine's cell phone rings and the display is shown, which says "Kurt Hummel."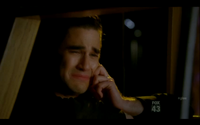 Blaine gets up and walks to the back of the stage so he can talk to Kurt in quiet. He says hello to Kurt in a timid, but hopeful voice. Kurt asks Blaine whether he can hear him, since he is sitting on the balcony and there's some background noise from cars passing by. Blaine tries to explain something to Kurt, but Kurt stops him, telling him that he need not apologize because he has done so a million times and he does believe in the sincerity of Blaine's apologetic gestures. He then tells Blaine with tears in his eyes that he's been trying to forgive him for what he did, but he still needs more time to process what happened before he can fully forgive Blaine for cheating. He adds that he felt the need to call him in spite of this, because "It's Thanksgiving, and sectionals" and tearfully admits "and I miss you like crazy" even though he is still mad at Blaine, at which we see Blaine tear up out of hopeful relief that Kurt still cares about him after all. Kurt then adds that he can't stand not talking "because you're still my best friend" to which Blaine tearfully replies that Kurt is his, too.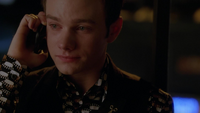 Kurt tells Blaine that at Christmas, he wants a proper heart-to-heart conversation with him in person, and that he hopes they can ice-skate and have hot chocolate together, as long as it's not at the Lima Bean because he saw a mouse there when he worked there. A very emotional Blaine laughs through his tears and hopefully asks, "So we're really gonna see each other at Christmas?" Kurt reaffirms this and tells Blaine "Don't let any of those hideous Warbler's win, alright? Break a leg. Happy Thanksgiving." Touched by Kurt's words, Blaine's voice goes very soft as he wishes him a Happy Thanksgiving as well. He then whispers, "Kurt, I love you so much," and Kurt, now crying, tells Blaine that he loves him, too. Blaine hangs up the phone, the expression on his face implying that, with this huge weight taken off of his chest, he can finally breathe again. Meanwhile, Kurt walks into his apartment with tears rolling down his cheeks, and a sympathetic Isabelle is waiting to take him into her arms to comfort him.
Kurt tells Rachel that he just talked to Blaine. Kurt tells her that he told him that New Directions lost Sectionals and that Kurt admits that he feels really bad for Blaine.
In Artie's dream, since The New Directions was never established, Kurt never went to spy on the Warblers and never met Blaine. He tells Artie that since he was being bullied so much, he only came to school twice a week and was held back a year. Artie asks what Blaine has to say about that to which Kurt replies "who's Blaine?" After Burt informs Kurt of his newly discovered prostate cancer, the two decide to focus on happy things, like their Christmas traditions. Burt tells Kurt that his present is too big to put under the tree, and that he can pick it up at a certain address.
After arriving at an ice skating rink, Kurt is surprised by his gift — Blaine. Blaine asks if Kurt is happy to see him to which Kurt replies that he is. Blaine tells Kurt that Burt told him everything, and that he'll look after him. Blaine also reminds Kurt of their holiday tradition, their Christmas duet. The two skate together and sing White Christmas. At the end of the song, Blaine and Kurt share loving and uncertain looks. Afterwards, Kurt and Blaine are sipping coffee when the clock strikes twelve and it is officially Christmas, Blaine turns to Kurt and says that no matter what and no matter where, even if they're still broken up, they'll always be there for each other. The two share a hug with an on-looking Burt smiling.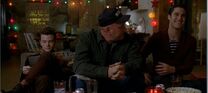 Later, Blaine loses a bet with Burt when Kurt gives and starts to read Vogue during the basketball game after a small amount of time. Burt says, "You may have dated him, but I raised him!" Burt asks Blaine what his plans for the future are. Blaine reveals that after he graduates, he was planning on applying to NYADA, but hadn't talked to Kurt about it. He asks Kurt if that's ok and Kurt smiles and says that it sounds great. The two sing their part of Have Yourself a Merry Little Christmas, with Blaine staring at Kurt lovingly the whole time, clearly picturing future Christmases with Kurt and hopefully Burt.
In the episode, they do not interact, but Rachel says she is glad that Kurt has got over his break-up with Blaine because she wants him to find a new man. However Kurt does bring up Blaine to Adam, where he admits that Blaine was the better dancer in their relationship. While at McKinley, Blaine admits to Tina that he is starting to develop a crush on Sam. Tina assures him that without Kurt, he needs someone and somewhere to place his affection, which he agrees with.
Although there is no direct interaction between the both of them, it's shown that Blaine still keeps numerous photos of Kurt around him - two photos posted on his locker door and photos on his bedside table.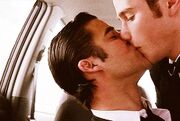 Kurt and Blaine are reunited at Will and Emma's wedding, and immediately they waste no time catching up. The two of them are passionately making out in the back seat of a car. The two are kissing each other numerous times and have their hands all over the others body. During the make out session, Kurt brings up that he is kind of seeing someone in New York (Adam), but Blaine reassures him that they aren't in New York and that those two aren't exclusive. Blaine also mentions that he can't help himself anyway cause Kurt's bowtie is like his kryptonite. They go back to kissing and Kurt even tries to get Blaine's tie undone. But once again, Kurt stops to make sure that this doesn't make them back together, but Blaine again comforts him by saying that this is just "bros helping bros." Again, they start kissing, and Blaine's hands are seen pulling Kurt's shirt up revealing his back and boxers, but this time is interrupted by Mercedes. She tells them that the wedding is about to start, and the two crawl out. Mercedes mentions how trashy this is, but Kurt tells her that "everyone hooks up at weddings."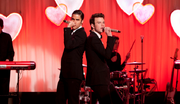 Later at the reception, Kurt and Blaine get up on stage and perform Just Can't Get Enough. Immediately, the two portray their natural chemistry that they always had when performing. The two start feeding off each other's energy, performing synchronized choreography, somewhat flirtatious behavior, and personal contact. After they perform, Blaine is going to get a drink and offers Kurt one. He accepts, but also adds that they're not dating and that they're here as friends (which Blaine says simultaneously). Tina confronts Kurt about his relationship. She starts attacking him and his character, but eventually the conversation returns to Blaine being sick and Tina rubbing vapour rub on him. Kurt is shocked to hear this, and when Tina tries to leave, Kurt somewhat angrily asks if she "vapo-raped" his ex and follows her hoping for a further explanation.
Later in the night, the two of them are dancing together in hold to We've Got Tonite. Then, up in the hotel halls, Kurt and Blaine are walking together (while singing their individual solo). They reach a hotel room where Kurt has a key to, opens it, grabs Blaine's tie and pulls him in. In that room, Kurt is seen looking in the mirror buttoning up his disheveled shirt implying that the two of them had sex. Blaine then dares Kurt to tell him that they're not back together. Kurt starts by saying that what they did was fun, but Blaine interrupts him saying that he won't let Kurt minimize their relationship. He tells him that it is no accident that the two of them were together on Christmas, and again on Valentine's Day, and confidentially adds that they will be together for many more no matter how much Kurt pretends that what they did didn't mean anything. While talking, Blaine grabs Kurt's blazer, helps him put it on, and rubs his shoulders with an added cleaning swipe. Kurt then leans in quite close, whispering that he'll see him downstairs and leaves. Blaine gives an extremely pleased smile, and then jumps back on the bed, but with an attitude as if he has accomplished something to becoming a couple again. Later in the halls of McKinley, Kurt and Blaine are walking together with Tina where she starts apologizing for what she did to Kurt at the wedding. Tina admits that when she saw the two together performing, she was jealous seeing these soul mates reconnect the signature chemistry they have. Then when Tina brings up how sorry she is for the way she was hitting on Blaine, he tells her that it is okay and that they should really just go back to being friends. Kurt then chimes in adding that "just friends" is what he and Blaine are. Kurt then tells Tina that the two of them were off to see a double feature and invite Tina along, walking away linking elbows with Tina in the middle.
Kurt, Rachel, Santana, and Adam are snowed in in the loft, and Santana questions Kurt and Adam's dating status due to the fact that Kurt and Blaine hooked up in Lima. Kurt shushes her and the four proceed to pick a movie to watch.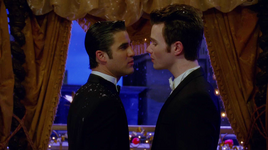 The four decide upon Moulin Rouge, where Kurt proceeds to have a daydream of him and Blaine singing Come What May on a rooftop similar to the one in the movie. There are flashbacks to when the two first met and their first time. The song ends with the two embracing tightly and passionately, and it fades back to reality where Kurt is crying. He shrugs it off when asked about it, saying that his contacts were hurting. Santana disagrees, saying that she thought it was because he and Blaine used to say it was the song they wanted to sing to each other at their wedding, that "singing this song to someone was a more intimate act than sex." Kurt ignores her and asks if anyone wants popcorn, but is shushed once more by Santana who goes on to speak out against Brody and stating her theory that he is a drug dealer. Later, Kurt and Adam talk about what happened the night of the storm. Adam asks Kurt if he still loves Blaine, and if he's his rebound from him. Kurt denies it, but Adam says he can't compete with a fantasy. Kurt admits he wants to be over Blaine, and Adam tells him that the two are going to go to find the sappiest romance movie they can, and that that will be their movie. Kurt looks conflicted and doesn't respond. Anything involving Kurt and Blaine's relationship for the episode ends there.
While Kurt and Blaine's relationship is not a main focus in this episode, it is mentioned throughout the episode. When Kurt reveals that he sleeps with a boyfriend pillow, he expressed that he if anyone found out, "God forbid, Blaine," he'd be mortified. Back in Lima, Blaine is still crushing on Sam. When Sam reveals he makes amazing macaroni art, and shows Blaine his one of Kurt, Blaine smiles, and says, "The macaroni really captures him." Later, he sings Against All Odds (Take a Look at Me Now)as his guilty pleasure song, explaining that it was about Kurt. However, it is arguable that it was about Sam due to his many glances towards him in the audience, who seems to catching on to the situation as the song progresses. As the song ends and Blaine claims the song to be about Kurt, no one believes him.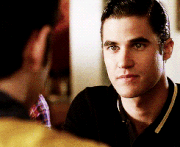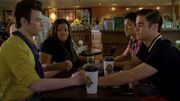 Kurt returns to Ohio to be with his father during his medical appointment. He visits McKinley, as both Mercedes and Mike are back also. He thinks about how it's not really weird to see Blaine anymore, and how he's not sure whether that should make him sad or happy. Later, he, Mercedes, Blaine, and Mike are out at the Lima Bean, and Blaine starts talking about the success of marriage equality and that he'll be able to see it when he goes to New York. After, Blaine comments on how he looks cute, and he means "dirty cute". During the coffee "date," Blaine notices how freaked out Kurt is getting with him organizing the pile of sugar. After a short discussion between the four, Kurt expresses his fear and how "none of it" (it being his and Blaine's relationship) matters. Mercedes and Blaine hold both of his hands and assure him everything will be okay with his dad (which it ultimately is, as Burt is declared in remission by his doctor).
After hearing the success of Burt's results, Kurt celebrates by singing You Are the Sunshine of My Life. Blaine seems to be once again amazed at Kurt's musical abilities as he jams about in the background, and even gives him a standing ovation (along with Mercedes and Will). Burt later arrives in the auditorium to meet Blaine, who gives him a rainbow pin that he can wear at work to show his support for gay marriage. After Burt wholeheartedly expresses his support, Blaine takes the initiative and asks Burt for his permission to ask Kurt to marry him. Blaine knows that Kurt is his soulmate, and that in order to get him back he needs to do something bold. Burt starts by saying that it means a lot of how Blaine loves Kurt and that Blaine is like family to him. However Burt completely shoots him down, saying they're still just kids and not ready for marriage, as they don't truly know what marriage is or feels like. Blaine questions whether or not everything will be okay with him and Kurt and is afraid he'll meet someone else. Burt then asks if he thinks that the two of them were meant to be and that they have a true love, both to which Blaine says yes too. Burt, true to his "truth-dealing" self, tells him to stop worrying then. And just has he leaves, Burt gives Blaine some well-needed advice; when two people are in love like he and Kurt are, everything will work out.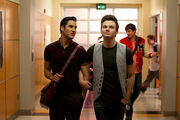 Later in the halls of McKinley, Blaine pulls Kurt aside so they can be alone. Blaine starts to talk, but gets all nervous (which Kurt finds cute). Blaine starts by asking for Kurt's hand in marriage - even though Burt didn't think it was the right time, but backs out and instead asks if he'll come to Regionals. Kurt immediately says yes and that he wouldn't miss it for the world and reassures him that he would have yes regardless. They then link arms and walk off, where Kurt says that this has been a wonderful week, and Blaine whispers with Kurt it'll be a wonderful life. During the last number, For Once in my Life, Blaine stares at Kurt at the lines "I'm not alone anymore," and Kurt being oblivious to what Blaine really means. Kurt, Mike, Mercedes and Will then decide to jump on stage and join the group, and he and Blaine share a microphone.
Despite Burt's advice from the previous episode, Blaine still wants to propose to Kurt, believing him to be his soulmate. He consults with Sam and despite Sam's pleas for him to not go through with it, Blaine goes to a jewelry store with Tina to buy him a ring. He asks Tina's advice for which ring he should get, and Tina not-so-subtly tells him that if he were buying her a ring, she'd want the largest. Suddenly, Blaine runs into Jan, who at first mistakenly believes that he and Tina are getting married, but Blaine tells her that he's buying a ring for his boyfriend because he wants to marry him. Jan asks him if Kurt is the one and Blaine says yes, that he's his soulmate. then shows him a bunch of other rings and at that time, Sam comes by to say that even though he's against the plan, he's still going to support his best friend.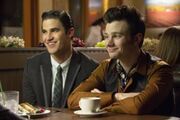 Later, Blaine invites Kurt to go to Breadstix with Jan and her partner Liz where they (Jan and Liz) talk about their relationship through the years and the experiences they had together. Liz comments that Kurt and Blaine are a sweet couple, but Kurt dismisses that they are not a couple. Afterwards, Jan takes the initiative and asks Liz to "legally" marry her, which excites Kurt and Blaine. Before Regionals, Kurt and Blaine join the show choir circle where Brittany makes her goodbye to New Directions, both visibly moved by the girl's speech.
After Regionals, both Kurt and Blaine bear witness to
Will
and
Emma
's impromptu wedding where the episode ends with Blaine standing next to Kurt, clutching the engagement ring behind his back.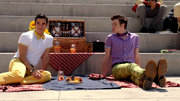 Sitting together at a romantic picnic, Kurt and Blaine discuss everything from Adam, to New York, and eventually their relationship. Blaine swears to Kurt that he will never cheat on him again, and Kurt, after a bit of teasing, agrees that they can try dating again. Kurt reveals that he planned a duet of Got To Get You Into My Life for the two of them to perform, accompanied by the Marching Band. They dance playfully around each other until they end the song atop a courtyard table and seal their rekindled relationship with a passionate kiss. Later, Blaine announces his plans of a marriage proposal to the Glee Club, who seem a bit wary of the idea, especially considering that Blaine wants to recruit their rival show choirs to assist in the proposal of the century. This eventually bleeds into Help, which includes a montage of Blaine and the Glee Club going to Vocal Adrenaline, the Haverbrook School for the Deaf choir, and the Warblers for help, to which they all enthusiastically agree.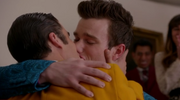 On the way to Dalton for Kurt's surprise proposal, which he knows about and has mixed feelings for, Kurt and Burt discuss Kurt's feelings on the proposal, and how Burt wishes he had had more time with Kurt's mom even though they got married so young and so soon. Once they reach Dalton, Kurt is brought inside by Blaine and serenaded by the group of choirs with All You Need Is Love while being hugged and cheered for by his friends and family. Once the song ends, Blaine tells everyone how they met in the very spot they were standing and how he took Kurt's hands and led him down the hall, which he never really does with people he hasn't met. He tells Kurt how he never really felt like he was getting to know Kurt, but more like he was remembering him, how his soul knew something that day that his mind and body didn't, and how he wants to spend the rest of his life loving him. Kurt tearfully says yes to his proposal and the two share a passionate kiss, with their loved ones clapping and cheering around them. They admire the ring and hug tightly.
Kurt and Blaine do not interact during this episode, but their engagement is briefly brought up by Sam, Rachel, and Santana. Blaine is excited by Kurt's acceptance and that he doesn't worry about how gay marriages work. While Kurt is happy to be engaged to Blaine, he doesn't plan on pending his entire happiness for marriage, but aims to become a Broadway star.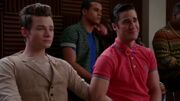 Kurt and Blaine both grieve Finn's death; Kurt as his brother and Blaine as his friend. While Rachel is singing Make You Feel My Love, Kurt and Blaine hold each other's hands tightly, silently supporting and comforting each other.
At the Spotlight Diner, Santana sees Kurt talking to Elliott Gilbert and assumes he is flirting. She says "You have a fiancé, so stop flirting."
Rachel mentions that Kurt and Blaine Skype every day, but that it's not sexy skyping. Later when Kurt and Rachel are at the tattoo studio Kurt wonders if Blaine would be mad at him for getting a tattoo, to which Rachel replies that she thought that Blaine is obsessed with Adam Levine. After Kurt got his tongue pierced he reveals to Rachel that he is going to show his tattoo and piercing to Blaine and that he hopes that he will get cyber-lucky if he plays Maroon 5 music.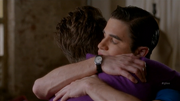 In preparation for his NYADA audition, Blaine travels to New York with Sam in tow to get tips from Kurt and Rachel. He performs Piano Man in the Spotlight Diner, with Kurt telling the audience that they may not know Blaine Anderson's name yet, but they will once the name is lit up all over Broadway. Later, while Kurt is trying to help Blaine put together an outfit for his NYADA audition, Blaine admits that he doesn't want to audition for NYADA. He feels that since NYADA is only a performing arts school, he won't have an opportunity to broaden his horizons and pursue his other passions, such as teaching or Pre-Med. Kurt, knowing his fiancé better than anyone, realizes that Blaine is scared that he isn't good enough and encourages him to audition, that he can't let fear stand in his way. Blaine thanks Kurt for knowing him so well and tells him he loves him, Kurt returning the sentiment with an added hug. Back at the apartment Santana is shown to be very annoyed by the piano Blaine bought to thank them for letting him and Sam stay in their flat. When Sam declines food that Rachel offers him they all become worried. They try to convince him that starving himself won't end well and that he should rather look for another agency, but Sam won't listen. Blaine then suggests they sing a song to convince Sam. The five of them sing Just The Way You Are.
After his argument with the other members of the New Directions, Blaine calls Kurt. Kurt tells Blaine he shouldn't be too controlling, and that others might consider him a puppet master. Kurt then invites Blaine to Pamela Lansbury's debut gig, and he promises to be there. Blaine asks the Arts and Crafts teacher if he could make a Kurt puppet because he misses Kurt a lot. He is then seen talking to the Kurt puppet as if it was really Kurt. After getting in trouble because of the puppet, Blaine realizes he'll miss Kurt's band's gig. When Kurt calls him before the gig, Blaine admits that he got detention and couldn't fly to New York. Kurt gets angry for Blaine not calling to tell him that, and even more so when Blaine mentions that he made a Kurt puppet. As an apology Blaine sends Kurt puppets of all the members of Pamela Lansbury, and then they are all seen performing The Fox (What Does the Fox Say?).
Since this episode was depicting a different timeline for the characters, all the previous events starting from Glee, Actually did not happen. In other terms, this episode did not happen in terms of future glee storylines. Kurt, after his break up with Blaine, encounters Cody Tolentino, a sexy-looking Santa Claus who attracts Kurt. He invites himself in Kurts, Rachels and Santanas apartment, where they sing and dance whilst drinking to the point of drunk. Rachel and Santana evenutally catch Kurt and Cody kissing. The next morning, Rachel and Santana find Kurt tied up in his own bed. He says that Cody tied him up and then stole everyrthing in their apartment. He feels ashamed and pleads Santana, to not told Blaine about it, even though they´re separated.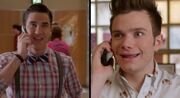 Kurt and Blaine converse through the phone; Kurt is concerned with Pamela Lansbury's newest member, Elliott Gilbert, who seems to be trying to steal away his spotlight, along with his control of the band. Blaine suggests that he gets close to Elliott, quoting "Keep your friends close, and your enemies closer." Near the end of the episode, Becky calls out to Blaine, calling Kurt "Pancake Face" before showing Blaine a picture of Kurt and Elliott on her iPad, saying that he and Kurt have broken up. In the picture, Elliott has his lips puckered near Kurt's chin. Though Blaine insists that Kurt is being friends with Elliott, Becky remarks that they are definitely a couple and walks off. Blaine stands frozen in the hall, with Tina and Artie standing behind him.
They sit next to each other during Will's assignment, with Blaine cheering for Kurt during his performance of Defying Gravity. Later, April approaches them and asks when they are getting married, to which Blaine replies they're going to wait until setting a definitive date. April gives a bottle of tequila to each of them as a wedding present. They sing and dance together with the rest of the Alumni and the New Directions members in Raise Your Glass, Valerie, Keep Holding On, and Happy.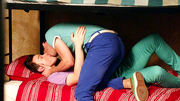 Blaine and Kurt enter excited the choir room, where some past New Directions members are packing some trophies, and happily tell them in unison that Blaine got into NYADA. After Sam accidentally hits Tina with one of the trophies, she has a dream about her and some of her friends, among them Kurt and Blaine, living together in New York. In her dream, Tina enters a room to find both of them making out.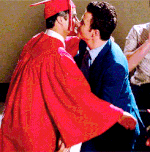 Later in the episode, Blaine along with the other New Directions members and the Alumni watches and smiles during Kurt and Mercedes' performance of I Am Changing. They both are present during Holly's lesson to the Animal Husbandry Club, and sing and dance to Party All the Time.They sit next to each other during Be Okay and Just Give Me a Reason, and also listen together when Will announces the definitive end of the Glee Club. They appear together in the video the club prepared for Will, in which Kurt say their children will be called Little Hepburn and Tracy. After the video they sing and dance together to Don't Stop Believin' along with all the other past and final New Directions members. They both get solos.
Kurt is present in Blaine's graduation sitting behind him and they smile and share a hug when Blaine's name is pronounced. Kurt claps while Blaine walks up on stage.
Opening the episode, Downtown is performed by Kurt, Blaine with their friends and new roommates in New York. During the scene, we can see Blaine and Kurt getting a coffee together before reuniting with the others.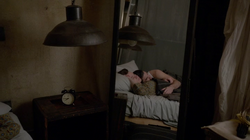 Later, they are seen sleeping together in, formerly, Kurt's bedroom. Blaine suddenly gets up and starts preparing breakfast for him, and shortly after Kurt wakes up and realizes it. It is revealed that he has been doing it everyday for the past 6 months. Blaine and Kurt talk about how now they're living their future and how amazing it is. However Kurt is worried that him and Blaine are turning each other into an old married couple. But to reassure Kurt, Blaine starts singing You Make Me Feel So Young, with Kurt joining him soon after. They then dance around the room and share other activities such as washing their teeth, making the bed, and getting dressed. After the duet ends, Sam enters the building to find Kurt and Blaine lying on top of each other on the couch. Sam not taking the hint, proceeds to tell Kurt and Blaine about his day and then leaves to go shower. Kurt then insists Blaine on Sam finding another place to live since there are too many people living in the loft now. At NYADA, Kurt is attending a mime class and finds out Blaine is there too, although he isn't supposed to be. Blaine says he got permission from Carmen Tibideaux to be in six of Kurt's classes, and as they continue talking, the teacher asks them to be quiet. Blaine then manages to reach Kurt and they continue discussing about Sam and the classes they share, which are way more than Kurt expected. This makes Kurt look overwhelmed.
Later at the loft Kurt is seen pacing back and forth trying to help Artie who had just been mugged. Blaine, not seeming to care turns on the sodastream machine causing a lot of noise. This upsets Kurt, and he yells at Blaine telling him that Artie is very fragile, and he doesn't have to use it right now. Blaine apologizes and Kurt apologizes as well explaining that Blaine "just needs his bubbles." Rachel walks through the door shortly after, and Blaine asks her if she wants a homemade soda. Rachel declines saying it's bad for her vocal chords and that she would rather have some hot water and lemon. Blaine quickly obliges. Kurt then fills Rachel in on what happened to Artie. Blaine completely ignoring what Kurt had said uses the sodastream machine again, causing Kurt to threaten him by throwing it out the window. With Rachel repeating "It's a towncar, not a limousine!" Artie storming out and Blaine using the sodastream machine, it all becomes too much for Kurt and he's seen once again feeling overwhelmed.  Elliott and Kurt are seen at the guitar shop and Elliott is talking about a song that he thinks One Three Hill should do. He realizes that Kurt isn't listening, and gets annoyed. Kurt apologizes saying that he didn't get any sleep the night before. Elliott makes a snarky comment, and Kurt explains it wasn't like that. He tells Elliott that Blaine brought to the loft a mid century knock-off couch because the furniture Kurt picked out was too uncomfortable. Kurt explains that he observed the couch and it ended up being infested with bed bugs. So the entire night was spent disinfecting the loft, and their bodies. Kurt tells Elliott that he thinks the couch is an omen for their relationship. That it's headed for disaster, and he feels claustrophobic being around Blaine all the time. He's afraid of losing his identity. Elliott tells Kurt that he's crazy, and that what he and Blaine have is real. He tells him that they just need to set some boundaries, and Kurt nods agreeing with him.
Back at the loft, Kurt arrives to find Blaine redecorating the living room; turning it into a workspace. Kurt then gets angry with him telling him that he can't just do whatever he wants, when he wants and that he should ask Kurt permission to change something in his apartment. Blaine then responds saying that he thought it was their apartment and not every design choice Kurt makes is brilliant. They continue to argue until Kurt brings up what Elliott had said earlier about losing boundaries. Blaine then gets upset and storms out of the loft.
Later Blaine shows up to Elliott's apartment, confronting him about his relationship with Kurt. He threatens Elliott by telling him that Kurt is his fiancé, not his. And to back off. Elliott however, remains calm throughout Blaine's rant, and reassures Blaine that he is just friends with Kurt, and doesn't think of him in that way. Elliott tells Blaine that it doesn't matter if he did because Kurt loves him, and never shuts up about him. Blaine then calms down and apologizes to Elliott explaining that they've been apart for so long, and he just wants to catch up to him. Elliott understanding Blaine's point of view, tells him that he just needs to let Kurt breathe and to stop trying so hard. Blaine agrees, and to help clear the air between the two of them Elliott insists they sing a song together; bringing up one of Blaine's insults from earlier: "Glitter rock vampire" They then start jamming, and it seems that things are alright between the two of them.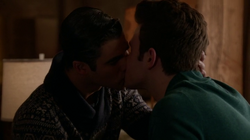 After going to see Elliott, Blaine gets back home to find Kurt waiting for him. They admit having breaking away for a little to be a moment alone and realize their relationship isn't working ever since they are living together. They finally decide to step back a little and that Blaine should move out. After they announce their decision and Mercedes shows up at Bushwick, Blaine determines to move with Mercedes along with Sam. Kurt and Blaine are shown to be trying to get a couch inside Blaine's new home without Rachel's help, who leaves very soon after. Kurt says he needs a break and Blaine looks at him, smiling. During Rachel's performance of People, the couple is shown walking the New York streets and buying some flowers, and sitting next to each other during their new traditional Monday dinner with Sam, Rachel, and Artie.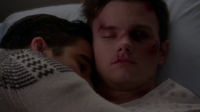 Kurt and Blaine, along with Rachel and Sam, attend the streetlight memorial for Russ, each singing a part from No One is Alone. Later before their traditional Monday night dinner, the two of them both emerge from Kurt's bedroom. At the dinner table, the two of them and Rachel start getting excited over their NYADA Mid-Winter Critique performances based off the music of Sondheim. Rachel and Blaine perform Broadway Baby for their assignment, Kurt happily sitting in the audience. However, Carmen Tibideaux wasn't so impressed and failed them, but gave them another chance to do the assignment properly.
After Kurt's beating, the hospital calls Blaine on his cell. Immediately he and Sam get to the hospital and Blaine hurries to the recpetion desk. When the doctor appears Blaine rushes, looking concerned, to hear the news, and although he is okay, he is sleeping, but allows the five of them to visit him. In his room, Blaine sits on his bedside and holds his hand. He emotionally starts to sing Not While I'm Around to the sleeping Kurt, with a brief interjection of Blaine back at NYADA's Round Room performing this song as his re-do assignment. Back in the hospital, Blaine cuddles right next to Kurt with a sweet embrace, nudges he head on his shoulder, and lays beside him in the bed. When Kurt is discharged from the hospital, he waits for Blaine near Russ' memorial to replace the roses he had put earlier. Blaine assures him that he doesn't have to do this right now, but Kurt wants to do it anyways. The two walk to his memorial, replace the roses, and stand there for a while with their arms interlocked and Blaine's head on Kurt's shoulder. Back at Kurt and Rachel's apartment, the gang return for Monday night dinner, and Blaine quickly walks over to give Kurt a hug. At the dinner table, Rachel brings up Kurt's NYADA showcase performance and Blaine proposes a toast in Kurt's honor because of it. At the showcase, Kurt sings I'm Still Here with the whole gang in the audience, plus Burt who is sitting beside Blaine. During his solo, Blaine is seen to be impressed and captivated in awe by his performance. When he finished, Blaine participates in the standing ovations and goes up to congratulate him and attempts and fails to give him a kiss on the cheek, but participates in the group hug.
Blaine and Kurt are seen sharing a little moment. Blaine explains that he has been eating more since he moved to New York as he enters the bedroom eating a cronut while Kurt is doing pushups. At NYADA, Kurt and Blaine are sharing a stage combat class. Kurt is seen weightlifting, and it is evident that he has become very toned and he's getting a lot of attention, unlike Blaine, who is eating goodies. Blaine is upset because, as he explains, he has been feeling a little jealous due to Kurt caring more for his physical appearance, and remembers how it used to be back in their High School days - exactly the opposite. For Blaine, it's been a change in their power dynamic, and that makes him uncomfortable.
Later, Artie, Sam, Kurt, and Blaine are hanging together in a restaurant. Sam express his intention to take a STD test and this opens the talk about this topic. Kurt mentions that Blaine and him haven't taken a STD test since Blaine hooked up with Eli.C, and this seems to make him feel awkward. After a while, the waitress gives an ice cream to Kurt, who says that he didn't order it, but Blaine tells him it's just a little gift from him. Kurt thanks him - but declares that he'll jog home. Back in stage combat class, Kurt and Blaine, along with the rest of the group are asked to pair up. Kurt sees his fiancé having difficulties and decides he can't let his new confidence erode Blaine's.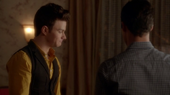 After class the two are arranging a dinner and a movie. Blaine is in charge of the food, which happens to not be very healthy, and Kurt tells Blaine this. While choosing a movie to go and see, Kurt takes Blaine's laptop, and finds that Blaine has been visiting pornographic websites. Upset, since they haven't been intimate in a week, he leaves the room.
Again at NYADA, Blaine and Kurt talk again, but Kurt doesn't want to argue about the website. The two sing Love Is a Battlefield as they practice with weapons. At the end of the song they start a combat against each other with fencing swords. Kurt accidentally hurts Blaine, causing him to yell at his boyfriend.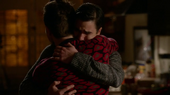 Back in the Bushwick loft, Kurt faces Blaine. Blaine tells him he, for the first time in his life, feels like they're competing against each other - and he's losing. He says that he misses protecting Kurt against the world like the old days when they met each other, and that he feels like Kurt doesn't need him anymore since he has all this new friends and new life. Blaine confesses that he doesn't like the way he feels about himself anymore, especially around Kurt, and that he has been watching pornography because he knows that there he won't be judged. Kurt stops him, saying that he doesn't judge him either. Blaine explains his fear of Kurt changing, revealing he is worried that one day Kurt will probably stop loving him, which Kurt denies. Kurt then says he doesn't want Blaine to feel insecure or ashamed around him and asks him to tell him if he feels that way any time in the future. Blaine cries and they share a hug.
Artie, Sam, Kurt, and Blaine are reunited again. Blaine and Kurt explain they're going to start eating healthier together and they started attending a new ab class in NYADA. Then Sam suggests starting a new all-guys New York City Abstinence Club, which Kurt, Blaine, and Artie agree to disagree with.
Blaine and Kurt are present when Tina shows up at the New York loft to support Rachel in her opening night. A while later, Kurt reunites Blaine along with Mercedes, Tina, and Sam to tell them Rachel is more terrified than ever and they have to try to encourage her, and Blaine suggests they should start. They also look unbelievingly at Sue when she suddenly appears in the apartment. When Rachel announces she finally found her bravery, they both cheer along with their friends.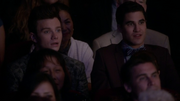 During Rachel's performance of I'm the Greatest Star during her opening night, they sit next to each other and applaud at the end of the song. They congratulate Rachel at the end of the show and dance to Pumpin Blood with her at the bar Blaine suggested. Later, they applaud with their friends after Rachel faces off Sue and kicks her out of the apartment. Shortly after, they both read part of the New York Times' article about her opening. They listen Mr. Schue's call and how he and Emma named their baby. They celebrate Rachel's successful first night with her, Sam, Artie, Mercedes, Tina, and Santana.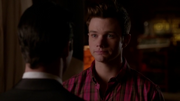 June Dolloway, one of Kurt's idols, is coming to NYADA. He tells Blaine some students will be selected to perform for her, and he's among them. He invites Blaine and he accepts. They choose Story of My Life.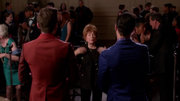 Later, June Dolloway is welcome to NYADA. Kurt is ecstatic to see her and Blaine seems interested. During their performance, is quite obvious that Kurt worships June since he makes many gestures and shows very excited with her, and he looks at her not less euphoric. After they perform, June seems satisfied with them. She says she just saw "extraordinary" and that one of them has a lot of potential, which makes Kurt even more excited, but his expression changes after June reveals she was talking about Blaine.
In the next scene, Kurt is helping Blaine prepare for a meeting with June. He says he's obviously a little jealous, but he is genuinously happy for Blaine. Blaine doesn't want to go, but Kurt convinces him to, showing a sad face after Blaine leaves. During another meeting between June and Blaine, she states that she doesn't like Kurt and he should drop him because he's an obstacle for him. Blaine says he loves Kurt and firmly refuses. A while after, Blaine returns to Mercedes, Sam and Blaine's home to find an again supportive Kurt. He is happy for Blaine and wants to hear his news since they haven't talked much as Blaine's been busier due to commitments related to June. Blaine, hesitating, tells him he has arranged another performance, this time for both, since supposedly she doesn't really hate him. Kurt is more excited than ever and hugs Blaine, who looks concerned.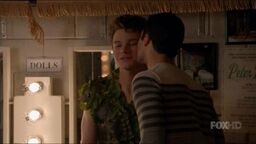 Opening the episode, Kurt, Blaine, Rachel, and Santana are reunited in a restaurant. Kurt invites everyone to catch a matinee the next day. Santana and Rachel say they can't join him, and so does Blaine, stating he's going to be very busy with June in dinners and rehearsals. Rachel is concerned about her reputation starting to fall, and both Blaine and Kurt try to help her with ideas, without any luck.
Later in the episode, Blaine helps Kurt with his Peter Pan costume before the show starts. Blaine claims he's missing a dinner with June and Diane von Furstenberg, but he doesn't care because he anyways perefers being with Kurt. Blaine tells Kurt he is happy to see him so happy, and Kurt explains that the reason he's so happy is because for the first time since he moved there he feels like he's doing something with a purpose. Before Blaine leaves, they exchange i love yous, and Blaine kisses his forehead. Kurt suggests him not to sit in the first row since he's not sure about his harness. Just before the play starts, Kurt is surprised to see Blaine, along with Rachel, Sam, and Artie in the audience, who greet him amusingly. They're seen enjoying the Lucky Star performance and celebrate with Kurt at the end of the play.
At the end of the episode, the both of them attend Rachel's new foundation's party and perform Take Me Home Tonight along with Artie, Santana, Sam, Mercedes, and Rachel.
The Untitled Rachel Berry Project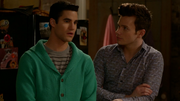 The whole group is having Monday night dinner at the Bushwick Apartment. The writer for Rachel's TV-pilot, Mary Halloran, is joining them to get to know them better. Kurt, however, doesn't really like the idea of somoene crashing their Monday night dinner. When they hear a knock on the door, Kurt tells Blaine they have to find a way to make Mary come to the showcase, since Rachel shouldn't be the only one with a chance for TV-stardom. They are both excited to see Brittany back. When Mary enters, they are all a little confused by her. They are both present at Mercedes' mall concert, where she performs Shakin' My Head with Brittany.
Later that week, Blaine is singing an emotional version of All of Me at NYADA, when Kurt enters. Afterwards, Blaine comes clean about the showcase, telling Kurt June never wanted him in it. Kurt gets mad, screaming at him for lying to him again, not trusting him anymore. In the first script for Rachel's pilot, it is revealed that their characters are called Slaine and Cert. Blaine's character sleeps with Brittany's character on the show, and Kurt is a little shocked by this. They are both present at Rachel's birthday rave party. They then all agree the script is insane.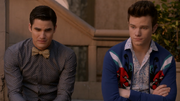 Blaine is sitting outside, feeding pigeons, when Kurt joins him. Blaine tells him he doesn't want to do the showcase anymore, since Kurt is more important to him than anything. Kurt then replies with a metaphor about birds, saying you can never really know if you can trust someone or something 100 percent. Blaine apologizes again, but Kurt then continues by saying he gets what happened. He was mad, but then he realized that trust is a choice. And even though they will slip up and be scared, he chooses to trust and love him through everything. Blaine still only wants to do the showcase with Kurt, but Kurt tells him he is proud of him and it's his time to fly. Blaine tells him he's the luckiest guy in the world, with Kurt agreeing.
Kurt attends Blaine's showcase, watching him perform No Time at All with June Dolloway. When Kurt praises him, June tells Kurt he's a good friend, supporting Blaine after everything that's happened. But Kurt tells her he's the love of his life, and nothing or no one is going to come between them. Blaine then invites Kurt over to sing with him, telling the crowd that's the best way to get to know him. They sing American Boy together, which is a huge success and in the end, even June joins them. Afterwards, she tells them they were terrific and it's been a long time since anybody has proven her wrong. She advises Blaine to never let anyone make him doubt what he's so sure of.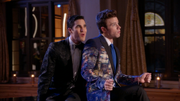 Back at the apartment, they all read the second version of Rachel's script together and love it. They agree to all meet in New York again in six months, no matter where everybody ends up. Together with the rest of the group, they sing
Pompeii
. During the song, Blaine moves back in with Kurt.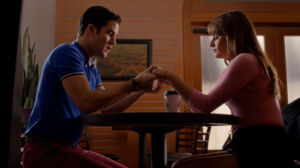 At the premiere of season six, Blaine converses with Rachel in Lima and tells her that he and Kurt broke up months ago due to the constant arguments that took place after Blaine and Kurt moved back in together. Blaine was severely depressed, causing his grades to slip and eventually was cut from NYADA and returned to Lima and found a job as the new coach of the Warblers. Kurt proceeds to go on speed dates to get over his own heartbreak. While waiting for his date at a restaurant, Kurt flashes back to the night he broke off their engagement and has an epiphany: Blaine is and will always be the love of his life. He returns to Lima in hopes of mending their relationship and takes a job at McKinley High as the rebooted New Directions' director, partnered with Rachel.
Kurt and Blaine meet at Scandals, and Blaine tells him that he has started seeing someone—David Karofsky: he and Blaine met and bonded at Scandals months ago, and eventually their friendship bloomed into a relationship. Kurt, disgusted and utterly hurt by this revelation, feigns enthusiasm and rushes to the men's room where he bursts into tears.
Kurt and Blaine meet at Mr. Schue's apartment, along with Rachel and Sam, where they all agree to put work off the table whenever they meet on a social call.
Blaine barges into the April Rhodes Civic Pavilion and confronts Kurt and Rachel for supposedly 'poaching' a girl, who initially had her sight on joining the Warblers had now joined the New Directions. At the end of the episode, McKinley alums, students and faculty gather at the campus for homecoming night; Blaine is sitting on the back of a pick-up truck with Dave while Kurt and Rachel are watching.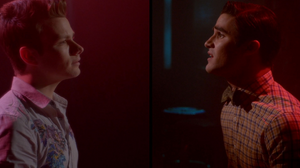 At the beginning of the episode, Kurt and Blaine and Dave run into each other at a music store and have an awkward moment before walking off. The two then start singing It's Too Late. When Santana proposes to Brittany, Kurt reminds them of his break-up and suggests against teen marriage, to which Santana later comes to insult him.
Brittany tells Kurt about Blaine and Karofsky's plan of moving in together and advices him to start seeing other people. Mason and Jane's performance of Will You Still Love Me Tomorrow/Head Over Feet makes Kurt flash back to his moments with Blaine, and accuses the pair for not putting enough work into the number before Rachel tells him off.
In this episode, Sue decides to do whatever it takes to get Kurt and Blaine back together, when she tries to convince Kurt he tells her that he doesn't want Blaine back. When Blaine and Dave go out for a date night at BreadstiX, they meet the many guys Dave dated, invited by Sue, and based on the DNA research she did, she tells them that they are third cousins. When Blaine tells Kurt about the date night and what Sue said, Kurt tells him that she is trying to get them back together, then he tells Blaine that he has a date with a guy he met online named Walter, Blaine feels a little jealous but doesn't show it to Kurt and they have a weird moment. When Kurt meets his date, he finds out that the guy he was talking to is in his 50's, just got out of a 30 years marriage to a woman and has two kids, almost Kurt's age. While Kurt, Blaine and Rachel are rehearsing for the Invitationals in the Auditorium, Blaine recieves a call from (Dave) asking him to come to their apartement immediately, when he arrives with Kurt and Rachel, they find a bear sent by Sue in the bedroom.
Later Kurt talks in the auditorium with Principal Figgins, about the gum under the chairs. Principal Figgins states how he shouldn't blame him, but the parents. Blaine walks in, stating how he can't find Sam and Rachel for the piano lesson. Higgins says he saw them in the courtyard, believing that it's another glee club romance. He leaves, and Blaine sits, explaining the night with Sue revealing his relation with Karofsky and the guys he's dated to Kurt. Kurt reassures him that they are not related, and that Sue wants them to break up, so they can get back together. Blaine wonders how no one can understand that they don't want to get back together, but be great friends. Kurt states how he's met someone, Blaine being taken back, stating how thats good. He awkwardly talks to him, but then states he needs to go. They hug, before Blaine leaves.
Kurt and Blaine are on their way to the auditorium for the Warblers' performance when they notice a sign directing to an elevator that supposedly led directly to the auditorium. When they tried to use it, however, the doors shut tightly and both are locked inside. Kurt realizes it isn't a real elevator, but a fake one constructed by Sue.
As they both try to come up with ways to escape, a Sue-lookalike doll comes out of a wall and tells them to kiss if they want to leave the "elevator". They simply peck, but Sue isn't satisfied and tells them not to fight the "Klaine Romance" before leaving them a basket of food and then escapes through the wall again. They spend the next hours enjoying each other's company until the Sue-doll appears again. Fed up with her manipulative ways, Blaine and Kurt agree to do as asked, agreeing that they were simply being forced to do so. They kiss, and share a tender moment before the doors finally open. They make just in time to watch the New Directions perform and the results.
Blaine and Kurt appear with the New Directions members and alumni in the auditorium to invite themselves to Brittany and Santana's wedding. At Will's home, Kurt answers the door to greet Blaine, but notices that Dave isn't with him.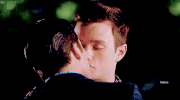 Mercedes, Kitty and Artie sit in a classroom talking, as Sam and Kurt walk in. Sam states, as Blaine walks in (sitting) that they need their help for Rachel. Mercedes asks them what she needs help on now, since she just helped her for a week. Kurt explains about her house being sold, Sam dramatically stating how it's a big transition to make. Kitty asks him if he's still talking about Rachel or announcing his new gender. Sam, frustrated, states it's about Rachel. Artie asks what the plan is.
In the choir room, Rachel begins to introduce the assignment, but Kurt says there's a change in plans. He states that the week is about "Transitioning" and how they know she's been having problems about her home. Blaine states how it's holding her back, from being a proper adult. Sam then tells them all that they're throwing her a farewell party in the basement. Rachel states how it's sweet, but it's unnecessary. Mason and Madison realise that the lesson is for Rachel, not them, to which Kitty tells them to shut up. Sam brings out a "Wheel of Musical Fortune", with all the names of the people in the choir room (at that moment). Artie introduces it, stating that whoever spins it, sings a duet with the person it lands on. When it's Kurts turn, it initially landed on Artie, but Kurt pushes it slightly, so it lands on Blaine's one, that is next to Artie's. Kurt acts surprised by this. Blaine walks out the choir room, as Kurt chases him. Kurt talks to him about how he was sure it would land on Artie's name. Blaine sarcastically says what are the odds. Kurt asks him he's fine singing with him. Blaine reassures him that it is, but doesn't want him to mention it in front of Karofsky. Kurt replies that there isn't anything wrong with singing with each other, but Blaine states how Dave still thinks there's something between them, and they both awkwardly state how there's nothing between them. Blaine leaves, telling him he'll call for what song they'll do, hugging him, before he does.
While at Rachel's party, Blaine and Kurt sing Somebody Loves You together. As Blaine is leaving, they reminisce how good they were together and the first song they ever sang together (Baby, It's Cold Outside) and Jeremiah before Blaine spontaneously kisses him, leaving both shocked.
At the end of the episode, David notices a strange behavior in Blaine during the day and asks what happened at Rachel's party. He doesn't deny it when Dave guesses Blaine and Kurt kissed, who then acknowledges that he knew their time was up but isn't upset about it, to Blaine's surprise. Encouraged by Dave, Blaine runs into the choir room to confess his love to Kurt, only to be interrupted by Kurt's boyfriend Walter. He then backs out of his confession.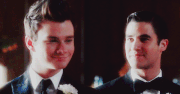 Kurt realizes his lingering feelings for Blaine and runs to Blaine's apartment to confess. They reconcile with a kiss. While initially helping out at the Brittana wedding, Sue, Brittany and Santana talk them into sharing their spotlight and get married. Kurt and Blaine are both shocked, and Kurt nervously rambles every excuse to avoid it. Blaine, however, decides to take the step, knowing that he will always love Kurt. Everyone is surprised by the two unexpected grooms. At the end of the wedding, the two couples sing Our Day Will Come.
The next day, Kurt, Blaine, Brittany and Santana meet Sue in the auditorium where she offers them honeymoon tickets. Brittany then suggests they celebrate their wedding anniversary together every year, but Kurt suggests every fifth year instead.
The Rise and Fall of Sue Sylvester
Blaine and Kurt arrive in the auditorium shortly before the end of the Rather Be performance. Blaine looks devastated as Kurt comforts him. After the performance, Blaine reveals that Dalton Academy has burned to the ground. In the interview for Geraldo Rivera's exposé on Sue Sylvester, Kurt reveals the events in the fake elevator and Blaine reveals that Sue once put a live bear in his home. They later appear together in the teacher's lounge and then in the auditorium during the Rise performance, as the couple and Rachel hug happily.
Kurt and Blaine are seen coaching New Directions at the beginning of the episode. They are then seen in horror as the boxes sent by Sue explode with glitter. They join the show circle before the New Directions perform, and then together with Will, Rachel, Sam, and Sheldon, they watched them perform, cheering. Kurt and Blaine are then seen celebrating New Directions' win with everyone in the choir room.
Teach Your Children
and
Someday We'll Be Together
, in which they become emotional. Later in the episode, they talk to Sue in Will's office to say thank you and goodbye. They both thank her for her efforts of bring them back together. Sue returns this gratitude as she states how much she admired Kurt and Blaine as individuals, as well as a couple. In the hallways, Kurt shows his time capsule to Blaine, as he wants to remember all the times they've been through. Blaine both laughs and cries as Kurt shows it to him, because he knew Kurt was the only person who would do something like that. He tells Kurt he loves him, which Kurt returns and they kiss. They are the first characters to crossover from the present to the future, as they are revealed to have been the first to star in the LGBTQ version of
Who's Afraid of Virginia Woolf
. They visit the Harvey Milk Elementary School and they perform
Daydream Believer
as they sing and dance along with the children. As Rachel prepares for the Tony Awards, Artie, Blaine, Kurt, Mercedes and Tina visit her in her home. It is revealed Rachel agreed to be the surrogate mother for Blaine and Kurt's child. As Rachel wins the Tony Award for Best Actress in a Musical for
Jane Austen Sings
, the couple are seen celebrating it together with Rachel's closest friends. Finally, they are seen performing
I Lived
together with the whole cast of
Glee
, as they take their final bow.
Songs
Duets
Sang Together (In a Group Number)
Song
Episode

Solos with

My Favorite Things
Extraordinary Merry Christmas
Mercedes and Rachel
Do They Know It's Christmas?
Artie, Brittany, Finn, Mercedes, Puck, Rachel, Santana, and Tina
Love Shack
Heart
Brittany, Mercedes, Rachel, and Sugar
My Love Is Your Love
Dance with Somebody
Artie and Mercedes
Big Girls Don't Cry
Prom-asaurus
Rachel
Paradise by the Dashboard Light
Nationals
Brittany, Finn, Mercedes, Mike, Puck, Rachel, and Santana
Related Songs
Duets
Sang Together (In a Group Number)
Song
Episode

Solos with

Don't Speak
The Break-Up
Finn and Rachel
The Scientist
Brittany, Emma, Finn, Rachel, Santana, and Will
You're the One That I Want
Glease
Brittany, Finn, Marley, Rachel, Ryder, and Santana
Have Yourself a Merry Little Christmas
Glee, Actually
Brittany, Jake, Marley, Puck, and Sam
We've Got Tonite
I Do
Artie, Betty, Finn, Jake, Marley, Quinn, Rachel, and Santana
Mamma Mia
Guilty Pleasures
Kitty, Marley, Rachel, Sam, Santana, and Unique
Related Songs
Duets
Sang Together (In a Group Number)
Song
Episode

Solos with

Just the Way You Are
Movin' Out
Rachel, Sam, and Santana
Hold On
Trio
Artie, Dani, Elliott, Rachel, Sam, Santana, and Tina
Don't Stop Believin'
New Directions
Artie, Rachel, Tina, and Will
Downtown
New New York
Artie, Rachel, and Sam
No One Is Alone
Bash
Rachel
Take Me Home Tonight
Old Dog, New Tricks
Artie, Maggie, Mercedes, Rachel, Sam, and Santana
Pompeii
The Untitled Rachel Berry Project
Artie, Brittany, Mercedes, Rachel, and Sam
Related Songs
Duets
Sang Together (In a Group Number)
Related Songs
Trivia
Both have had crushes on other boys in the show before dating: Kurt has had crushes on Finn and Sam, and Blaine has had a crush on Jeremiah.
By big parts of the fandom, kisses, cuddles and sex between the couple are known as "Klisses," "Kluddles" and "Klex," respectively.
Both are each other's first boyfriend.
Both had moved to Dalton due to severe bullying.
In I Kissed a Girl, Blaine mentions the couple enjoys singing Pink's song, Perfect, in the car together.
Both love Vogue, Marion Cotillard, fashion and musicals.
Blaine has a picture of Kurt on his nightstand, shown first in Michael.
Both kiss a girl prior to their relationship: Kurt kisses Brittany in Laryngitis and Blaine kisses Rachel in Blame It on the Alcohol.
The First Time is the first episode where Blaine calls Kurt his boyfriend.
Both have pictures of each other in their lockers. In Never Been Kissed, Kurt has the word COURAGE made out of magazine letters, above is a picture of Blaine in his Dalton uniform. In Big Brother, you can see a poster from Kurt's campaign for class president in Blaine's locker.
In Dance with Somebody, Kurt states that he and Blaine have scheduled make-out sessions.
In Dance with Somebody, when Blaine says, "I love you so much," he is wearing the same cardigan that he wore when he first told Kurt that he loved him in New York.
Rachel and Santana have indirectly sang a duet about how Kurt or Blaine feels while they are talking to that other man; A Boy Like That/I Have A Love for Blaine and Sebastian and So Emotional for Kurt and Chandler.
They apparently watch a lot of reality TV shows together including 'The Bachelorette', 'Being Bobby Brown', and 'Jersey Shore'. As shown in Props, they also went trick-or-treating and dressed up as Snooki and The Situation.
In Extraordinary Merry Christmas, Blaine had saved Kurt's favorite gum wrapper so that he could make it into his promise ring to give to Kurt. Since it was deleted content and not in the actual episode, it was considered non-canon, until a scene in Dreams Come True, where Kurt shows Blaine his time-capsule locker and that he had kept that ring.
Both of them ran for Senior Class President in their respective senior year. Kurt lost, but Blaine won.
It has been implied that Kurt picks out some of Blaine's clothing in Big Brother, Movin' Out and again in New New York.
Blaine has a scrapbook with pictures of Kurt as seen in The Role You Were Born to Play.
Both have had a crush on Sam: Kurt in Duets and Blaine from Sadie Hawkins to Guilty Pleasures.
Both have performed a song with the New Directions Girls while wearing an elaborate costume. Kurt, Bad Romance and Blaine, Diva.
Santana stated in Girls (and Boys) on Film that Come What May is the song they want to sing at their wedding.
They have had a duet in three of the Christmas episodes: Baby, It's Cold Outside in season two, Let It Snow in season three and White Christmas in season four.
All three of the songs that Blaine sings in the courtyard are for Kurt.
In I Do, they have sex in the hotel room number 206, similar to Never Been Kissed (2.06) which is the episode where they first meet.
In Love, Love, Love, Kurt and Blaine share a kiss in the courtyard after singing Got to Get You into My Life which is the first time they kiss openly at McKinley High School.
They get engaged on the same staircase that they met on.
They are the second young couple to get engaged on the show after Finchel.
They are the only couple in the show that gets back together and gets engaged in the same episode.

They are also the only couple to get back together and get married in the same episode.

"Klaine" was nominated for a People's Choice Award (2014) for Favorite On-screen Chemistry.
Both have been part of the Cheerios at some point. Kurt was a Cheerio member during the first season, while Blaine was a Cheerio member during the fourth season.
In The Back-Up Plan they share more kisses and I love you's than any other couple in a single episode.
In Season Five, they share more kisses than in all previous seasons combined.
Their kiss in The Hurt Locker, Part Two lasts longer than any other kiss shown in the series.
Kurt and Blaine have the same anniversary as Santana and Brittany since they married on the same day.
Their first kiss was included in Glee's Top 5 On-screen Kisses countdown.
They were included in Glee's Top 3 Unsinkable Ships countdown.
They made it to the Top 4 of E! Online's TV's Top Couple Tournament in 2015, but lost to Once Upon a Time's Hook and Emma.
They are the second couple (after Finchel) with the biggest amount of duets.
They both have been gay-bashed. Blaine's was mentioned to happen before the series, and Kurt in the episode Bash.
Quotes
Season Two
"

Kurt: Oh, excuse me! Um, hi, can I ask you a question? I'm new here.
Blaine: My name's Blaine.

(They shake hands)

Kurt: Kurt. (smiles)

"

—Kurt and Blaine, Never Been Kissed
"

Kurt: On the count of three, name your favorite 2010 Vogue cover. 1...2...3!
Blaine and Kurt: (together) Marion Cotillard!
Blaine: (gushes) Oh my god, stop it!
Kurt: I know, I know. She's AMAZING!
Blaine: She's amazing!

"

—Kurt and Blaine, The Substitute
"

Kurt: Gay, gay, gay, gay, gay, gay, gay, gay...
Blaine: Gay, gay...
Kurt: Oh my God, I opened my mouth and a little purse fell out! How'd that get there?
Blaine: That's so gay!

"

—Kurt and Blaine (in Mercedes imagination), The Substitute
"

Kurt: Has anyone read Patti LuPone's new book?
Blaine: (looks confused)...I'm kidding! Of course I have!
Kurt: You scared me so much there!

"
"

Blaine: I was just talking about the Buckeyes; I'm a college football fan. I like sports too, you know.
Kurt: Oh, way to break the stereotype!

"

—Kurt and Blaine, The Substitute
"

Blaine: (to Kurt) I need you to sing with me, well, rehearse with me. I got a gig singing Baby it's Cold Outside in the the King's Island Christmas Spectacular.
Kurt: Ah a personal favorite! Too bad they'd never let us sing it together... I mean as two artists.

"

—Kurt and Blaine, A Very Glee Christmas
"

Kurt: Why hasn't Finn told me anything about this? We live together. I bring him a nice glass of warm milk every night just in hopes that we'll have a little lady chat.
Blaine: Warm milk? Really?
Kurt: It's delicious.

"
"

Barista: What can I get you?
Blaine: A Medium Drip, and a Grande Non-Fat Mocha for this guy, and maybe I can get him to split one of the Cupid cookies.
Kurt: You know my coffee order?
Blaine: Of course I do.
Barista: That'll be $8.40.

(Kurt and Blaine both start to pull out their wallets)

Blaine: Don't even bother dummy, it's on me.

(Blaine walks away after paying)

Kurt: (to barista) I do believe I have a new favorite holiday. (laughs)

"

—Kurt and Blaine, Silly Love Songs
"

Kurt: So, it's just like 'When Harry Met Sally'. But I get to play Meg Ryan.
Blaine: Deal. (pauses) Don't they get together in the end?
Kurt: (smiles and ignores the question)

"

—Kurt and Blaine, Silly Love Songs
"

Kurt: Why did you pick me to sing that song with?
Blaine: (nervously) Kurt, there is a moment when you say to yourself, "Oh, there you are. I've been looking for you forever." (places hand on Kurt's) Watching you do Blackbird this week, that was that moment for me... About you. (pause) You move me, Kurt. And this duet would just be an excuse to spend more time with you. (leans in and kisses Kurt, then sheepishly) We should... We should practice.
Kurt: (smiles) I thought we were.

(kiss again)

"

—Kurt and Blaine, Original Song
"

Kurt: Has anyone literally died on stage?
Blaine: (looks over) Are you nervous?
Kurt: Please don't judge me. This is the first time I've had a solo in front of a competition audience. I have this nightmare that I'm going to forget the lyrics or I'm going to sing and nothing is gonna come out. (looks over at Blaine) Okay, you can judge me.
Blaine: I think it's adorable. I think you're adorable. And- and the only people who're going to die tonight are the people in that audience because you and I are going to kill this thing. Come on, let's go.

"

—Kurt and Blaine, Original Song
"

Kurt: (shovels dirt onto Pavarotti's grave)
Kurt: Farewell, sweet prince.
Blaine: I'm so sorry, Kurt. This must be really upsetting for you it reminds you of your Mom's funeral, doesn't it?
Kurt: The casket was bigger. But yes. It's not just that, though. Honestly, I'm upset that we lost Regionals.
Blaine: The competition season maybe over but we'll still get to perform. We do nursing home shows all the time. And you know how many Gaps there are in Ohio? Tons.
Kurt: Yeah, I just really, really wanted to win.
Blaine: You did win. So did I. We got each other out of all this. That beats a lousy trophy, don't you think?

(both walk off hand in hand)

"

—Kurt and Blaine, Original Song
"

Blaine: I'm crazy about you.
Kurt:...So I'll take that as a yes?
Blaine: Yes, you and I are going to prom.

"
"

I'm going to show them that it doesn't matter if they are yelling at me or whispering behind my back, they can't touch me. They can't touch us or what we have.

"

—Kurt to Blaine, Prom Queen
"

Blaine: May I have this dance?
Kurt: Yes, yes you may.

"
"

Kurt: We all just looked at the top ten list for showcase and we all just went numb. And then Jesse just kept going on and on about how Rachel and Finn's kiss was what cost us nationals.
Blaine: While I do understand passion I do think that was unprofessional. Sorry, keep going.
Kurt: And then we get back to the hotel, and Santana loses it.

(Flashback to Santana angrily yelling at Rachel in Spanish and being held back)

Kurt: I mean, on the plane ride home it was completely silent, like no one said a word. We just sat there with our faces buried in our complimentary issues of SkyMall.
Blaine: Wait a second...I don't get it. You don't seem that sad at all.
Kurt: It was still amazing. I mean, I flew in a plane for the first time in my life, I had breakfast at Tiffany's, I sung on a Broadway stage.
Blaine: I love you.
Kurt: (silent for a few seconds) I love you too. You know when you stop to think about it, Kurt Hummel's had a pretty good year.

"
Season Three
"

You promised me by the first day of school you'd make a decision and there you sit, cute as ever, but still in your Warbler's blazer.

"
"

Kurt: If you stay at Dalton you and I are competitors.
Blaine: That's true.
Kurt: And I'm just not sure that our budding love can survive that.
Blaine: Let me get this straight, I have to transfer 'cause you're just afraid I'm gonna beat you at sectionals.
Kurt: No I'm afraid I'm going to beat you, and I know what that does to you when I win.

"
"

I just want my senior year to be magic, and the only way that's gonna happen is if I get to spend every minute of every day with you.

"
"

I came here for me, because I can't stand to be apart from the person I love.

"
"

Kurt: Don't you ever have the urge to rip off each other's clothes and get dirty?
Blaine: Yeah, but that's why they invented masturbation.

"

—Blaine and Kurt, The First Time
"

Blaine: And besides, tearing off all your clothes is sort of a tall order.
Kurt: Because of the layers?
Blaine: Because of the layers.

"

—Kurt and Blaine, The First Time
"

Blaine: (to Sebastian) I just never want to mess my thing up with him in any way. He is really great.
Kurt: (overhears) Who's really great?
Blaine: You!

"

—Blaine about Kurt, The First Time
"

Kurt: You take my breath away. And not just now! Tonight, on that stage. I was so proud to be with you.
Blaine: (Choked up) I hope so... I want you to be.

"

—Blaine about Kurt, The First Time
"

Kurt: But what are you promising?
Blaine: To always love you. To defend you even if I know you're wrong. To surprise you. To always pick up your call no matter what I'm doing. To bake you cookies at least twice a year and to kiss you whenever and where ever you want. Mostly to make sure that you always remember how perfectly imperfect you are. I know it's not something Elizabeth Taylor would've worn---
Kurt: I love it. I love you.
Kurt: Merry Christmas,it's Our first Christmas together.
Blaine: The first of many.

"

—Extraordinary Merry Christmas, cut scene
"

However, I can not let a single moment pass without first raising a zero-calorie toast to one Mr. Kurt Hummel, aka NYADA finalist! Yay!

"
"

Hello! I'm Margaret Thatcher Dog! My relationship with the Queen was ruff!

"

—Kurt to Blaine, Big Brother
"

I confiscated this little guy to give to you, since there was no convincing you to coming with us.

"

—Kurt to Blaine about the stuffed puppy, Big Brother
"

Kurt: I like the way he makes me feel. I mean, when was the last time you complimented me or told me how special I was?
Blaine: I transferred schools to be with you - I... I changed my whole life! That doesn't make you feel loved?

"

—Blaine and Kurt, Dance With Somebody
"

You are the love of my life, Kurt.

"
"

Blaine: And, While we're being perfectly honest, I don't like, that with every conversation we always end up talking about NYADA. What song you're going to sing, and what - what outfit you're going to wear to your call back, How amazing New York is! And it's like New York is the only thing we talk about now, Kurt. And it's like, it's like you can't wait to get out of here. How's that suppose to make me feel? In a few months, you're going to be gone. With this brand new life, and this brand new friends, this brand new everything, and I'm going to be right here, by myself. You're right, I have been distant, and I'm sorry. But I'm just, trying to practice what life is going to be like without you. You are the love of my life Kurt, and I am pissed off, that I have to learn that next year, what being alone is going to be like.
Kurt: But you're not going to be alone! I'm going to Skype you every day, and you're going to come visit me in New York every weekend as far as I'm concerned. But I promise! You're aren't going to lose me.
Blaine: I love you so much.
Kurt: I love you too.
(They hug)

"

—Blaine and Kurt, Dance With Somebody
"

Kurt: I'm starting from scratch. I need something fresh. I need something edgy. Something completely unpredictable... Or maybe I just need more candles...
Blaine: Oh God no... No more candles...

"
"

Blaine: I'll be right back
Kurt: Don't you dare! I love finally getting to see the real you. The man without the product, and I want everyone here to know, just how proud I am, of my brave, handsome, bushy haired boyfriend. Come on, Borat.

"

—Blaine and Kurt about Blaine's hair, Prom-asaurus
"

Kurt: Trick or Treat! Bada-bing!
Blaine: Hey, what's a guy gotta do to get a candy situation up in here? (Laughs)

"

—Kurt and Blaine as Snooki and The Situation from Jersey Shore on Halloween, Props
"

Blaine: You know how hard long-distance relationships can be — we both saw The Notebook.
Kurt: Do you wanna know how I picture the end of my life? Just like in The Notebook. I'm sitting in a nursing home talking endlessly about my high school sweetheart, my first love, going on and on about every detail as if they matter. Only in my version, he's there with me telling me to shut up so he can finish watching the American cinematheque salute to J. Lo.
Blaine: So, we're gonna be alright?
Kurt: Yes, we're gonna be alright. I told you, I'm never saying 'goodbye' to you.

"
Season Four
"

Blaine: Can I give you some advice? You can't be here anymore, Kurt.
Kurt: I get it, I know I'm pathetic.
Blaine: No, you're not pathetic. It's just that you're stuck. You don't belong here anymore. You belong in New York. I don't want to see you go, but I can't stand to see you stay here. It's killing you, and that's killing me.
Kurt: What about us?
Blaine: In a year, I'll be there too. But right now is your time. You're ready.

"

—Kurt and Blaine, The New Rachel
"

Blaine: Sam...Kurt was my soulmate. We talked about spending the rest of our lives together, about moving to Provincetown and buying a lighthouse and starting an artists' colony. And now he won't even return my calls, he won't text me, and that Gilmore Girls box set I sent him was returned to me, unopened. He's gone! Maybe...forever.

"
"

Blaine: Everything in this room reminds me of him! We were a dynamic duo in here. Kurt was my anchor, and now that he's gone I feel like I'm floating.

"

—Blaine to Finn, Dynamic Duets
"

Blaine: It was a guy who friended me on facebook. I went over because it felt like Kurt was moving on with his life and I wasn't a part of it. I got to thinking that maybe Kurt and I weren't meant for each other. That we weren't supposed to spend the rest of our lives together. But the horrible thing is that right after I did it I knew that we were.

"

—Blaine to Sam, Dynamic Duets
"

Blaine: It's not okay, Sam. Because I cheated on the one person that I love more than anything in this world; I hurt him. So of course he's not going to trust me. He's never going to forgive me.

"

—Blaine to Sam, Dynamic Duets
"

Kurt: Look, you've said you're sorry a million times, and...I believe you. And I'm trying to forgive you, but I'm just not there yet. But...it's Thanksgiving, and Sectionals, and...I miss you like crazy.
Blaine: *looks like he's going to cry*
Kurt: And I can't stand not talking to you even if I'm mad at you, 'cause you're still my best friend.
Blaine: You're mine too.

"

—Kurt and Blaine, Thanksgiving
"

Blaine: Package for Kurt Hummel!
Kurt: Blaine?
Blaine: Surprise! Your dad called me out of the blue and wanted to fly me out here just so I can see that look on your face, and it's pretty priceless. Actually, he told me everything, and I promise, I'll keep an eye on him for you. But the reason why I'm here is because he didn't want us to miss out on another important holiday tradition.
Kurt: Our Christmas duet?
Blaine: You are happy to see me, right?
Kurt: Yeah, yeah. Always.
Blaine: Come on, get your skates on, it's almost midnight. Hurry up!

"

—Blaine and Kurt at the Rockefeller Ice Skating Rink, Glee, Actually
"

Blaine: No matter what, no matter where, even if we're not together, we're always gonna be there for each other.
Kurt: (hugs Blaine)

"

—Blaine and Kurt, Glee, Actually
"

Kurt: (Moaning) Had I known I was gonna get groped in the back of a Prius, I would've brought a change of clothes. I'm gonna go in there looking like Prom: Morning After.
(Kissing and moaning)
Kurt : What I am doing? I'm sort of dating somebody in New York.
Blaine : Uh, you're not in New York. And it's not exclusive, right? You in this fey bowtie… dude, it's my Kryptonite.
(Kissing and moaning)
Kurt : Wait, this doesn't mean that we're back together, right?
Blaine : No, no, no, It's-it's cool. I know, I know, it's-it's… This is just bros helping bros.
Kurt: I love it when you talk fratty.
(Kissing and moaning) Knocking
Kurt: Tell me that's not Tina again!

"
"

Blaine: Tell me now that we're not back together.
Kurt: (buttoning his sleeves) Mean, it was fun. But...
Blaine: Don't- I'm not gonna let you minimize this, Kurt. It's no accident that we were together on Christmas and again, on Valentine's Day. And we're going to be together for many, many more no matter how much you pretend that this doesn't mean anything.
Kurt: (whispering) I'll see you downstairs.


"
"

Kurt: What a wonderful, wonderful week.
Blaine: And with you in it, a wonderful life.

"

—Blaine and Kurt, Wonder-ful
Season Five
"

Blaine: We met right here. I took this man's hand and we ran down that hallway. And for those of you who know me know I'm not in the habit of taking people's hands I've never met before. But I think that my soul knew something that my body and my mind didn't know yet. It knew that our hands were meant to hold each other, fearlessly and forever, which is why it's never really felt like I've been getting to know you. It's always felt like I was remembering you from something, as if in every lifetime you and I have ever lived, we've chosen to come back and find each other and fall in love all over again, and over and over for all eternity. And I just feel so lucky that I found you so soon in this lifetime because all I want to do, all-all I've ever wanted to do, is spend my life loving you.

So, Kurt Hummel, my amazing friend, my one true love, will you marry me?

Kurt: Yeah! Yeah!

"

—Blaine's proposal to Kurt, Love, Love, Love
"

Blaine: Thanks for knowing me. I love you.

Kurt: I love you too. And we're in this together. I can't stop you from failing, but I can promise to make it safe if you do.

"

—Blaine and Kurt, Movin' Out (Episode)
"

Blaine: I think I should move out.
Kurt: I'm not sure that's what I want.
Blaine: Me neither, but I think we need to take a step back for a second, together, and just look at the situation... honestly. (pause) It's not working out... After graduation I just... moved in and we didn't have a conversation about it, we never weighed the pros and cons, we never really discussed if this was the absolute best thing for our relationship.
Kurt: We just wanted to be us. Together.
Blaine: And we are together, we are SO together. But I just think that maybe living together... In less than ideal circumstances...
Kurt: Maybe we don't need that pressure right now. It's such a scary decision to make. I, I just feel like I...
Blaine: I know, I know. It is scary. But I think it's a little less scary if we make the decision together.
Kurt: We can't go backwards.
Blaine: We're not going backwards. I think we're being smart.
Kurt: By protecting something that is very precious to me... You know that, right?
Blaine: Of course I know that. Of course. Always, I know.
(hug)
Kurt: No matter who we become, even if we do need alone time, which is completely valid, we'll always belong to each other.

"

—Blaine and Kurt, New New York
"

Kurt (while Blaine's kissing his neck): And even though this, this wasn't a fight, just, you know, a grown up, adult conversation, you know, we are now going to have the hottest make up sex ever.

"

—Kurt to Blaine, New New York
"

Blaine: Do you want to know why we haven't been intimate? It's because I feel insecure around you. I feel insecure around my own fiancé, and fratboyphysicals.com isn't gonna judge me.
Kurt: And neither will I. Ever.

"
"

Kurt: What do you think it's like to fly for the first time? I mean, here you are up in this nest, which is the only home you've ever known, and even though your DNA and millions of years of evolution are telling you that if you jump, you won't hit the ground like a stone, you can never really know. Relationships are like that.

"
Gallery