The Blaine-Sam Relationship, most commonly known as Blam or Slaine, is the friendship between McKinley High with Blaine Anderson and Sam Evans. 
This is the first time Blaine and Sam meet, however they do not interact.
Blaine is sitting in The Lima Bean with Kurt towards the end of the episode, when Sam comes into the cafe with Mercedes Jones, his girlfriend at the time. Blaine politely asks what they are doing, and the four of them briefly explain their plans.
Sam makes his first appearance this season as he joins the New Directions once again. As his welcome back song, Sam sings Red Solo Cup, where Blaine gets very into the performance. Sam has an idea for the Sectionals choreography, a dance move he learned while being a stripper. Blaine had his own idea for a dance move, but Sam called it too "boy band". Blaine seems offended and still refuses to dance like that at Sectionals, then he makes a remark about Sam's financial situation, saying he is "not for sale" causing a fight to erupt between the two. The fight is quickly broken up by Mr. Schuester and Blaine storms out of the choir room.

They are seen in this episode passing around a basketball with Mike in the locker room. Puck comes up, giving them, Mike and Finn goodie bags with guitar picks and shot glasses to celebrate the friendship between them before they all go their separate ways.
Blaine and Sam are shown to be sad as their respective lovers are graduating. They, along with Will and the rest of the non-seniors (Brittany), perform In My Life to all the graduating Glee Club members.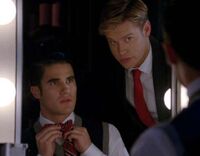 This episode takes the friendship to a whole new level. Blaine decides to run for senior class president against
Artie
and Brittany, and choose Sam as his running mate - with a little motivation from Brittany and Sam. Blaine talks to Sam in the hallway about the debate and decides to give him a makeover to look more like senior VP material.
The Role You Were Born to Play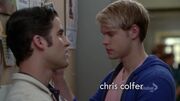 At the audition sheet for Grease, Blaine admits to Sam that he doesn't think that he can do the musical because of his current relationship status with Kurt, and because the role of Danny has such a strong romantic connection in the character, and that he couldn't play the part believably. Blaine also admits to him that he hasn't been sleeping, lost his appetite, and hasn't been gelling his hair on weekends, and that he and Kurt are soulmates, and that they were planning to spend the rest of their lives together. Sam reassures him that even though he knows it's hard, everyone has gone through heartbreak.
While Blaine is cleaning out his locker, Sam comes up to him and talks about why Blaine is going back to Dalton. He said he thinks it's because Blaine just wants to further punish himself for cheating on Kurt. Sam then asks what exactly happened, and Blaine told him that he hooked up with Eli because he felt Kurt was moving on without him and that maybe they weren't meant to be, but only to realize that they are meant to be together right after the hookup was over. Sam encourages him to talk to Kurt, but Blaine insists he has, but Kurt won't listen to him. He tells Sam that everything is not alright because he hurt the one person he loves more than anything in the world, and that by cheating, he broke the trust they shared and won't be forgiven. Sam tells him that even if Kurt doesn't, he needs to forgive himself and stop beating himself up. He tells him that cheating on him wasn't cool, but exiling himself to Dalton isn't going to make what Blaine did any better, and that he has to try and make things right. Blaine wants to stop feeling like a bad person, and Sam assured him that he isn't. Sam tells Blaine to give him a day, find the hero in him, and then decide where he belongs.

When Sam mentioned that Will is in the audience, Blaine and the rest of the glee club appear excited.
Both Blaine and Sam are concerned about Marley. They, along with the other 3 seniors, are shown disappointed when they won't have another year to be in glee club.
Sam and Blaine are walking together to Glee Club practice, when Sam tells Blaine that he thinks that the Warblers cheated at sectionals. Blaine tells Sam that he doesn't believe him and that he needs more proof. After Brittany asks Sam to the Sadie Hawkins Dance and he accepts, Blaine looks sad about it. During Glee Club practice Tina asks Blaine out to the dance and Blaine rejects her. In the Hallway, after much hesitation, he reveals that he has a crush on Sam. In a flashback of an earlier moment that day, Blaine is in the library and Sam tells him about what he found to prove that the Warblers cheated. Later in the episode, Blaine and Sam continue to investigate the chance that the Warblers cheated at sectionals. They later find out that they did cheat when they talk with Trent and plan to testify against the Warblers.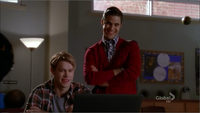 Blaine assures that he is just trying to help Sam and be a friend. Sam tells him to prove that by showing up to the seminar Sam is holding for the calendar. Blaine does so, and is present for every "lesson" Sam holds.
Sam becomes arrogant and insensible while taking his pictures for the calendar. He runs back into the locker room to lift weights and get his 'pump' back. Blaine follows him there. Sam confides in Blaine about his insecurity of only feeling special if he can shine through his body, since he does not have any other redeeming qualities in his own point of view. Blaine reassures him that he can relax, because everyone would love him the same no matter what.

In an effort to help Sam, Blaine makes an appointment with
Emma Pillsbury
.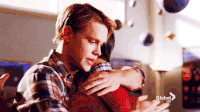 Emma shows Sam that there are many colleges that don't look at test scores for entrance, and that a multitude of scholarships exist that would help him afford it. However, to apply for the scholarships, Sam has to write an essay.
Blaine catches Sam sitting in a classroom, struggling to write his essay. When Sam expresses further doubt in himself, Blaine shows him a video the Glee club made for him where they explain the good they see in him and everything he brought to their lives.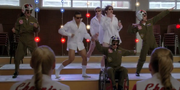 They along with
Marley
, Brittany,
Jake
, and Tina discuss about their mash-up competition. Later they perform
Old Time Rock & Roll/Danger Zone
with the New Directions Boys.
After Blaine joins the Cheerios, we find out that Sam and Blaine have the plan of bringing Sue down by having Blaine working from the inside and to put an end to her reign of horror by the time they graduate.
Blaine meets Sam by his locker, and says he saw him stealing food from the cafeteria and he thinks that Sam and his family are having financial troubles again, Blaine wants to help him giving him some money, so that way Sam wouldn't need to steal anything. But Sam says that the food wasn't for dinner, it was for art and he shows Blaine all his macaroni art.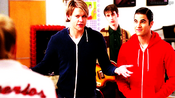 Blaine thanks him for sharing this with him, Sam says it's Blaine's turn to share his guilty pleasure, but he says he doesn't have any; however Sam doesn't believe him. So Blaine thinks of something random in his mind and says that his guilty pleasure is the band
Wham!
. Later Tina enters to the room and tells them that Will is sick and Glee Club is cancelled for a week, so they decide to take the lead of Glee Club and choose the week's theme to be "Guilty Pleasures." They think that it would feel great letting this to get out and it could help to know each other better and become a better team for regionals. Jake suggests them to give an example, Blaine and Sam agree and sing
Wake Me Up Before You Go-Go
with the New Directions.
In the boys shower Sam confesses that he has been keeping a secret for long, a secret that he's ashamed of and needs to let it out, Blaine is confused and jokingly asks if Sam has feelings for him; but Sam tells him that it's not that, it's that he likes Barry Manilow and he suggests to tell people and let it get out. Sam sings Copacabana and after that Blaine congratulates him for being brave and telling everyone his guilty pleasure. Later in the library Sam comments to Blaine about how all this guilty pleasure topic has spread all over the school and tells Blaine is his turn to tell his guilty pleasure, as Sam believes he has not been totally honest about it. Blaine seems confused about this, to which Sam explains that is time for him to be an example to the Glee Club.
Later on in this episode, Blaine sings
Against All Odds (Take a Look at Me Now)
, While Blaine did have a crush on Sam during this episode, Blaine actually sung this song about Kurt. Some time during or after the song, Sam realizes Blaine has a crush on him. They have a talk after and Sam tells Blaine that he knows about his crush and he's cool with it. Blaine asks if he's not gonna freak out or if it's gonna ruin their friendship, but Sam says that nothing will change between them and that they are like brothers. They then hug after this and the hug turns out to be long and awkward for Sam, who thinks that Blaine is becoming sexually aroused, but it ends up just being Blaine's breath mints that are in his pocket, which they share and he thanks him for it.
During the shooting, when Sam is desperately trying to get to Brittany and is forced to sit down, Blaine tells him that Tina is missing too. After the police gives the 'All Clear' sign, they are seen sharing a friendly hug.
Although Blaine clearly doesn't approve of Sam's 'pretending to have a twin brother called Evan' he still plays along with him, telling Sam/Evan where he think he saw the other twin. Together with Marley and Unique they perform You Have More Friends Than You Know, delighted by Marley's song writing skills.
When Jake Puckerman and Mike Chang are performing the song, I Wish, Blaine and Sam are sitting next to each other in the Glee Club room and they are rocking out in their seats to the music and having a good time.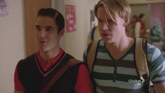 They are seen in the hallways because Blaine decides that he wants to propose to Kurt and wants Sam to be his best man at the wedding. Sam at first disagrees, claiming that they are too young to get married, but he eventually gives Blaine his support. Later, when Blaine is shopping for a ring, Sam comes in and says he wants to help him pick the ring, if Blaine is actually going to do this. A confused Jan asks whether Sam is whom Blaine will propose to, but Sam quickly corrects this by telling her that they are just friends.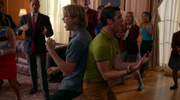 he supports his plan. Blaine and Sam have solos in 
Help!
as they both team up with New Directions to go to different show choirs for help for his quest to propose to Kurt. Meanwhile, Blaine asks for Sam's help, along with Ryder and Jake, because he is concerned about Tina's behavior after her break-ups, meanwhile, Blaine and Sam, with Ryder and Jake, perform 
I Saw Her Standing There
for her. In the end of the episode, Sam can be seen during Blaine's surprise proposal to Kurt, performs background vocals for
All You Need Is Love,
and cheers when Kurt says yes.
At the beginning of the episode Sam is seen lying on the piano while Blaine plays it. They talk about Blaine's recent engangement to Kurt. In the hallways, Blaine asks Sam if he wants to get his tux rental with him, but he declines, claiming to have a snake bite, but really it's a human bite. Blaine knows the obvious that he likes the new nurse, Penny, and tells him that he should ask her for a dance at prom. At Prom, Blaine and Sam both perform Hey Jude with New Directions to dedicate to Tina.
In this episode, Sam and Blaine are both "Katys" and they both take part in performing a Lady Gaga performance for the Glee Club assignment. Meanwhile, they both converse in the hallway when Sam feels like he and Penny lack the chemistry he wants with her, because he believes that Penny may be a Gaga fan. Blaine suggests that during their performance, they can bring Penny in to see it so Sam could impress her and possibly have something more. Later on, they both perform Applause alongside Marley, Ryder, and Artie.
Sam and Blaine tell the New Directions that they are going to New York City to search for universities with guidance from Kurt and Rachel.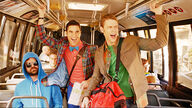 They sing Movin' Out and end up at the Bushwick Apartment. They all eat together at Spotlight Diner and Sam brings out a harmonica as Blaine sings Piano Man. Afterwards, Blaine and Sam return to Lima to tell the glee club members how everything went in New York and then burst into the episode's last song, You May Be Right.
The Fox
with the others.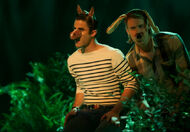 .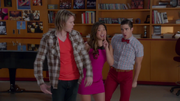 At school, Blaine and Sam can be seen strutting through the hallways with Tina while performing 
Jumpin' Jumpin'
with each other, as well in the choir room. Meanwhile, Blaine and Sam both try to comfort Tina when she cries about graduating and going apart from Blaine and Sam. Later on, the two both go into the classroom to try on their graduation gowns and caps, and when they try them on, Blaine finds it difficult to cope with graduation coming so fast for them. When Tina arrives and mourns about parting ways with Blaine and Sam, Blaine gets the idea of having a lock-in. Blaine and Sam once again to approach a very saddened Tina who has a tantrum over the fact that the lock-in was cancelled. To try to console a disheartened Tina, they both try to create their own lock-in together. Blaine and Sam both team up with Tina to break in to the school at night to have their own lock-in. As they enter, Sam, Blaine and Tina performs 
Don't You (Forget About Me)
while playing in the hallways and having fun in Cheerios uniform.
Unexpectedly, they are busted by Becky Jackson, who crashes the fun and blackmails the trio that if they refuse to play Twister with her, she will call the cops for breaking and entering. Blaine plays Twister with Becky, and tries to look for Sam and Tina, but shockingly catches them making out in an empty classroom. Blaine is extremely disgusted and angered at the situation, and he exits the building. The next day, Blaine is still angry at Sam and Tina for making out - but the two try to atone for making Blaine feel left out, which fails at firsthand. Later on, the three reconciles with each other, lookng forward to the future. The three request to perform another song, but with Artie, who feels left out of their trio. In the end, they perform Hold On in the auditorium.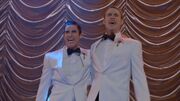 Blaine and Sam and the rest of the New Directions head to Los Angeles, while they both face competition with Throat Explosion's leader, Jean Baptiste. They are both intimidated by their competition, who often provokes New Directions, especially when they enter the auditorium where Nationals is to take place. Meanwhile, the both of them confront Jean Baptiste, accusing them of stealing Finn's plaque in order to intimidate them and lose their luck at Nationals. Without it, they both try to encourage New Directions to work hard for the sake of Finn.
In this episode, Sam shows his excitement and support for Blaine after he reveals that he got accepted into NYADA in New York. Both Blaine and Sam are involved in Tina's "Chums" dream sequence after being unconscious on the floor. Meanwhile, Blaine and Sam, alongside Artie, try to convince Tina to go to New York with them, they perform Loser Like Me together. Later on, Blaine and Sam finally graduate from McKinley High School, alongside Tina, Artie, Becky, and Brittany. However, when Tina reveals that she isn't going to New York because she got accepted to Brown University, both show their support for her.
Sam and Blaine finally arrive to New York, and both of them move into Kurt and Rachel's apartment. Sam, however, becomes bad company after a very long stay at the apartment, and Kurt convinces Blaine to talk to Sam about moving out. When Blaine notices that Sam has been occupied on the same video game since he left the apartment, Blaine tells Sam that he's worried about him because it's hard for him to cope with being in New York and trying to focus on his dreams. Sam admits to hating New York, so in order to cheer him up, he and Blaine both go out to Times Square and sing 
Best Day of My Life
together. Meanwhile, Sam feels that Blaine motivated him to get his hair cut and start fresh in New York. When he gets his first modeling gig, Blaine congratulates him and hugs him, but he is surprised when Sam decides to move out. Elsewhere, Blaine and Sam plan to have an apartment together, until Mercedes arrives and she lets Blaine and Sam each rent a room with her in her apartment.
Sam, Blaine, Kurt and Rachel, attend a candlelight vigil for Russ, a man who was a victim of a hate crime because he was gay. Back at the loft,Sam and Blaine, Kurt, Rachel, Mercedes and Artie gather for their weekly Monday night potluck dinner.The group discusses how hate crimes have risen lately in NYC, particularly those toward people who are gay.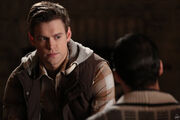 Later, Blaine tries to comfort Sam who was told by Mercedes that she won't date him because of their racial differences and how it might affect her career. Blaine offers to read Sam some
Star Wars
fanfiction, as it helps him sleep at night. Blaine then gets a phone call informing him that Kurt has been hurt after defending someone from being the victim of a hate crime. Sam and Blaine go to the hospital and Rachel, Mercedes, and Artie are there as well. They are told that Kurt has been sedated with morphine due to his injuries, but he will recover. Blaine, Sam and the rest of the group visit with Kurt even though he is unconscious.
After Kurt is released from the hospital, Blaine, Sam, and the rest of the group attend Kurt's Mid-Winter Critique at NYADA.
Blaine and Sam both appear in the public information film at the beginning of the episode. Blaine is referred to as "a debonaire homosexual" and Sam as "a handsome idiot". At a cafe, Sam asks Blaine, Kurt and Artie to help him find a sexual health clinic. Blaine is shocked that he and Mercedes sleep in the same room, but haven't had sex yet. Nevertheless, he offers to accompany him to the clinic.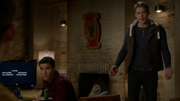 Back at the Bushwick Apartment, Sam and Blaine watch the season 6 finale of 
Oz 
together. When Artie reveals that he has chlamydia, Sam starts yelling, but Blaine encourages him to calm down. They both advise Artie to inform the girls that he has slept with.
In the cafe, Sam cynically listens as Blaine reveals his new diet. Sam suggests that they should start an all-male New York abstinence club. Blaine, Artie and Kurt refuse saying that it is a horrible idea.

The Untitled Rachel Berry Project
The whole group is having Monday night dinner at the Bushwick Apartment. The writer for Rachel's TV-pilot, Mary Halloran, is joining them to get to know them better. They are both excited to see Brittany back. When Mary enters, they are all a little confused by her. They are both present at Mercedes' mall concert, where she performs Shakin' My Head with Brittany.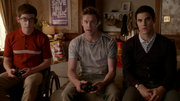 Next, they are playing videogames with Artie, when Blaine tells Sam he thinks he should break up with Mercedes. At first, Sam tells them he loves her, but he also admits that he's having a hard time with waiting until marriage. Even though that's the case, he does tell them that he thinks she is the one and he is not going to screw it up. In the first script for Rachel's pilot, it is revealed that their characters are called Slaine and Jam. Blaine's character sleeps with Brittany's character on the show, and they are both present at Rachel's birthday rave party. Sam then says the script doesn't make sense at all, the rest of them agreeing.
Sam attends Blaine's showcase, watching him perform No Time at All with June and American Boy with Kurt. He joins in to dance at the second song, and is very happy for Blaine. Back at the apartment, they all read the second version of Rachel's script together and love it. When Sam sees his first half naked picture on a bus, he's very excited and everyone is happy for him. They agree to all meet in New York again in six months, no matter where everybody ends up. Together with the rest of the group, they sing Pompeii. During the song, Blaine moves back in with Kurt, while Sam goes back to Lima.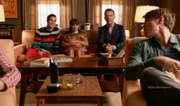 Sam and Blaine are both now back in Lima working at McKinley High and Dalton Academy receptively. They only share one scene together when they force Rachel to watch the only episode of her TV show That's So Rachel, and Sam comments to Blaine that the show is horrible.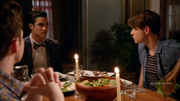 Sam is at Will's apartment with Kurt and Rachel ready to eat dinner when Blaine turns up. They decide that since they are all heads of different Glee clubs they will respect each other and show each other friendly competition. Sam and the others also give Blaine some advice on new student Jane Hayward. Later they are seen during the performance of Home at the McKinley bonfire, although the two don't interact.
Rachel tells Sam that she'd like to learn to play the piano, and he, whilst under the effects of hypnosis, tells her he'll get Blaine to teach them. Blaine later attempts to teach Sam and Rachel in the Auditorium before Sue arrives and interrupts them, and Sam, still affected by the hypnosis, tells Blaine to leave.
The Rise and Fall of Sue Sylvester
Blaine and Sam, together with Mercedes and Rachel are in the faculty lounge, discussing Rachel's future in NYADA and Broadway.
In the football locker room, Blaine walks in as Sam pumps up a bunch of sports balls. Sam explains to Blaine about how he has to pump them and sell them, as they no longer are a sport school. Blaine asks him if he wants to go back to New York, telling him that he has an extra bed. Sam refuses, telling him that New York is too fast for him, and doesn't know which sport team to root for, (Blaine unconsciously saying to root for the one who's winning). Blaine explains how he's happy with Kurt, an seeing the others in NY, but is sad that his best friend is not there. Sam reassures him that he's happy where he is, and that he wont waste his talent with his new job.
When Will talks to the new members of the New Direction, he introduces Sam (who walks in, with Blaine behind him). Blaine stands next to Will as Sam introduces the week's lesson. Blaine is at first horrified at his choice, but as Sam explains it to the group, he starts to smile seeing the enthusiasm of the kids, and is happy with the choice Will has made to appoint him.
They are both seen performing in I Lived.
Sam and Blaine have both given a promise ring to a significant other (Sam to Quinn in Furt; Blaine to Kurt in a deleted scene from Extraordinary Merry Christmas).
Both of the characters were originally created to be Kurt's boyfriend, and interestingly, Kurt has been romantically interested in both.
Both of them had previously attended an all-boys school, Sam mentions attending one before his family moved to Ohio, and Blaine attended Dalton Academy.
According to the sneak peek for Makeover, Chord Overstreet supports the name "Slaine" while Darren Criss prefers calling their friendship "Blam".
Ryan Murphy stated that he is a fan of the Blam relationship/friendship.
"Blam" were nominated for a People's Choice Award (2014) for Favorite TV Bromance.
As shown in Tested, Blaine started reading Star Wars fanfiction to Sam whenever Sam had trouble falling asleep.
In the original script for Rachel Berry's pilot episode, Blaine's character is named "Slaine", much like one of the pairing names between Blaine and Sam. 
Darren and Chord have shown that they are also good friends in real life by attending each others concerts
They are ranked 6th in the list with pairings with the most fanfiction.
v - e - d

Glee Relationships




Character relationship(s) displayed:

Adam

Artie

Becky

Betty

Blaine

Bree

Brittany

Brody

Burt

Cassandra

Chandler

Cooper

Dani

Dave

Elliott

Emma

Finn

Holly

Jake

Joe

Kitty

Kurt

Lauren

Mario

Marley

Mercedes

Mike

Millie

Puck

Quinn

Rachel

Rory

Roz

Ryder

Sam

Santana

Sebastian

Shannon

Shelby

Sue

Sugar

Sunshine

Tina

Terri

Unique

Will