'Glee' Profile: Blaine Anderson
Play Sound
Blaine Devon Anderson is a major character on Glee. He is an alumnus of McKinley High School and former Dalton Academy student. Blaine makes his debut in Season 2, in the episode Never Been Kissed as the lead singer of the Dalton Academy Warblers, but later transfers to William McKinley High School at the beginning of Season Three. Blaine is openly gay and is now married to Kurt Hummel as of the episode A Wedding. Despite revealing his infidelity in The Break-Up, Kurt eventually decides to forgive him. Blaine goes on to propose to Kurt at the beginning of Season Five. In New Directions, it is revealed he has been accepted into NYADA and, in the same episode, he graduates from McKinley, along with Tina, Artie, Becky, Brittany, and Sam. It is revealed in Season Six premiere that the engagement was called off and he was cut from NYADA after his grades slip because he is depressed, and he started dating Dave Karofsky afterward. He was working at Dalton Academy as the coach of the Warblers until Dalton Academy burned to the ground with nothing left to save, so he joins New Directions alongside Kurt, Rachel, and Will as a new co-director, while the Warblers join New Directions as well. Karofsky broke it off with Blaine when he realized their 'time was up' after Kurt came back to Lima. Blaine and Kurt finally got married in the final season.
He was a recurring character introduced in Season 2 but was promoted to the main cast in Season 3 onwards. He is portrayed by actor and singer-songwriter Darren Criss.
Biography

Pre-Series
Blaine is implied to come from a wealthy family because he tells Kurt that not everyone can afford to attend Dalton, implying that he can. His older brother, Cooper, was very critical and domineering when they were young, and it is implied that Blaine is not very close to his father because of his sexuality. Before moving to Dalton Academy, Blaine went to a public school where he was constantly bullied because of his sexuality. Just after he came out, he attended a Sadie Hawkins dance with a friend who was the only other openly gay student at his school. While waiting for his friend's dad to pick them up, he and his friend were jumped by homophobic bullies and were beaten mercilessly. Blaine then decided to transfer to Dalton because of their zero-tolerance bullying policy and has soon gained a lot more confidence since.
Series
Personality
Originally, Blaine is portrayed as a charming young man with a confident exterior that often belies his insecurities. He is very composed and shows a lot of self-control, but there are times when he throws himself into situations impulsively, such as serenading another guy in public and consequently getting him fired or seeking out Burt to give Kurt the "sex talk." There are other times that shows Blaine having a temper, such as when he snapped at Sam in Hold on to Sixteen for rejecting his suggestions. He is increasingly portrayed as someone who approves the idea of "fitting in." While he's not afraid of being openly gay, he still prefers to act socially acceptable and warns Kurt that trying too hard and showing too much can be detrimental, as proven in the episodes Special Education and Prom Queen.
After moving to McKinley in Season Three, Blaine has shown a needier, attention-seeking side such as the time his older brother, Cooper visited Lima or when Kurt was texting another guy. Despite his flaws, he remains to be a very passionate and caring young man and loves Kurt dearly.
In Season Four, after encouraging Kurt to leave for New York, Blaine finds himself alone and seeks solace in his friends, Sam and Tina. It is at this time that Blaine shows a more campy, fun side to him and loosens up from his composed, reserved self that he held when he was attending Dalton Academy. He has also grown more dramatic, especially due to his stress about senior year, as shown in Season Five when he catches Sam and Tina tongue-kissing whilst locking themselves in the school for the evening and accuses them of ruining the night he had so perfectly planned.
Towards the midpoint of Season Five, after moving to New York, Blaine's reserved, conservative personality starts coming back, especially in "Tested," when he begins emotionally eating and visiting porn websites to deal with his insecurities about Kurt taking better care of himself and having a brand new independence and maturity, which leads to him feeling as though their relationship is suddenly becoming a battlefield between two guys and not liking the way he feels about himself anymore, which he confides in Kurt, in tears.
Relationships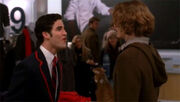 In
Silly Love Songs
, it was Valentine's week and Blaine had revealed to
Kurt
and
the Warblers
that he was in love. Naturally, with all the time they had spent together, Kurt was under the impression that Blaine was in love with him, but it turned out that Blaine was in love with Jeremiah, a junior manager at GAP, and had planned to serenade him at his work with
When I Get You Alone
. However, the performance ended up outing Jeremiah and subsequently getting him fired. Jeremiah later rejects Blaine's feelings because they only went out for coffee twice and dating him would be illegal.
Main article: Blaine-Rachel Relationship (Blainchel/Anderberry)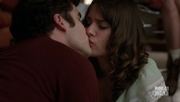 Rachel and Blaine first met in
The Sue Sylvester Shuffle
and unexpectedly had shared a drunken kiss at
Rachel's party
in
Blame It on the Alcohol
. After the incident, they shared a duet together,
Don't You Want Me
, and subsequently went out on one date, prompting Blaine to question his sexuality. After the date, Rachel becomes enamored with Blaine, but after they share a sober kiss together, Blaine realizes that he is 100% gay and the two remain very good friends.
Main article: Blaine-Kurt Relationship (Klaine)
Kurt is instantly enamored by Blaine when he goes to spy on the
Dalton Academy Warblers
. Blaine is not angry when he finds out. They become friends, and Kurt ends up going to Dalton with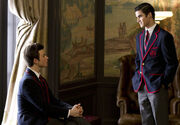 Blaine. Kurt admits to having feelings for Blaine after they sing
Baby, It's Cold Outside
. Blaine doesn't instantly reciprocate his feelings, until
Original Song
, in which Blaine admits to being mutually in love with Kurt, and they become a couple. Kurt transfers back to
William McKinley High School
soon after
Regionals
. Since he remarks how much he'd love to have Blaine with him during his senior year, the latter transfers to the high school in Lima at the beginning of the school year. Around then do they lose their virginities to each other. Their relationship is tested when it becomesm ore and more aware to Blaine that Kurt will propoably be leaving him behind after graduation, to which Kurt promises they will make it work. As predicated, Kurt moves to New York in
The New Rachel
. Blaine starts feeling neglected as a result of their long-distance relationship, and ends up cheating with a man named
li
. Although Blaine immediately travels to New York to confess this and apologize to Kurt, the latter breaks up with him. Over the new couple of weeks, Blaine repeatedly tries to apologize to Kurt,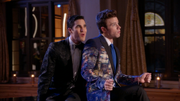 but the latter doesn't accept it until he has a heart-to-heart with
Isabelle Wright
. Kurt and Blaine both manage to move on after speaking themselves out on it in
Glee, Actually
. Blaine then begins crushing on
Sam Evans
, and Kurt begins a relationship with
Adam Crawford
. Despite this, they reunite in
Love Love Love
, and get engaged in the same episode. After graduating, they move into Kurt and Rachel's apartment together, but Blaine moves out when living together doesn't work for them. While attending NYADA together, a change in their relationship stresses Blaine especially. They also clash when
June Dolloway
doesn't want Kurt in her showcase with Blaine, but they eventually manage to sort that out, too.
Main article: Blaine-Sebastian Relationship (Seblaine)
Sebastian transfers to Dalton Academy the year after Blaine leaves, and hears a lot about him from his fellow
Warblers
. He thus quite excited to meet Blaine in person. He makes Blaine drink a coffee with him, and takes him to a gay bar. Much to Kurt's dismay, Sebastian shows a lot of interest in Blaine, causing conflict between them. Blaine appears to be friendly towards Sebastian, until
Michael
, when the Warblers attempt to copy the
New Directions
' Regionals-setlist, and Sebastian accidentally injures Blaine's eye with a rock salt slushie aiming for Kurt's chest. They only make up in
On My Way
, when Sebastian apologizes for his bad deeds. Blaine is among the first to stand up and applaud for the Warblers during their Regionals performance, and during the trophy announcements he and Sebastian look over at each other to make eye contact. Blaine goes over to shake Sebastian's hand when the New Directions win
Blaine suspects Sebastian is behind the robbery of the New Directions' Nationals trophy, when it is in fact
Hunter Clarington
. Sebastian does, however, help Hunter persuade Blaine transfer back to the
Dalton Academy Warblers
, but their attempts are ultimatively fruitless. Despite their bad history, Sebastian agrees to help Blaine set up a proposal for Kurt in
Love Love Love
.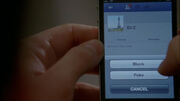 During
The Break-Up
, Blaine was shown missing
Kurt
while he was in New York, and was repeatedly getting frustrated with Kurt ignoring his phone calls to the point where he succumbed to a proposition of a one-night stand from an anonymous poster on Facebook named Eli.C. The two men eventually had sex in a hotel room, leaving Blaine feeling guilty and eventually confessing his misdeed to Kurt, leading to their break-up.
Main article: Blaine-Tina Relationship (Blina/Blatina)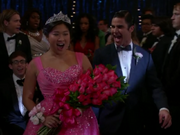 They join the cheerios together in
Swan Song
. Despite only spending a single day on the cheerleading squad, they remain friends after that. Tina even realizes that she feels for Blaine as more than a friend, and even organizes a sadie-hawkins dance, with the sole purpose of being able to ask Blaine to go to the dance with her. Blaine rejects her at first, but agrees to go with her later on. Despite the fact that Blaine is attracted to men, and even shares having a crush on Sam with her, Tina works herself up on her feelings for Blaine. In
Diva
, she helps him with a cold he's struggling with. In return, Blaine helps her with the weekly glee-club assignment. While they are brain-storming ideas, Tina tries to find a way to get clsoe to Blaine, although Blaine falls asleep while she is doing so. She then spreads vapor on his chest. Furious at Blaine for not reproducing her feelings, she dedicates
Hung Up
to him. It makes her realize that her crush on Blaine has no future, and she does gives up on it.
They remain friends following that, and make their final days at school count together with Sam.
Main article: Blaine-Sam Relationship (Blam/Slaine)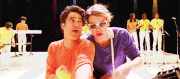 Sam and Blaine become friends when they are persuaded to run for Senior Class President together. Following that, Sam helps Blaine deal with the latter's failing relationship with Kurt. It is thanks to Sam that Blaine manages to overcome his guilt regarding Kurt in
Dynamic Duets
. In the weeks that follow, Blaine starts feeling for Sam as more than simply a friend. Blaine even helps Sam deal with his worries regarding the future in
Naked
. After spending a week coaching the glee club together in
Guilty Pleasures
, Blaine comes clean about his feelings for Sam. The latter is shown to be accepting of them, and promises that it won't jeopadize their friendship. As a proof of their friendship, Blaine even asks Sam to become his best man as he is about to propose Kurt, and although Sam is originally against the engagement, he ultimatively helps Blaine set up the proposal in
Love, Love, Love
. Together they move in with Kurt and Rachel following their graduation in
New Directions
, and move to Mercedes' apartment together in
New New York
. It is due to Blaine's encouragement, that in this episode Sam gathers the courage to work on his dreams of becoming a model.
Songs
Total - 128
Solos
Duets
Solos (In a Group Number)
Season Three
Song
Episode
Solos with
Control
Hold on to Sixteen
Artie and Quinn
Man in the Mirror
Artie, Finn, Mike, Puck, and Sam
My Favorite Things
Extraordinary Merry Christmas
Kurt, Rachel, and Mercedes
Do They Know It's Christmas?
Artie, Brittany, Finn, Kurt, Mercedes, Puck, Rachel, Santana, and Tina
Bad
Michael
Artie, Santana, and Sebastian
Love Shack
Heart
Brittany, Kurt, Mercedes, Rachel, and Sugar
Fly/I Believe I Can Fly
On My Way
Artie, Finn, Mercedes, Rachel, and Santana
You Should Be Dancing
Saturday Night Glee-ver
Brittany and Mike
Night Fever
Joe and Will
My Love Is Your Love
Dance with Somebody
Artie, Kurt, and Mercedes
Big Girls Don't Cry
Prom-asaurus
Kurt and Rachel
Paradise by the Dashboard Light
Nationals
Brittany, Finn, Kurt, Mercedes, Mike, Puck, Rachel, and Santana
Back-up singing
Solos
Duets
Solos (In a Group Number)
Season Four
Song
Episode
Solos with
Call Me Maybe
The New Rachel
Brittany, Tina, and Unique
Don't Speak
The Break-Up
Finn, Kurt, and Rachel
The Scientist
Brittany, Finn, Emma, Kurt, Rachel, Santana, and Will
You're the One That I Want
Glease
Brittany, Finn, Kurt, Marley, Rachel, Ryder, and Santana
Some Nights
Dynamic Duets
Jake, Joe, Kitty, Marley, Ryder, Sam, and Tina
Don't Dream It's Over
Swan Song
Brittany, Finn, Marley, Sam, and Tina
Have Yourself a Merry Little Christmas
Glee, Actually
Brittany, Jake, Kurt, Marley, Puck, and Sam
No Scrubs
Sadie Hawkins
Artie, Joe, Ryder, and Sam
This Is the New Year
Naked
Artie, Brittany, Jake, Marley, Ryder, Sam, Tina, and Unique
Diva
Diva
Brittany, Tina, and Unique
We've Got Tonite
I Do
Artie, Betty, Finn, Jake, Kurt, Marley, Quinn, Rachel, and Santana
Mamma Mia
Guilty Pleasures
Kitty, Kurt, Marley, Rachel, Sam, Santana, and Unique
Say
Shooting Star
Brittany, Kitty, Marley, Ryder, and Sam
You Have More Friends Than You Know
Sweet Dreams
Marley, Sam, and Unique
We Will Rock You
Lights Out
Artie, Jake, and Ryder
Superstition
Wonder-ful
Marley and Mercedes
Solos
Duets
Solos (In a Group Number)
Season Five
Song
Episode
Solos with
I Saw Her Standing There
Love, Love, Love
Jake, Ryder, and Sam
Hey Jude
Tina in the Sky with Diamonds
Kitty, Sam, and Tina
Applause
A Katy or A Gaga
Artie, Marley, Ryder, and Sam
On Our Way
The End of Twerk
Artie, Jake, Kitty, Marley, Ryder, Sam, Tina, and Unique
Just the Way You Are
Movin' Out
Kurt, Rachel, Sam, and Santana
The Fox
Puppet Master
Artie, Elliott, Jake, Kitty, Rachel, Santana, and Tina
Breakaway
Frenemies
Artie and Tina
Jumpin' Jumpin'
Trio
Sam and Tina
Don't You (Forget About Me)
Hold On
Artie, Dani, Elliott, Kurt, Rachel, Sam, Santana, and Tina
I Love LA
City of Angels
Artie, Jake, Sam, and Will
I Still Haven't Found What I'm Looking For
Artie, Sam, and Tina
Happy
100
April, Holly, Mercedes and Will
Loser Like Me
New Directions
Artie, Sam, and Tina
Don't Stop Believin'
Artie, Kurt, Rachel, Tina, and Will
Downtown
New New York
Artie, Kurt, Rachel, and Sam
No One Is Alone
Bash
Kurt and Rachel
Not While I'm Around
Bash (EP)
Mercedes, Rachel and Sam
Take Me Home Tonight
Old Dog, New Tricks
Artie, Kurt, Maggie, Mercedes, Rachel, Sam, and Santana
Pompeii
The Untitled Rachel Berry Project
Artie, Brittany, Kurt, Mercedes, Rachel, and Sam
Unreleased songs
Duets
Solos (In a Group Number)
Season Five
Song
Episode
Solos with
Wishin' And Hoping
What the World Needs Now
Artie, Brittany, and Sam
Arthur's Theme
Artie, Mason, Roderick, and Spencer
What the World Needs Now
Artie, Kurt, Mercedes, Rachel, Sam, and Will
Our Day Will Come
A Wedding
Santana, Kurt, and Brittany
I Lived
Dreams Come True
Artie, Kurt, Mercedes, Rachel, Roderick, Sam, and Will
Appearances
Trivia
Just like Kurt and Santana, his first on-screen kiss is with someone of the opposite gender (Rachel) despite being openly gay.
Blaine's middle name was stated to be "Devon" by Ryan Murphy, the show's creator, on Twitter and was first mentioned in the episode Feud by Sue when referring to his contract with the Cheerios.
He uses raspberry hair gel. (Dynamic Duets)
Blaine is tied with Rachel for singing in the most episodes in a single season, having sung in at least one song per episode except for one in Season Four.
He has the second most solos in the show with 31 (Rachel being first with 46).

He also holds the record for most solos sung by a character in their debut season, and most solos sung by a character not in the main cast (this record was achieved before Darren Criss' promotion).

Despite having transferred from Dalton Academy, Blaine has managed to appear in a Dalton blazer for every subsequent season since his debut in Season Two: in The Purple Piano Project for Season Three, Dynamic Duets for Season Four, Opening Night for Season Five, and Loser Like Me and Jagged Little Tapestry for Season Six.

Four of these five instances are concurrent with a song: My Dark Side, Lovefool, Sing, and It's Too Late. My Dark Side and Sing feature Blaine in Dalton Academy putting the blazer on during the performances themselves (or more accurately, feature the Warblers coercing him to put it on), while Lovefool and It's Too Late show him in fantasy sequences (Rachel's and Kurt's, respectively) with the blazer already put on. Blaine has solos in all these songs except Lovefool.

Season Four is the only season where Blaine appears but doesn't sing a duet with Rachel.
Season Six is the only season where Blaine appears but doesn't sing a solo.
There is an inconsistency with the years in which Blaine is at high school.

In Prom Queen, when Blaine is a sophomore, he tells Kurt he transferred to Dalton because he was attacked after a Sadie Hawkins dance at his old school. Sadie Hawkins takes place somewhere around the middle of the school year, or around winter/spring. Sadie Hawkins dances can take place in middle schools, but Blaine specifies he transferred to Dalton after he was attacked, meaning he could only have been in his freshman year of high school when he attended the dance.

But, it's still possible that he transferred in the middle of the year.

However, in the episode 2009, we briefly see Blaine in his Warbler's uniform with some other Warblers. Since it's 2009, Blaine is a freshman during this short moment, but this is at the beginning of the school year.

Unless he was held back a year and repeated his freshman year for whatever reason, this can't be possible. But it is established that Blaine was born in 1995, which means being a freshman in 2009 lines up.
Gallery