Burt Hummel, United States Congressman, was a major character in the second season of Glee and a recurring character for the remainder of the seasons. He is the father of Kurt Hummel and the stepfather of the late Finn Hudson.
Burt's first wife died when Kurt was around eight years of age; in the second season, he marries Finn's mother, Carole Hudson in Furt. Burt is presented as a typical "man's man," a mechanic and a football fan. He is most noteworthy for often comforting his son and being very protective over Kurt (especially regarding his experiences after coming out as gay). In Grilled Cheesus, he almost died after suffering from a heart attack brought on by arrhythmia (irregular heart rhythm), causing him to go into a coma for a period of time. He does fully recover and starts taking better care of himself. In Season Three, Burt Hummel runs against Sue for the United States Congress and he wins, leaving Sue angered and distraught, for Sue was planning to diminish glee clubs within all state schools. In the episode Goodbye, Burt dances to Single Ladies (Put A Ring On It) as a graduation gift to Kurt. In Season Four he reveals to Kurt that he has Prostate Cancer and Blaine promises to take care of Burt in Lima while Kurt is in New York. He beats it. In Season Five, he watches his son get engaged, while sadly losing the other.
He is portrayed by actor Mike O'Malley. He was a recurring character during all seasons, except the second season, when he was a main character. 
Biography
Personality
Like his son, Burt is a very caring individual and above all, loving towards his son who he treasures above all else. Having lost the love of his life when their son was young, Burt has never quite gotten over the loss. As such he has done his best to be a good father, perhaps to the point of spoiling Kurt such as buying him expensive designer clothing and a very impressive car (a Lincoln Navigator) for his sweet 16.
While Burt does not pretend to fully understand Kurt, he is very accepting of his gay son. However, Burt fears for how Kurt might suffer because of his sexuality. As such, he is immensely proud of Kurt for being as resilient and strong as he is, which Burt says he gets from his mother. He also says that even though he wished he could take him out to games, he is still proud of him and for being in the glee club.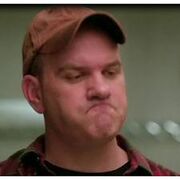 While Burt is generally fair-minded and reasonable, he is quick to anger when Kurt is victimized in any way, and is fiercely protective of him. When Kurt was denied the chance to sing Defying Gravity, Burt angrily confronted Mr. Schuester and the principal for discrimination against his son. When Finn, in a moment of anger, raged at Kurt and called his choices of decoration "faggy," Burt exploded in anger, throwing Finn out of his home for his homophobic behavior. Burt showed a similar reaction to when Dave Karofsky insulted Kurt with a limp-wrist hand gesture, going so far as to throwing the teenage boy against a wall and threatening to hurt him for his transgressions against Kurt. This violent behavior appears to stem partly from a feeling of guilt for not protecting his son earlier in life, as alluded to in his confrontation with Finn in Theatricality. Although Burt does his best to be a good father to Kurt, there is no doubt there they are very different people, making the things they have in common rare.
Appearances
Trivia
Burt only sung once in the entire show, when he was a backing singer for all you need is love in love, love, love.
Burt is the first character on the show to have a life-threatening experience, having suffered a heart-attack in the episode Grilled Cheesus. He once again went through another life-threatening experience, cancer, in Glee, Actually.
Gallery
Quotes
Main article: Burt's Quotations
Community content is available under
CC-BY-SA
unless otherwise noted.