Carl Howell is Emma's dentist and ex-husband. She had been dating him since her and Will's break up in Season One.
They get married in the episode Special Education, but end up getting their marriage annulled in A Night of Neglect. He was trying to help Emma with her obsessive-compulsive disorder, and was willing to do all he could to help her in the things that she needs to do on a day-to-day basis around the school. He is talented in the arts but often jokes that Will is more so.
He is portrayed by
John Stamos
.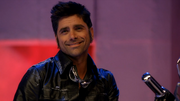 Biography
Personality
Carl is an attractive and charismatic man, who is able to draw attention with his good looks and his playfully flirtatious manner. He seems aware of his good looks but does not appear to be vain about them. He initially seemed to have a calming effect on Emma's OCD due to his ability to draw her attention away from her issues, and instead fixate on having fun.
Though he is attractive and may come across as self-centered about it, Carl is a very nice and caring man, making moves to be friends with Will.
Carl seems to want to be friends with Will, who he seems to think is not much of a competition for Emma's affections. However, when he discovers that Will is actively trying to steal Emma back, Carl first asks him nicely to back off, and then furiously confronts Will he when he discovers he didn't do as Carl asked.
Carl seems to be an enthusiast of theater and music, having a great performance ability and also knows The Rocky Horror Picture Show backwards and forwards.
He seems to have a good sense of character, such as being able to see that Will had feelings for Emma off the bat.
Relationships
Main article: Carl-Emma Relationship
Songs
Solos
Solos (In a Group Number)
Back-up singing
Trivia
Carl's career as a dentist and love of black comedy rock musical-turned-movie "The Rocky Horror Picture Show" could be a reference to Orin Scrivello, DDS from black comedy rock musical-turned-movie "Little Shop of Horrors." His role as motorcycle-riding bad boy Eddie in The Rocky Horror Glee Show could be a reference to this as well.
In Acafellas, Emma mentions John Stamos when talking to Will about certainty and talent.
Gallery
Quotes
"

Santana: Can I just say you are the hottest dentist I've ever seen?
Carl: I get that all the time.
Santana: No, but seriously, you can drill me any ti-.
Emma: Santana!

"

—Santana, Emma and Carl, Britney/Brittany
"

I love that look of instant panic each time I try to change your routine.

"

—Carl to Emma, Britney/Brittany
Community content is available under
CC-BY-SA
unless otherwise noted.