Charlotte L. Ross, born January 21, 1968[1], is a 50-year-old American actress. She is known for her role on NYPD Blue as Det. Connie McDowell and she guest starred as Judy Fabray on Glee between 2009 and 2012.
Personal life

Ross was born (and raised) in Winnetka, Illinois to Deborah Kulby and Peter Ross. She has a younger brother, George, a hedge fund-analyst. After graduating from New Trier High School, Charlotte moved to Los Angeles.
[1]
She married Michael Goldman in 2003 and they divorced in 2008. Their son, Maxwell Ross Goldman, was born in March 2004.
Career
Ross appeared on Days of our Lives as Eve Baron Donovan from 1987 to 1991; her work on the soap opera led to two Emmy nominations. Her television credits also include The Heights, The 5 Mrs. Buchanans, Drexell's Class, Married... with Children, Pauly, Law & Order, Trinity, Beggars and Choosers, Frasier, Jake in Progress, NYPD Blue, and Glee. She also co-starred in the 2007 Lifetime Television film Montana Sky Ross co-stared in a lead role in Drive Angry, alongside Nicolas Cage and Amber Heard.
Ross was announced to have joined the cast of Arrow in August 2014 as Felicity Smoak's mother, Donna.[2] She portrayed her in the fifth episode, the eighteenth episode[3] of Season 3 and returned in the sixth episode of Season 4[4], by September 2015 her return was extended into multiple episodes.[5]She later returned to the show in 2017 for one episode in season 6.
Filmography
Year
Title
Role
Notes
1986
Touch and Go
Courtney's Girlfriend
1987
Days of Our Lives
Eve Donovan
1987 - 1991
1991
Reasonable Doubts
Meredith Little
("Dicky's Got the Blues")
She Says She's Innocent
Justine Essex
TV movie
1992
The Heights
Hope Linden
(12 episodes)
Married with Children
Darlene
("Teacher Pets")
Drexell's Class
Janet
("The Resentments")
Empty Nest
Antoinette
("Sayonara")
1994
The 5 Mrs. Buchanans
Bree Buchanan
1994 - 1995 (17 episodes)
Savage Land
Mandy
Love and a .45
Mary Ann
Foreign Student
Elizabeth 'Sue Ann' Baldridge
Birdland
Ronnie
("Crazy for You")
1995
Murder One
Stephanie Lambert
1995 ("Chapter Eight")
1996 ("Chapter Seventeen")
1996
Fall Into Darkness
Ann Price
A Kiss So Deadly
Amanda Blake
Minor Adjustments
Amy
("Baba-Doo-Wang")
ER
Angel
("The Right Thing")
1997
Pauly
Dawn Delaney
(7 episodes)
1998
NYPD Blue
Laurie Richardson/Det. Connie McDowell
(72 episodes)
Trinity
Fiona McCallister
("Pilot," "No Secrets," and In a Yellow Wood")
A Will of Their Own
Susan Peterson
TV mini series
Looking for Lola
Debbie
1999
Kidnapped in Paradise
Megan Emerson
TV movie
2001
Frasier
Monica
("Sliding Frasiers")
2006
Jake in Progress
Annie
("PB & J," "The Lying, the Watch, and Jake's Wardrobe" and "The Elaine-Elaine")
2007
Christmas in Paradise
Dana Marino
TV movie
Live!
Jennifer
Moola
Nora
Montana Sky
Tess Mercy
TV movie
Law & Order
Judith Barlow
("Talking Points")
2008
Ring of Death
Mary Wyatt
TV movie
2009
CSI: Crime Scene Investigation
Sabrina Owen
("If I Had a Hammer")
Glee
Judy Fabray
2009 - 2012; ("Ballad," "Journey to Regionals," "Prom Queen" and "Goodbye")
2011
Street Kings 2: Motor City
Beth Kingston
video
Drive Angry
Candy
The Umpire
Billie Satriano
short
2013
Hit the Floor
Olivia Vincent
(10 episodes)
2014
Nashville
Ruth Bennett
("Guilty Street")
Arrow
Donna Smoak
Season 3, 2014 (1 episode)
Season 4, 2015 (3 episodes) - 2016 (7 episodes)

Season 6, 2017 (1 episode)

2015
Rita Mahtoubian Is Not A Terrorist
Lana
short
Trivia
She is in Hit the Floor which also stars Glee co-star, Courtney Galiano, even though they didn't share any Glee scenes.
Social Sites
Gallery
Videos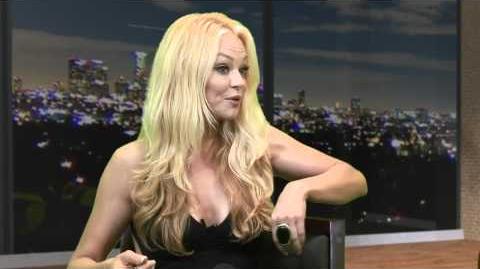 References
Community content is available under
CC-BY-SA
unless otherwise noted.