Chord Overstreet, born February 17, 1989,[1] is a 31-year-old actor and singer. He is best known for his role of Sam Evans on Glee.
Personal life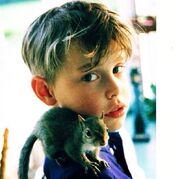 Overstreet was born to Julie Miller and Paul Overstreet[2] in Nashville, Tennessee[1] and raised on their farm just outside of Nashville.[3]
He has two older siblings, Nash and Summer, and three younger, Harmony, Skye and Charity.[1] Nash plays guitar in the band "Hot Chelle Rae,"[4] which Overstreet was seen in one of their music videos "Tonight, Tonight."
He said in an interview with Vanity Fair about how he got his name: "I got the name from my mom and dad. I come from a big family—I have four sisters and one brother—and I was the third one born. And there are three notes in a chord, so, that's how I got that name. My dad's in the music business so he gave me a musical name."[5]
Career
Overstreet made his debut in the web series, Private, television debut on iCarly, and his film debut in The Hole in 2009.[6] He was in the unaired pilot of No Ordinary Family[6] and landed the role of Sam on Glee in 2010.[7]
After a brief departure from  Glee, Overstreet appeared in an episode of The Middle.[8] He returned to Glee as a recurring character in the third season,[9] after his contract option to become a series regular wasn't picked up[10] and he declined the ten-episode deal with a possibility to become a series regular at mid-season.[11] He declined in order to focus on his music career.[8]
Overstreet was made a series regular in the fourth season.[12]
He made his animated debut on Regular Show as Dusty B. in the episode, "The Thanksgiving Special." The episode aired on November 25, 2013. [13]
In August 2016, he opened for Nick Jonas, and his childhood friend Demi Lovato on their Future Now Tour on four dates.[14]
Filmography
Year
Title
Role
Notes
2009
iCarly
Eric
("iSpeed Date")
The Hole
Adam
Private
Josh Hollis
web series (11 episodes)
2010
Glee
Sam Evans
Recurring (Season 2-3)
Regular (Season 4-6)
2011
The Middle
Ralph Wilkerson
("Hecking Order")
A Warrior's Heart
Dupree
2013
Regular Show
Dusty B.
("The Thanksgiving Special")
2015
Fourth Man Out
Nick
Post-production
Trivia
He has three dogs named Harley, Apollo and Banjo.
He likes to read and play video games.
He's mastered playing harmonica using his nose.
He is of mixed German/English/Irish and Native American descent.
He does James Earl Jones, George Bush, Michael Jackson and Stewie Griffin (from "Family Guy") impressions.
He took care of baby goats when he was thirteen-fourteen years old, and helped deliver five goat babies on his own.
He is a big fan of Elton John.
He loves to watch sports on Sunday.
Broke up with actress Emma Roberts.
He likes to mow grass, and does so just for fun.
He loves Adele.
When you plug into his splitter you'll find endless Disney songs including those from Tarzan, The Little Mermaid and Mary Poppins.
He was rated ninety-ninth on BuddyTV's 100 Sexiest Men of 2010 list.[15]
He is named Chord because he was the third born, and there are three notes in a chord.
Some of his siblings also have musical names; such as his sister Harmony.

He makes a cameo in the music video for Tonight Tonight by Hot Chelle Rae.

His brother Nash is the lead guitarist of the band Hot Chelle Rae.

On October 18, 2011, Chord Overstreet was trending on Twitter as it was announced that he would return to Glee.
After he initially left Glee, he appeared on a show on ABC called "The Middle" as teacher named Mr. Wilkerson.
He has a passion for river dancing.
He has one brother and four sisters.
He was taught how to do body rolls by Dianna Agron.
He was voted sixty-ninth Sexiest Man on Glamour Magazine 2011.
He is number twenty-four on BuddyTV's Sexiest Men of 2012.
He was voted one of the sexiest men alive in People magazine's sexiest men alive 2010 issue.
He worked with Kellan Lutz and Ashley Greene in A Warriors Heart.
He is a baritone.
He thinks that Amber Riley is the best singer he has ever heard.
Has a bromance with Mark Salling.
He was considered the funniest cast member by most of the cast.
He was considered the kookiest person among the cast by Heather Morris.
Vanessa Lengies thinks he's flirty.
He was on iCarly along with one of his best friends Kevin Fonteyne.
Chord is good friends with Ashley Benson.
Chord is also good friends with Taylor Lautner.
Demi Lovato said she has never watched Glee but said she will start just for Chord.
Demi and Chord had been friends even before Chord got famous.
Chord was on the cover of Runway Magazine.
He knows Demi Moore.
Two of Chord's icons are Brad Pitt and Christian Bale.
He said that in real life he is the typical guy that in Glee Club everyone probably hates.
He grew his hair out for "Locks of Love" in 2013.[16]
He wasn't self-conscious about his mouth/lips until he started working on Glee. 
Links and Social Networks
Gallery
Videos
References
Community content is available under
CC-BY-SA
unless otherwise noted.