Cobra Kai Season 4 - The Loop
Play Sound
Christopher "Chris" Paul Colfer, born May 27, 1990, is an American actor and author. He is best known for his portrayal of Kurt Hummel on Glee, for which he received a Golden Globe Award in 2011 for best Performance by an Actor in a Supporting Role in TV Series. Colfer is the author of Struck by Lightning and The Land of Stories books.
He was one of Time Magazines "100 Most Influential People in the World" in 2011.
Personal life
Colfer was born in Clovis, California. While a student at Clovis East High School, Colfer was involved with the Speech & Debate program where he won "many speech and debate Champion titles," including placing 9th in the State Competition for Dramatic Interpretation, the drama club, the FFA, "was president of the Writer's Club, editor of the school's literary magazine, and captain of Destination ImagiNation." As a high school senior, he wrote, starred in, and directed a spoof of Sweeney Todd entitled "Shirley Todd," in which all of the roles were gender-reversed. One of his real in-school experiences was later turned into a sub-plot for his character on Glee, when the high school teachers denied him the chance to sing Defying Gravity from the musical Wicked because it is traditionally sung by a woman. His grandmother, a minister, let him sing the song in her church.
Colfer is openly gay and shared on Access Hollywood that his parents were accepting of him, but he was frequently bullied at school. He originally auditioned for the role of Artie with the song "Mr. Cellophane" but Kevin McHale was selected for the role. However, the casting directors were so impressed by Colfer that they wrote the Kurt Hummel character into the show as a vehicle for him. Colfer commented on his casting, "It's good to have something positive, especially for kids in small towns, like myself, who need a little pick-me-up." Kurt Hummel has gone on to become an audience favorite. Colfer's sister, Hannah, suffers from severe epilepsy, and often experiences over fifty seizures in an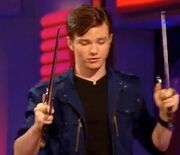 hour. Colfer has commented that when he was younger he used acting as a method of escaping the stress involved with having a family member with disabilities. In April 2011, Time Magazine selected Colfer as one of the "100 Most Influential People," citing his breakthrough character on Glee. Colfer is referred to as a fantastic actor and has many followers.
Colfer appeared on the British chat show Friday Night with Jonathan Ross on June 18, 2010, along with his fellow Glee co-stars Amber Riley and Matthew Morrison. He demonstrated his skill with a pair of sai swords, revealing that he bought a pair of them on eBay and regularly practices in his trailer when not shooting.
Colfer has been in a relationship with movie producer, Will Sherrod, since January 2013.
Career
When he was younger, he also starred in a version of The Sound of Music as the character 'Kurt'. At the age of eighteen, Colfer starred as Russel Fish in Russel Fish: The Sausage and Eggs Incident, a short film where an awkward teenager must pass a Presidential Physical Fitness test or fail gym class and lose his admission to Harvard University.
Colfer's first TV role came in 2009 when he was cast as Kurt Hummel on Fox's Glee as a gay singer who is bullied by the school football team. Colfer auditioned for the part of wheelchair-bound Artie Abrams, which eventually went to Kevin McHale. The show's creator, Ryan Murphy, was so impressed with Colfer that he created the role of Kurt specifically for him, and in the process, scrapped a planned character called Rajeesh so they could add Hummel. Colfer has explained that Hummel "puts on a very confident, 'I'm better than you' persona, but underneath it all he's the same anxious and scared teen everyone is/was at some point. In later episodes, he goes through an identity crisis, accepting and finding acceptance for who he is. [...] He's a tough guy in designer clothes." The character is also gay, which is at the crux of many of his conflicts on the show. Colfer has a high vocal range, as displayed in the episode "Wheels," in which his character demonstrates the unusual ability (for a man) of singing a "high F" (an F5). However, his character deliberately pretends to be unable to sing the note in order to spare his father the harassment he would receive for having a gay son.
Chris Colfer appeared at the 2010 MTV VMAs on September 12, 2010.
Colfer won a Golden Globe for Best Performance by an Actor in a Supporting Role in a Series, Mini-Series or Motion Picture Made for Television for his role on Glee in 2011.
Chris has appeared on many lists and charts, but most notably was placed on Time Magazine's list of 100 Most Influential People of 2011. He is also a #1 New York Times Best Selling Author for The Land of Stories - The Wishing Spell. He was also placed on Forbes Hollywood 30 Under 30 List at the end of 2012.
Colfer stars in the coming-of-age comedy Struck by Lightning that was set up with David Permut (Youth in Revolt). He wrote the screenplay, produced it, and played the main character. He states that he had been writing the script since high school. Struck by Lightning premiered at the Tribeca Film Festival on April 21, 2012, to great praise. It was released on DVD on December 19, 2012, and will be officially released in select theatres on January 11, 2013. He also released a book based on the movie prior entitled Struck by Lightning: The Carson Phillips Journal.
Chris Colfer appeared in a charity performance of "8," a play about the same-sex marriage equality and proposition 8, on the March 3rd 2012. Colfer portrayed Ryan Kendall, a young man who was sent to therapy as a teenager for being gay.
Colfer won Male TV Scene Stealer at the 2010 Teen Choice Awards (TCAs), and was nominated for Red Carpet Icon and Male TV Scene Stealer in 2011. At the 2012 TCAs, Colfer won Choice TV Actor in a comedy in, along with being nominated for Fashion Icon. For the 2013 TCAs, which Colfer did not attend, he was again nominated for Choice TV Actor in a Comedy, but did not receive the award.
In 2013, he won the 39th People's Choice Awards for Favorite TV Comedic Actor, coincidentally right after Lea Michele won the award for Favorite TV Comedic Actress. And in 2014 he won the award again at the 40th People's Choice Awards.
On July 3, 2014, Chris Colfer tweeted that he was fired from the show, citing "personal issues". This was revealed minutes later to be the work of a hacker, his management team later confirmed.
Author
Colfer has signed a two-book deal with Little, Brown Books for Young Readers. The first was an adventure novel that draws elements from the world of classic fairy tales. The Land of Stories: The Wishing Spell hit stores on July 17, 2012. On April 1, 2013, it was announced that the second novel, The Land of Stories: The Enchantress Returns, would be released on August 6, 2013. Colfer has stated that he would like to continue this series with further books. Colfer announced that he would continue The Land of Stories books with adding a third and fourth to the series on October 17, 2013.[1] They will be released in the fall of 2014 and 2015.[2] He revealed that another Land of Stories book would be added to the series, bringing it up to five, on November 24, 2014.[3] The titles were also released for the fourth and fifth books, The Mother Goose Diaries and Queen Red Riding Hood's Guide To Royalty; the books will be released in July 2015 and July 2016.[3]
Colfer will also release an original picture book, The Curvy Tree, in the spring of 2015[2], another picture book, both based on Land of Stories, and two companion books for inclusion in a holiday box set - set to be released in 2015.[3]
He will also write a young adult novel.[3]
Filmography
Year
Title
Role
Notes
2009
Russel Fish: The Sausage and Eggs Incident
Russel Fish
Short Film
2009–2015
Glee
Kurt Hummel
Main Cast
Golden Globe Award for Best Supporting Actor – Series, Miniseries or Television Film (2011)
Screen Actors Guild Award for Outstanding Performance by an Ensemble in a Comedy Series (2010)
Nominated - Primetime Emmy Award for Outstanding Supporting Actor in a Comedy Series (2010–2011)
Nominated - Monte-Carlo TV Festival Award for Outstanding Actor - Comedy Series (2012)
Nominated - Satellite Award for Best Supporting Actor – Series, Miniseries or Television Film (2009–2010)
Nominated - Screen Actors Guild Award for Outstanding Performance by a Male Actor in a Comedy Series (2011)
Nominated - Screen Actors Guild Award for Outstanding Performance by an Ensemble in a Comedy Series (2011)
Nominated - Lesbian/Bi People's Choice Awards "Favorite Music Duo or Group" (shared with Glee Cast) (2011)
Nominated - People's Choice Award for Favorite TV Comedy Actor (2012)
People's Choice Award for Favorite TV Comedy Actor (2013)

People's Choice Award for Favorite TV Comedy Actor (2014)

People's Choice Award for Favorite TV Comedy Actor (2015)

2010
Marmaduke
Drama Dog #2 Feature Film
(voice only)
2011
The Cleveland Show
Kurt Hummel
Season 2, Episode 11, "How Do You Solve a Problem Like Roberta?"
(Voice Role)
2011
Glee: The 3D Concert Movie
Kurt Hummel
2011
The Little Leftover Witch
Writer, Producer
2011
Saturday Night Live
Himself (cameo)
Appeared in the What Up With That sketch, had no lines
2012
8
Ryan Kendall
2012
Struck by Lightning
Carson Phillips
Lead role, Writer, Producer
TBA
Julie's Greenroom
Quotes
"

Never forget, and never forgive! You remember their names, you remember their adresses, you should remember anything! Don't listen to that; y'know, Forgive And Forget.. y'know crap, because... don't, don't, you get EVEN! And one day they'll regret it, because you'll post like their social security number on Twitter or something. You remember the stuff they did to you and you'll get back, you get them BACK! That's all I have to say about that!

"

—(about bullying on Teen.com)
| | | |
| --- | --- | --- |
| " | My life is an awkward visit from the kids table while waiting for a History Channel special. | " |
"

Oh, I have this feud going with the L.A. Unified School District, because I keep getting these phone calls saying my daughter keeps missing classes, At all hours of the night! I had 2 calls this morning, and I keep calling saying I don't have a daughter! I'm 19! The 90's were a blur, but I don't think I was impregnating anyone when I was 2. I'm gonna find this girl and get her ass to school! 'Cause I am tired of these damn phone calls!

"

—On Chelsea Lately Show
"

It's like being bitch slapped by an iceberg!

"

—On being slushied
| | | |
| --- | --- | --- |
| " | I love me some llamas. | " |
| | | |
| --- | --- | --- |
| " | I was in high school when High School Musical came out, so I despise it. I don't think I hate anything more. Other than, like, murder. | " |
| | | |
| --- | --- | --- |
| " | Award shows were just my thing.... I have memories of my mom walking in on me in the bathroom, practicing my Oscar acceptance speech with my Wolverine action figure. | " |
| | | |
| --- | --- | --- |
| " | I'm probably the male version of Rachel Berry. | " |
| | | |
| --- | --- | --- |
| " | You know how every kid has a movie? Usually it's The Little Mermaid, mine was Sister Act. I don't believe them, but my parents told me I used to put towels on my head and pretend I was a nun when I watched it. | " |
| | | |
| --- | --- | --- |
| " | I will be single forever. | " |
| | | |
| --- | --- | --- |
| " | Amber videotaped me on a treadmill and put it on Twitter... | " |
| | | |
| --- | --- | --- |
| " | Would you believe I actually do not own a bedazzler... | " |
"

I actually felt how Kurt was feeling. I was missing my old friends and making new friends. Those Warblers are just so great, awesome, talented, and fun... I'll miss them horribly, but I'm excited to be back... Oh like you didn't know.

"

—On being at Dalton at Paleyfest 2011
"

Oh it's on, bitches!

"

—2010 Emmy Opening Skit with Jimmy Fallon
"

It was scary. Sometimes it was like being a Beatle and other times it was like you were at a public execution because there's this screaming and you don't know if it's good or it's bad.

"

—On filming in New York
| | | |
| --- | --- | --- |
| " | If you're good looking I don't call it stalking, I call it pursuing. Strongly pursuing. | " |
| | | |
| --- | --- | --- |
| " | It's great when people come up and they're like, "Oh my god, I just love you, can I have a picture with you?" and I'll be like, "Yeah, sure - you don't believe in me and my rights, but you want a picture with me. Sure. Sure, I'll take a picture with you. | " |
| | | |
| --- | --- | --- |
| " | It's ridiculous when people have such strong opinions about you when it's about things you can't control. | " |
| | | |
| --- | --- | --- |
| " | Sometimes you just have to catch the right wave in the perfect storm. | " |
| | | |
| --- | --- | --- |
| " | And, Super Mario, I just have a personal message for you. I am just, you know, I am thinking, it is been 25 years and the princess still keeps managing to get herself caught by the koopas. I am just saying, she might be a little attention-seeking, that's all I am saying. So it might be time for you and her to start seeing other people. I mean I am just gonna throw it out there. | " |
| | | |
| --- | --- | --- |
| " | Today I passed a man with a "The End is near" sign. With Oprah, Larry King, and the Harry Potter movies all ending, I think he's right. | " |
| | | |
| --- | --- | --- |
| " | Hi I'm Chris Colfer. Check me out on TeenTv.com... Check me out? Well, that's suggestive. | " |
| | | |
| --- | --- | --- |
| " | I'm very Irish, my family is all Irish and St. Patrick's day in my house is crazy. | " |
| | | |
| --- | --- | --- |
| " | I believe I just went like "Woof!" | " |
| | | |
| --- | --- | --- |
| " | I would cast Dianna as Cinderella, because Dianna's beautiful. It's almost obnoxious how beautiful she is. | " |
| | | |
| --- | --- | --- |
| " | And thank you for always drawing abs on me when you draw me naked. | " |
"

Don't say that! It's dangerous, she's probably watching us. Don't say that.

"

—To Jimmy Fallon about Oprah
"

So, in this last scene. I'm wearing a kilt, and a tiara, dancing with a boy, to Dancing Queen. Did I do something to offend you?

"

—On the Jimmy Fallon Show
| | | |
| --- | --- | --- |
| " | They better have a good reason why my white house tour was cancelled. Osama was caught the next day... If I didn't already hate him I hate him now! | " |
Links and Social Networks
Trivia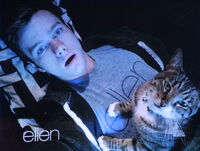 Gallery