This article is about the episode. You may be looking for the EP of the same name.
City of Angels is the eleventh episode of Glee's fifth season and the ninety-ninth episode overall. The episode aired on March 11, 2014.
The Glee Club travels to Los Angeles for Nationals, where they devote their performance in honor of Finn. They meet their biggest rivals; Throat Explosion. Listening to Will's advice, Sam steps up and becomes the leader. However, his own contagious optimism is threatened when he loses a good luck charm. Meanwhile, Burt and Carole look forward to sharing the Nationals experience with Finn's friends. When Ryder finds out that Marley has given up on songwriting and is leaving the Glee Club after the competition, he and Jake get help from Mercedes to change her mind.
The episode was written by Jessica Meyer and directed by Elodie Keene.
Plot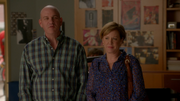 The episode opens to Sam getting called into Will's office. Sam expects that Will is going to criticise him for not practicing hard enough for Nationals, but the teacher really wants to talk about the late Finn Hudson. Will explains that he saw Finn as something inimitable the New Directions had, and that Finn somewhat elected Sam as his spiritual successor for when he would be gone. Sam doubts he can follow in Finn's footsteps, but with Will's encouragement, he starts believing that he can. They are then called into the choir-room by Tina. There they are visited by Burt and Carole Hummel, who are planning to accompany the Glee Club to Los Angeles, and give the club a speech, about how Finn thought, that despite winning Nationals the previous year was a great success, the most important thing to him was having fun, and that he would want the current Glee Club to feel the same way. The Glee Club, including Will, Carole, and Burt, are then shown travelling to Los Angeles, whilst singing I Love L.A. A double-decker bus is shown taking them to the hotel they will live in during their stay.
They encounter Mercedes Jones at the hotel, who is revealed to have landed a record deal in exchange for some of her original songs. Their rivals, Throat Explosion, turn out to be staying in the same hotel. They encounter each other in the lobby, and their lead singer, Jean Baptiste, immediately proceeds to intimidate Blaine. Sam pushes himself between Jean and Blaine, introduces himself as the New Directions' leader, and insults Jean Baptiste back. Jean sneeringly wishes the New Directions luck and self-confidently announces that he will beat them at the competition. 'Throat Explosion' then walk off, leaving the Lima Glee Club a little awed.
Some time later, Ryder visits Marley in her room. He assures her that he's only coming with platonic intensions, and wants to know why she changed her job on Facebook from "Singer/songwriter" to "undecided." Marley explains that she entered some of her original songs into contests, but never heard back from either of them, and is taking that as a sign that she isn't meant to be a singer or a songwriter. She also tells Ryder that she planning to leave Glee Club after Nationals.
The New Directions break into the concert hall where Nationals will take place at night to get to know the stage. Sam makes them gather around him, and reminds them of Finn having them promise that they all would go to Nationals together, and that Finn is there with them spiritually. He fetches an image of Finn out of his bag as a symbol of that. That very second they are interrupted by Throat Explosion, who had booked the hall for the night. Jean Baptiste attempts to throw the New Directions out, but once he by virtue of the picture realizes that they are lamenting Finn, he agrees to leave the hall to them for the rest of the night, not without making it clear, however, that he's still as eager to beat them the following day.
The following morning, Burt is helping Sam attach a bowtie, with Tina and Carole present. While they are all moaning about things that are silly in her eyes, Carole drops a remark how they at least still have a life. 
Carole and Tina both immediately apologize, but Burt has Sam and Tina leave the hotel room. Carole then opens up to her husband as to how hurtful being around Finn's friends is for her. Burt offers to take Carole home to Lima, then, to which Carole incurs.
Ryder next attempts to get Jake, since it's competition time, but he acts repellant, since Ryder tried to win Marley over so soon after their break-up. Ryder replies that he still feels about Jake as a friend, to which the latter gets ready to come. Whilst Jake is getting dressed, Ryder mentions that Marley is wanting to quit Glee Club, and how he thinks that she shouldn't give up on songwriting, since he liked her songs. He suggests to Jake that they get Mercedes to have a word with her.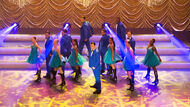 Down in the bus that is intended to take the New Directions to the venue, Sam notices that the picture of Finn is gone. He immediately accuses 'Throat Explosion' of having stolen it, but Jean Baptiste attempts to provoke Sam, by saying that the New Directions' best singers had all graduated, and that an image of Finn is not going to change that. Sam attempts to punch him, but is soothened by Blaine, who assures him that they can win even without the picture. Inside the bus Sam then gives the club an encouragement speech as to how he's certain Finn is with them in spirit even without an image.
Inside the Orpheum Theatre, where Nationals take place, the audience is introduced to the judges, Jackée Harry, Joanna Rohrback, and Marlee Matlin. The Amazonians are first to perform, and give a rendition of Vacation wearing samba inspired costumes. Carole and Burt are shown checking out of the hotel meanwhile. Throat Explosion perform next, and sing a medley of Mr. Roboto/Counting Stars. At first they perform in machine themed suits, which they then tear off to reveal blue suits and dresses.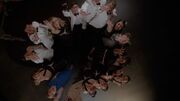 Shortly before it's the New Directions' time to perform, Sam notices that Burt and Carole haven't come to watch them. They do ultimately come to see the Glee Club backstage while Will is giving his kids a motivation speech. Carole explains that it awakened to her that her son would have been disappointed in her had she not supported the Glee Club. Unlike Will, who had been trying to make them approach with the intention to have the best time possible, Carole encourages the kids to do all they can to win the competition.
Tina and Blaine begin with a duet version of More Than a Feeling. The setlist is then continued with America. Lastly the seniors perform I Still Haven't Found What I'm Looking For, a song that was one of Finn's favourites, as Carole remarks. The Glee Club commemorate him while performing, which is shown through old footage of Finn being intercut with the song. After the song, Will notices that Sam isn't rejoicing with the others. He finds Sam visibly melancholic crying in the corner. Will tries to assure him that he did his best.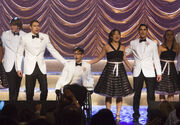 While Marley is going for a blow, she is approached by Mercedes. Mercedes tells her that it's not right to be upset about having her songs rejected for longer than three minutes. She tells her the story how she's often gotten rejected and overshadowed, but that it never caused her to give up, and that Marley shouldn't give up on her songwriting dreams. Mercedes also assures her that she thinks Marley's songs are good, and that someday people will be sorry for rejecting them. Upon Marley's curiosity as to how Mercedes knew about her rejected songs, she answers that Jake and Ryder, who really care about her, let her know.
The results of the competition are then announced. To the New Directions' disappointment, they only place second after Throat Explosion.
Back in Lima, Sam hangs the picture of Finn back up. He reveals that a member of Throat Explosion had been exposed stealing it, and that Jean Baptiste had returned it to them. As the Glee Club sets up their trophy, they lament the fact that they didn't win, especially since they had wanted to win for Finn. Finn's mother and step-father, however, make them aware of the fact that being second best ahead of many other show choirs in the country is still an achievement.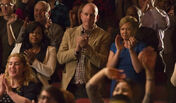 Will is then ordered into Sue's office, whom is just about to praise Roz Washington for winning a cheerleading championship. Sue tells him that she considered not ending the Glee Club, but that due to many other teams placing higher in their respective competitions, she has no other choice but to disband it. To Will's surprise, Sue isn't acting sadistically over it, but tries to remind him of how much he accomplished.
Meanwhile, in the New Yorker Spotlight Diner, Kurt announces to Rachel and Santana, that he received the message that the New Directions have lost and are about to be disbanded. They look at him in shock.
Songs
City of Angels, an EP accompanying the episode, was released March 11, 2014.
Guest Cast
Guest Stars
Special Appearances
Co-Stars
Brad Ellis as Brad
Christina Carlisi as Hotel Clerk
Neil Haskell as Dolph
Barry Livingston as Manager
Jack Jason as Himself
Uncredited
Amanda Balen as Unnamed Cheerio 1
Sarah Beymer as Unnamed Cheerio 2
China Taylor as Unnamed Cheerio 3
Trivia
This is the third competition to feature celebrities as judges. The first time was in Journey and the second in Nationals.
Skylar Astin is the fifth original Spring Awakening member to appear on Glee. The other four being Lea Michele, Jenna Ushkowitz, Jonathan Groff, and Phoebe Strole.
Amanda Balen and Montana Efaw (Lady Gaga's current dancers) are part of the episode. Amanda is one of the three Cheerios to join New Directions and Montana is a member of Throat Explosion.
There was originally supposed to be an original song in this episode. It is currently unknown if it was ever filmed or recorded.
New Directions perform Finn's favourite songs - these were all Cory Monteith's favourite songs in real life, and some cast members found them very emotional to perform.
As of this episode, Mercedes is the only New Directions alumna who has been to all New Directions competition performances.
The episode received a 0.9 rating and 2.34 million viewers.
This episode features the first and only competition of the fifth season.
This is the first episode of Season Five in which Rachel doesn't sing.
This is the last episode of the season in which Unique, Kitty and Jake sing.

This is also the last time Jake sings in the series.

This is the first and only Nationals episode that Jesse St. James doesn't appear in.
Quotes
"

Sam: How did you do that? (talking about putting on a bow tie)
Burt: Have you met my son Kurt?

"
"

Oh, it would have burned Finn to have lost to those guys. All we would have heard for months was how the judges had robbed you or how you were so much better than them.

"
"

Even though Finn didn't have the best voice or the best rhythm or the best throwing arm, he always brought out the best in himself and in others, and the great thing about him is he always managed to find a way to feel like he'd won.

"

—Burt
"

Jack: And in fourth place, from Lake Tahoe, Vicious Harmony!
Jackée: And third place goes to our bronze beauties, The Amazonians!
Tina: Are you all right, Mr. Schue? You never looked this nervous before.
Will: Uh, yeah. Just, uh just a lot of riding on it this time.
Jackée: And now, the pivotal moment is here.
Joanna: For there can only be one champion show choir per nation.
Jackée: Second place goes to… (Gasps) …New Directions! Which means the winner of the National Show Choir Championship is Throat Explosion!

"
"

Sue: You didn't lose, William. The game's just over.

"

—Sue
"

Kurt: Oh my God!
Santana: Now what? Your band booked a huge gig playing a show at the Union Square subway station?
Rachel: Why do you want to know? So you can steal his dream, too?
Santana: Exactly.
Kurt: It's Glee Club. They've been disbanded. They didn't win at nationals; they're turning the choir room into a computer lab or something. And Sue isn't backing down this time. It's over.

"
Gallery