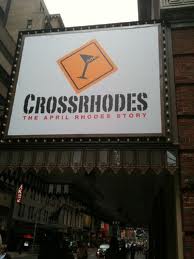 Crossrhodes: The April Rhodes Story is a Broadway musical starring April Rhodes. It is about the life and story of April Rhodes herself.
The musical was introduced in Rumours, the nineteenth episode of Season Two, after Will gives April the idea of making a musical about herself when April's "all-white production of The Wiz" turns out to be a disaster. He feels that April's struggle throughout much of her life after leaving high school lends itself well to the story for a Broadway show.
After performing Nice to Meet You, Have I Slept with You? with Will, April tells him of her plans to leave for New York to produce her show. Before her departure, April offers Will a chance to join her. Although tempted to come along, Will declines, deciding instead to stay with the Glee Club and help them win nationals.
In New York, just before nationals, Will goes to the theatre to prepare for a possible role in Crossrhodes. He practices Still Got Tonight, trying it out for the show. However, he later decides that he will not do the show and instead returns to Ohio with the Glee club.
In The Purple Piano Project, the first episode of Season Three, Rachel consoles Will over the fact that the actor who replaced him in Crossrhodes won a Tony Award, meaning the show did well. Will gives a pained expression but says that he is grateful to have chosen coaching the New Directions over Broadway.
It is unknown whether the show is still running.
Known Cast
Songs
Trivia
Exterior shots of the venue were taken at the Booth Theatre in New York City.
Gallery
Videos
Community content is available under
CC-BY-SA
unless otherwise noted.