'Glee' Profile: David Karofsky
"

I was one of those bad people, and I don't want to be anymore.

"

—Dave Karofsky, Born This Way
David "Dave" Karofsky, or simply known as Karofsky, is a recurring character on Glee. He was a student at William McKinley High School who, along with his friend Azimio Adams and other football team members, used to constantly bully the kids in Glee Club, especially Kurt. He was invasive and violent to Kurt, because he is secretly gay.
In the Season Two episode Never Been Kissed, it is revealed that he is gay when he kisses Kurt. In Born This Way, he begins his slow journey towards self-acceptance, and redeems himself by forming the Bullywhips with Santana, a club to monitor the hall and stop bullying in its tracks. As means to hide both of their sexualities and to win prom king and queen, Dave and Santana agreed to be each other's beards, but they end their alliance after prom. Later, he moves schools. In the episode Heart, he tells Kurt that he thinks he's in love with him. After being outed at his new school as being gay in On My Way, Dave attempts to commit suicide by hanging himself but the attempt fails and he is briefly hospitalized. He briefly appeared in Opening Night, during Rachel's nightmare. In Loser Like Me, he has begun dating Blaine Anderson, whom Kurt had broken up with. However, Blaine and Dave break up in Transitioning since Dave knows that Blaine's still in love with Kurt, but Dave acts cool about it. He even encourages Blaine to get Kurt back. They are on good terms now.
He is portrayed by Max Adler.
Biography
Dave is an ex-football player at William McKinley High School. He also played right guard on the football team while he was at McKinley. He is initially portrayed as the stereotypical jock and bully, having slushied or at least helped slushy just about every single member of New Directions (with the exception of Brittany and Lauren).
Personality
At first, Dave Karofsky is a stereotypical jock bully. He enjoys terrorizing the kids in New Directions, and seems to favor targeting Kurt Hummel and Finn Hudson in particular. While Azimio's bullying and prankster behavior seems to be motivated by a larger sense of maintaining order and keeping the herd in line, Karofsky's seems to be more personal in nature. He's been harboring a grudge against Finn since fifth grade, and seems to target Kurt in a desperate attempt to cover up his own sexual feelings, or as a way to get closer to his possible crush. In fact most of Karofsky's bullying behavior seems to be because of the social order of the school and the opinions of his friends, rather than anything he was raised believing at home as his father in fact seems to behave completely different from Dave, showing an understanding and enlightened opinion of homosexuality.
It was revealed by his father that Dave is actually quite intelligent academically, usually getting A's and B's in school, suggesting that his dolt-like behavior is an act to make himself appear "normal" to his friends. In the weeks leading up to the kiss confrontation between Dave and Kurt, his grades began to decline, and he has started acting out and talking back both at home and school. It became severe enough that he threatened to kill Kurt, prompting his temporary expulsion. Since Kurt has transferred to Dalton Academy, his violence seems to have returned to its previous level. It is speculated that he feels less threatened now that the person who knows his secret is gone. However, his more violent tendencies seemed to flare up upon seeing Kurt and Blaine again, which was only stopped by the actions of Santana.
Max Adler, who portrays Karofsky, has called him the "insecure, afraid, and shy boy in the corner with this crazy secret, with a rough and tough exterior, a hard-edged bully who doesn't take anything from anybody." Dave is "very scared of what he is, scared of telling people his big secrets. He's afraid that it will ruin his life and shatter his whole world. He has to keep up that manliness, be the guys guy, be the jock and fit in with them while he's hiding completely who he is and what he wants."
According to Max Adler, Karofsky's fears come from society instead of his father. "He's obviously a very loving father who is concerned for his son," Adler says. "He knows about his grades, the groups he's involved with, the teams he's playing on. I like the fact that Ryan Murphy chose to not make him what everyone thought — including me — as this beer-drinking, abusive, berating father. It was a more interesting choice to have him actually be the loving, supportive, caring father to show that Karofsky's fears aren't really coming from home. It's more society that's really scaring him into denying who he is." Source
When Karofsky reappears after almost three years of absence, he seems to have changed his personality completely. He had become cheerful, kind towards others, and no longer feared society. He had also completely embraced his sexuality.
Relationships
Main article: David-Kurt Relationship (Kurtofsky)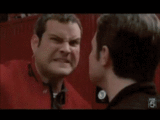 In Never Been Kissed, it is revealed that Karofsky's favorite target is Kurt, who he goes out of his way to bully at every opportunity. This results in Kurt falling further into a depressive state, until his new friendship with Blaine leads him to confront Karofsky. Following him into the locker room, Kurt demands an explanation and begins belittling him. This upsets Karofsky, who demands Kurt to back off. Kurt refuses, continuing his rant and daring him to punch him. The final straw seems to be calling Dave extraordinarily ordinary. Karofsky snaps and lunges forward, grabs Kurt, and forces a kiss on him. He makes an attempt at a second one, but a stunned and scared Kurt pushes him back. Visibly upset, Karofsky hits a locker and runs out of the locker room. Kurt and Blaine attempt to confront him in the stairwell the next day, but Karofsky refuses to talk about what happened. When Blaine keeps trying, Karofsky rams him against a wall, though he is easily freed when Kurt pushes Karofsky away and demands he stop. Karofsky runs off again, looking frightened. Afterwards, Kurt tells Blaine that until the day before, he had never had a kiss that "counted." Later, Karofsky shoulder checks him into his locker,  showing Kurt that nothing has changed.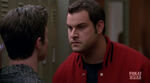 In The Substitute, Kurt and Mercedes are in the cafeteria, where Kurt is trying to set her up on a date. He says that "love is just around the corner," when Dave walks past, asks "Sup, homo?," then winks at him. He later confronts Kurt in front of his locker, and asks if he told anyone that Kurt kissed him. Kurt is quick to correct him on the details (Dave shushes him and looks around frantically), but Kurt reassures him that he hasn't. Dave then tells him to keep it that way, or he will kill him. He walks away without touching him. In Furt, Kurt has just finished discussing wedding details with Finn, when he finds Dave standing behind him. Though Kurt tells Dave he doesn't want him anywhere near him, Dave smirks slyly at him and walks forward until Kurt has backed himself against his locker. Dave proceeds to poke Kurt in the chest and slide his finger down, grabbing the cake topper Kurt is holding. Dave then asks Kurt if he can have it and walks away, putting the figure in his letterman jacket pocket.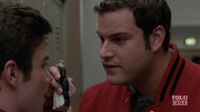 Later in the choir room, Kurt is trying to teach Finn and Burt to dance. Dave walks past the door, and upon seeing Kurt and Finn in a waltzing position, makes a limp wrist motion to mock them. This angers Burt, who quickly charges Dave in the hallway after Kurt tells him about the death threat. This ultimately leads to the principal's office, where Dave attempts to deny everything. When his father asks why Kurt would lie, he is only able to come up with "Maybe he likes me." He is unable to make eye contact with anyone for long, though he does look at Kurt in desperation when Kurt is asked why Dave threatened him. He is visibly relieved when Kurt lies, but does give him a disappointed headshake as he's leaving the office. At the end of the episode, we find out that Dave is not getting expelled because they have no proof of Dave bullying Kurt. Kurt decides to transfer to Dalton Academy. In Special Education, Dave's eyes get shifty when Puck scolds him for forcing Kurt out (perhaps because of his choice of words: "Don't push me, Karofsky," and "My boy, Kurt"), alternately switching between Azimio and Puck. Azimio gives him a suspicious look. In Born This Way, Santana, in order to bring Kurt back to the school and increase her chances of winning Prom Queen, blackmails Dave after finding out his true sexuality. She tells him that if he won't be her gay beard and prom date, she will reveal his secret to the school. Seeing no other choice, Dave accepts. With the blessings of Principal Figgins, he and Santana start an anti-bullying group called the Bully Whips and he makes an apology to the members of New Directions for his past actions against them and Kurt. With his father Paul Karofsky and Principal Figgins, he talks to Kurt and Burt. Burt still holds a grudge against him for threatening the life of his son, but Paul asks that Burt grant Dave the time it took him to learn his lesson, given that it took Burt and Paul years to realize homosexuality is no reason to discriminate against someone.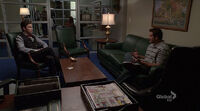 Kurt, still skeptical, wishes to talk to Dave alone and sends the adults out of the room. Kurt asks Dave what's his real reason is for starting the anti-bullying group, and Dave says he just wants to make everything right. Kurt reminds him that while he hasn't forgotten the kiss, he wouldn't out Karofsky. When Dave asks him why he hasn't told anybody, Kurt replies he doesn't believe in outing people, but still accepts them for who they are. However, he says Dave owes him the truth. Dave confesses that it's part of Santana's plan to become prom queen. Kurt tells Dave he could either tell everyone that Dave kissed him, which Dave quickly objects to and sincerely apologizes for, or he could come back and marvel in the anti-bullying group on the condition that he and Dave start a local chapter of Parents, Families and Friends of Lesbians and Gays (PFLAG). Kurt then stresses to Dave that even if he is unable to come out to the world, he needs to be educated so that progress can truly be made.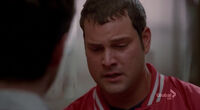 In Prom Queen, even though Santana only does her Bully Whips duty in order to gain the votes for prom queen, Dave seems to take his job seriously in protecting Kurt and walks him to his classes and lunch. Kurt appears to not be afraid of being around Dave anymore. He tells him that he doesn't hate him and can understand his pain. Hearing this, after months of bearing guilt, Dave finally breaks down and apologizes. Kurt accepts the apology. Before they separate, Dave tells Kurt to wait for him. Later at the prom, they win the Prom Royalty together (with Kurt as the Prom Queen, as part of a prank). As they are about to dance, Kurt tells Dave that this is his moment to come out and make a difference. Dave says he can't, indicating that he has already come to terms with his sexuality but is still unable to come out. Dave made his next appearance in The First Time, when Kurt runs into him at the gay bar Scandals. It was revealed that he changed schools to avoid any rumors about being gay at McKinley, since he wants to have a normal senior year where he can play football. However, he is slowly coming to terms with his sexuality and has been a regular at the bar since the summer. He and Kurt share a toast "to baby steps." In Heart, Kurt walks into the cafeteria, excited and happy by the letters and the gorilla gram that he receives from a secret admirer, whom he automatically assumes is Blaine. Kurt arrives at Breadstix early to meet up with the secret admirer before Sugar's party. The person in the gorilla suit appears, Kurt is confused when the card he is given reads "I think I love you" and questions, "Wait, you think you love me?." Then the person in the gorilla suit pulls his mask off, and Kurt is shocked to see that Karofsky has been his secret admirer all along. They sit down, and Karofsky confesses to Kurt saying that he "hated who he was" for bullying Kurt, and that he is trying to be honest with what he is feeling. Kurt is flattered and proud of Karofsky, but eventually turns him down by saying that he doesn't really love him, and also that he is with Blaine. Kurt also tells Karofsky that he likes him as a friend, but only just as friends. Disappointed and heartbroken, Karofsky tries to leave, but eventually runs into his classmate, Nick, who suspects Kurt and Karofsky are hanging out for Valentine's Day. Kurt explains that they used to go to the same school, and they've just bumped into each other. Nick still suspects the two, and Karofsky leaves. In On My Way, after Dave's suicide attempt, Kurt reaches out to Dave and promises to help him get through this. Dave tells Kurt that he wants to be friends with him and Kurt says that he would like to be friends with Dave, and they hold hands. In Loser Like Me, a few years after On My Way, Kurt and Dave meet again. Around this time, Dave has embraced his homosexuality and started dating Blaine, with whom Kurt broke up a couple of months before. He hopes to be able to be friends with Kurt despite dating his ex, and though Kurt is hurt, he does not object.
Main article: Santana-Dave Relationship (Santofsky) 
In
Born This Way
, Santana asks Dave out on a date for coffee at the
Lima Bean
, which he tells her is no surprise to him and that it was only a matter of time before she asked him out. After he says this, Santana informs Dave that she knows about his closeted homosexuality. He is at first in denial, asking who would have told her that. Assuming Kurt and Blaine told her, he mentions that he is going to kick their asses for making up lies to mess with him. She tells him that she wasn't told by anyone and that his sexuality was just too obvious as she earlier caught him checking out
Sam
's butt. Dave also denies this,
claiming that he was just looking at what jeans he was wearing. Santana calls Dave out, saying, "Like that's any less gay." Santana describes Dave as being a "late-in-life" gay. After realizing defeat, he asks her why she is doing this. She informs him that she plays on the same team, which he seems shocked about. She also tells him that she wants them to be each other's beards, so they seem heterosexual, become Prom King and Queen, and later rule the school. Santana then tells him that if he doesn't do as she says, she will tell everybody about his secret, and it will ruin his life. Through blackmail, Dave follows through with her plan. Dave is later shown apologizing to the Glee club, and also informing them that he wants to apologize to Kurt, who he has treated the worst. Dave informs New Directions that it was Santana, to their surprise (especially
Quinn
's), whom helped him see the light. Santana informs them about their "relationship," to which they all react in disgust. Dave and Santana both inform the New Directions of the new anti-bullying club known as the Bully Whips. At the end of the episode, they are seen together watching New Directions' performance of
Born This Way (Song)
in the auditorium, Santana wearing the 'Lebanese' shirt
Brittany
made for her and Dave watching Kurt during the performance.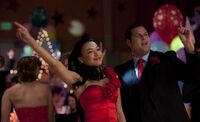 In Prom Queen, they go to the prom together. Both Dave and Santana seem to having fun and dancing around during the prom performances. They slow dance at Rachel's Jar of Hearts, although both clearly look uncomfortable. Dave is then announced as Prom King, but Santana doesn't win the Prom Queen due to the prank against Kurt, who is voted Queen. In the end, it's unclear whether their beard relationship continues or not.
Songs
Trivia
He is the second closet-gay character introduced on the show. (First being Kurt)
He was introduced as a hockey player, but never mentioned as being one afterwards, even by the hockey team themselves.
He used to be picked on by Finn in fifth grade for having pubic hair.
Although it was said that he has slushied almost every member of the New Directions, he only slushied a few more than half of the original nine, on screen. He was never shown to have slushied Brittany, Mercedes, Tina, or Lauren.
It's a common misconception that Dave tormented specifically Kurt for years. In early season one, he was focusing the bullying on Finn and the Glee Club in general- he only started specifically targeting Kurt in Theatricality.
Dave is the character that has been shoved the most by other characters. He's been shoved by Finn, Puck, Sam, Burt, Shannon, Kurt, Blaine, and other football players.
He sometimes goes to McDonald's after school.
Dave, with Azimio, used to slushie Rachel every day at 10AM.
His jersey number changed from 67 to 77 in The Sue Sylvester Shuffle.
Dave's quote "walk tall and carry a big stick" in "The Sue Sylvester Shuffle" is a modified version of Theodore Roosevelt's original quote "speak softly and carry a big stick."
He pumps iron at school in the evening.
He is seen mostly in his letterman jacket, even during his meeting with Santana at the Lima Bean.
He calls Azimio "Z".
Like Finn and Sam, he was a Cub Scout.
Dave didn't know about Eve Harrington and PFLAG, however, he seems to know about Liberace mannequins.
He took Calculus in his junior year.
He was named after Brad Falchuk's former classmate.
In Dave and Santana's prom campaign posters, the picture of Dave is actually a press photo of Max Adler from the Glee season 2 premiere party.
According to Max Adler, Dave and Santana actually kissed while filming the Prom episode, to prove that they were straight. However, the scene was deleted for their storyline's sake.
Dave and Santana's dance moves in Prom Queen were unscripted - Max and Naya did it for fun and were surprised when it actually made it to the final editing.
Dave's first kiss with a male was with the one seen in Never Been Kissed when he kissed Kurt. This was also the first gay kiss on the show.
He names his fist "The Fury".
There are parallels in the dialogue with Dave and Azimio's confrontation with Kurt at the end of Theatricality and what happens in the locker room with Kurt and Dave in "Never Been Kissed". Both times, Kurt says being beaten up will never change who he is and would allow himself to be hit because he is proud of his difference.
There are parallels in the dialogue with Kurt persuading Dave to come out at the end of "Prom Queen" and the conversation between Kurt and Mercedes in Acafellas. Both times Kurt/Dave said "I Can't" when asked to come out. (The same situation happens between Santana and Brittany in Rumours. Brittany had planned to ask Santana out to prom during her webshow Fondue For Two to make Santana's coming out easier, but Santana cancelled last minuted with a text saying, "I can't").
Butterscotch candy is his favorite. (Heart)
He's the second character to attempt suicide, the first being Sue Sylvester in Comeback.
Karosfky appeared in every season of the show, except the fourth.
Gallery
Quotes
Main article: Dave Karofsky's Quotations
Community content is available under
CC-BY-SA
unless otherwise noted.