'Glee' Profile: Emma-Will Relationship
The Emma-Will Relationship, commonly known as Wemma, is the friendship, and now romantic relationship between Emma Pillsbury, and her husband Will Schuester.
They started off as being just close friends, although Emma is in love with Will while he is still married to Terri. Will's love for Emma develops over time, after Emma gives Will advice for the Glee Club and its members, although the roles in the relationship are constantly reversed. Eventually in Season One, after discovering that Terri is faking her pregnancy, Will divorces her and becomes available to date Emma. In Season Three, they get engaged in Yes/No, and in Nationals, they have sex for the first time, where Emma loses her virginity to Will. In All or Nothing, they get married, in Trio Emma revealed she was pregnant and became parents in Opening Night when they welcomed their first child, a son named Daniel, into the world.
Overview
Will and Emma's relationship begins with the two being close friends. Emma is completely and deeply in love with Will, although he is married. Will has strong feelings for Emma, which most likely result to his failing marriage and, and from her listening to his problems and giving him advice when he needed it the most. The two have moments where their sexual tension and attraction to one another are strongly evident, but both have to hold back their feelings because Will was married and his wife, Terri, is pregnant.
Emma, tired of pining after a married man and being alone, starts dating football coach Ken, whom she doesn't even like in a romantic way. Eventually the two get engaged. Despite her engagement and Will's marriage, their feelings for one another do not disappear.
Will discovers his wife's fake pregnancy and he leaves her stating that he doesn't feel the same for her as he once did. Emma later tells Will that Ken has dumped her because she took the kids to sectionals for him. Will is shocked about this and apologizes, but she tells him that she is the one at fault because she was settling for Ken and if Will had shown any interest in her she would've left him in a heartbeat. She confesses to Will that she can't see him without feeling heartbroken and has decided to resign as guidance counselor. Will, convinced he loves her, tries to convince her to stay, telling her that he left Terri. On the day of her resignation, Will is listening to the club perform Kelly Clarkson's
My Life Would Suck Without You
and realizes that he feels that sentiment about Emma. He runs to find her and catches her right before she leaves. He then kisses her for the first time, finally being able to release the built up feelings the two have had to hold in. This, along with nervous smiles afterwards, begins their relationship.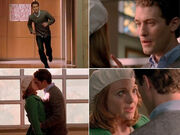 They do begin to date, and Emma even tries to push aside her mysophobia to try to become intimate with Will. She is still uncomfortable with intimacy, and she admits to Will that he is the first guy she has let get that close to her sexually. Will doesn't seem pleased by the news and later cheats on her with
Shelby Corcoran
in a lusty make-out session. Emma, unaware of this, tells Will that they need to spend time alone so he that they can work on their separate issues; however, in the next episode
The Power of Madonna
, Emma attempts to lose her virginity to Will, but does not go through with it because she is still not ready.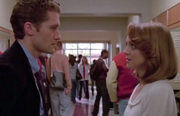 Will takes it well, and tells her that she doesn't need to sleep with him to prove anything. He also tells her that he has filed for a divorce from Terri and that while they are waiting, they need to get help for her problems. He gives her a card for a counselor which she gladly accepts.
Emma later finds out that Will cheated on her in the episode Bad Reputation, and she is furious. She confronts him about it, calling him a slut and declaring their relationship over. Will tries to apologize, but she doesn't accept it, which leaves Will's heart crushed.
In the season one finale, Emma reveals to Will that she has been seeing her dentist, Carl Howell, and that she thinks she and Will had their chance. Will is heartbroken and breaks down into tears. Later, he sees Emma arguing with Figgins about the Glee Club, and he finally confesses that he loves her, and that they are not over, followed by a kiss that leaves Emma stunned.
In season two, their friendship hits choppy waters when Will meets Carl for the first time. Though Will pretends to be friendly with Carl in front of Emma, the two talk about Will and Emma's relationship in Britney/Brittany. Will states that he may not be willing to back off of Emma, but eventually he and Carl come to an agreement: Will will leave Emma and Carl's relationship alone, but if Emma starts 'leaning Will's way' again, he will go after her. Later in the episode, in an attempt to seem more easygoing, Will buys a new car (which happens to be the same car Carl has in a different color) and takes Emma for a spin in it. However, his ride is stopped by ex-wife Terri, who he gets into a heated argument with in front of Emma. Emma runs off into her own car and leaves.
However, in
The Rocky Horror Glee Show
, Will discovers that Carl is helping Emma with her obsessive-compulsive disorder, something that Will was never able to significantly improve. She informs him of her date with Carl when they went to see the Rocky Horror Picture Show, and Will decides to make said play the school's musical, despite the controversy it would cause. Carl discovers this and auditions for the role of Eddie by singing
Hot Patooti
, and Will grudgingly lets Carl join the play. However, Will becomes fed up with Carl's mishaps in the production. He decides to take the role of Rocky from
Sam Evans
and play it himself, asking Emma for help with the number
Touch a Touch a Touch a Touch Me
. It becomes overly heated quickly and Emma runs from the room. Carl then confronts Will about breaking his promise to back off of Emma and the two face another argument. In the end, though, Will decides to cancel the play, admitting to Emma that it was just a ruse to get her to like him again, and makes another promise to back off.
During Special Education, Will invites Emma to be his guest at sectionals. She accepts, but on the date of the performance, tells him that she can't go. When he asks why, she tells him that she hid the fact that she was going from Carl and they had a big fight—however, when they made up, he told her that he loved her. Will is upset, but after tying with the Warblers at sectionals, shows Emma the trophy. Afterwards, Emma tells Will that over the weekend, she and Carl went to Las Vegas and got married. Will, though he claims he is happy for her, is visibly upset with this and spends the next few episodes trying to get over Emma.
In Blame It on the Alcohol, Will decides to loosen up and go drinking at a honky-tonk bar with McKinley's football coach, Shannon Beiste. He ends up getting far drunker than he had anticipated and drunk dials Emma, giving her several sleazy compliments and admitting that he still has feelings for her. The next day, he apologizes to Emma for drunk dialing her, but she says she never got the message. As it turns out, he accidentally left the message on Sue Sylvester's answering machine, and she in turn broadcasts it over the school's intercom. When Emma hears what he said, she covers her mouth with her hand in shock, even though she seems quite enthusiastic and happy about the message which shows she is interested.
In Sexy, Emma decides to head the celibacy club, with its only members being Rachel Berry and Quinn Fabray. Preaching abstinence to the kids doesn't work, so she tells Will and his friend, substitute teacher Holly Holliday about it. When Emma and Holly get into a debate and Emma admits that she doesn't think sex is for children or adults, Holly calls her naive and leaves. Emma decides to challenge Holly's promiscuous ways of sex-ed by performing Afternoon Delight with the Celibacy Club (in addition to Carl and the Celibacy Club's newest member, Noah Puckerman) in the belief that the song is about having dessert in the afternoon. When she finds out that the song is about sex, she becomes upset, and Carl decides to have a 'counselling session' with Holly about Emma's fear of intimacy. During the session, Emma admits that she and Carl have never had sex before, and Carl asks her if she's still in love with Will. Upon discovering that she is, he leaves the room angrily. Emma asks Holly if she can keep her feelings a secret from Will. It is later revealed that Carl wants an annulment.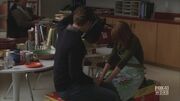 In
A Night of Neglect
, Will finds Emma polishing a table, and learns that her OCD has come back worse than ever since Carl filed for an annulment, they eat lunch together and Will tells Emma he will help her through this and be there for her. Holly and Will later break up because Holly cannot commit and she knows Will is still in love with Emma which leads Holly to finally tells Will that Emma is in love with him too.
In Born This Way, Emma and Will are still working through her problems, and he tries to help her get past it, by getting her to eat unwashed fruit which doesn't work... Emma helps Will with the Glee Club in making costumes for their number Born this Way so they can come to terms with their differences. Emma originally puts on her shirt "GINGER", but after Will tells her he is disappointed with her she eventually changes it to the truth "OCD." She also begins to get therapy for her and take medicine that the therapist has prescribed, even though she's scared at first. Will puts "Butt Chin" on his shirt and in the end, they hold hands and dance with the Glee Club.
In Rumours, Emma sneaks into April Rhodes and Will's practice session, where she overhears them practising over her up and coming Broadway show, written by Will. During the performance, Emma realizes that Will can be achieving so much more with his life, and not just remain a high school teacher. When Emma confronts Will about this, although Will knows he has potential, he can't ditch his kids. It's been his dream to be on Broadway, but has a bigger dreams of winning Nationals. Emma is also seen having a better control over her OCD since seeing her therapist. She's been using her prescription regularly and was shown eating grapes, without the extreme cleaning.
In Funeral, Emma and Will are in the his apartment packing up his belongings before he heads to New York with the kids. After Nationals he will be staying for a while to appear in Crossrhodes: The April Rhodes Story, but he's shown to have little confidence that the play will succeed and plans to be back a week after it opens. Emma encourages him to follow his dreams, telling him that he's given up so much for others to succeed and that now it's his turn.
In New York, Emma is congratulating Mr. Schue on coming 12th, even hanging a banner. Will thanks her and is humored by the banner. There was also a deleted scene that shows what happens between them when Will gets back to McKinley.
The writers stated that Will and Emma would be getting major forefront focus the entire year, especially the front ten. According to Murphy, Will and Emma's new series storyline was going to be their journey to marriage and a family. They were also seen having a brief kiss in one of the season promos.
In The Purple Piano Project, Emma was seen to have moved in to Will's apartment. Emma makes breakfast and lunch for Will and they shared a brief kiss in the kitchen.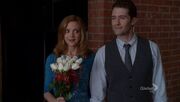 In Asian F, Will invites Emma's parents over for dinner. Will later yells at them for being ginger supremacists and for criticizing Emma for her OCD and calling her freaky rather than helping her. At the end Emma is praying that her OCD will get better and Will joins in saying he will help her get better, singing Fix You with New Directions.
In Yes/No, Emma is talking to Sue and Beiste and thinks that Will is not in love with her. This leads to the three of them singing Wedding Bell Blues. At the end of this number, Emma accidentally asks Will to marry her. Will then makes a Proposal assignment for the Glee Club. They help him with finding the perfect song to sing to Emma. Artie performs Moves Like Jagger/Jumpin' Jack Flash, but Will rejects the idea. Will goes to see Emma's parents to ask for their permission in Emma's hand in marriage, but they do not give permission. They think it is not a good idea because if they ever have children, they believe Emma wouldn't be able to handle the pressure. At the end of the episode, the Glee Club are doing synchronized swimming while singing We Found Love.
In The Spanish Teacher, Emma mentions that she and Will reveal everything as Emma helps Sue due to the declined request from Will to be her donor using pamphlets. Emma comes home to a frustrated Will with a new box of pamphlets in hand and hands them to Will to see what he thinks of them. He rejects her saying that all these pamphlets are useless and her life story should be imprinted into a pamphlet. Emma storms off in anger missing Will's apology from afar.
Emma comes home to find a neatly plated dinner table and a pamphlet made by Will. The pamphlet shows an implication of what of his wrong actions followed by a sincere apology which concluded with a kiss.
Episodes
Songs
Sang Together (In a Group Number)
Related Songs
Duets
Sang Together (In a Group Number)
Related Songs
Trivia
Will/Emma, Quinn/Puck, Finn/Rachel, and Brittany/Santana are described as the four most asked about couples on the show according to Zap2It and E! Online.
They are each other's second spouse. (Emma's first husband was Carl, Will's first wife was Terri)
Will and Emma have been close friends since before Pilot.
Emma loses her virginity to Will in Nationals.
Composer Kerry Muzzey has written several pieces inspired by the couple, he considers Looking Back to be Will and Emma's love theme.
They are first called "Wemma" in All or Nothing.
First couple to get married and have a child.
Emma-Will relationship is similar to Finn and Rachel's relationship.
Gallery
v - e - d

Glee Relationships




Character relationship(s) displayed:

Adam

Artie

Becky

Betty

Blaine

Bree

Brittany

Brody

Burt

Cassandra

Chandler

Cooper

Dani

Dave

Elliott

Emma

Finn

Holly

Jake

Joe

Kitty

Kurt

Lauren

Mario

Marley

Mercedes

Mike

Millie

Puck

Quinn

Rachel

Rory

Roz

Ryder

Sam

Santana

Sebastian

Shannon

Shelby

Sue

Sugar

Sunshine

Tina

Terri

Unique

Will
Community content is available under
CC-BY-SA
unless otherwise noted.