'Glee' Profile: Emma Pillsbury
Play Sound
"

Some things are worth fighting for.

"

—Emma Pillsbury-Schuester, Journey
Emma Pillsbury-Schuester (previously Pillsbury-Howell) is a major character on Glee. Emma was a series regular until Season Four, when she became a recurring character due to her portrayer Jayma Mays' other commitments. She is a guidance counselor at McKinley High School in Lima, Ohio.
Emma suffers from OCD (Obsessive Compulsive Disorder) and has romantic feelings for Glee Club director Will Schuester, but becomes engaged to football coach Ken Tanaka in Season One, as Will is married. Ken ultimately breaks up with her on their wedding day because of her feelings for Will and when Will leaves his wife Terri, he and Emma share a kiss. Their relationship is short-lived and in Season Two, Emma and her new dentist boyfriend Carl Howell marry in Las Vegas. The wedding is later annulled as it was unconsummated. At the beginning of Season Three, she and Will live together, and become engaged shortly after New Years. Emma also helps to direct McKinley High's production of West Side Story, along with Shannon Beiste and Artie Abrams. At the end of the fourth season finale (All or Nothing), she marries Will. In Trio, it is revealed that she is pregnant. In Opening Night, she gave birth to her first son Daniel Finn Schuester, naming her son after Finn Hudson.
She is portrayed by actress Jayma Mays. 
Biography
Personality
Emma could easily be seen as the ideal counselor. Sweet, insightful, selfless and empathetic, Emma is constantly doing what she can to offer good and helpful advice to not only the students, but also to those that she cares about (primarily Will). Unfortunately, despite the fact that Emma tries her best to be logical in her advice, she often lets her emotions take advantage of her actions. Her relationships with Will and Ken are obvious example, as Emma not only began dating, but also agreed to get engaged to Ken, although she did not even like him, all so as to try and spare herself the pain of pining for Will.
Because of Emma's natural kindness, this has also caused her to become extremely meek towards dominant people such as Sue and Terri, who often attempt to bully her. However, when push comes to shove, Emma will still try to stand up for herself, and will without a question stand-up for others (i.e. standing up for the glee kids at Sectionals). Emma rarely stands up for herself, but did when she finds out Will cheated on her, announcing in the teacher's lounge that Will was a "Slut." She has also stood up to Terri telling her that Will deserves much better than her and when Terri found Emma surprising Will at the apartment she asked her if there was a reason why she was there and Emma said that she wanted Terri gone when Will got home. She has also shown her bolder side to Figgins by yelling at him about canceling Glee even though they have worked hard all year. She too has shown a snarkier side by asking if Sue had been finally punched in the face when she had her tear ducts removed. In Season Two, she seems to have become slightly more independent, though she is still shy.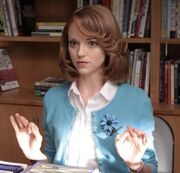 Although Emma seems pretty normal at first glance, like everyone else at the school she has her own sorts of oddities. Most obvious is her mysophobia, OCD and her large, round eyes. She tries her best to make sure everything around her is neat, hygienic and in order. She always brings her lunch to work, and often will clean her food as she eats it, as well as doing things like not mixing different colored grapes, wiping each grape carefully with a sanitizing wipe, and eating with plastic gloves on.
Emma also had, what some might consider, an unhealthy romantic interest in Will. Despite the fact he was married, she often was seen watching him intently, to the point where she would become easily distracted. As previously mentioned, she attempted to cancel out her feelings for Will, by dating a man who was completely wrong for her. This also caused her to become very inconsiderate towards Ken, who she informed that despite dating/engaged, they would not live together, kiss or have anything even remotely close to a normal relationship. She reacted maturely to Will telling her that he left his wife although her decision to resign showed her emotional weakness as she didn't want to work at the school any longer because of her feelings for Will and her guilt over Ken.
Emma can also be known to panic attacks when put under great amounts of stress. Finn witnesses this first hand when he sees Emma planning her wedding in Season Four.
Relationships
Main article: Emma-Will Relationship (Wemma)
Emma has been nursing a crush on Will for apparently some time now, which often causes her to become easily distracted. It is implied that Will himself shares an attraction towards Emma in
Showmance
, but has never acted on it out of respect and love for his wife
Terri Schuester
. However, Will often comes to Emma for advice on all his personal problems which only strengthens their mutual attraction. Much to Emma's disdain and Will's slight disappointment, Emma began dating and then became engaged to Will's friend Ken Tanaka. Despite the fact they are technically 'together' Emma refuses to do anything with Ken such as hugging, kissing, laughing or even living together, implying that she is still hoping for Will to be with her. Will's wife Terri, meanwhile is aware of the mutual attraction and once confronted Emma about it in Vitamin D. In a moment of uncharacteristic forcefulness, Emma told Terri that she was not good enough for Will. In the episode
Sectionals
, Ken dumps Emma and leaves her at their wedding. She tells Will when he arrives, along with the fact that she will be resigning as counselor at McKinley.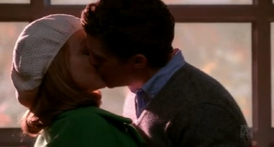 He tells her he left his wife, and at the end of the episode, Will and Emma share a long-awaited kiss in the hallway, just before Emma is about to leave. In the Second half of the first season their relationship continues on rocky grounds, at first they seem to be making their way slowly to 'couple', but when Will tells Emma that they think they should put the relationship on pause at least until after his divorce they still seem fine, Emma even wanting to lose her virginity to him, but was unable to do it. It went from bad to worse where Sue tells Emma of all the other women that Will has been seeing even though he said he wasn't seeing anyone. Betrayed, Emma confronted him, but when Will came to apologize Emma did not accept it and now the relationship is seen as either over or in denial until further notice. In Journey, Emma tells Will that she is now seeing someone else. That broke Will's heart which can be shown as he is seen crying in his car, much like Emma used to do in the first half of the first season. Later, after Emma and Figgins' heated conversation, Will professes his love for her by saying "I love you Emma. There I said it, and you love me. Dentist or no, this thing isn't over between us." He then kisses her and leaves her staring after him in the hall, stunned. Since then there have been many 'moments' between the pair, but both her marriage and his relationship with Holly Holiday the substitute, have gotten in the way. Will is now helping her through her OCD.
Main article: Emma-Ken Relationship (Kemma)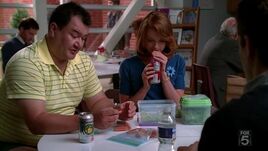 Ken Tanaka has pursued Emma for a while, they eventually start dating. In
Vitamin D
, Ken proposes to her and she says yes as long as they don't move in together, don't see each other after school hours, and if Emma can keep her last name. In the episode
Sectionals
, Ken ends up dumping her because she moved their wedding back a few hours to take the glee club to Sectionals for Will, which made him realize that he could not do anything to prevent the fact that she loved Will and not him. After she broke his heart, she couldn't face him and almost left McKinley high.
Main article: Carl-Emma Relationship (Carma)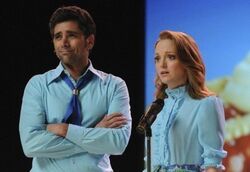 Carl was Emma's dentist whom she has been dating since she found out about Will's feelings behind her back. They apparently have been dating every night for a while now although they haven't had sex. Seeing as she did not reject Will's kiss after his love confession and her stunned look afterward, her feelings for Will are still there. However she continues to date Carl, and their relationship seems to have a positive effect on Emma, whose OCD becomes less prominent, allowing her to eat sandwiches with the crust on it and even go to a sticky, dirty movie theatre to see Rocky Horror Picture Show. Carl seems to really care about Emma, and uses his controlling nature to force her to overcome her own issues. However, Emma's feelings for Will remain constant, causing Carl to try and first ask Will to back off, and then angrily confronts him when he doesn't. In Special Education, over the weekend of Sectionals, she and Carl got married in Las Vegas. It was revealed that despite being married for four months, Emma is still a virgin. Carl believes that Emma still has feelings for Will and moves to a hotel until Emma can choose who her feelings lie with. In
A Night of Neglect
, Emma reveals that Carl has left her and wants an annulment, which was granted due to the fact they never consummated the relationship physically.
Main article: Finn-Emma Relationship (Femma)
Finn does not interact that much with Emma until 
Diva
.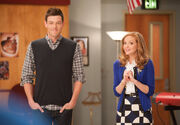 The first scene involving the two of them is in the teachers' lounge, with Emma complaining about the stress of organizing her and Will's wedding, which is next week. Finn tells Emma that he's struggling to prepare New Directions for Regionals and she suggests a Diva-Off. Finn takes her idea on board and invites her to be the celebrity guest judge.  Finn and Emma are then present sitting together while watching Blaine perform 
Don't Stop Me Now
.  Finn is then seen telling Emma about his break up with Rachel and how heartbroken he still feels. Emma suggests  going back out there and finding a new girlfriend. Finn thanks Emma and says Will is so lucky. Emma stops Finn and asks her which centerpiece she should use for the wedding. Finn replies by saying she should use a white centerpiece because white is pure, like her.  The two then introduce Santana and the Cardinals to the New Directions in the choir room as they perform 
Nutbush City Limits.
 They are also present in the courtyard as Tina performs 
Hung Up
. Near the end of the episode, Finn finds Emma in a panic. She tells him that she is convinced that Will didn't like her choice for the centerpiece. She tearfully says she can't get married again because the last time with Carl was over before it even began. As she begins uncontrollably knocking over things, Finn tries to calm her down and ends up kissing her, leaving Emma visibly shocked. 
Songs
Total = 12
Solos
Solos (In a Group Number)
Unreleased Songs
Solos
Solos (In a Group Number)
Back-up singing
Duets
Solos (In a Group Number)
Appearances
Trivia
There seems to be an inconsistency with the root of her obsessive-compulsive disorder (OCD). In Showmance, she claims that her brother once pushed her into a run-off lagoon, which triggered her OCD. However, in Asian F, it's revealed that her OCD came from her parents constantly making her clean her glasses before drinking from them.
She has been engaged more than any other character on the series.
Emma mentions that she is 32 in A Night of Neglect but the episode takes place in the spring of 2011 and, given that she began her senior year in the fall of 1997 (as mentioned in Dance With Somebody), it is more likely that she was born in late 1979 and thus she would still only be 31.
She is similar to Rachel Berry on Glee. She may not have Rachel's singing talent, but she does have her personality.
Gallery
Quotes
Main article: Emma's Quotations
References
Community content is available under
CC-BY-SA
unless otherwise noted.