This article is about the episode. You may be looking for the song of the same name.
Extraordinary Merry Christmas is the ninth episode of Glee's third season and the fifty-third episode overall. It premiered on December 13, 2011. 
It is the second Christmas episode on Glee, the first being A Very Glee Christmas, the tenth episode of Season Two. After Sectionals, The Troubletones are part of the New Directions again. Meanwhile, Sue attempts to recruit homeless shelter volunteers for Christmas, hoping to get the Glee Club. They happily agree, but when the Glee Club is asked to create a holiday special for the local PBS station with Artie directing, Sue is in dismay when they decline. Rory struggles as it is his first Christmas without his family and Rachel asks Finn for too much.
The episode was directed by Matthew Morrison and written by Marti Noxon.
Plot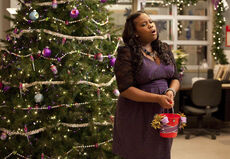 The episode opens with New Directions singing All I Want for Christmas Is You whilst decorating the choir room with Mercedes singing the lead.
Sue recruits the glee club to sing at a homeless shelter where she will be volunteering to distract her from the first Christmas without her sister Jean, who died earlier that year. Rachel gives Finn a long list of Christmas present suggestions. Finn is appalled by how much Rachel wants, although she tells him five items are plenty. When she later hints that an early gift would not be amiss, he surprises her with the donation of a sow in her name to needy Africans. Rachel is unhappy, reminds Finn that she is a vegan, and recommends that he sticks to her list to avoid embarrassment, while pointedly mentioning earrings.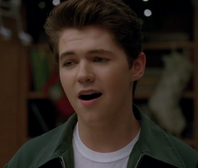 Rory dedicates the song Blue Christmas to his family, whom he misses, as this is his first Christmas without them. Sam offers to take Rory home with him to show him a true American Christmas. Will announces that New Directions has been asked to create a holiday special for the local PBS station, with Artie as the director. The station manager agrees to Artie's concept—a black-and-white homage to both The Star Wars Holiday Special and The Judy Garland Christmas Special, to feature hosts Kurt and Blaine welcoming their friends for suave banter and happy, cheerful songs. Rory will play Itchy the Elf and recite "Frosty the Snowman." Sam points out that Frosty does not have a happy ending, and that a little sadness is also a part of Christmas. But Artie only wants to present the "merry" part and will be rewriting Frosty to fit, so Sam decides not to participate.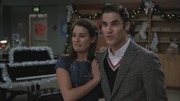 Rachel first performs River in order to impress Artie and also, to get a big part on the Christmas Special. Although everyone are impressed, Artie isn't, who believes it's too depressing and unsuitable for the show which needs to have a happier feeling.
Rachel performs Extraordinary Merry Christmas with Blaine, wanting to impress Artie so she can get a big part in the show. When they finish Sue walks in believing that they are rehearsing for the homeless shelter performance, which they have all forgotten about. She feels disappointed in them and can't believe that they are going to walk away from people who have nothing. She asks the group if they all agree that they won't help and then leaves, leaving Quinn unsettled with the rest of the club after they ignored their other choice.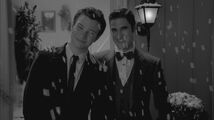 Kurt and Blaine lead off the Glee Holiday Spectacular by performing Let It Snow, Rachel and Mercedes arrive and sing My Favorite Things with their hosts, Finn and Puck show up as not-quite-real Star Wars characters and perform Santa Claus Is Coming to Town, and Christmas Wrapping is sung by Brittany with back-up by Santana, Tina, Mike, and several other Cheerios. When Rory as Itchy arrives, the others are dismayed when he says that he will not be reading Frosty the Snowman; he instead reads the biblical nativity story from the Gospel according to Luke.
Quinn and Sam are at the homeless shelter with Sue, helping to serve the rapidly disappearing meal, when the New Directions arrive, late, with more food and presents. They sing Do They Know It's Christmas? for them. Back at McKinley, Rachel has a change of heart and names Finn's gift sow "Barbra." Finn does give her the earrings she wanted, but she ultimately returns them and the iPod she gave him: they instead donate them to the Salvation Army kettle manned by Sam and Rory, and stay to help.
Songs
‡ denotes that the song was cut from the episode.
Guest Cast
Guest Stars
Co-Stars
Marcanthonee Reis as Oscar
Trivia
There's a Christmas hat on top of the font in the title-card.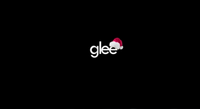 The girl who acted as the younger version of Rachel in the episode The Substitute when Mr. Schuester was sick can be seen during Do They Know It's Christmas?.
The Re-Walk Artie had received to help him walk in A Very Glee Christmas is revealed to have broken the following day.
This episode marks Matthew Morrison's directing debut.
This is the seventh episode to be named after a song featured in it, and the first to be named after an original song.
On August 1, 2012, Ryan Murphy uploaded a deleted 'Klaine' scene from this episode on YouTube where Blaine gives Kurt a promise ring for Christmas. [1]
Instead of 'Klaine', Darren Criss and Chris Colfer have joked that they wanted Kurt and Blaine's ship name to be 'Kurt CoBlaine'.
Lucasfilm Ltd. gave Glee permission to use Chewbacca for a scene, but nothing else. This explains why the music that accompanies his appearance sounds nothing like John Williams' famous theme from the movie.
Sugar Motta was absent in this episode because her portrayer - Vanessa Lengies had a vacation with her parents.
For some reason, the actor who plays Chewbacca wasn't credited on the Netflix release of the episode, however, the name Chewbacca still appeared, but the actors name was blacked out, or not typed all together.
This episode is the one with the most performances: 10.
Cultural References
During the black and white holiday special portion of "Extraordinary Merry Christmas," Finn and Puck appear to be dressed as Luke Skywalker and Han Solo, respectively.
The episode makes two references to A Charlie Brown Christmas:

Rachel quotes Sally Brown, saying, "All I want is what I have coming to me, all I want is my fair share."
Rory reads the same verses of the King James Bible (Luke 2:8-14) that Linus recites while explaining the true meaning of Christmas. He also quotes Linus's opening request - "Lights, please."
Errors
Blaine hands the cameraman the silver platter full of drinks in the next scene the platter is found back on the table void of any drinks. Later when Blaine points Rachel and Mercedes towards the piano the silver plate is once again full of drinks. When everybody gets up to go to the piano, the silver platter is empty once again.
When Brittany, Santana, Tina, and the Cheerios come to the bachelor chalet, Brittany closes the door but in the next scene the door is wide open.
When Rachel asks Finn for her present, he is seen taking out his backpack, but seconds later he takes out his backpack again.
Gallery
Videos