'Glee' Profile: Finn Hudson
Play Sound
"

What's the saying? "The show's gotta go all over the place... or something."

"

—Finn Hudson, A Night of Neglect
Finn Christopher Hudson was a major character on Glee. He was an alumnus of William McKinley High School, former co-captain of the New Directions, and former quarterback of the Titans.
Finn risks alienation by the football team after joining the Glee Club at the beginning of the series. In Season One, Finn dates popular head cheerleader Quinn Fabray, until he discovers that she slept with his best friend, Noah Puckerman, and lied about Finn being the father of her child.
During Furt, Finn's mother marries Kurt Hummel's father, Burt, thus making them step-brothers. Finn is previously engaged to Rachel Berry before letting her go to New York City without him in Goodbye. He also graduates from McKinley High in Goodbye. Finn is the substitute director for the New Directions while Will Schuester was in Washington from Glease to Girls (and Boys) on Film, when Will returns to coach New Directions. The two were co-directors until the end of Feud, when Will found out that Finn kissed Emma, and with the encouragement from Marley, Finn left McKinley to obtain a teaching degree at the University of Lima, but later he decided to help Will once again in McKinley. Due to the death of his portrayer, he died during the fifth season, and The Quarterback was a tribute for him.
He was portrayed by the late actor and musician Cory Monteith.
Biography
Early life
Finn's father, who was a United States Marine, was originally believed to have died while serving in Iraq when Finn was very young, so he was raised by his mother, Carole. However, it is later mentioned in Yes/No that Finn's father died from a drug overdose. Finn discovered his love of singing during a chance encounter with a lawn specialist dating his mom, and for the first time he knew, he was special and good at something. Finn struggles to make his mother proud of him and make her happy.
Personality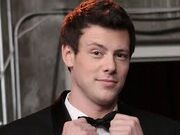 Finn has been shown to be one of the most complex characters on Glee.
During Season One, and less so in the first part of Season Two, Finn has been shown at time to give into peer-pressure because he wants to be liked and not made into an outcast. Despite feeling guilty, Finn has bullied others at school and has often allowed others to bully him into doing things he would usually not agree to. A factor in this has been that Finn has been shown at times to think (wrongly) that popularity is about the only thing he has going for him. However, the second part of Season Two has seen Finn bury his earlier concerns with popularity and image and he is now unambiguously a "Gleek." While he is often able to "get" people and intuit them well. Intellect appears to not be one of his talents, and combined with his naturally trusting nature, this has allowed many of his friends to manipulate his naivety, to suit their own personal desire. The most notable examples would be Quinn's lie regarding how Finn supposedly impregnated her, Rachel getting Finn to kiss her in Season One and then later trying to get him to realize what they had was real, and Mr. Schuester planting pot on him to blackmail him into joining the Glee group by exploiting the way he was committed into doing his mother proud. He's also a natural born leader, and tries his best. No matter what Finn does, he always tries to give his all. He is especially concerned about being a good son, and becoming a good man in his future.
After having lost his father in Desert Storm, he vowed to do whatever it took to make his mother proud of him. His search for a father figure (now apparently ended with the Hummel-Hudson family going strong) has also been important. Finn also enjoys singing very much, having discovered his natural talent while singing with her mother's ex-boyfriend one afternoon, he's said that the glee club is the one thing that's made him happy in a long time. Because of his positions as the captain of the football and basketball teams, co-captain of New Directions, and all of the other responsibilities expected of him as a son, brother, friend, boyfriend and student, Finn is often extremely stressed out. He often tries to keep his stress levels hidden from others, but it often results in him exploding when pushed too far, as seen when he discovered that Quinn's baby was not his, or when he gets upset with Kurt after he moves in.
Finn's low self-esteem has also been made central as of the most recent seasons; as he's spent most of his life attempting to fit in or to please others, he's easily prone to resigning himself to stand in the shadow of some of his more outgoing and ambitious friends; and easily feels threatened by other male characters whom he deems to possess talents that eclipse his own. Especially those whom have a natural charm and wit that he himself lacks, this was seen in Season Three, where he expressed jealousy of Blaine Anderson's abilities; and would often let his personal feelings override his responsibilities as a leader, which served to alienate Blaine and made him feel uncomfortable being in the Glee club. Finn's jealousy was rooted in how Blaine possessed all the talents he had, in addition to being a good dancer and having natural charm, intelligence and wit, which in turn made Finn question himself as "not being good enough." In Season Four, his self-esteem is still low. After Rachel broke up with him, he said "Who am I? I barely graduated high school, and my life has absolutely no direction." Showing that he still considers himself "nothing." 
However, despite Finn's low self-esteem, he is overall looked as the leader of Glee club. Finn, in the first three seasons, served as the true leader of the Glee club. Despite Rachel stating that she is the leader multiple times, it never looked up to how Finn took over. Finn will address an issue if members of the club are fighting, like how Rachel found out he slept with Santana before Sectionals in Special Education. He has developed a great reputation over the course of the seasons he was in, always proving himself to others, especially in The Sue Sylvester Shuffle. Despite people looking at Sam as the favorite in the first-half of the second season, Finn finally presented his true-self starting from Furt. He is also not afraid to tell people how he feels about them, people such as Rachel, Jesse, or Santana. Finn looks at someone for who they are and continuously celebrates it, not blaming someone for hating them for being different, as he has been looked at his entire time in Glee club from the Football team.  
Finn has shown to have relationships with almost every Glee club member, often speaking to them at least a couple of times over the course of his appearances. After sleeping with Santana in The Power of Madonna, the two didn't truly interact with each other until the third season, where Finn finally broke Santana. Dealing with Santana's mean and "bitchy" comments of him, Finn revealed that he knows that Santana is a lesbian. Despite Santana slapping him at the end of Mash Off, Finn shows that he accepts the good parts of someone rather than the bad, admitting that he loves Santana as a friend, even after she has bullied him for three seasons. This culminated into her breakdown in The Quarterback. Sue even stated in the same episode that she thought of Finn as a good guy, and that she was the only Glee member she liked. Finn was the only one that the hateful Sue Sylvester actually admired, and that the potential of Finn's future was lost after his death, leaving her distraught. Finn has developed such good friendships that it seemed to have affected everyone he knew when he died, especially Will, who finally cried at the end of Finn's tribute episode. 
Finn's accomplishments and role-model at McKinley has inspired many characters over the course of the show. His plaque of him is looked at by several character to change their mindsets on Glee, with Will as a primary example. Finn has been honored many times after his death, like Rachel's tattoo of his name, his Letterman jacket hung up in the boy's locker room, a tree carved with his name on it, Will's son having Finn as his middle name, and the school auditorium was renamed the "Finn Hudson Auditorium" in his honor. Finn's potential to become someone extraordinary may have been cut short after his sudden death, but seemed to have carried on in the final seasons of the series.  
Relationships
Main article: Finn-Rachel Relationship (Finchel)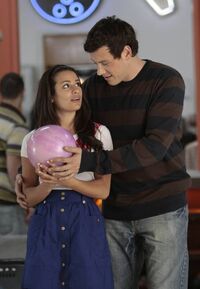 Rachel is Finn's close friend, fellow
Glee Club
member and primary love interest. He admitted to Rachel that he found her to be talkative and that he even checked under his bed to make sure that she wasn't "hanging out under there" but that once he heard her sing, she touched something in him. Although at first scared by her aggressive nature in just about everything, Finn found himself immensely attracted to her (particularly the fact she wore short skirts and had a nice body) saying that she was hot in a "Swimfan" sort of way. After practicing singing together, the two shared a kiss, proving their mutual attraction. They got engaged in
Michael
and were about to get married when Quinn was hit by a car in
On My Way
. They broke up as of
Goodbye
after Finn sets Rachel free so she could go to New York and to NYADA while he redeems his father by going to the army. However, they are still in love with each other; they hooked up in
I Do
. They seem to restart a friendship during
Sweet Dreams
.
Main article: Finn-Quinn Relationship (Fuinn/Fabson)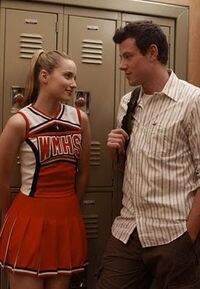 Quinn was Finn's first girlfriend. Quinn was the president of the
Celibacy Club
and is a member of the
Glee Club
and head cheerleader. As two of the most popular kids in the school, they began dating almost four months prior to the series start. At the start of the first season, Quinn had a habit of manipulating the sweet, but somewhat naïve Finn. During most of their relationship, whenever the pair of them began to get physically intimate, Quinn would abruptly stop and ask that they pray instead. Although Finn wanted to sleep with Quinn, she always refused due to her religious beliefs. Ironically, Quinn ended up having sex with
Noah Puckerman
when he got her drunk on wine coolers and seduced her, resulting in her becoming pregnant. Rather than admit to the truth, Quinn lied to Finn and claimed the baby was his, after Finn prematurely ejaculated in Quinn's hot tub, due to wanting to be with him over Puck. Under the false belief that Quinn was carrying his child, Finn attempted to become a good father, while ignoring possible feelings for Rachel. While Rachel seemed to pose a threat to Finn and Quinn, they consistently got over their fights and proved their love for each other. When Quinn got kicked out of her home by her family, Finn stood up for her, and he and his mother took her in. When Finn finds out Puck is the father of the baby, he says he is done with Quinn and Glee Club, ending their relationship, and his friendship with Puck. Throughout the rest of the season, particularly in
Hell-O
, it appears that Finn still has feelings for Quinn, and she feels the same. Finn and Quinn had gotten back together in the episode
Silly Love Songs
and were broken up again in
Funeral
after Finn realized his lingering feelings for Rachel and how he didn't have those same feelings for Quinn.
Main article: Finn-Puck Relationship (Pinn/F*ck)
Finn and Puck were always best friends even though they past through a lot during the
Season One. In the third season Puck wants Finn to join him after graduation, but Finn desist. Instead, he helps him to finish the year with a good mark and so he can graduate. In Season Four both discover that they now are roommates. In Season Five, with Finn's sad and sudden death, Puck becomes depressed, and sings to him
No Surrender
. Also, to honor Finn, Puck decides to join the Air Force.
Main article: Finn-Santana Relationship (Finntana)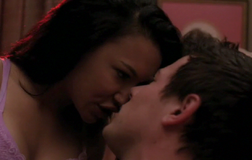 Under the orders of Sue Sylvester, Santana and Brittany agree to go on a threesome date with Finn. However, the date test was horrible, as the two girls spend all the time abusing the wait-staff, their fellow glee club members and friends (Finn included), and demands he pay for them, in spite of keeping him out of any conversation. That provokes Finn to go for Rachel. Later, when Sue Sylvester is trying to inspire the Cheerios with Madonna as an icon, she sends the girls to get young dates. Brittany starts dating a seven-year-old and suggests that Santana should date Finn, who Brittany believes to be younger despite his birthday being three days
before
Santana's, and take his virginity. Santana approaches Finn in a business-like manner, alleging that his virginity makes it difficult to even look at him. Finn initially declines, but after Santana told him that Rachel was dating Jesse St. James he succumbs to her offer. They spend a night together in a hotel room when Finn loses his virginity to Santana. But he says he felt empty as it did not mean anything. But he still does not reveal the fact that he did it to Rachel. Santana finally tells Rachel some time before Sectionals, leaving Rachel distraught and hurt. It has been revealed that because he lost his virginity to her, he cannot stand the idea of "his first" getting hurt in any way. Santana and Finn are not close friends, but she had been shown trying to help him win back Rachel by the end of Season Four.
Main article: Finn-Kurt Relationship (Furt)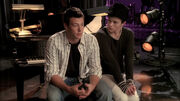 Kurt is Finn's step-brother and friend. Even before they joined Glee together, Kurt and Finn had a great deal of interaction, due to the football team constantly picking on Kurt and throwing him in a dumpster. Despite the fact Finn never tried to stop the bullying, it was clear that he was never comfortable with mistreating Kurt, and often tried to help Kurt in small ways, such as allowing Kurt to take off his expensive clothing before getting tossed in the trash. After Finn joins glee, it is implied that Kurt has developed a crush on Finn. Kurt is often seen watching Finn out of the corner of his eye, and during
Push It
, Kurt slapped Finn playfully on the butt. It appears that Finn is aware of Kurt's feelings, or at least uneasy about Kurt being gay. This was demonstrated when Kurt made to ask Finn to help him get a shot on the football team. When Kurt approached him, Finn immediately cut off Kurt's question and said that while he was flattered, he was going to go to the school dance with Quinn, leaving Kurt obviously hurt, despite the fact that asking Finn to the dance was not his intent at all. When the Glee group is split into pairs and asked to sing ballads to their partners, Kurt and Finn are paired. Finn is reluctant to pair off against a boy, for fear of being pegged as gay. Kurt, however, is overjoyed at the idea, and attempts to seduce Finn through the guise of friendship and advice for Finn's personal problems. His plan works in that he and Finn become closer friends, but backfires in other ways.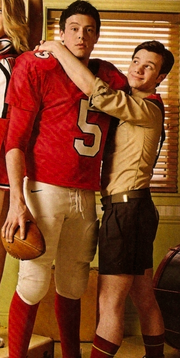 In the end, Kurt admits to Finn that he is in love with him, with his ballad choice "I Honestly Love You." Whether Finn understood this confession is unclear, as his reaction was to comment that he did not know the song, but thought it sounded great. In the episode
Home
, Kurt sets up their parents in an attempt to get closer to Finn. Finn is not happy with the relationship at first, but when Burt tells him he is not trying to replace his father he feels a lot better about it. Finn and Burt start to hang out more, making Kurt jealous and has him changing his looks. However, when they move in together Finn explodes due to stress and describes their shared room as 'faggy'. Burt then kicks him out of the house. In Season Two, it appears that Kurt's crush on Finn had lessened over the summer. Rather than watching Finn with loving adoration like before, their interaction action comes off as more casual and at one point frosty. Said point occurred when Finn claimed that the new student
Sam Evans
, would be auditioning for the Glee Club. When Sam doesn't show, Finn is disappointed, and Kurt coolly says: "You're not the quarterback anymore. Nobody's gonna do what you do 'cause they think you're cool." It seems that Finn in particularly has come to see Kurt as a sibling, and when Kurt's father Burt ended up in the hospital, Finn became distraught and angry for not being told soon, and admitted softly that he thought of Burt and Kurt as stepfather and stepbrother.
Main article: Finn-Emma Relationship (Femma)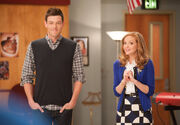 Finn does not interact romantically with Emma until
Diva
. The first scene involving the two of them is in the teachers' lounge, with Emma complaining about the stress of organizing her and Will's wedding, which is next week. Finn tells Emma that he's struggling to prepare New Directions for Regionals and she suggests a Diva-Off. Finn takes her idea on board and invites her to be the celebrity guest judge.  Finn and Emma are then present sitting together while watching Blaine perform 
Don't Stop Me Now
.  Finn is then seen telling Emma about his break up with Rachel and how heartbroken he still feels. Emma suggests  going back out there and finding a new girlfriend. Finn thanks Emma and says Will is so lucky. Emma stops Finn and asks her which centerpiece she should use for the wedding. Finn replies by saying she should use a white centerpiece because white is pure, like her.  The two then introduce Santana and the Cardinals to the New Directions in the choir room as they perform
Nutbush City Limits.
 They are also present in the courtyard as Tina performs
Hung Up
. Near the end of the episode, Finn finds Emma in a panic. She tells him that she is convinced that Will didn't like her choice for the centerpiece. She tearfully says she can't get married again because the last time with Carl was over before it even began. As she begins uncontrollably knocking over things, Finn tries to calm her down and ends up kissing her, leaving Emma visibly shocked.
Songs
Total - 106
Solos
Duets
Solos (In a Group Number)
Season One
Song
Episode
Solos with
Push It
Showmance
Artie, Mercedes, Rachel, and Tina
I Wanna Sex You Up
Acafellas
Puck, Sandy, and Will
Somebody to Love
The Rhodes Not Taken
Artie, Mercedes, and Rachel
It's My Life/Confessions Part II
Vitamin D
Artie and Puck
Imagine
Hairography
Artie, Mercedes, and Rachel
Jump
Mattress
Smile
You Can't Always Get What You Want
Sectionals
My Life Would Suck Without You
Rachel and Tina
Hello, Goodbye
Hell-O
Mercedes and Rachel
Like a Virgin
The Power of Madonna
Emma, Jesse, Rachel, Santana, and Will
What It Feels Like For a Girl
Artie, Kurt, and Puck
Like a Prayer
Jesse, Kurt, Mercedes, and Rachel
Run Joey Run
Bad Reputation
Jesse, Puck, and Rachel
Total Eclipse of the Heart
Shout It Out Loud
Theatricality
Artie and Puck
Good Vibrations
Funk
Mercedes and Puck
Give up the Funk
Artie, Kurt, Mercedes, and Tina
Any Way You Want It/Lovin' Touchin' Squeezin'
Journey
Artie, Kurt, Mercedes, Puck, and Rachel
Don't Stop Believin'
Artie, Kurt, Mercedes, Puck, Rachel, and Santana
To Sir, with Love
Artie, Kurt, Mercedes, Rachel, Santana, and Tina
Unreleased songs
Solos
Duets
Solos (In a Group Number)
Season Two
Song
Episode
Solos with
Empire State of Mind
Audition
Artie, Mercedes, Puck, Rachel and Santana
One of Us
Grilled Cheesus
Kurt, Mercedes, Quinn, Rachel, and Tina
There's a Light (Over at the Frankenstein Place)
The Rocky Horror Glee Show
Kurt and Rachel
Time Warp
Artie, Brittany, Kurt, Mercedes, Quinn, Santana (album) and Tina
Stop! In the Name of Love/Free Your Mind
Never Been Kissed
Artie, Puck, and Sam
Marry You
Furt
Artie, Brittany, Mike, Quinn, Rachel, Sam, and Tina
Jingle Bells
Glee: The Music, The Christmas Album
Artie and Puck
Deck the Rooftop
Artie, Mercedes, Rachel, Santana, and Tina
Last Christmas
Mercedes and Rachel
Thriller/Heads Will Roll
The Sue Sylvester Shuffle
Artie, Rachel, and Santana
Loser Like Me
Original Song
Brittany, Mercedes, Rachel, and Santana
Don't Stop
Rumours
Quinn, Rachel, and Sam
Pure Imagination
Funeral
Artie, Kurt, and Tina
I Love New York/New York, New York
New York
Artie, Brittany, Mercedes, Rachel, and Santana
Light up the World
Artie, Brittany, Rachel, Santana, and Tina
Unreleased songs
Solos
Duets
Solos (In a Group Number)
Season Three
Song
Episode
Solos with
You Can't Stop the Beat
The Purple Piano Project
Artie, Kurt, Mercedes, Rachel, and Tina
It's All Over
Asian F
Kurt, Mercedes, Mike, Puck, Santana, and Will
I Can't Go For That/You Make My Dreams
Mash Off
Quinn, Rory, and Tina
Red Solo Cup
Hold on to Sixteen
Mike, Puck, Quinn, Sam, and Tina
Man in the Mirror
Artie, Blaine, Mike, Puck, and Sam
We Are Young
Mercedes, Quinn, Rachel, Sam, and Santana
Santa Claus Is Coming to Town
Glee: The Music, The Christmas Album Volume 2
Joe and Puck
Do They Know It's Christmas?
Extraordinary Merry Christmas
Artie, Blaine, Brittany, Kurt, Mercedes, Puck, Rachel, Santana, and Tina
Summer Nights
Yes/No
Kurt, Mercedes, Puck, Rory, Sam, Santana, Sugar, and Tina
Ben
Michael
Kurt and Rachel
Fly/I Believe I Can Fly
On My Way
Artie, Blaine, Mercedes, Rachel, and Santana
Stayin' Alive
Saturday Night Glee-ver
Mercedes and Santana
Paradise by the Dashboard Light
Nationals
Blaine, Brittany, Kurt, Mercedes, Mike, Puck, and Rachel
Tongue Tied
Artie, Rachel, and Santana
We Are the Champions
Kurt, Puck, Quinn, Rachel, and Santana
You Get What You Give
Goodbye
Mercedes, Puck, and Rachel
Back-up singing
Unreleased songs
Solos
Duets
Solos (In a Group Number)
Season Four
Song
Episode
Solos with
Don't Speak
The Break-Up
Blaine, Kurt, and Rachel
The Scientist
Blaine, Brittany, Emma, Kurt, Rachel, Santana, and Will
You're the One That I Want
Glease
Blaine, Brittany, Kurt, Marley, Rachel, Ryder, and Santana
Homeward Bound/Home
Thanksgiving
Mercedes, Mike, Puck, Quinn, and Santana
Don't Dream It's Over
Swan Song
Blaine, Brittany, Marley, Sam, and Tina
We've Got Tonite
I Do
Artie, Betty, Blaine, Jake, Kurt, Marley, Quinn, Rachel, and Santana
Appearances
Trivia
The last appearance of Finn Hudson on Glee is Sweet Dreams because Cory Monteith went into rehab in April 2013 and eventually passing away on July 13, 2013, having appeared in a total of 81 episodes throughout his time in the series.
He breaks up with both of his ex-girlfriends in a car: first with Quinn in Funeral and again with Rachel in Goodbye.
In wake of his death, Rachel makes a plaque in his honor with his famous quotation, "The show must go all over the place...or something," said in A Night of Neglect.
Finn was a high baritone (baritenor). In The Pilot, when singing "You're The One That I Want" his voice strains easily within his higher register; implying he's more comfortable in his lower range and that he initially lacked the confidence and experience with musical theatre singing (his vocal style specialised more within classic rock); hence asking Rachel to help him improve with his singing in Showmance.
His favorite song was I Still Haven't Found What I'm Looking For by U2. It was performed in his honor by the New Directions at Nationals, in City of Angels.
In The End of Twerk, Rachel tattooed his name as fin.
Don't Stop Believin' is his first and last duet in the series.
Sue named the auditorium after Finn during the 2015-2020 time jump.
His middle name is a reference to the name of his late father, Christopher Hudson.
Will and Emma named their son, Daniel Schuester's middle name, after Finn.
He is the second student to be featured in every song of a New Directions setlist (2010 Regionals and 2011 Nationals) after Rachel Berry (2009 Sectionals, 2010 Regionals, 2011 Regionals, 2011 Nationals) he was followed by Santana Lopez (2010 Sectionals) and Kitty Wilde (2015 Sectionals).
Gallery