'Glee' Profile: Finn Hudson
"

What's the saying? "The show's gotta go all over the place... or something."

"

—Finn Hudson, A Night of Neglect
Finn Christopher Hudson was a major character on Glee. He was an alumnus of William McKinley High School, former co-captain of the New Directions, and former quarterback of the Titans.
Finn risks alienation by the football team after joining the Glee Club at the beginning of the series. In Season One, Finn dates popular head cheerleader Quinn Fabray, until he discovers that she slept with his best friend, Noah Puckerman, and lied about Finn being the father of her child.
During Furt, Finn's mother marries Kurt Hummel's father, Burt, thus making them step-brothers. Finn is previously engaged to Rachel Berry before letting her go to New York City without him in Goodbye. He also graduates from McKinley High in Goodbye. Finn is the substitute director for the New Directions while Will Schuester was in Washington from Glease to Girls (and Boys) on Film, when Will returns to coach New Directions. The two were co-directors until the end of Feud, when Will found out that Finn kissed Emma, and with the encouragement from Marley, Finn left McKinley to obtain a teaching degree at the University of Lima, but later he decided to help Will once again in McKinley. Due to the death of his portrayer, he died during the fifth season, and The Quarterback was a tribute for him.
He was portrayed by the late actor and musician Cory Monteith.
Biography
Early life
Finn's father, who was a United States Marine, was originally believed to have died while serving in Iraq when Finn was very young, so he was raised by his mother, Carole. However, it is later mentioned in Yes/No that Finn's father died from a drug overdose. Finn discovered his love of singing during a chance encounter with a lawn specialist dating his mom, and for the first time he knew, he was special and good at something. Finn struggles to make his mother proud of him and make her happy.
Personality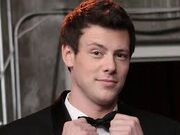 Finn has been shown to be one of the most complex characters on Glee.
During Season One, and less so in the first part of Season Two, Finn has been shown at time to give into peer-pressure because he wants to be liked and not made into an outcast. Despite feeling guilty, Finn has bullied others at school and has often allowed others to bully him into doing things he would usually not agree to. A factor in this has been that Finn has been shown at times to think (wrongly) that popularity is about the only thing he has going for him. However, the second part of Season Two has seen Finn bury his earlier concerns with popularity and image and he is now unambiguously a "Gleek." While he is often able to "get" people and intuit them well. Intellect appears to not be one of his talents, and combined with his naturally trusting nature, this has allowed many of his friends to manipulate his naivety, to suit their own personal desire. The most notable examples would be Quinn's lie regarding how Finn supposedly impregnated her, Rachel getting Finn to kiss her in Season One and then later trying to get him to realize what they had was real, and Mr. Schuester planting pot on him to blackmail him into joining the Glee group by exploiting the way he was committed into doing his mother proud. He's also a natural born leader, and tries his best. No matter what Finn does, he always tries to give his all. He is especially concerned about being a good son, and becoming a good man.
After having lost his father in Desert Storm, he vowed to do whatever it took to make his mother proud of him. His search for a father figure (now apparently ended with the Hummel-Hudson family going strong) has also been important. Finn also enjoys singing very much, having discovered his natural talent while singing with her mother's ex-boyfriend one afternoon, he's said that the glee club is the one thing that's made him happy in a long time. Because of his positions as the captain of the football and basketball teams, co-captain of New Directions, and all of the other responsibilities expected of him as a son, brother, friend, boyfriend and student, Finn is often extremely stressed out. He often tries to keep his stress levels hidden from others, but it often results in him exploding when pushed too far, as seen when he discovered that Quinn's baby was not his, or when he gets upset with Kurt after he moves in.
Finn's low self-esteem has also been made central as of the most recent seasons; as he's spent most of his life attempting to fit in or to please others, he's easily prone to resigning himself to stand in the shadow of some of his more outgoing and ambitious friends; and easily feels threatened by other male characters whom he deems to possess talents that eclipse his own. Especially those whom have a natural charm and wit that he himself lacks, this was seen in Season Three, where he expressed jealousy of Blaine Anderson's abilities; and would often let his personal feelings override his responsibilities as a leader, which served to alienate Blaine and made him feel uncomfortable being in the Glee club. Finn's jealousy was rooted in how Blaine possessed all the talents he had, in addition to being a good dancer and having natural charm, intelligence and wit, which in turn made Finn question himself as "not being good enough." In Season Four, his self-esteem is still low. After Rachel broke up with him, he said "Who am I? I barely graduated high school, and my life has absolutely no direction." Showing that he still considers himself "nothing." 
Relationships
Songs
Total - 106
Appearances
Trivia
The last appearance of Finn Hudson on Glee is Sweet Dreams because Cory Monteith went into rehab in April 2013 and eventually passing away on July 13, 2013, having appeared in a total of 81 episodes throughout his time in the series.
He breaks up with both of his ex-girlfriends in a car: first with Quinn in Funeral and again with Rachel in Goodbye.
In wake of his death, Rachel makes a plaque in his honor with his famous quotation, "The show must go all over the place...or something," said in A Night of Neglect.
His favorite song was I Still Haven't Found What I'm Looking For by U2. It was performed in his honor by the New Directions at Nationals, in City of Angels.
In The End of Twerk, Rachel tattooed his name.
Don't Stop Believin' is his first and last duet in the series.
Sue named the auditorium after Finn during the 2015-2020 time jump.
His middle name is a reference to the name of his late father, Christopher Hudson.
Will and Emma named their son, Daniel Schuester's middle name, after Finn.
Gallery