Grant Gustin, born Thomas Grant Gustin on January 14, 1990[1][2], is an American actor. He is known for his role on The Flash which is apart of the Arrowverse television franchise and he had a recurring role on Glee.
Personal life
Gustin was born and raised in Norfolk, Virginia.[2][3] He attended the Governor's School for the Arts program for Musical Theatre.[3] Grant graduated from Granby High School and went on to attend the BFA Music Theatre Program at Elon University in North Carolina for two years.[3]
Gustin has been in a relationship with Andrea "LA" Thoma since January 2016[4] and the couple married in December 2018 after a year engagement.[5][6]
Career
Gustin left school to take the role of Baby John in the Broadway Revival Tour of West Side Story, and performed with the tour from its opening on September 30, 2010 through September 23, 2011.
On November 8, 2011, he debuted on the television series Glee as Sebastian Smythe, an openly gay member of the Dalton Academy Warblers. Gustin won the recurring role of Sebastian, a promiscuous and scheming character, after "an exhaustive, weeks-long casting search." He originally auditioned for a role as a tap dancer, but did not get the part. However, Ryan Murphy kept him in mind. He began filming the role early on Monday, September 26, 2011, after having finished his final West Side Story performance the Friday night before.
He appeared in an episode of CSI Miami where he played the son of fellow Glee actor Romy Rosemont's character
Gustin began filming A Mother's Nightmare, a telefilm for the Lifetime network, in late May 2012. The project also stars actresses Annabeth Gish and Jessica Lowndes, and was shot in Canada. It premiered on September 26.
On July 11, 2012, it was announced that Gustin landed the lead role in the indie film, Affluenza, which is described as a modern day take on "The Great Gastby." It will be released in the summer of 2014.
He had a recurring role as Campbell Price on 90210 in 2013.
Grant landed the role of Flash alter ego Barry Allen, who first appeared on Arrow' episodes 8 and 9 before heading up his own spin-off.[7] Initially, the idea was for The Flash to have a backdoor pilot in episode 20 of the second season of Arrow, but after the CW brass saw cuts of episodes 8 and 9 they decided to have a stand-alone pilot, with episode 20 being a normal Arrow episode.
On May 8, 2014, it was announced that The CW ordered a full season of The Flash starring Gustin in the titular role as Barry Allen aka The Flash, which began airing that fall. On January 11, 2015, The Flash was renewed for the second season which premiered October 6, 2015. The show was renewed for a third season, and premiered October 4, 2016.
Filmography
Year
Title
Role
Notes
2003
Kid Fitness Jungle Adventure Exercise Video
Club Fit Kid
2006
A Haunting
Thomas
("Hungry Ghosts")
2011
Glee
Sebastian Smythe
2011 - 2013 (7 episodes)
2012
A Mother's Nightmare
Chris Stewart
TV Movie
CSI: Miami
Scott Ferris/Trent Burton
("Terminal Velocity")
2013
90210
Campbell Price
(8 episodes)
Arrow
Barry Allen/The Flash
2013 - 2020 (14 episodes)
2014
The Flash
2014 - present (133 episodes)
Affluenza
Todd Goodman
2015
Vixen
Barry Allen/The Flash
2015 - 2016, voice (8 episodes)
2016
Supergirl
2016 - 2019 (5 episodes)
DC's Legends of Tomorrow
2016 - 2020 (4 episodes)
2017
Viven
voice, TV Movie
Krystal
Campbell Ogburn
2018
Tom and Grant
Grant
short
2019
Batwoman
Barry Allen/The Flash
("Crisis on Infinite Earths: Part Two")
Awards and nominations
Year
Award
Category
Result
2015
Kid's Choice Awards
Favorite TV Actor
Nominated
Saturn Awards
Best Actor in a Television Series
Nominated
Teen Choice Awards
Choice TV: Chemistry
Nominated
Choice TV: Breakout Star
Won
Choice TV: Liplock
Nominated
2016
Kids' Choice Awards
Favorite Male TV Star - Family Show
Nominated
Teen Choice Awards
Choice TV Actor: Fantasy/Sci-Fi
Won
Choice TV: Chemistry
Nominated
Choice TV: Liplock
Nominated
Saturn Awards
Best Actor on Television
Nominated
Quotes
"

That just broke my weird red carpet cherry.

"

—Grant Gustin
"

I have five fans,I think.

"

—Grant Gustin
"

I had slushie practice with a dummy for that one scene. At first, they gave me water to practice the momentum, and then I practiced throwing water in a dummy's face probably a hundred times before I was allowed to throw a slushie. Darren would have to go through hair and make-up again if I messed up. They were riding me, so I felt a lot of pressure. Thank God I got it in one take.

"

—Grant Gustin
"

Darren! I think we need a Sebastian/Blaine duet! That would be great.

"

—Grant Gustin, after being asked who he would like to sing with
"

He couldn't sing, he came out of the womb dancing, but when he was growing up, he worked his pants off on his voice with vocal coaches.

"

—Gustin's mother, on his success
Trivia
He has an older brother named Tyler and a younger sister named Gracie.
He is very good friends with Kevin McHale.
He has a tattoo on his right forearm, which says, "Love Above All Else," which he had done on March 13, 2012.
He was in West Side Story with Joey Haro who also portrays a Warbler.
He has a different tattoo, the state of Virginia with a star on the location of Norfolk as well as the area code "seven-five-seven," on his rib cage and his brother Tyler has a tattoo on the back of his shoulder.
He was a mentor on The Glee Project Season 2.
Auditioned for Sebastian with I'm Yours by Jason Mraz and Crazy Little Thing Called Love by Queen.
He is 6'2".
He is a self-confessed "mama's boy" according to his Twitter.
He's been performing since he was ten years old.
Superman is his favorite superhero and has a tattoo on his left forearm that reads: "Superman... I love him" written in his mom's handwriting.
He had highlights in his hair when he was younger.
His lucky number is 9.
On June 17, 2013, he was in the hospital because he when he was riding his bike to the gym, he took a tumble, which and dislocated his elbow and fractured his arm.
He won the coveted role of Barry Allen on Arrow and appeared in two episodes during its second season, as well as playing him in the spin off show The Flash.
He ships Kurtbastian.
He is one of two Glee actors to play a DC superhero in his own show, the other being Melissa Benoist. They had a cross-over in each other's shows.
He used to date dancer and model Hannah Douglass, who played a Cheerio and a Troubletones member.
He is the fourth Glee actor to make an appearance on Supergirl. The others are Melissa Benoist, Blake Jenner and Peter Facinelli.
Gallery
Videos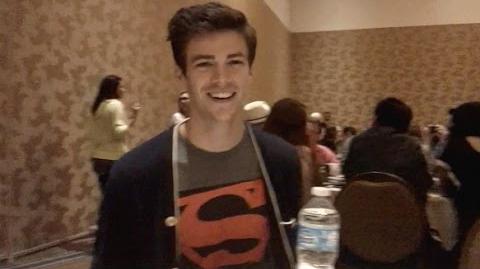 External links
References
Community content is available under
CC-BY-SA
unless otherwise noted.