Gwyneth Kate Paltrow, born September 27, 1972,[1] is an American actress, singer and food writer. She is known for her roles in Seven, Emma, Great Expectations, Shakespeare in Love, Iron Man (plus Iron Man 2 and 3), and she guest starred as Holly Holliday on Glee between 2010 and 2011. She won the 2011 Emmy Award for Outstanding Guest Actress in a Comedy for her role as Holly Holliday.
Personal life
Paltrow was born in Los Angeles, California to Blythe Danner, an actress, and Bruce Paltrow, late producer and director.[1] Her father was Jewish and her mother Christian. She has a younger brother, Jake, and is half-cousin of actress Katherine Moennig, and second cousin of former U.S. congress woman Gabrielle Giffords. 
Paltrow was raised in Santa Monica, where she attended Crossroads School, before enrolling in the Spence School, a private girls' school in New York City. Later, she briefly studied anthropology at the University of California, Santa Barbara, before dropping out to act.
Paltrow married Coldplay lead vocalist, Chris Martin, on December 5, 2003 in Los Angeles, California.[2] They have a daughter, Apple Blythe Alison (born 14 May 2004),[3] and a son, Moses Bruce Anthony (born April 2006).[4] Paltrow announced, in March 2014, that she and Martin would separate after 10 years of marriage.[5] The divorce became finalized in July 2016.
Paltrow was reportedly (as of August 2014) in a relationship with Glee's co-creator Brad Falchuk[6]; it was confirmed when the couple announced their engagement on January 8, 2018.[7] The couple married in September 2018.[8]
She is also the face of American fashion brand Coach, owner of the lifestyle company Goop.com and author of the cookbook My Father's Daughter: Delicious, Easy Recipes Celebrating Family & Togetherness.
Paltrow was named People's "World's Most Beautiful Woman" in 2013.[9]
Career
She made her acting debut on stage in 1990 and started appearing in films in 1991. Paltrow won an Academy Award for Best Actress for her work in the film Shakespeare in Love (1998). Recently she has played the role of Virginia "Pepper" Potts in Iron Man, Iron Man 2, Iron Man 3 and The Avengers. She is also known for her roles in films like Emma (1996), The Talented Mr. Ripley (1999), Shallow Hal (2001), and Proof (2005).
On Glee
In the Season One episode Throwdown, Finn mentions Gwyneth Paltrow and that she named her child Apple to Quinn in Spanish class when they were discussing baby names, which Quinn didn't want to do.
Paltrow appears in the episodes The Substitute, Sexy, and A Night of Neglect as Holly Holliday, a laid back and cool substitute teacher who helps some Glee kids with their problems.
Paltrow reprized her role as Holly in the 100th episode of Glee.[10] It was a two part episode that aired on March 18 and 25.[10]
Goop
Paltrow launched goop, a lifestyle company, in 2008. She announced that she was taking a break from acting to focus on goop 24/7 in 2016.[11]
Filmography
Year
Title
Role
Notes
1991
Shout
Rebecca
Hook
Young Wendy Darling
1992
Cruel Doubt
Angela Pritchard
TV movie
1993
Flesh and Bone
Ginnie
Malice
Paula Bell
Deadly Relations
Carol Ann Fagot Applegarth Holland
TV movie
1994
Mrs. Parker and the Vicious Circle
Paula Hunt
1995
Moonlight and Valentino
Lucy Trager
Seven
Tracy Mills
also credited as Se7en
Jefferson in Paris
Patsy Jefferson
Higher Learning
Student
uncredited
1996
Emma
Emma Woodhouse
The Pallbearer
Julie DeMarco
Hard Eight
Clementine
1998
Shakespeare in Love
Viola De Lesseps
A Perfect Murder
Emily Bradford Taylor
Hush
Helen Baring
Great Expectations
Estella
Sliding Doors
Helen
1999
The Talented Mr. Ripley
Marge Sherwood
2000
Bounce
Abby Janello
Duets
Liv
2001
Shallow Hal
Rosemary
The Royal Tenenbaums
Margot Tenenbaum
The Anniversary Party
Skye Davidson
2002
Possession
Maud Bailey
2003
Sylvia
Sylvia Plath
View from the Top
Donna Jensen
2004
Sky Captain and the World of Tomorrow
Polly Perkins
2005
Proof
Catherine
2006
Running with Scissors
Hope Finch
Love and Other Disasters
Hollywood Jacks
Infamous
Kitty Dean
2007
The Good Night
Dora Shaller
2008
Two Lovers
Michelle Rausch
Iron Man
Pepper Potts
2010
Glee
Holly Holliday
("The Substitute," "Sexy," "A Night of Neglect," "100" and "New Directions"; 2010 - 2011; 2014)
Country Strong
Kelly Canter
Iron Man 2
Pepper Potts
2011
Contagion
Beth Emhoff
2012
Thanks for Sharing
Phoebe
The New Normal
Abby
("Pilot" and uncredited)
The Avengers
Pepper Potts
2013
Iron Man 3
Pepper Potts
2014
Web Therapy
Maya Ganesh
("Call in the Light" and "Arguing in Agreement")
2015
Mortdecai
Johanna
2016
33 días
Dora Maar
Gallery
Official Account
References
Videos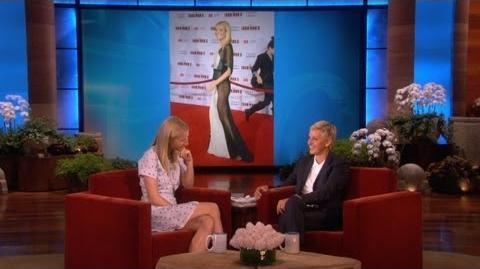 Community content is available under
CC-BY-SA
unless otherwise noted.