House of the Dragon Trailer - The Loop
Play Sound
Harry Shum, Jr. born April 28, 1982, is a American-Costa Rican dancer, singer, choreographer and actor. He is known for his role as Mike Chang on Glee and as Magnus Bane in the Freeform series, Shadowhunters.
Personal life
He was born in Puerto Limón, Costa Rica. His mother is a native of Hong Kong, and his father is from Guangzhou, China. The couple relocated to Costa Rica, where Harry and his two older sisters were born. When Harry was six years old, the family moved to San Francisco, California. Shum graduated from Arroyo Grande High School in 2000. He started dancing with his high school dance company team and continued his career in San Francisco under several different studios.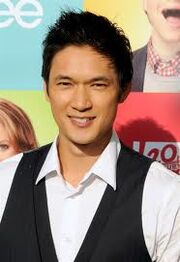 He has been engaged to longtime girlfriend Shelby Rabara since October 2013 and married her in November 2015.[1] In March 2019, the couple announced the birth of their first daughter, Xia.[2]
Career
Shum launched his career as the only male dancer on BET's Comic View in 2002 and has continued his dancing career from there. He was also one of the lead dancers with stars such as Beyoncé, Mariah Carey, Jennifer Lopez and Jessica Simpson. He won a dance competition to dance in an iPod commercial. He had also previously been in a McDonalds advert, when he was younger.
He also appeared in Zoey 101 and iCarly, but only as minor characters.
He currently plays Mike Chang, a dancer who joins the Glee Club, on the Fox musical television show Glee. Known for a while as the "Other Asian" on Glee, with very few lines during the show's first season, Shum's character was given storylines in the second season, mostly involving his relationship with fellow Glee Club member Tina Cohen-Chang (Jenna Ushkowitz), and his performances of Make 'Em Laugh in The Substitute, Sing! from A Chorus Line in Duets, Valerie in Special Education and the show's first dance solo in A Night of Neglect.
He was promoted from guest star to series regular for the third season, which is Mike's senior year of high school. He has already been given a major storyline in the third episode, Asian F, and performed Cool from West Side Story, his first solo song.
In June, it was announced that Shum would not be returning as a series regular on Glee's fifth season, but will instead be a recurring guest star, along with Amber Riley, Heather Morris, and Mark Salling.
In May 2015, Shum was announced to have been casted as Magnus Bane in the upcoming ABC Family/FreeForm series Shadowhunters.[3] He playing the role from 2015 to 2019.
Filmography
Year
Title
Role
Notes
2003
Boston Public
Fletcher
(Chapter Sixty)
2004
You Got Served
Dancer
2005
Committed
Chinese Delivery Guy #1
("The Apartment Episode")
2007
Viva Laughlin
Construction Dancer
("Pilot")
High School Musical 2 Dance-Along
Dancer
uncredited and TV movie
Stomp the Yard
Other Crew Dancer
2008
iCarly: iGo to Japan
Yûki
TV movie
Center Stage: Turn It Up
Club Dancer
Greek
Vance/OX Brother/Omega Chi Brother
(3 episodes)
Rita Rocks
Zack
("Flirting with Disaster")
The American Mall
Dancing Taco
TV movie
Step Up 2: The Streets
Cable
Zoey 101
Roy
("Trading Places")
The Onion Movie
Lollipop Love Dancer
2009
Glee
Mike Chang
2009 - 2015 (90 episodes)
2010
Step Up 3D
Cable
The LXD: The Uprising Begins
Elliot Hoo
Our Family Wedding
Harry
as Harry Shum
The LXD: The Legion of Extraordinary Dancers
Elliot Hoo
2010 - 11 (9 episodes)
2011
Top 100 Number Ones
TV movie
3 Steps to Self Esteem
Harry
short
Best Date Ever!
Stewart
short
Buffet
Lucas
short
3 Minutes
Harry - Hunter #1
short
2012
The Last
Man
video short
Already Gone
Scott Lee
short
White Frog
Chaz
2013
Mortal Kombat
Kuai Liang
("Kung Lao Reunite in Macau" and "The Cause of Liu Kangs Fall Is Revealed")
2014
Ballon
Avi
short
Revenge of the Green Dragons
Paul
Moms' Night Out
Joey
Caper
Luke
(9 episodes)
2015
Crouching Tiger, Hidden Dragon: The Green Legend
Tiefang
Fire City: The Interpreter of Signs
Frank
2016
Shadowhunters
Magnus Bane
2016 - 2019, main role
Single By 30
Peter
(8 episodes)
2018
Crazy Rich Asians
Charlie Wu
2019
Tell Me a Story
Brendan
2019 - 2020 (4 episodes)
Heart of Life
Brendan Winter
Burn
Officer Liu
Escape Plan: The Extractors
Bao
2020
Awkwafina Is Nora from Queens
Doc Hottie
("Grandma & Chill")
Other works
| Year | Title | Description |
| --- | --- | --- |
| 2007 | Karaoke revolution Presents: American Idol | special thanks |
| 2008 | The Teen Choice Awards 2008 | segment producer |
| 2008 | The Ellen DeGeneres Show's Even Bigger Really Big Show | co-choreographer |
| 2009 | "Glee" | soundtrack |
Links and Social Networks
Trivia
He is an avid tweeter (this is his Twitter ).

He got 1M followers on January 19, 2014.
He changed his username from iHarryShum to HarryShumJr in April 2014, after 5 years.

He was bullied in his youth.
He found a stray dog on the set of Glee, and decided to adopt him and name him Charlie after the character from All Dogs Goes to Heaven.
Understands Spanish & Cantonese, but can no longer speak the languages fluently.
His name in Chinese is 岑勇康.
He asked his date to prom over the phone (an act which he regrets).
He lost the keys to his car immediately after prom and had to have his mom pick both him and his date up (an act which he regrets even more).
He is a gadget geek/tech nerd and attends the annual TED (Technology, Entertainment, Design) Conference in Long Beach, CA.
He shares the same birthday with Jenna Ushkowitz (his previous on-screen lover) - April 28, though they are of different age.
When he was a kid, he liked to save insects.
His favorite movie is Singing in the Rain - he did a mash up of Singin' In the Rain/Umbrella.
The celebrity he wants to meet most is Jon Hamm.
He was rated 35th on BuddyTV's 100 Sexiest Men of 2010 list. [1]
He recently starred in a short film called "3 Minutes."
He prefers brunettes to blondes.
He prefers acting to dancing.
He has been a cast member of "The LXD" (Legion of Extraordinary Dancers) since 7/7/10 and is on www.hulu.com (he's also a choreographer and producer for the series as well).
His audition song for Glee was Nat King Cole's "L-O-V-E" and he and Jenna Ushkowitz got to perform the song in Season 3, Heart.
He ships Brittana and Puckleberry.
He is good friends with Jenna Ushkowitz, Kevin McHale, Chord Overstreet, Heather Morris, Naya Rivera and Amber Riley.
His favourite Disney film is Aladdin (@iharryshum Twitter Q&A session).
He has a crush on actress Julie Benz.
He has a new show called Remixed, which features two artists, mixing music and dance.
He claims his favorite TV role was on iCarly, he did an episode of the show.
He worked with Jon Chu three times in Step Up 2 and 3 and The Legion of Extraordinary Dancers.
His fans are called "AweShum."
He is the silhouette for the iPod commercials.
The Glee cast voted him as the one with the Best Body and the Biggest Geek alongside Darren Criss.
He is a low baritone.
Michael Jackson is one of his biggest inspirations. Source
Gallery
References
Videos