Warning!




This article contains information regarding unaired episode(s) and/or project(s). It may contain SPOILERS which are subject to change at any time. Continue reading at your own risk and don't believe everything on this page.

Heart [] is the thirteenth episode of the third season of Glee and will be the fifty-seventh episode overall. It is the Valentine's Day episode, and is written by Ali Adler. Source It will be directed by Brad Falchuk. Source This episode will air on Valentine's Day 2012 (February 14, 2012). Source They finished filming this episode February 1. Source
Plot
In honor of Valentine's Day, Will challenges the New Directions to find and perform the world's greatest love songs. Meanwhile, Rachel's two dads Hiram (Jeff Goldblum) and Leroy Berry (Brian Stokes Mitchell) pay a visit to McKinley High. Source
Love takes center stage at McKinley High as Valentine's Day approaches. While Mr. Schuester's weekly assignment to find and perform the world's greatest love songs has some of the Gleeks celebrating romance, for others it serves as a disheartening reminder of what they don't have. When Rachel's two dads learn of their daughter's engagement to Finn, the seemingly supportive couple offers to throw a celebratory family dinner… But do they have ulterior motives? Meanwhile, Artie and Rory compete for Sugar's affections, Sam gives Mercedes an ultimatum that forces her to look deep in her heart for answers, a new nonconformist student joins the ranks at McKinley and helps spread a message of acceptance, and Kurt is surprised by the discovery of a secret admirer. Source
Spoilers/Rumors
Plot
This character is portrayed by the Glee Project's co-winner Samuel Larsen. This character will debut in this episode and Samuel began filming on January 16. Source
This character will tie into a lot of pre-existing storylines. Source
This character's name used to be Apollo, but it was changed for Joe Hart. Source
Sam will make another play in this episode for Mercedes. Source
This episode has love, drama, and surprises for Sam and Mercedes. Source
There's love and heartbreak in this episode because Mercedes still has Shane and Sam is trying to get her to break up with him. Source
Will and Emma have a fight and Matthew Morrison believes a wedding in the near future for the couple is unlikely due to the series needing to focus on the graduating students. Source
Rachel's dads are hosting a dinner party.Source
This episode will be especially special for Tike. Source
New Character
His name is Nick and he's supposed to be an intimidating high school jock.Source
Scenes
Music
Damian McGinty
Amber Riley
Amber Riley recorded one of the biggest diva songs ever. Source
Amber Riley recorded another song. Source
Jeff Goldblum and Brian Stokes Mitchell
Jeff Goldblum and Brian Stokes Mitchell will sing at least one song. Source
Kevin McHale
Jenna Ushkowitz and Harry Shum Jr.
Harry Shum Jr. recorded a song on January 19. Source
Apparently, Jenna Ushkowitz and Harry Shum Jr. are doing a duet. Source
Samuel Larsen
Production
It was originally unknown if Blaine would be in the Valentine's Day episode since they were still filming it when Darren was off Broadway. Source 1 Source 2 Source 3 Source Chris Colfer, however, confirmed that Blaine will be making an appearance, though not in the way you might think. Source 5 Source 6 Source 7
Brian Stokes Mitchell, who will be playing one of Rachel's dads cracked up laughing when he read the script (the scene he is in). Source
Trivia
This is the second Valentine's Day episode, the first being Silly Love Songs in season two.
L-O-V-E by Nat King Cole. was Harry Shum Jr's (Mike Chang Jr.) audition song.
Songs
Songs confirmed on Amazon.com Source
Guest Stars
Pictures
Videos
Admin Warning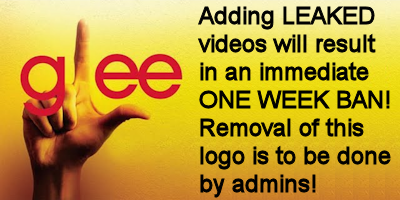 Glee Wiki Leaked Video Information Template:WatchedPage
Community content is available under
CC-BY-SA
unless otherwise noted.