Helen Lydia Mironoff, known by her stage name Helen Mirren, born July 26, 1945, is a 69-year-old English actress. She has won an Academy Award for Best Actress, four SAG Awards, four BAFTAs, three Golden Globes, four Emmy Awards, and two Cannes Film Festival Best Actress Awards.
On Glee, she appeared as the inner voice of Becky Jackson. She was heard in Yes/No and Prom-asaurus, the tenth and nineteenth episode of Season Three respectively.
Personal Life
Mirren was born in London, Queen Charlotte's Hospital, Hammersmith, London.
She married American director Taylor Hackford (her partner since 1986) on December 31, 1997, his 53rd birthday. The ceremony took place at the Ardersier Parish Church near Inverness in the Scottish Highlands. 
In 1990, Mirren stated in an interview that she is an atheist. In the August 2011 issue of Esquire magazine, Mirren said, "I am quite spiritual. I believed in fairies when I was a child. I still do sort of believe in the fairies. And the leprechauns. But I don't believe in God."
Career
She has appeared in theater, film, and television series. After a slew of lead roles on the London stage, her first big TV break happened in 1992 when she was cast as Detective Jane Tennison in the series, Prime Suspect. Perhaps her greatest role was that of Queen Elizabeth II in the 2007 film, The Queen.
Filmography
Year
Title
Role
Notes
1966
Press for Time
Penelope Squires
uncredited
1967
Herostratus
Advert Woman
The Extravaganza of Golgotha Smuts
TV Movie
1968
A Midsummer Night's Dream
Hermia
1969
Age of Consent
Cora Ryan
1970
Red Hot Shot
1971
Cousin Bette
Valerie
(5 episodes)
ITV Sunday Night Theatre
Rachel
("The Silver Collection")
1972
Miss Julie
Miss Julie
TV Movie
Savage Messiah
Gosh Boyle
1973
O Lucky Man!
Patricia
1974
Bellamira
Bellamira
TV Movie
Thriller
Stella McKenzie
("A Coffin for the Bride")
Play of the Month
Margery Pinchwife/Babbie/Orinthia
1974 - 77 (4 episodes)
1975
The Philanthropist
Celia
TV Movie
Caesar and Claretta
Claretta Petacci
TV Movie
1976
Hamlet
Ophelia/Gertrude
Great Performances
Stella
("The Collection")
1978
As You Like It
Rosalind
TV Movie
1979
The Quiz Kid
Joanne
S.O.S. Titanic
Stewardess: May Sloan
TV Movie
Caligula
Caesonia
Oresteia
Cassandra
("Agamemnon")
ITV Playhouse
Joanne
("The Quiz Kid")
Play for Today
Celia/Angela
1979 - 82 ("Blue Remembered Hills" & "Soft Targets")
1980
The Long Good Friday
Victoria
The Fiendish Plot of Dr. Fu Manchu
Alice Rage
Hussy
Beaty Simons
1981
A Midsummer Night's Dream
Titania
TV Movie
BBC2 Playhouse
Mrs. Reinhardt
("Mrs. Reinhardt")
Excalibur
Morgana
1982
Cymbeline
Imogen
TV Movie
1984
2010
Tanya Kirbuk
Cal
Marcella
1985
Coming Through
Frieda von Richtofen Weekley
TV Movie
The Twilight Zone
Betty Duncan
(segment "Dead Woman's Shoes")
White Nights
Galina Ivanova
1986
The Mosquito Coast
Mother Fox
The Gospel According to Vic
Ruth Chancellor
1987
Cause célèbre
Alma Rattenbury
TV Movie
Faerie Tale Theatre
Princess Amelia
("The Little Mermaid")
1988
Pascali's Island
Lydia Neuman
1989
Red King, White Knight
Anna
TV Movie
The Cook the Thief His Wife & Her Lover
Georgina
When the Whales Came
Clemmie Jenkins
1990
Bethune: The Making of a Hero
Frances Penny Bethune
The Comfort of Strangers
Caroline
1991
Where Angels Fear to Tread
Lilia Herriton
Prime Suspect
DCI Jane Tennison
("Episode #1.1" & "Episode #1.2")
1992
Prime Suspect 2
DCI Jane Tennison
("Episode #1.1" & "Episode #1.2")
1993
Prime Suspect 3
DCI Jane Tennison
The Hawk
Annie Marsh
The Hidden Room
Sarah
("Love Crimes")
1994
The Madness of King George
Queen Charlotte
Royal Deceit
Geruth
1995
The Snow Queen
Snow Queen
voice
Prime Suspect: The Scent of Darkness
Supt. Jane Tennison
TV Movie
Prime Suspect: Inner Circles
Supt. Jane Tennison
TV Movie
Prime Suspect: The Lost Child
Supt. Jane Tennison
TV Movie
1996
Prime Suspect 5: Errors of Judgement
Jane Tennison
Some Mother's Son
Kathleen Quigley
Losing Chase
Chase Phillips
TV Movie
1914-1918
Princess Evelyn Blucher/Margaret Randa
voice ("Collapse" & "Total War")
1997
Painted Lady
Maggie Sheridan
TV Movie
Critical Care
Stella
1998
The Prince of Egypt
The Queen
voice
Tracey Takes On...
Professor Horen
("Culture")
1999
Teaching Mrs. Tingle
Mrs. Tingle
French and Saunders
("Witless Silence")
The Passion of Ayn Rand
Ayn Rand
TV Movie
2000
Greenfingers
Georgina Woodhouse
2001
Gosford Park
Mrs. Wilson
Last Orders
Amy
Happy Birthday
Distinguished Woman
No Such Thing
The Boss
The Pledge
Doctor
2002
Georgetown
Annabelle Garrison
TV Movie
Door to Door
Mrs. Porter
TV Movie
2003
Prime Suspect 6: The Last Witness
Det. Supt. Jane Tennison
Calendar Girls
Chris
The Roman Spring of Mrs. Stone
Karen Stone
TV Movie
2004
Pride
Macheeba
TV Movie, voice
Raising Helen
Dominique
Frasier
Babette the Caller
voice ("Coots and Ladders")
American Masters
Narrator
("Cary Grant: A Class Apart")
The Clearing
Eileen Hayes
2005
Elizabeth I
Elizabeth I
("Episode #1.1" & "Episode #1.2")
Shadowboxer
Rose
Trailer for a Remake of Gore Vidal's Caligula
Tiberia
short
The Hitchhiker's Guide to the Galaxy' '
Deep Thought
voice
Third Watch
Annie Foster
("Revelations")
2006
Prime Suspect 7: The Final Act
Det. Supt. Jane Tennison
TV Movie
The Queen
The Queen
2007
National Treasure: Book of Secrets
Emily Appleton
2008
Inkheart
Elinor
2009
The Last Station
Sofya
State of Play
Cameron Lynne
30 Rock
Helen Mirren
uncredited ("Jackie Jormp-Jomp")
National Theatre Live
Christine Mannon/Queen Elizabeth II/Phèdre
("Phèdre", "The Audience" & "50 Years on Stage")
2010
RED
Victoria
Legend of the Guardians: The Owls of Ga'Hoole
Nyla
voice
Brighton Rock
Ida
The Tempest
Prospera
The Debt
Rachel Singer (Tel Aviv 1997)
Love Ranch
Grace Bontempo
2011
Arthur
Hobson
When Harry Met Sally 2 with Billy Crystal and Helen Mirren
Sharon
video short
2012
Hitchcock
Alma Reville
Glee
Becky's Inner Voice
voice, uncredited ("Yes/No" & "Prom-asaurus")
The Door
Emerenc
2013
RED 2
Victoria
Monsters University
Dean Hardscrabble
voice
Phil Spector
Linda Kenney Baden
TV Movie
2014
The Hundred-Foot Journey
Madame Mallory
2015
Eye in the Sky (post-production)
Colonel Katherine Powell
post-production
Trumbo
Hedda Hopper
post-production
Woman in Gold
Maria Altmann
completed
Gallery
Videos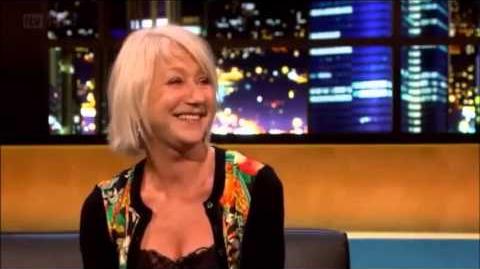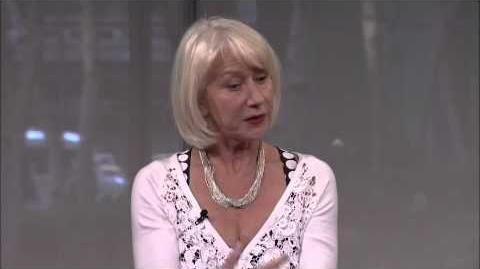 Community content is available under
CC-BY-SA
unless otherwise noted.