Hold on to Sixteen is the eighth episode of Glee's third season and the fifty-second episode overall. It premiered on December 6, 2011.
The episode features the return of Sam at McKinley, and the New Directions and The Troubletones participation at Sectionals. Quinn plans to get Shelby fired for sleeping with Puck after learning of their affair. After Rachel is suspended from school, the New Directions need more members, and Mike's father makes a decision about his son's dream of dancing due to Tina's words.
The episode was directed by Bradley Buecker and written by Ross Maxwell.
Plot
Quinn plans to get Shelby fired for sleeping with Puck. She wants to reclaim Beth and sabotage Shelby's rival glee club (The Troubletones) prior to Sectionals competition. Rachel insists that she will ruin Beth's life if she takes her from her true mother, Shelby.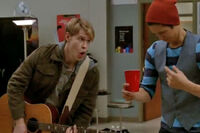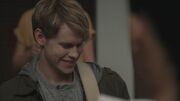 The New Directions needs 12 members to compete, but only has nine with Rachel suspended from school. Finn and Rachel travel to Kentucky to ask Sam to come back to McKinley High for Sectionals. Unknown to his parents, Sam is dancing at a strip joint to help paying family expenses; he wants to return to McKinley, and his parents agree to let him go. He is then seen in the choir room performing Red Solo Cup with the other members. At the end of the performance Santana walks in and reads him a welcome back note from her notebook, stating that she has written one just in case he was ever coming back. In the hallway, Quinn attempts to reconnect with him to help her reclaim Beth, but he rebuffs her. For the two final performances they need to be able to compete, New Directions recruits its bassist and drummer to instead sing and dance.
Kurt and Blaine are at the Lima Bean when Sebastian interrupts them and joins them at the table. The Warblers revealed to have won their Sectionals. When Blaine goes to get more coffee, Kurt warns Sebastian to stay away from his boyfriend.
Tina is appalled when Mike tells her that he will not be applying to dance schools as planned, but has instead applied to Stanford's pre-med program to please his father. When she tries to argue with him, Mike is angered and tells her if she doesn't understand maybe they should break up. Tina tries to intervene with Mike's father, but he remains convinced that dancing is too risky a path for Mike.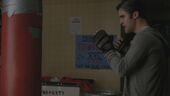 After a brief argument in the choir room between Blaine and Sam, which resulted in Blaine storming out angrily, Finn walks in the McKinley gym to find Blaine boxing a punching bag, and he explains that he was in the Fight Club back at Dalton. He confronts Finn about the problems Finn has with him, to which Finn admits that he was jealous of him. The two make up. Sam approaches Mercedes in the hallway, and they have a conversation about their past relationship. Sam states that he is going to fight to win back Mercedes.
Tina goes to Mr. Chang's office and hands him a bootleg copy of McKinley's performance of West Side Story. Mr. Chang wants nothing to do with it. Tina reveals that Mike is doing what he hates just to appease his parents when he could be doing what he loves. Tina also reveals that she wants to be a performer someday, it's what she was born to do just as Mike was born to dance. She then turns to Mr.Chang and discusses honor with him, and how Mr. Chang does not honor Mike's gifts.
Sectionals this year are being held in the McKinley auditorium. Before the competition the Troubletones come to see the New Directions and tell them they are welcome to join the Troubletones after they lose, much to the New Directions' offense. Also Mike is angry at Tina for talking to his father. The Unitards—led by Harmony —are first, performing Buenos Aires. Quinn leaves the auditorium to tell Principal Figgins about Shelby and Puck, but Rachel stops her and urges her to warn Shelby first. Quinn confronts Shelby, who tells her that she is resigning from McKinley and apologizes to her.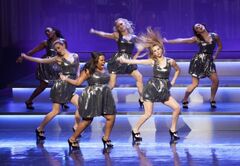 The Troubletones performs next, singing Survivor/I Will Survive. New Directions then performs ABC, Control and Man in the Mirror, and Mike and Tina are surprised to see Mike's father in the audience. Afterward, he tells the couple that he now understands that dancing is Mike's passion, and Mike should apply to the best dance schools. At first Mike is disappointed because he missed the deadline, but Tina revealed she applied for him, causing Mike to proclaim his love for her in front of his father. At the judging process, the Unitards finish in third place, which Harmony is surprisingly proud to receive. She and Kurt talk before she walks off stage. Kurt believes Harmony is very talented, to which Harmony smiles at and reveals that she is only a sophomore so she's only going to improve. The Troubletones are then announced as second place as New Directions are crowned first. The crowd slowly disperses and the group are left alone on stage as the lights dim.
Quinn decides not to reveal Shelby's secret for Beth's sake. Outside Figgins' office, Quinn thanks Rachel for stopping her from doing something she would have regretted her whole life, and the two become friends She also tells Rachel that she's thinking of applying to the drama program at Yale thanks to her growing love of performing. Quinn then convinces Rachel and Mr. Schuester to promise to feature the Troubletones members in all future New Directions competitions if they agree to be in the group. Quinn meets up with Mercedes, Brittany and Santana in the girls' washroom to tell them that they don't have much time left together in high school, and lets them in on the plan. She invites them to join New Directions in the auditorium for a victory number and to get ready for Regionals, saying they need a few more girl voices. Mercedes, Santana and Brittany look pensive as Quinn leaves.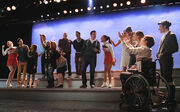 The girls, along with Sugar, show up in the auditorium and during We Are Young they start to sing and dance with the New Directions. Quinn waltzes Mercedes onto the stage, Sugar jumps onto Artie's lap, Rachel takes Santana by the hand and Brittany jumps into Rory's open arms. Eventually, Will walks in and is surprised, yet happy, at what he sees. Finally united and ready to take on the challenges ahead, New Directions celebrate with a massive group hug as the song ends.
Songs
Guest Cast
Special Guest Star
Guest Stars
Co-Stars
Guilford Adams as

Tickles the Clown
Others
Joan Schwartz as Dorothy Saunders
John Lock as Drummer
Absent Cast Member
Trivia
The title refers to Sam's favorite lyric in John Mellencamp's song, Jack and Diane, which he said to Quinn: "Hold on to sixteen as long as you can."
Fitting with the episode's theme of age and maturity, New Directions' setlist for Sectionals chronologically covers a lifespan: childhood (ABC), young adulthood (Control) and adulthood (Man in the Mirror).
This is one of three episodes submitted for the 2012 Emmys, the other two being "Asian F" and "Yes/No."
When the Survivor/I Will Survive performance was originally uploaded early to the Glee VEVO channel (before said channel got deleted), the performance was slightly longer; the performance opened with all of the Troubletones' backs facing the audience before they all spun around one after the other (this was while we hear the opening music to the song just before Santana sings the first line). However, in the episode - this part was cut and you instead hear the opening music to the song during the end of Shelby and Quinn's scene prior to the performance.
This episode contains the most amount of songs Quinn has sung in a single episode: four.
On the iTunes site for this episode, the summary includes "Harry", the name of Mike's portrayer, Harry Shum, Jr, instead of "Mike".
The competition in this episode is the only one in which Rachel doesn't participate during her high school career.
This is only the second time that Rachel doesn't sing in the setlist for a competition, the first time being 2010 Sectionals.
When the New Directions are celebrating their victory, Artie is clapping and you can see Kevin McHale's tattoo on his forearm.
Rory is the only New Directions member that doesn't sing in this episode.
This is the only competition setlist to have more than one song by the same group/artist/musical (the Jacksons). However, it can be argued that it isn't, since Janet Jackson wasn't an original member of the group, but was a later member).
Cultural References
Kurt mentions the ship RMS Titanic when he says "The Titanic has hit the iceberg and now we're on a sinking ship".
Errors
Quotes
"

It was that damn Trouty Mouth! Even I felt a little something in my lady loins when he did that magic sex dance.

"
"

Rachel: We're kind of friends, huh?
Quinn: Kind of.

"
"

Don't wish away your life. You're exactly where you're supposed to be.

"
Gallery
Videos