The Jake-Kitty Relationship, most commonly known as Jitty, Kake or Wilderman, is the relationship between Jake Puckerman and Kitty Wilde.
They first started dating in Britney 2.0, the second episode of Season Four and broke up in The Break-Up, the fourth episode of the same season.
Overview
Jake starts dating Kitty because he knows he won't get made fun of when he dates her, even though he knows that she is very mean. However, Jake breaks up with Kitty when she crosses a line by insulting Marley and her mother.
Since then, Kitty has shown interest in Jake, although she admits in Sadie Hawkins, the eleventh episode of Season Four, that she just doesn't want Marley to have Jake over her.
Episodes
Kitty overhears Jake telling Marley that his jacket looks good on her. She then interrupts their conversation and tells Marley that she is dating Jake. Jake doesn't really confirm it, implying that he doesn't see them as a couple yet, but Kitty takes Jake's jacket from Marley and caresses him in the hallway. They are seen together on the football field at the end of the episode, where Jake is seen serenading Kitty, while Marley is singing Everytime. (Britney 2.0)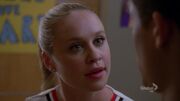 Kitty has started up a club called the Left Behind Club, which Jake joins and invites Marley to. Kitty leads the meeting at
Breadstix
 and has a discussion about the rapture while Jake and Marley talk between themselves. After the fake rapture that was committed, Jake meets with Marley at the lockers about what happened. Kitty meets up with them, and Jake calls off their relationship. Kitty blames this on Marley, and hands back Jake's jacket stating, "Obama's gonna lose."  (
The Break-Up
)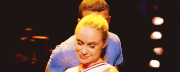 Kitty blatantly sees that Jake is jealous of the new quarterback, Ryder, and Marley. She has told people instead of him breaking up with her, that she broke up with him because he has "a gross third nipple." She then goes over to Ryder and Marley, and starts insulting Marley, which leads to Marley being in tears. Kitty, then, tells Ryder she's single and walks off. Kitty signs up to audition for the role of Sandy in the school musical, Grease. Jake auditions with her to make sure she doesn't kill Marley, but Kitty sees this as him trying to stop Marley fornicating with Ryder. They then audition with Everybody Talks, which Marley watches in sadness. They get a big applause. Kitty, Jake, Marley, and Ryder are all called back, but throughout the performance Kitty is left out. At one point Kitty is so jealous of Marley and Jake that she nearly hits Marley until Jake quickly moves her out of the way and picks Kitty up to distract her briefly. Kitty is then cast as "Patty Simcox," which annoys her. She then blames Jake for screwing up Hand Jive, where he replies that they were both great, but that it just didn't work out. Looking disappointed, she says that she's been hearing that a lot from him lately. (The Role You Were Born to Play)
Before mocking Marley by singing Look at Me I'm Sandra Dee, Kitty says "I'm Marley, I steal other people's boyfriends," stressing how she is bitter over her split with Jake. During the Grease performance, Jake flips up Kitty's skirt as she twirls. (Glease)
During the Marley/Kitty duet of Holding Out for a Hero, Kitty whips aside all the chairs to make a clear and obvious path from her to Jake and dances towards him, addressing some of the song towards him. (Dynamic Duets)
Jake and Kitty are dance partners during Gangnam Style. (Thanksgiving)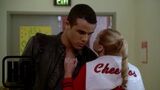 Kitty becomes jealous that Jake accepted Marley's invitation to the Sadie Hawkins dance, and tries to make Jake go with her instead. She locks herself up in a hallway with him to confront her ex-boyfriend. She tries to convince Jake that Marley will not want to have sex with him if they get together, and that remaining celibate would be challenging for him. Kitty also promises that she herself would have sex with Jake if he dated her again, and makes an attempt to seduce him at the same time. Having done that, she leaves the hallway they were locked into. (
Sadie Hawkins
)
Jake, along with Ryder and Sam, are using Kitty as a weight during the chorus of Centerfold/Hot In Herre. Jake and Kitty can also be seen working out together during the performance. In the Boys' Locker Room, Kitty and Tina caught Jake and Ryder having a pose-off. After Tina announced to Ryder what month he will be posting on the Men of McKinley Calendar, Kitty tells Jake that he will posing as June, which is a beach theme and October holding only a "Jake-o'-lantern" over his "naughty bits." She is later seen looking extremely bored and irritated during Jake's performance of Let Me Love You (Until You Learn to Love Yourself), which he dedicates to Marley. (Naked)
In this episode, she can be seen dancing with Jake during Shout. Kitty is fine with Marley dating Jake and even says, "We're both dating Puckermans" referring to her dating Puck. Kitty "attempts" to help Marley after she learns Ryder kissed her while she is dating Jake. (Girls (and Boys) on Film)
In Guilty Pleasures, the New Directions Girls, including Kitty, attack Jake as his guilty pleasure is Chris Brown's music and they attempt to prevent him from singing his songs as Chris Brown is seen as a bad artist. Kitty says, he is a douche when she talks to Jake. After Jake sings My Prerogative by another Brown, Bobby Brown, he thinks he has done the correct song, but Artie reveals to him that Bobby Brown put Whitney Houston on crack and Kitty, along with the girls, still hold some disappointment towards him for not researching the artists behind the music. (Guilty Pleasures)
After the gunshot, they were both in the choir room with the others. Kitty is sitting between Jake and Marley. When Kitty confesses to Marley and feels guilty about what she has done, she gets up and runs to the other side of the room as Jake attempts to stop her just in case the shooter is around.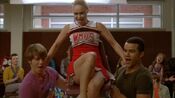 During Signed, Sealed, Delivered I'm Yours, Jake and Ryder dance with Kitty and lifts her up from time to time. When Kitty does back-up dancing for Kurt's solo, You Are the Sunshine of My Life, Kitty, Tina, and Marley stand behind Burt's seat and Jake can be seen staring at Kitty intently. (Wonder-ful)
They both joined the meeting of the Gaga's. Kitty notices that Jake has been sleeping all the time and is aggravated when Jake leaves rehearsal to choreograph for Bree and the Cheerios. They both sing with Tina and Unique in Wide Awake, and they later perform together in Roar. (A Katy or A Gaga)
Jake and Kitty are picked to be the twerk coaches for the New Directions (The End of Twerk).
Songs
Duets
Sang Together (In a Group Number)
Song
Episode

Solos with

Some Nights
Dynamic Duets
Blaine, Joe, Marley, Ryder, Sam, and Tina
Outcast
Sweet Dreams
Marley, Ryder, and Unique
Longest Time
Lights Out
Artie, Marley, Ryder, and Sam
Related Songs
Sang Together (In a Group Number)
Song
Episode

Solos with

Wide Awake
A Katy or A Gaga
Tina and Unique
Blurred Lines
The End of Twerk
Artie, Bree, and Will
On Our Way
Artie, Blaine, Marley, Ryder, Sam, Tina, and Unique
You May Be Right
Movin' Out
Artie, Ryder, and Will
Rockin' Around the Christmas Tree
Previously Unaired Christmas
Artie, Marley, and Will
Related Songs
Gallery
v - e - d

Glee Relationships




Character relationship(s) displayed:

Adam

Artie

Becky

Betty

Blaine

Bree

Brittany

Brody

Burt

Cassandra

Chandler

Cooper

Dani

Dave

Elliott

Emma

Finn

Holly

Jake

Joe

Kitty

Kurt

Lauren

Mario

Marley

Mercedes

Mike

Millie

Puck

Quinn

Rachel

Rory

Roz

Ryder

Sam

Santana

Sebastian

Shannon

Shelby

Sue

Sugar

Sunshine

Tina

Terri

Unique

Will
Community content is available under
CC-BY-SA
unless otherwise noted.