Jane Addams Academy
is a school for female juvenile delinquents. The head of their Glee Club is
Grace Hitchens
. Known members include
Aphasia
,
Jayelle
, and
Shadonza
.
Appearances
Will thinks Sue is spying on New Directions, so he goes to talk to Grace Hitchens to find out the truth. At first, she gets mad at Will because she thinks he's accusing her girls because they are juvenile delinquents. Grace tells Will that their glee club has to practice outside, so Will offers them to practice at The April Rhodes Civic Pavilion. The Jane Addams girls perform the song Bootylicious where they leave New Directions shocked and Will worried. Their method of winning uses hairography, which involves them using their hair and their sexuality to try and distract the audience from any imperfections in their routine. Intimidated by their performance, New Directions attempt hairography themselves, but ultimately cannot perform it as effectively as Jane Addams Academy can.
Sue leaks the New Directions set list for Sectionals to their competitors. Although Grace is reluctant to cheat at first, she also didn't want her girls to lose confidence in the power of love if they failed to win Sectionals. Using the stolen set list, they performed the songs that New Directions were going to perform: Proud Mary in wheelchairs and And I Am Telling You I'm Not Going as their ballad. New Directions are horrified by what has happened, and the group's temporary director Emma Pillsbury confronts Grace about the cheat. Grace initially refused to admit Emma was right, instead claiming she was doing it to help her girls. Emma shot back that if she wanted to help her girls, Grace should have shown confidence in their abilities rather than believing that they weren't good enough to win on their own without cheating.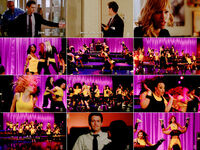 Afterwards, Grace apologizes to New Directions and intends to tell the judging panel they cheated. However, she is not able to do so as the judges have already made their decision - the New Directions have beat Jane Addams regardless. Although it was unannounced during the awards ceremony, during the scene in judges' room, it is implied they came in second.
Setlist from Sectionals
Sectionals 2009
Performed:
And I Am Telling You I'm Not Going from Dreamgirls. Sung by Jane Addams Girls
Proud Mary by Creedence Clearwater Revival. Sung by Jane Addams Girls
Jane Addams Academy Glee Club
Known Members
Trivia
Gallery
Community content is available under
CC-BY-SA
unless otherwise noted.