Wiki Targeted (Entertainment)
Play Sound
This article is about the actress Jane Lynch. You may be looking for the Season Six character Jane Hayward.
Jane Marie Lynch, born July 14, 1960, is a 60-year-old American writer, actress, comedian, and singer. She had starred on Glee as Sue Sylvester between 2009 and 2015, and made a Broadway debut as Miss Hannigan in Annie in 2013.[1] Her performance as Sue is highly praised, and she won a Golden Globe for her role in 2011.
Personal life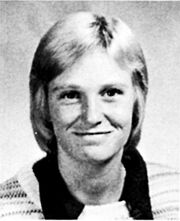 Lynch was born to Eileen Carney and Frank Lynchin, and grew up in Dolton, Illinois. [2][3] She was raised in a Catholic family and attended Thornridge High School.[2] She has two brothers, Bob and John, and a sister, Julie.[4] Her niece, Meg Doyle, is a production assistant on Glee.
Lynch had been married to Dr. Laura Embry for three years before announcing that they would be getting a divorce in 2013.[5] Embry is seeking more than $1.1 million per year in spousal support from Lynch, according to court documents.[6] Lynch and Embry's divorce was finalized in October 2014, with Embry getting $1.2 million in spousal support.[7]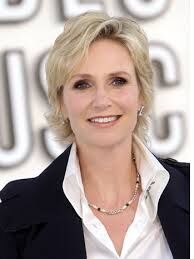 Lynch was honored with the Trevor Hero Award for her unwavering support of equality for LGBT people on December 8, 2013.[8][9]
Career
Lynch has played roles in comedy films such as Best in Show, The 40-Year-Old Virgin and Role Models, and is also known for her recurring roles on television as lawyer Joyce Wischina on The L Word, Dr. Linda Freeman, Charlie's sarcastic therapist on Two and a Half Men and as Spencer Reid's mother Diana Reid on Criminal Minds. She has appeared on iCarly as Sam's mom, Pam Puckett. She was also a regular on the comedy-drama series Party Down as Constance Carmell; the role garnered her positive critical response.
Lynch received a star on the Hollywood Walk of Fame on September 4, 2013 for her work as an actress.[10]
Lynch's voiced a character in the  FOX series Murder Police, which was picked up for thirteen episodes. The series was canceled by FOX on October 8, 2013.[11]
She began to host NBC's Hollywood Game Night in July 2013 and even won an outstanding host Emmy in August 2014.
Lynch would star as Amy in the CBS comedy Angel from Hell in 2015 until its cancellation in 2016.[12]
Lynch was announced to make a return to Criminal Minds as Diana after a seven year absence. She is set to appear in two episodes that will air in early 2017 for a centric Reid story.[13]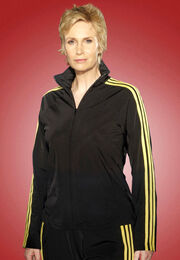 Glee
Main article: Sue SylvesterSince 2009, Lynch has played the role of Sue Sylvester in the FOX musical-comedy series Glee for which she has won an Emmy Award and a Golden Globe Award. Originally, Sue would be a recurring character, and Lynch would be joining an ABC show. The show, however, fell through, then Lynch was promoted to a starring role of Glee. Lynch's performance was well received by critics.
Sue Sylvester is the main antagonist of Glee, often picking on Will Schuester and his glee kids. She is the cheerleading coach of William McKinley High School, and a ruthless bully to her colleagues and students. Sue manages to show benevolence to some people, like Kurt and her handicapped sister, Jean.
Filmography
Year
Title
Role
Notes
1988
Vice Versa
Ms. Lindstrom
Taxi Killer
1992
Straight Talk
Gladys
In the Best Interest of the Children
Gwen Hatcher
TV movie and as Jany Lynch
1993
Empty Nest
Tammy
("The Girl Who Cried Baby")
Bakersfield P.D.
Michelle Hathaway
("Bakersfield Madam")
Fatal Instinct
Prison Reporter
The Fugitive
Doctor Kathy Wahlund
1994
The John Larroquette Show
Evaluator
("The Tutor")
Party of Five
Dr. Pennant
("Much Ado")
Married with Children
Greta
("Valentine's Day Massacre")
1995
NewsRadio
Carol
("The Cane")
In the House
Ruth
("Female Trouble")
1996
Frasier
Cynthia
("A Lilith Thanksgiving")
3rd Rock from the Sun
Mrs. Koppel
("Dick, Smoker")
Cybill
Mrs. Sweeney
("Educating Zoey")
1997
Touch Me
Counselor
1998
Caroline in the City
Hostess
("Caroline and the First Date")
1999
Dharma & Greg
Sheryl
("Play Lady Play")
Judging Amy
ASA Perkins
1999 - 2000 ("Pilot," "Drawing the Line," "Waterworld")
2000
Gilmore Girls
Nurse
("Forgiveness and Stuff")
Best in Show
Christy Cummings
Color Me Gay
Executive
short
JAG
Sandy's Friend
("The Witches of Gulfport")
Red Lipstick
Final TV Newscaster
What Planet Are You From?
Doreen
The West Wing
Reporter / Reporter in Briefing Room
2000 - 2001 ("In the Shadow of Two Gunmen: Part I," "Two Cathedrals")
2001
The King of Queens
Dr. Foreman
("Ovary Action")
The X-Files
Mrs. Anne T. Lokensgard
("Lord of the Flies")
Family Law
Cheryl Bowman
("No Options")
Boston Public
Jane Morrell
("Chapter Twenty-Four")
Arli$$
("Giving Something Back")
The Division
("The First Hit's Free, Baby")
Martini
Dr. Jane
short
Nice Guys Finish Last
Mom
shory
Popular
Suzi Klein
("I Know What You Did Last Spring Break")
The Weber Show
Carla
("And Then Jack Had Two Dates")
Dawson's Creek
Mrs. Witter
("The Te of Pacey")
Family Guy
Dotty Campbell / French Teacher
2001 - 2002 (4 episodes)
7th Heaven
Nurse
2001 - 2002 (4 episodes)
2002
MDs
Aileen Poole, RN, Ph.D
(10 episodes)
The Big Time
Miss Rush
TV movie
Felicity
Professor Carnes
("The Paper Chase," Ben Don't Leave")
Collateral Damage
Agent Russo
Titus
Prosecutor
("The Trial")
Hiding in Walls
Diane Moffet
video short
2003
According to Jim
Janice
("The Lemonade Stand")
Exposed
Julie Gross
Spider-Man
Oscorp Executive
("Heroes and Villains" and voice)
Stephen King's Dead Zone
Flo McMurtry
("The Storm")
Watching Ellie
Roman
("TV")
A Mighty Wind
Laurie Bohner
2004
Lemony Snicket's A Series of Unfortunate Events
Realtor
uncredited
Veronica Mars
Mrs. Donaldson
("Return of the Kane")
Memoirs of an Evil Stepmother
Blanche Monroe
short
How to Be a Hollywood Player in Less Than Ten Minutes
Hollywood Mogul
short
Sleepover
Gabby
Friends
Ellen
("The One Where Estelle Dies")
Surviving Eden
Maude Silver
Arrested Development
Cindi Lightballoon
("Shock and Aww," "Altar Egos")
Las Vegas
Helen Putasca
("You Can't Take It with You")
Monk
Dr. Julie Waterford
("Mr. Monk Gets Married")
NYPD Blue
Susanna Howe
("You Da Bomb")
Little Black Boot
Grace
short
Father of the Pride
Gift Store Clerk/Lily
2004 - 2005 ("Possession," "The Siegfried and Roy Fantasy Experience Movie" and voice)
Two and a Half Men
Dr. Linda Freeman
2004 - 2014 (14 episodes)
2005
The L Word
Joyce Wischnia
2005 - 2009 (15 episodes)
The Californians
Sybill Platt
Bam Bam and Celeste
Darlene
Illeanarama
Ann
Weeds
The Candyman
("Fashion of the Christ")
The 40 Year Old Virgin
Paula
The Life and Times of Juniper Lee
Madame Rothchild
("Magic Takes a Holiday" and voice)
Rodney
Amy O'Brien
("Rodney Moonlights," "Rodney's Big Shot")
Blind Justice
Dr. Taylor
("Four Feet Under," "Rub a Tub Tub")
CSI: Crime Scene Investigation
Ranger
("Unbearable")
Unscripted
Jane
("Episode #1.6," "Episode #1.7")
Promtroversy
Mimi Nimby (Concerned Parent)
short
2006
Eye of the Dolphin
Glinton
Holly Hobbie and Friends: Christmas Wishes
Joan Hobbie/Minnie
video short and voice
The Frank Anderson
Dr. Emily Brice
short
Lovespring International
Victoria Ratchford
(13 episodes)
For Your Consideration
Cindy
Talladega Nights: The Ballad of Ricky Bobby
Lucy Bobby
Fifty Pills
Doreen
Night Stalker
Scientist
("Into Night" and uncredited)
Desperate Housewives
Maxine Bennett
("Silly People")
Separated at Worth
Jennifer
Help Me Help You
Raquel Janes
2006 - 2007 (6 episodes)
Boston Legal
Joanna Monroe
2006 - 2008 (4 episodes)
Criminal Minds
Diana Reid
2006 - 2008 (5 episodes)
Handy Manny
Jackie / Jackie Greenway
2006 - 2012 (4 episodes)
2007
Walk Hard: The Dewey Cox Story
Gail the Television Reporter
American Dad!
Al/Doctor/Timmy's mom
(4 episodes)
Alvin and the Chipmunks
Gail
Holly Hobbie and Friends: Best Friends Forever
Joan Hobbie/Minnie
video and voice
Love Is Love
Reverend Greeley
short
The List
Dr. Davina
short
The New Adventures of Old Christine
Ms. Hammond
("The Real Thing," "Friends")
The Hammer
Woman Who Argues With Jerry
uncredited
Suffering Man's Charity
Ingrid Sorensen
Smiley Face
Casting Director
Campus Ladies
Professor
("Psych 101")
Area 57
Irene Maloof
TV movie
I Do & I Don't
Nora Stelmack
Untitled Christine Taylor Project
Janet
TV movie
2008
Easy to Assemble
Manager Swenka / Manager Gjorna
(15 episodes)
Role Models
Sweeny
Alex's Halloween
Mother
short
Web Therapy
Claire Dudek
("Psycho Analysis: Part 1," "Psycho Analysis: Part 2," "Psycho Analysis: Part 3")
Another Cinderella Story
Dominique
video
Psych
Commander Barbara Dunlap
("There Might Be Blood")
Space Chimps
Dr. Poole
voice
The Rocker
Lisa
Man Maid
Sabena
My Name Is Earl
Sissy
("I Won't Die with a Little Help from My Friends: Part 1")
The Toe Tactic
Honey Strumpet
Tru Loved
Ms. Maple
Adventures of Power
Joni
The Adventures of Captain Cross Dresser
TV movie and voice
Never Better
Linda
TV movie
2009
Post Grad
Carmella Malby
Julie & Julia
Dorothy McWilliams
Reno 911!
Therapist
("Wiegel's Couple's Therapy")
Ice Age: Dawn of the Dinosaurs
Diatryma Mom
voice
Leisure Suit Larry: Box Office Bust
Denise Lemon
voice and video game
Mr. Troop Mom
Miss Hulka
TV movie
The Spectacular Spider-Man
Joan Jameson
("Gangland" and voice)
Weather Girl
J.D.
Spring Breakdown
Senator 'Kay Bee' Hartmann
Big Breaks
M.J.
short
Party Down
Constance Carmell
2009 - 2010 (9 episodes)
Glee
Sue Sylvester
Herself
2009 - 2015 (121 episodes)


2014 ("Previously Unaired Christmas")

2010
The Cleveland Show
Ms. Eck
Sue Sylvester
2010 ("Love Rollercoaster")
2011 ("How Do You Solve a Problem Like Roberta?")
Marvel Super Hero Squad: The Infinity Gauntlet
Nebula
voice and video game
iCarly
Pam Puckett
("iSam's Mom")
Neighbors from Hell
Alex
("Country Club Hell," "Screw the EPA," "Fantastic 15" and voice)
The Super Hero Squad Show
Nebula
2010 - 2011 ("Double Negation at the World's End!," "When Strikes the Surfer!")
2011
Small Fry
Queen Neptuna
voice
The Simpsons
Roz
("Replaceable You" and voice)
Web Therapy
Claire Dudek
("Public Relations")
The Lady with 700 Cats
Narrator
TV movie
Phineas and Ferb
Mrs. Johnson
2011 - 2013 (4 episodes)
2012
Dino Time
Sue
Wreck-It Ralph
Calhoun
voice
Delhi Safari
Female Flamingo
voice: English version
The Three Stooges
Mother Superior
8
Maggie Gallagher
video
WordGirl
("The Rise of Miss Power, Part 1/The Rise of Miss Power, Part 2")
Abominable Christmas
Margaret Knowhow
voice and TV movie
The High Fructose Adventures of Annoying Orange
Cobb/Jane the Peanut
("Pop Star," "An Orange Carol" and voice)
2013
Escape from Planet Earth
Io
voice
A.C.O.D.
Dr. Judith
Afternoon Delight
Lenore
2014
Birds of Paradise
Rosie
voice and video
The Team Unicorn Saturday Action Fun Hour!
Dark Puba
("Pilot")
2015
Girl Meets World
Herself
("Girl Meets Farkle's Choice")
After the Reality
Doctor
post-production
Portlandia
Barbecue Planner
("4th of July")
Angel from Hell
Amy
Trivia
She shares her life with two dogs and two cats. She has a Lhasa Apso named Oliva, a Wheaten Terrier named Georgie, a Gray Tabby named Geta and a Red Tabby named Riley.
Her favorite Sue line is "That's what they said about a young man in Chicago in 1871, who thought he'd play a harmless prank on the dairy cow of one Mrs. O'Leary. He successfully ignited its flatulence, and a city burned, William. That young terrorist went on to become the first gay president of the United States, Abraham Lincoln."
She's deaf in her right ear.
She quit in the middle of her first play.
She loves coffee and the first pot in the morning needs to be perfect. She can do it over and over again.
Her dog wears a diaper.
She's afraid of elevators.
She sends her sheets to the cleaners.
She performed all her own singing and guitar playing in A Mighty Wind (2003).
She penned and starred in the award winning play "Oh, Sister, My Sister!"
Her favorite films are The Crossing Guard (1995), Ninotchka (1939), The Big Lebowski (1998), Zoolander (2001), and Private Benjamin (1980).
She's the tallest of her castmates.
She voiced Sergeant Calhoun, a female action game character from the 2012 movie Wreck-It-Ralph.
She made her Broadway debut as Miss Hannigan in a revival of the 1977's musical, Annie, from May 14 to July 14, 2013. 
She guest starred on Disney's Girl Meets World in 2015.
People sometimes call Jane: "Janer" and "Janie."[14]
Her favorite curse word is "f**k a duck"
Quotes
| | | |
| --- | --- | --- |
| " | [In an Interview with the UK Mirror on why she didn't tell her parents she is a lesbian until she was 31 years old] I didn't want to be gay. I wanted to be...I wanted an easy life. And you know what? I am gay and I still have an easy life. | " |
"

Lynch alone makes "Glee" worth watching.

"

—Mary McNamara, Los Angeles Times
Gallery
Videos
References