Jurassic World: Dominion Dominates Fandom Wikis - The Loop
Play Sound
Jenna Noelle Ushkowitz Stanley, born Min Ji on April 28, 1986, is an actress, singer, producer and podcast host. Ushkowitz is known for her roles in Broadway musicals and for being on Glee as Tina Cohen-Chang. She has won two Tony Award's for her work as a producer on Once on This Island and The Inheritance.
Personal Life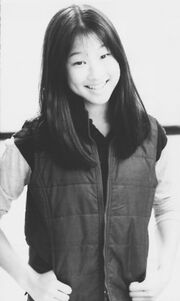 Jenna was born Ming Li in Seoul, South Korea. Three months later she was adopted and raised in East Meadow, New York. Her adopted family is of Polish descent, thus her last name, 'Ushkowitz.' Jenna was raised Catholic and attended Holy Trinity Diocesan High School, a Catholic school. She herself was on Glee, and has been compared to a "real Rachel Berry".
She graduated in 2004, and moved on to attend Marymount Manhattan College, where she once again took the role of Little Red Riding Hood in Into the Woods. She graduated from Marymount Manhattan in 2007 with a B.A. in Theatre Arts, with a concentration in Performance and a minor in Musical Theater. She's an intense LGBT rights supporter, shooting a photoshoot with co-star Kevin McHale, with whom she is close friends with (and previous roommate), to support the NoH8 campaign. Some time ago, she was romantically linked by the press to McHale, but both of them denied it; however later on, Ushkowitz revealed that she did have a crush on McHale.
She has left-oriented political views, and was an avid supporter of Barack Obama's 2012 campaign.
She was dating The Vampire Diaries star Michael Trevino; she confirmed that "they weren't together anymore" at The Normal Heart premier in May 2014.
She has been in a relationship with David Stanley since June 2018. The couple became engaged on August 2, 2020 and married on July 24, 2021. The couple's daughter was born in June 2022.
Career
Ushkowitz has been working in acting since she was quite young. She started her career when she was just 3 years old, modelling for printing ads.[1] Since 1988, she has appeared in TV programs such as Sesame Street, Reading Rainbow and As the World Turns. It wasn't until 1996, however, when she entered in Broadway, with the revival of The King and I. She has also appeared in the films "Educated" and "Babyface." Some years later, she joined the cast of Spring Awakening as an understudy for Ilse, Martha, Thea and Anna (in fact, all of the female child characters aside for Lea Michele's character in the show, Wendla).
Her first big role arrived with Glee, for which she first auditioned in New York. She won the role of Tina Cohen-Chang. Joining the cast has opened the doors to appear on plenty of TV Shows, such as The Tyra Banks Show, The 7PM Project, Australian Idol, The Bonnie Hunt Show, The 2009 Teen Choice Awards, The People's Choice Awards, The X-Factor, MasterChef and Entertainment Tonight. In 2011, she appeared at the eight episode of the first season The Glee Project, Believility. Recently, she starred at the 32th episode of When I Was 17 along with Deena Nicole Cortese and Patrick Stump.
She has also sung the National Anthem plenty of times for different sports matches, the first time when she was just thirteen. Along with co-star Kevin McHale, she sung Let It Be as a duet and Make You Feel My Love as part of the festivities for the 235th anniversary of American Independence at the American Ambassador's Residence in Paris. Ushkowitz has also appeared at different number of commercials, like Pizza Hut and most importantly a Dance Battle to promote the Dance Central 3 video game, with co-star Vanessa Lengies, and music videos, like Lady Gaga's Marry the Night, where she appeared as Gaga's best friend, Bo.
Asides from her acting and singing work in theater, cinema and TV, Ushkowitz has also launched a clothing line, teaming up with Wall Flower jeans and designing a back-to-school denim line. On July 2, 2012, it was announced that Jenna would write a memoir entitled Choosing Glee. Source Her book was published on May 14, 2013, and not only makes an autobiography of Ushkowitz, but it also focuses on her "motivational approach towards life" and gives tips and rules to find inspiration.
Ushkowitz co-hosts PodcastOne's "Showmance: Recap Edition", an in-depth review of Glee, with friend and former co-star Kevin McHale. It debuted in March 2019 and was subsequently released weekly (Thrusday's) with the occasional guest star. "Showmance" has been on hiatus since August 2020, after the death of friend and former colleague Naya Rivera.
Producer
Ushkowitz began building her production credits in 2015, when she was the executive producer of documentary Twinsters. The documentary about the touching reunion of separated adopted South Korean twin sisters Samantha & Anaïs resonated with Jenna as a close friend of Samantha Futerman and a South Korean adoptee herself. [2]
On her producing aspirations Jenna stated: "I've always wanted to produce. I've always wanted to be on the other side. Definitely direct. Definitely write ... You sort of want to be able to do all facets." [3]
Jenna Ushkowitz and Ashlee Latimer founded production company, UshkowitzLatimer Productions. Their first project was a revivial of Once on This Island. Their production ran from Dec 03, 2017 to Jan 06, 2019. Jenna became a Tony Award winning producer in 2018, when 'Once On This Island' won for Best Revival of a Musical. UshkowitzLatimer Productions began producing sci-fi musical, Be More Chill in March of 2019. [4] [5]
Musicals
| Year | Title | Role | Notes |
| --- | --- | --- | --- |
| 1995-1998 | The King and I | Royal Child | |
| 2006-2008 | Spring Awakening | Swing Role | Performed as Ilse, Anne, Martha or Thea |
| 2014 | Hair | Jeanie | 3 shows with an all-star cast at the Hollywood Bowl. |
| 2015 | The Wedding Singer | Julia Sullivan | Summer Season at the Pittsburgh CLO |
| 2016 | Waitress | Dawn | |
Filmography
Year
Title
Role
Notes
1988
Sesame Street
Herself
1988
Reading Rainbow
Herself
1988
As the World Turns
Herself
1989
Nick Jr.
Herself
1989
Babyface
Herself
1993
Sesame Street
Herself
2000
Little Bill
Basketball Girl
Episode: The Promise/The Practice
2001
Educated
Wendy
Short Film
2007
The Suite Life of Zack & Cody
Violin Player
Episode: Orchestra
2008
Yankees on Deck
Herself
2009–2015
Glee
Tina Cohen-Chang
Main Cast (Season 1-5)
Recurring Guest Star (Season 6)
2010
When I Was 17
Herself
Episode 32, with Patrick Stump and Deena Cortese
2011
The Glee Project
Herself
Guest mentor
Episode: Believability
2011
Glee: The 3D Concert Movie
Tina Cohen-Chang
Main cast
2011
Marry The Night
Bo
Lady Gaga's music video
2013
This Is How I Made It
Herself
Episode 10, with Ciara
2013
Master Chef
Herself
Season 4: Episode 10
2014
Celebrity Name Game
Herself
Season 1: Episode 8, Episode 21
2014
Twinsters
-
Executive Producer
2015
Hello Again
Marie
2016
Captain Underpants
Ms. Guided
Major Motion Picture; Voice Acting
2017
Yellow Fever
Asia Bradford
Hello Again
Marie
Swish Swish
The Rainmaker
Katy Perry and Nicki Minaj's music video
2020
1 Night in San Diego
Hannah
Links and Social Networks
Trivia
Her audition song for Glee was Waiting For Life To Begin from Once on this Island.
She is five feet, one inches tall.
She likes to make bubblegum pop.
She has known her co-star Lea Michele since she was eight years old.
She thinks she was a dolphin in a past life.
She drinks a lot of coffee.
She is scared of spiders.
She is a fan of Degrassi.
She has got matching tattoos with Lea Michele and Kevin McHale that say "Imagine," as a reference to the Beatles' song.
She wanted to be a Dolphin trainer in her childhood.
She loves The Vampire Diaries and was also dating Michael Trevino (Tyler Lockwood) from that same show. She also is good friends with most the cast, especially Nina Dobrev and Kayla Ewell who play Elena Gilbert and Vicki Donovan respectively.
She loves to eat sushi, and says she'll be a happy, happy woman if she could eat it every day.
Her favorite color is green.
All her Glee co-stars call her "panda".
She hates feet.
If she needs to write with a pen that has a cap, she needs to put the cap on the back or else she can't write.
She can imitate a crying baby.
She is a pet lover and has a Puggle named Riley.
She shares the same birthday with Glee co-star and on-screen ex-boyfriend Harry Shum Jr.
When she was in London, she was in an Apple store and a girl working there for her first day bent down on her knees and bowed down to Kevin and Jenna. Kevin McHale thought the girl would have got fired for that.
Her Twitter username is JennaUshkowitz, originally IJennaUsh, after IHarryShum.
She likes Zebra snuggies.
Her dream Broadway role is Kim in "Miss Saigon".
She has mixed feelings about Tike. In one interview she claimed Tina just liked Mike's abs, in another she said they were "cute".
She is the only cast member to actually be in a glee club during high school.
She is best friends with Kevin McHale and Becca Tobin, and very close friends with Harry Shum Jr., Chord Overstreet, Dianna Agron, Amber Riley and Lea Michele.
She ships Brittana, Finchel, and Klaine. She also prefers Tartie over Tike.
She is a Catholic.
She has six tattoos; one on her left shoulder, right wrist, left elbow, left arm, right foot and under her ribcage.
She was roommates with Kevin McHale for two years.
When she was 17, she pretended to be a foreign student and failed her driving test twice.
She had a crush on her gay friend like her character to Blaine; the writers loved the idea that Jenna dated gay men (men who came out after the relationship ended).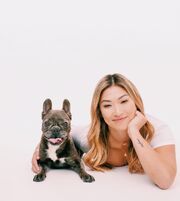 She admitted in an interview that she had spoken to the show's writers and producers, pitching storylines that would showcase her character. And replied; "You have to stand up for what you believe in, but you're dealing with your bosses. It's tricky," she says. "The story lines I pitched didn't make it in, but they heard me."
She is the third Glee actor who has written a book (Choosing Glee, 2013), the first ones being Jane Lynch in 2011 and Chris Colfer in 2012. She is followed by Naya Rivera, who released her memoir in 2016.
She thought she would become a veterinarian because she loves animals. (Choosing Glee).
Her mother's birthday is the same day as Lea Michele's.
According to her castmates, she's the best at twerking among all of them. However, she pretended to be bad at it because of Tina's storyline.
Jenna started working at a bagel shop when she was 17.
She has a dog named Bear.
She, Amber, Chris, and Kevin referred to their friend group as "Jack".
She is the fourth Glee cast member to win a Tony award after Kristin Chenoweth (April Rhodes), Idina Menzel (Shelby Corcoran), and Neil Patrick Harris (Bryan Ryan). She is followed by Ali Stroker (Betty Pillsbury).
Gallery
Videos
References