'Glee' Profile: Jesse St. James
"

A dream is something that fills up the emptiness inside. The one thing that you know, if it came true all the hurt would go away.

"

—Jesse St. James, Dream On
Jesse St. James is a recurring character on Glee. He was a senior at Carmel High School in Akron, Ohio, the male lead of Vocal Adrenaline and one of the main antagonists in Season One. He was instructed to befriend Rachel by Vocal Adrenaline coach Shelby Corcoran, who is secretly Rachel's biological mother. Jesse and Rachel began dating, and he briefly transfers to William McKinley High School, joining New Directions. Once the truth about Shelby is revealed, Jesse transfers back. He ends his relationship with Rachel by egging her in the McKinley High parking lot along with his fellow members of Vocal Adrenaline, humiliating her.
In Season Two, he returned to McKinley to apologize to Rachel about lying his situation and to rekindle their romance. However, in New York, Rachel chooses Finn over him thus leading to Jesse's departure.
In Season Three, he is appointed the new Vocal Adrenaline coach, replacing Dustin Goolsby. He takes Vocal Adrenaline to a Regionals victory and a second place at Nationals.
He is portrayed by actor and Broadway star, Jonathan Groff.
Biography
Personality
Jesse is essentially the male equivalent of Rachel Berry. Intense, talented, tactless and occasionally over dramatic, he seems to be driven to musical success, and hopes to one day be a famous performer. Jesse tends to come across as vain and conceited, and his hardcore desires have forced him to supposedly create an overly confident personality, which is arrogant, dismissive and rude. He claims that this behavior is a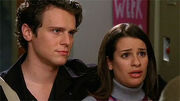 facade, and that beneath that he's actually a good guy. He also seems to rush into things, like Rachel does, such as a relationship with her in which both confess to be "deeply in love."
However, whether that is true was called into question, because he was suspected to be manipulating Rachel Berry to spy on New Directions for the Vocal Adrenaline coach, Shelby Corcoran. Even though he really was sent by his coach, Shelby Corcoran, it seems that he really was in love with Rachel. Jesse is also portrayed as a manipulator when it comes to light that he was sent by Shelby, Rachel's biological mother, to befriend her in order to bypass the illegalities that restricted Shelby from confronting her. When Jesse's work is done, he's forced to return to Vocal Adrenaline. As a means of breaking up with Rachel, he displays rejoining Vocal Adrenaline by funkifying New Directions and egging Rachel in the school's parking lot. Despite his heartless actions, Jesse does seem to really care about Rachel since his show face slips while the egging is happening, and because he tells her "I loved you" right before he cracks the egg on her head. Jesse returns in Prom Queen in season two. Although many are wary of his motives, Jesse tries to show Rachel he is genuinely sorry for the heartbreak he caused her and wants to make it up to her.
Although his character comes off as a jerk, he seems to really care about Rachel and wants to help her succeed and grab more solos (since, according to him, she deserves them and is New Direction's only shot at winning Nationals). When Jesse becomes New Direction's performance advisor in Funeral, he is seen as harsh when he attacks Finn verbally at rehearsal and gives immensely rude and dismissive negative feedback to Mercedes, Kurt, and Santana after the three auditions for a solo at Nationals and in Santana's place even ignore her performance in favor of doodling a cat. However, when Rachel performs he is shown to be rather supportive and even tries to manipulate Mr. Schuester into giving her the solo because he thinks she deserves it more than anyone else. However, the rest of the Glee kids question whether or not he's simply praising Rachel more in order to get back in her good graces. This opinion seems to partially supported by the fact that he tells Rachel that she got the solo, despite Will having not yet made a decision yet. This leads to him sharing a kiss with Rachel, during which he states that Rachel matters more to him than fame itself. Later he and Rachel give arrogant consolances to Kurt, Mercedes and Santana, until they realize that Will's decision wasn't the one Jesse promised Rachel.
Family
In The Power of Madonna, he stated that he had an uncle who lived within the McKinley High School district.
In the episode Funeral, it is revealed that Jesse had a mother, a father, a sister with bulimia, and a brother with an addiction. He claims his parents told him he was their favorite, leading his siblings to have difficulties in life.
Relationships
Main article: Jesse-Rachel Relationship (St. Berry)
Rachel and Jesse meet in
Hell-O
at a music store, and started dating. In
The Power of Madonna
, Jesse transfers to McKinley so they can go public with their relationship. Rachel hurts him by recording a video with him,
Finn
and
Puck
as the joint lead males. He transfers back to be in
Vocal Adrenaline
, and eggs Rachel. Jesse originally started dating her as a way to introduce Rachel to her birth mother and work on his acting skills (Rachel's mother says that she told Jesse to
befriend
her), but he has said that he did love her, and looked sincere. This sincerity is proven when Jesse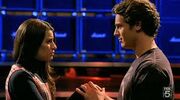 comes back to Lima in
Prom Queen
after failing out of college and asks Rachel to prom with her. He gets into a fight with Finn over Rachel at prom. It is appears that Jesse still obtains feelings for Rachel when he kisses her and tells her she's more important to him than fame is. In
New York
, Rachel reveals that Jesse has been texting her. During Nationals, Jesse shows he still has strong feelings for her when jealous of Rachel and Finn's kiss, but ultimately, Rachel chooses Finn.
After two years of absence, Jesse finally reunites with Rachel in 2015. Jesse has apparently been keeping track of Rachel's life, including her short-term fame on Broadway and failure on TV, and subsequently reviving the glee club. Knowing that she was auditioning for a new role on Broadway, Jesse pulled some strings to make it happen. Rachel, however, chose to return to NYADA over Broadway, saying that she believed it was a step in the right direction. The two depart, promising to see each other again and then share a kiss. In 2020, Jesse and Rachel are apparently married and famous as Broadway stars.
Songs
Total = 12
Solos
Duets
Solos (In a Group Number)
Song
Episode
Solos with
Like a Virgin
The Power of Madonna
Emma, Finn, Rachel, Santana, and Will,
Like a Prayer
Finn, Kurt, Mercedes, and Rachel
Run Joey Run
Bad Reputation
Finn, Puck, and Rachel
Total Eclipse of the Heart
Trivia
It is believed by many fans that the character was named Jesse so Finn could sing the song Jessie's Girl.
In an interview, when asked if Jesse actually loved Rachel, Jonathan Groff replied, "Yes, I think he did."
Despite Carmel High's known policy of purposely failing talented performers to keep them in Vocal Adrenaline, Jesse's Math and Science classes were taken for him by another student so he could pass.
He's the only New Directions member that didn't take part in any competition with them (he joined after Sectionals and left before Regionals).
He hasn't sung a duet with anyone other than Rachel .

Rachel also sung in every group number he participated in.

All his solos are sung with Vocal Adrenaline in the background.
Gallery
Quotes
Main article: Jesse's Quotations
Community content is available under
CC-BY-SA
unless otherwise noted.