Jonathan Drew Groff
, born March 26, 1985,
[1]
is an actor and singer. He is known for the originated role as Melchior Gabor in
Spring Awakening
and as King George the Third in
Hamilton
. He is also known for his roles in
Frozen
(and it's sequel), for his role on Netflix's
Mindhunter
and guest starred on
Glee
as
Jesse St. James
.
Personal life
Groff's parents, Jim and Julie, own a farm in Pennsylvania and even named one of their goat's Lea Michele. He has an older brother, named David.[2] He is best friends with the Glee star, Lea Michele. 
He was raised in Lancaster, PA as a Methodist. He first decided he wanted to work in show-business when he was 10 years old and saw a production of Annie Get Your Gun with his school. Before deciding he wanted to be an actor, Jonathan aspired to be a professional trumpet player.
In October 2009, Groff told Broadway.com during the National Equality March in Washington, D.C., that he is "gay and proud."
Groff was in a relationship with Zachary Quinto, Quinto confirmed it, until a reported break-up in July 2013.[3]
Groff resides in New York.
Career
He appeared in twelve episodes on Glee for two years on-off between 2010 and 2012; he would return for an episode in 2015. Groff lent his voice in the animated film, Frozen, in 2013.
Groff was casted in the new HBO series, Looking, in February 2013 and it received an eight-episode order.[4][5]  Looking began production in San Francisco in September 2013.[5][6] It debuted on January 19, 2014[5][7] and was picked up for a second season after a month of airing.[8] However, Looking was cancelled after the second season and will wrap up with a HBO special.[9] He is in pre-production of a new series, O.T.P.[10]
Filmography
Year
Title
Role
Notes
2007
One Life to Live
Henry Mackler
recurring guest star (11 episodes)
2008
Pretty/Handsome
Patrick Fitzpayne
("Pilot")
2009
Taking Woodstock
Michael Lang
2010
The Conspirator
Louis Weichmann
Twelve Thirty
Jeff
Glee
Jesse St. James
2010 - 2012, recurring guest star (14 episodes) and 2015, guest star (1 episode)
2011
Glee Encore
Jesse St. James
archive footage from Glee
2012
The Good Wife
Jimmy Fellner
("Live from Damascus")
Boss
Ian Todd
series regular (10 episodes)
2013
C.O.G.
Samuel / David
Frozen
Kristoff
voice
2014
The Normal Heart
Craig Donner
TV movie
Looking
Patrick Murray
2014 - 2015, series regular (18 episodes)
2015
American Sniper
Young Vet-Mass
O.T.P.
Dennis
2015 - 2016 (5 episodes)
Frozen Fever
Kristoff
voice and short
2016
Looking
Patrick Murray
TV movie
Lego Frozen Northern Lights
Kristoff/Sven
(4 episodes)
2017
Olaf's Frozen Adventure
Kristoff
voice and short
Mindhunter
Holden Ford
2017 - 2019, main role (19 episodes)
2018
The Simpsons
Actor Playing Bart
("Bart's Not Dead")
2019
American Murderer
Jason
short
Frozen II
Kristoff
voice
2020
#BlackAF
Jerome Sinfield
(3 episodes)
Hamilton
King George III
Quotes
"

No one knows you better than your best friend. Lea and I have shared pretty unique experiences since we met eight years ago. We've simulated sex more than 1,000 times on stage in Spring Awakening. We've performed everything from show tunes to "Like a Virgin" on Glee. I've seen her sing for the President and accept Billboard's first Triple Threat Award, and I've seen her laugh so hard she peed in her pants. Since Glee, she's inspired people across the world with her unapologetic ambition, insane talent, and astonishing grace. Me, especially.

"

—Jon on Lea and their friendship., "Spring Awakening" article, Teen Vogue March 2014.
"

When Lea and I carved our names in the theater, she said something so sweet. I still remember it because it meant so much to me. She said, "I would give up this entire experience for our friendship."

"

—Jon on Lea and their friendship., "Spring Awakening" article, Teen Vogue March 2014.
Trivia
He was nominated for a Tony Award for Best Actor for Spring Awakening in 2007.
He remains very good friends with his Spring Awakening costar, Lea Michele and says that she is his best friend.
Groff, along with other openly gay actors (including Sean Hayes and Neil Patrick Harris), were the target of a highly controversial April 2010 Newsweek article by Ramin Setoodeh that argued gay actors are not convincing playing straight characters. The article created a huge media backlash with many public figures (including Groff and Hayes' co-star, Kristin Chenoweth) decrying it as homophobic and defending Hayes's, Harris's, and Groff's performances as straight characters.
While Jonathan Groff was raised Methodist, his father was raised Mennonite.
He recently starred in Deathtrap in London.
He never went to college.
He starred in Broadway's production of Spring Awakening with best friend and Glee co-stars, Lea Michele, Phoebe Strole and Skylar Astin.
He was ranked number 7 on After Elton's hotlist 2011.
His favorite thing about LA is the traffic as it gives him opportunities to blast his music very loud and sing along with it on the way to work with the windows down.
Jonathan moved to LA recently after falling in love with the place while doing Glee, but he still has a place in NY because he claims he can never leave NY.
He has a 5 inch scar on his biceps because his dance partner for Bohemian Rhapsody accidentally scarred him with her stilettos.
Lea Michele stated that Lucky by Jason Mraz and Colbie Calliat is her and Jonathan Groff's theme song.
His star sign is Aries.
He was called out by Lea while she doing an interview with Jimmy Kimmel since he forget to call her on her 26th birthday.[12]
Jonathan appear along with co-star Idina Menzel in Disney's animated movie Frozen. He voiced the character Kristoff, the love interest of Menzel's character's sister.

Jonathan was the first openly gay actor to voice a major Disney character.

Lin-Manuel Miranda, who is Alexander Hamilton in Hamilton, calls Jonathan Groff, "Groffsauce".
Gallery
Videos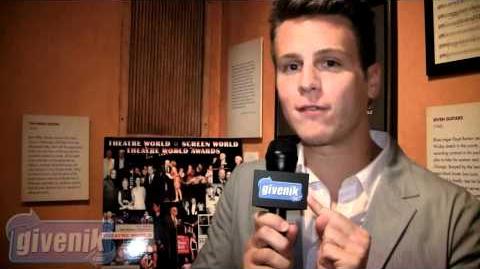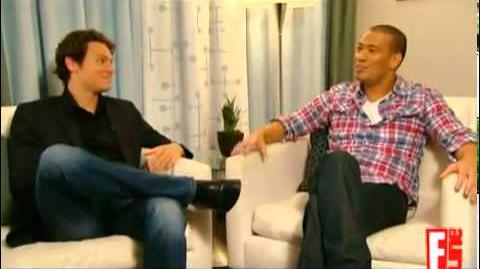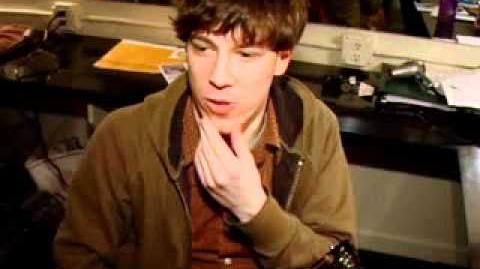 References
Community content is available under
CC-BY-SA
unless otherwise noted.