Kevin Michael McHale
, born August 23, 1988, is a 32-year-old American actor, singer, and dancer. He was a member of the boy band,
Not Like Them
(NLT), and is best known for his portrayal of Artie Abrams on
Glee
, presenter on
Virtually Famous
, and co-hosting two radio shows on DASH Radio.
Personal life
McHale was born in Plano, Texas. He later moved to Santa Clarita, California, where he attended Academy of the Canyons, a public high school. Looking back on his time there, he said "I hate being categorized so I intentionally didn't belong to a clique. I was friends with everyone." In April 2018, McHale came out as gay with a tweet. He is currently in a relationship with actor Austin McKenzie.
Career
McHale was in a boy band, NTL (Not Like Them), for six years- they made an appearance in Bratz: The Movie in 2007. He made his television debut in All That in 2005. He appeared in Zoey 101 for three episodes, The Office, and Ruthless, a short, in 2007. McHale would be in two episodes of the hit HBO show, True Blood, in 2008.
He auditioned for the of Artie, an paraplegic member of the Glee Club, on Fox's Glee with "Let it Be" in 2008 and got the role (and has been playing it since 2009). His first hit single on Glee was Dancing with Myself. Ironically, despite playing a wheelchair-bound character, McHale is one of the best dancers on the set. His dancing background was exhibited in Dream On, the nineteenth episode of Season One, in which he performed Safety Dance. He also danced in a dream sequence alongside Harry to the song Scream in the third season episode Michael.
In 2012, McHale hosted The Teen Choice Awards with Demi Lovato.
He appeared in Katy Perry's "Last Friday Night" music video alongside Glee co-star, Darren Criss.
McHale was announced to have joined the cast of Boychoir in late February 2014. It began production on 24 February 2014[1] and debuted that Sepetmber with limited release.
He is a presenter for the UK's game show, Virtually Famous, that began to air in July 2014.
In 2019, he participated in The X Factor: Celebrity in the UK, reaching the live shows.
McRiley and SOMOV
He and Amber announced that they will co-host a radio show every Friday. It airs on Dash Radio and is titled "McRiley", their ship/mashed together name; it began on September 26, 2014 - the same day it was announced[2][3], as of January 2015 ten episodes have been recorded.
McHale also co-host's another Dash Radio show titled "Sick of My Own Voice" with Justin Thorne, Brittany Burton and Amy Lynn Thompson. It began to air in February 2015 and aired on Thursday's.
Showmance
McHale and Jenna Ushkowitz co-host PodcastOne's "Showmance". It debuted in March 2019 and is subsequently released weekly (Thrusday's).
Filmography
Year
Title
Role
Notes
2005
All That
Mark
("On-Air Dares")
2007
Zoey 101
Dooley
2007 - 2008 ("Wrestling", and "Goodbye Zoey: Part 1 and 2")
The Office
Delivery Kid
("Launch Party")
Ruthless
Neighbor Neil
(short)
Bratz: The Movie
Boy in band
with NTL
2008
True Blood
Neil Jones
("Cold Ground" and "Escape from Dragon House")
2009
Glee
Artie Abrams
2009 - 2015 (120 episodes)
2014
Virtually Famous
Himself, Presenter
airing and in production
Boychoir
Wooly
2016
They Might Be Kennedy's
Teddy Mulligan

pre-production

2017
When We Rise
Bobbi Campbell
in production
2019
The X Factor: Celebrity
Himself
Links and Social Networks
Trivia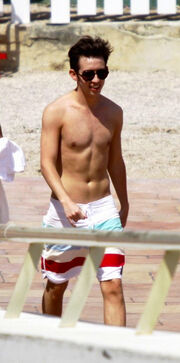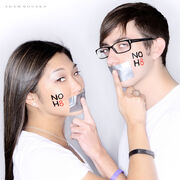 He supports the NO H8 campaign along with Chris Colfer, Jenna Ushkowitz, Ashley Fink, and Alex Newell.
He is right-handed.
His favorite color is Royal Blue.
His favorite artists are Michael Jackson and McFly.
The first CD he ever bought was from 2gether (a boyband from MTV).
His favorite TV shows are Misfits, Skins, and Brothers & Sisters.
Like Darren Criss and Chris Colfer, his favorite book series is Harry Potter.
His favorite holiday spot is Florida, USA.
During his audition, he didn't know all the lyrics and repeated some words, which made him think he wouldn't get the part.
He has a Golden Retriever called Bailey.
He is the uncle of Rose and Jack Horan.
He almost got the part of McLovin in the hit film Superbad.
He's 5'7 1/2".
Despite playing a paraplegic on Glee, McHale is actually one of the best dancers among the cast, along with Harry Shum Jr, and Heather Morris
Just like Jenna and Lea, he has a tattoo saying "Imagine" on his right foot.
In an interview, Dianna Agron said that out of all of the Glee guys, if she had to choose one, although she loves them all, Kevin is the most dateable.
He had a cameo role as Everett McDonald in Katy Perry's Last Friday Night with Glee co-star, Darren Criss. His character had a crush on Kathy Beth Terry. She didn't reciprocate the feelings, though it is shown near the end of the video she could be warming to him.
He had a crush on Tyra Banks.
He can't play guitar and he fakes it on the show.
He was a guest mentor on The Glee Project's season one episode Generosity, and season two's Adaptability.
During an interview, co-star Dianna Agron asked the cast "What was the most favorite moment of the season?." Kevin answered "Every time I sit next to you in a scene."
He is in an open relationship with his iPhone.
He was roommates with Jenna Ushkowitz.
He loves Brazil and often spends his holidays there.
He is a high baritone. His vocal range is A2-A5.
He is a fan of the TV show Doug.
He has admitted to being in love with Vanessa and her character Sugar.
When hosting the 2012 Teen Choice Awards with Demi Lovato, they spoke about growing up in the same food court. Apparently, Chord Overstreet, his Glee co-star, is also a friend of Demi Lovato.
He is the first Glee actor to make an appearance on True Blood. He is followed by Patrick Gallagher (Ken Tanaka), Anna Camp (Candace Dystra) and Tamlyn Tomita (Julia Chang).
Gallery
Videos
References
Community content is available under
CC-BY-SA
unless otherwise noted.