Kristin Dawn Chenoweth, born on July 24, 1968[1], is an American actress, singer, and author. She is known for her originated role in "Wicked," and for her roles on The West Wing, Pushing Daisies and Glee.
Personal Life
Chenoweth was born in Broken Arrow, Oklahoma and was adopted by Junie Smith and Jerry Chenoweth.[1][2] She has a brother, Mark.[2]
Chenoweth attended Oklahoma City University and was a member of Gamma Phi Beta sorority.[3][4] She earned a BFA degree in musical theatre and a master's degree in opera performance, studying under voice instructor and mentor, Florence Birdwell.[5][6]
Chenoweth took her talents into the pageant circuit, winning the title of runner-up in the Miss Oklahoma competition in 1991, in order to fund her higher education.[1]
She was in a relationships with Aaron Sorkin, Charlie McDowell[2] and Dana Brunetti.[7][8]
Chenoweth is in a relationship with Andrew Pruett.[9]
Her autobiography, "A Little Bit Wicked: Life, Love and Faith in Stages," was released in 2009.[2]
Chenoweth received the Hollywood Walk of Fame on 24 July 2015, with fellow Glee guest star Carol Burnett in attendance.[10]
Career
Chenoweth made her Broadway debut in "Steel Pier" in 1997.[2] She originated the role of Glinda in the Broadway musical, "Wicked," in 2003.
Chenoweth made her television debut on Annie and her film debut in Topa Topa Bluffs. She had a recurring role on West Wing and Pushing Daisies. Chenoweth was on GCB till it's cancellation.
Chenoweth's latest album, Coming Home, was released on 18 November 2014. It's a live album. And there's a PBS special which is broadcast on the 28th of November 2014.[11]
Chenoweth was announced, in August 2015, to have been casted in the animated My Little Pony film. Her character will be completely new and it is set for a 2017 release.[12]
She launched her own jewelry collection exclusive on HSN in Decmber 2015.
She announced, in August 2016, that she will be releasing her new album on September 23, "The Art of Elegance".
Glee
Chenoweth had a recurring role on Glee for three episodes during 2009 to 2011 as April. Chenoweth won a Satellite Award for 'Outstanding Guest Star' in 2010. In April she returned as her drunk, comedic character in Glee (April Rhodes) this time with more solos and duets with Matthew Morrison (Will Schuester). After a nearly two year absence, April once again returned in the 100th episode and its following episode,[13] which both aired in March 2014.[14]
Songs Sung in Glee
Covered Songs
Filmography
Year
Title
Role
Notes
1999
Annie
Lily St. Regis
TV Movie
Paramour
TV mini-series
LateLine
Kristin
("The Christian Guy")
2001
Frasier
Portia Sanders
("Junior Agent")
Elmo's World: The Wild Wild West
video
Kristin)
Kristin Yancey
11 episodes)
Seven Roses
TV Movie
2002
Baby Bob
Crystal Carter
("Talking Babies Say the Darndest Things")
Topa Topa Bluffs
Patty
2003
The Music Man
Marian Paroo
TV Movie
Fillmore!
Museum Guide
voice ("Masterstroke of Malevolence")
Sesame Street
Ms. Noodle
2003 - 2006 ("Episode #37.1" and "Oscar Moves to Different Locations"; uncredited)
2004
The West Wing
Annabeth Schott
2004 - 2006 (34 episodes)
2005
Bewitched
Maria Kelly
Great Performances
Cunegonde
("Leonard Bernstein's Candide, a Comic Operetta in Two Acts")
2006
Deck the Halls
Tia Hall
A Sesame Street Christmas Carol
Christmas Carol
video
Running with Scissors
Fern Stewart
Stranger Than Fiction
Book Channel Host
RV
Mary Jo Gornicke
The Pink Panther
Cherie
2007
Pushing Daisies
Olive Snook
2007 - 2009 (22 episodes)
Robot Chicken
Princess / Mother
voice ("Squaw Bury Shortcake")
Ugly Betty
Diane
("East Side Story")
Elmo's World: What Makes You Happy?
Miss Noodle
video
2008
Four Christmases
Courtney
Tinker Bell
Rosetta
video and voice
Space Chimps
Kilowatt
voice
2009
12 Men of Christmas
E.J. Baxter
TV Movie
Sit Down Shut Up
Miracle Grohe / Little Miracle
(13 episodes)
Tinker Bell and the Lost Treasure
Rosetta
voice
Into Temptation
Linda Salerno
Glee
April Rhodes
2009 - 2010 ("The Rhodes Not Taken" and "Home"); 2011 ("Rumours"); 2014 ("100" and "New Directions")
2010
Tinker Bell and the Great Fairy Rescue
Rosetta
voice and video
Legally Mad
Skippy Pylon
TV Movie
You Again
Georgia
2011
Submissions Only
Cindy Ruehl
("Yore So Bad")
2012
The Good Wife
Peggy Byrne
("The Art of War" and "I Fought the Law")
Hit and Run
Debby Kreeger
Lovin' Lakin
Kristin Chenoweth
TV mini-series
GCB
Carlene Cockburn
(10 episodes)
Hot in Cleveland
Courtney
("The Gateway Friend")
2013
Kirstie
Brittany Gold
2013 ("Arlo Moves In"); 2014 ("Like a Virgin")
Family Weekend
Samantha Smith-Dungy
Untitled Tad Quill Project
Marnie
TV Movie
2014
The Opposite Sex
Mrs. Kemp
BoJack Horseman
Vanessa Gekko
voice ("Say Anything")
2015
Micah the A**hole Ghost
Josephine
TV Movie and post-production
Descendants
Maleficent
TV Movie and post-production
Hard Sell
Lorna Buchanan
completed
Strange Magic
Sugar Plum Fairy
voice
The Boy Next Door
Vicky Lansing
Awards
1997 Theater Word Award — Steel Pier
1999 Drama Desk Award Outstanding Featured Actress in a Musical — You're a Good Man, Charlie Brown
1999 Outer Critics Circle Award Best Featured Actress in a Musical — You're a Good Man, Charlie Brown
1999 Tony Award for Best Featured Actress in a Musical — You're a Good Man, Charlie Brown
2004 Broadway.com Audience Award Favorite Onstage Pair — Wicked (shared with Idina Menzel)
2007 Broadway.com Audience Award Favorite Diva Performance — The Apple Tree
2009 Primetime Emmy Award Outstanding Supporting Actress in a Comedy Series — Pushing Daisies
Nominations
2004 Drama Desk Award Outstanding Actress in a Musical — Wicked
2004 Tony Award Best Actress in a Musical — Wicked
2005 SAG Award Outstanding Performance by an Ensemble in a Drama Series — The West Wing
2006 SAG Award Outstanding Performance by an Ensemble in a Drama Series — The West Wing
2007 Drama Desk Award Outstanding Actress in a Musical — The Apple Tree
2007 Broadway.com Audience Award Favorite Actress in a Musical — The Apple Tree
2008 Primetime Emmy Award Outstanding Supporting Actress in a Comedy Series — Pushing Daisies
Gallery
Videos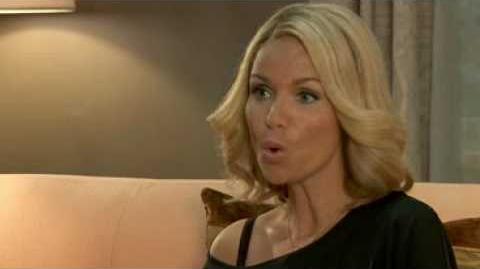 References