Lauren Elizabeth Potter, born May 10, 1990, is a 30-year-old American film and television actress. Potter is most known for her portrayal of Becky Jackson, the Cheerios co-captain on the hit TV show Glee.
Potter is also a strong activist for individuals with developmental disabilities and has travelled around the United States to speak out against bullying. She is connected to such organizations such as The Down Syndrome Association and the American Association of People with Disabilities and is currently a board member for International Best Buddies.[1] She currently resides in Laguna Beach.
Personal Life
Potter was born in Inland Empire, California and grew up in Riverside, California. She began taking dance classes with "typical" kids at the age of 2 years old and soon after became interested in acting. She blogged to Huffington Post in 2012 that she had dreamed of being on stage from the age of four years old, when she received her first standing ovation. She studied drama at Polytechnic High School in Riverside, California, where she graduated in 2009.[1]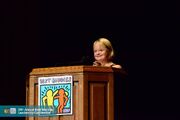 Like other children with disabilities, Potter was bullied by her peers growing up and even as an adult, still experiences hurtful name calling: "Recently, I've had girls behind my back say 'ret*rd' and that is so hurtful. That is why I support the 'Spread the Word to End the Word' campaign."[2]
In November 2013, Potter called out the cosmetic company Sephora (which partners with the department store JcPenny) for supplying a lipstick by Kat Von D called "Celebutard". On November 5, Lauren tweeted: "Really, @Sephora, 'Celbutard?' Not cool!" After Lauren's tweet and much backlash from Sephora and JcPenney customers, the lipstick color was pulled from Sephora shelves and they issued this apology: Thank you for bringing this manner to our attention. We are deeply sorry that the name of this lipstick has caused offence and we will be ceasing the sale of this shade from our stores and online.[3]
In February 2014, Potter was honored in Houston Texas with the Sammy Award for her advocacy work for people with disabilities by The River- Theatre Under the Stars, an organization that offers affordable arts education for people with disabilities. The Sammy Award is named for the organization's founder's daughter Samantha who was denied access to dance classes due to her disability. "Kids with disabiltities want to do the same stuff typical kids do," Potter told Broadway World.com in February, "They [The River] teach kids to dream big and I'm all for that!"[4]
Career
Lauren appeared in the film Mr. Blue Sky at the age of 16 as the young Andrea Little. The film depicts an unconventional love triangle between three childhood friends - two girls, one born with Down syndrome - and one boy, who all grow up fighting who they are inside and how they are perceived by society as a whole. The title is derived from a little girl's hope and love through the sun (Mr. Blue Sky). The film was released in 2007.[5]
In 2009 Lauren received a phone call from Down syndrome in Arts & Media (Formally Hearts and Halos), an in-house talent agency of The Down syndrome Association regarding a potential role on Glee. Lauren auditioned and landed the part of Becky Jackson. She has said of her audition: "I auditioned for Becky, and Robert Ulrich was pretending to be Sue Sylvester, and he was really mean. But I made it through. They chose me, and I was jumping up and down, laughing and crying at the same time".[6][7] She appeared in Glee's first season in the episode "Wheels" and continues to guest star in the series until the present day.
In 2012, Potter also appeared as Jenny in Leader of the Pack, a web-based comedy series about a black girl who sets out to save the planet and falls for a fun-loving white boy with Down syndrome who's blind to the love of the girl next door, (Lauren's character, Jenny). She has expressed an interest in acting on other TV shows, especially on Disney or Nickelodeon.[8]
During the summer of 2014, Lauren announced that she is working on a short film called Guest Room by Cicatrice Pictures in which she stars as a young woman who struggles with her identity, her relationship, and her potential as a mother on the day of an unplanned pregnancy with her boyfriend. It is currently being filmed in LA and is being produced by Lauren and Emily Best of Seed & Spark.[9]
Potter is very involved with advocating for individuals with disabilities, including Down syndrome. Potter is on the board of directors for International Best Buddies, a nonprofit organization dedicated to establishing a global volunteer movement that creates opportunities for one-to-one friendships, integrated employment and leadership development for people with intellectual and developmental disabilities (IDD). She has also teamed up in the past with Special Olympics CEO Tim Shriver in a campaign that was designed to engage policy makers, parents, and educators to stop bullying that individuals with disabilities are often faced with. In November 2011, President Barack Obama appointed Potter to the President's Committee for People with Intellectual Disabilities, where Potter advises the White House on issues important to that population such as community integration, employment, and education.[1] She also appeared alongside with Jane Lynch for a PSA (Public Service Announcement) for the campaign "Spread the Word to End the Word," which aims to end the use of the "R word".
Filmography
| Year | Title | Role | Notes |
| --- | --- | --- | --- |
| 2007 | Mr. Blue Sky | Young Andra Little | |
| 2009 | Glee | Becky Jackson | 2009-2015 |
| 2012 | Leader of the Pack | Jenny | Web comedy series, 3 episodes |
| 2013 | Streamy Awards | Presenter | |
| 2013 | Hero Dog Awards | Presenter | |
| 2014 | Guest Room | Amber, female lead | Short film 2014 |
Trivia
Unlike her character Becky, Lauren tried out for her high school's cheerleading squad, but did not make the team.
Potter received the 2012 Harold Russell Award  at the Media Access Awards, which honors individuals in the entertainment and broadcast industries for promoting the awareness of the disability experience, accessibility for individuals with disabilities, and the accurate depiction of characters with disabilities. Lauren's award was presented to her by fellow Glee cast mate Jane Lynch.
On June 1, 2013, at Hyannis Port, Lauren's team challenged football player Tom Brady's team in a Best

Buddies Challenge, a five-star, one of a kind cycling event that ended on the beach in Cape Cod. Lauren came in third place with teammate Carl Lewis.
Her favorite episode of Glee is The Rocky Horror Glee Show.
Potter starred in her first film at the age of 16, Mr. Blue Sky.
She is 4 ft 9in, making her one of the shortest of the Glee cast.
She has had a crush on four different Glee cast members: Matthew Morrison (Will), Chord Overstreet (Sam), Mark Salling (Puck) and John Stamos (Carl Howell).
While giving a speech at the Best Buddies International Conference just a week after Cory Monteith's death, Lauren paid tribute to her co-star, saying "Right now I want to pray for my best friend and co-worker, who played as Finn Hudson on Glee. We had a lot of fun together and he was nice and charming. He's my inspiration."
Like her character Becky, Lauren is an excellent poker player (according to her Twitter in which friends jokingly refer to her as a "card shark".) Lauren recently attended a charity poker event for her organization, Best Buddies.
She has a dog, a Wheaten Terrier, named Marley, in honor to Marley Rose from Glee.
Her favorite book is Twilight.
Lauren has lived in California all her life and saw falling snow for the first time when visiting Minneapolis in February 2013 for the ARC Gala. (Per her Twitter)
Lauren loves to dance and took dance classes as a child. She will sometimes attend dance rehearsals with the Glee cast and learn the routines for fun.
Lauren loves boy bands and is a big fan of both N'Sync and the Backstreet Boys. She has met Lance Bass. Lauren also loves Big Time Rush.
Her favorite Glee song cover is Don't Stop Believin'.
She considers Jane Lynch the funniest cast member.
Lauren is a member of the Down Syndrome Association of Los Angeles, the American Association of People with Disabilities, and has campaigned with both Special Olympics and AbilityPath.org against bullying and  

ending the use of the "R-word". (As per Lauren's Facebook).
Is a fan of the television shows Veronica Mars, Pretty Little Liars, and Homeland. Lauren has met a few of the Homeland cast members.
Her favourite color is red.
She enjoys going to see plays at Pantages Theater in LA and went to see Jekyll and Hyde and The Wizard of Oz recently.
Her favorite Christmas movie is Home Alone.
Lauren's zodiac sign is Taurus along with fellow Glee cast members Harry Shum, Jenna Ushkowitz, Dianna Agron, and Lindsay Pearce. She also shares the same birthday (May 10) with Charice, who played Sunshine Corazon.
She is close to cast members Darren Criss, Jane Lynch, Josh Sussman, Dot-Marie Jones and Chris Colfer.
She loves Starbucks, especially iced coffee.
Her favorite episode of Glee's fifth season so far is The Quarterback.                                  

Like her character Becky, Lauren considers herself a "Gaga" rather than a "Katy", though she does like both artists.
Her favorite food is pizza with pepperoni, sausage and buffalo wings.
Her current favorite movie is Teen Beach Movie.
Lauren's favorite costumes worn for Glee so far were the ones from Previously Unaired Christmas.
Her favorite brand of clothing is Modcloth, an online store that specializes in vintage and indie inspired clothing and accessories.
Christmas is Lauren's favorite holiday.
Her ideal breakfast is bacon, eggs and toast.
She has said her fans are her inspiration.
She has a special relationship with Darren Criss. Lauren has said he pushes her hopes up whenever she's feeling down.
Dogs are her favorite animal.
In celebration of Glee's 100th episode, Lauren tweeted that she would follow 100 fans if they tweeted their favorite Becky line from the show with the hashtag #ilovebecky. In some areas, #ilovebecky was a trending topic on twitter.
Lauren Potter appears in Goodnight Stories for Rebel Girls 2, by Francesca Cavallo and Elena Favilli, a book that tells 100 stories about inspirational women who made her way along difficult times in life.
Gallery
Quotes
"

Cory was always so nice to me. I have so many good memories. I hope my Glee family is O. K., I love them all."

"

—Lauren Potter, Regarding Cory Monteith's death and Glee cast via her Twitter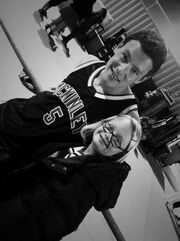 "

All the cast is so nice and fun to work with. It's fun to hang out with them on set. It feels like a big family when we are working together.

"

—Lauren Potter, In a 2010 Glee exclusive fan interview
"

I think it is great. A bunch of people have written to me to tell me how happy they are that I am on the show. I want them to see me as I really am, just a regular girl. The fans have been so great to me."

"

—Lauren Potter, Regarding how Lauren feels characters with Down syndrome have been portrayed on Glee
"

Like so many kids with disabilities, I have been bullied. Kids in elementary school would make me eat sand and those same boys would walk behind me, teasing me. Finally, I had enough, and I told them 'GROW UP'.

"

—Lauren Potter, To People Magazine in 2011
"

I want to encourage kids to speak up, tell their stories. That is the only way people will know what we have to go through. Believe in yourself. Someone once told me that being different isn't bad-different is just different!"

"

—Lauren Potter, To People Magazine in 2011
"

Some people told me that I wouldn't be able to do it, so I only paid attention to the people who told me that I could. Turns out, following this one dream lead me to discover even more dreams.

"

—Lauren Potter, To Huffington Post in March 2012
"

Being an actor isn't just fun and games. It is very hard work with very long hours. In one of the scenes [for film Mr. Blue Sky] I had to wear flannel pyjamas for hours when it was 90 degrees in August. But, I knew this was the job for me! I was in heaven!"

"

—Lauren Potter, To Huffington Post in March 2012
"

It has shifted, but not enough! I love working on Glee and hope that there are more and more parts for me and other actors with Down syndrome in television and movies so I can keep working for a long, long time. Actors with Down syndrome are just like any other actor, they want to follow their dream to act and have great roles; not just roles that are written for people with Down syndrome, but parts that are written for any man or woman. Parts that can be played by a good actor that just also happens to have Down syndrome.

"

—Lauren Potter, Regarding the availability of roles for people with disabilities in Hollywood in an interview to Fox News, November 2012
"

I felt that they trusted me as an actress. I was scared at first but now I feel comfortable.

"

—Lauren Potter, To Huffington Post April 2013 regarding her controversial role in the Glee Season 4 episode Shooting Star
"

I just love Jane Lynch, but in the show Sue's kind of mean. I don't like her that way. [laughs] But I really love her in real life she is one of the nicest and most awesome women I have ever met.

"

—Lauren Potter, To Huffington Post April 2013 regarding Jane Lynch and the character Sue Sylvester
"

Not really a fan. When it comes to football, I eat buffalo wings.

"

—Lauren Potter, Regarding how she feels about football
"

Robert Ulrich told me the producers wanted someone who was cute and also a little bit spunky. And I knew it had to be a girl with a dream, and who wasn't afraid to reach for the stars! The audition was pretty fun. I had to jump rope. But they wanted me to do it really badly: So of course, I did it really badly! We had a great time.

"

—Lauren Potter, Regarding her audition for Glee at the 2013 ARC Gala
"

A lot of you want to know about kissing Darren Criss. My mother always taught me a lady never kisses and tells.

"

—Lauren Potter, Via Twitter regarding Glee's Feud episode
"

To never fear anything.

"

—Lauren Potter, When asked what her biggest lesson is that she has learned doing Glee
"

Because of Glee I have been given a chance to pursue another dream of mine -- to make the world a more welcoming place for people who are different -- especially for people like me who have always been told 'you can't' instead of 'you can.' I want to live in a world where everyone can live, go to school and go to work without having to be afraid. Afraid of being judged, afraid of being bullied or cyber-bullied. Afraid of new things. Afraid of failure. Afraid of dreaming. In fact, I want to live in a world where people are actually celebrated for their differences, just as I celebrate mine!

"

—Lauren Potter, Huffington Post, June 2014
"

We're not related. Becky is a whole different person. She's mean, evil and a little biatch. But Lauren is pretty nice...Sometimes!

"

—Lauren Potter, during a Q & A session after her speech at the University of Illinois when asked, "Do you connect with Becky Jackson?", dailyillini.com, October 26th, 2014
"

We live in a diverse world, a diverse community. Because we're surrounded by so many people with disabilities, I think it is important to spread awareness...[..] I'm trying to let people know that some words hurt people. I want to live in a world where people care about other people.

"

—Lauren Potter, during her speech at the University of Illinois. October 26th, 2014, dailyillini.com, October 2014
Videos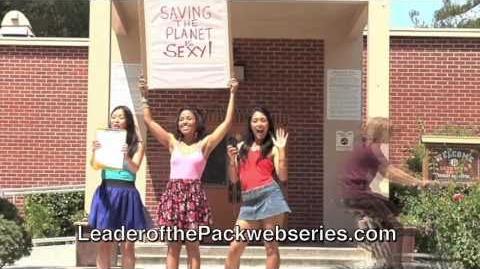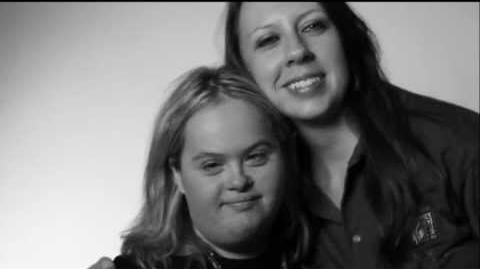 External links
Lauren Potter C/O Osbrink Talent Agency 4343 Lankershim Blvd, North Hollywood, CA 91602.[8]
References
↑ 8.0 8.1 [8] December 2013. Cite error: Invalid <ref> tag; name "Lauren's official Twitter" defined multiple times with different content
.