Lea Michele Sarfati, born August 29, 1986,[1] is an American actress, singer, and author. She is known for the originated role as Wendla in the Broadway Musical Spring Awakening, main role as Rachel Berry on Glee between 2009 and 2015 and another main role on Scream Queens as Hester.
Personal life
Michele was born in the Bronx, New York City to Edith and Marc Sarfati.[1] Michele grew up in Tenafly, New Jersey and attended Rockland Country Day School[2] for elementary school in New York and then Tenafly High School.[3] She was homeschooled one year while working in Toronto, Ontario on Ragtime, and attended Stagedoor Manor in the Catskills, a center for performing arts training.[4] Michele was then later accepted to the Tisch School of the Arts at New York University, but opted instead to continue working professionally on the stage.[5]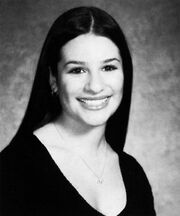 Michele adopted her stage name at an early age; when she went on her first audition, she gave her name as "Lea Michele," and has used it ever since. She has stated that she changed it because she was teased about the pronunciation of her last name.[6]
Michele became engaged to to AYR Clothing President Zandy Reich (pronounced Rich) in April 2018[7]; the couple married on March 9, 2019. Ryan Murphy officiated the ceremony while Jonathan Groff served as the man of honor.[8] The couple's son, Ever Leo, was born on August 20, 2020.[9][10]
She resides in Los Angeles and in New York with her husband and son.
Career
Broadway
Michele had no early ambition to be a singer. Her lucky break came when she tagged along with a friend to an open audition for a Broadway musical and as they say, fate stepped in. Michele was just eight when she landed her first Broadway role as Young Cosette in the New York production of Les Misérables. Three years later, Michele played The Little Girl in the original Broadway cast of Ragtime alongside Audra McDonald, Marin Mazzie, and Brian Stokes Mitchell. She later played Shprintze (u/s Chava) in Fiddler on the Roof and the title character in The Diary of Anne Frank.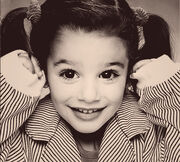 However, it was her role as fourteen-year-old Wendla Bergman in the new musical Spring Awakening that changed her life. Nominated for a Drama Desk Award for Outstanding Actress in a Musical, Michele won rave reviews from both critics and audiences alike.
Child Star
Michele has virtually grown up onstage, making her Broadway debut at age 8 as Young Cosette in Les Miserables. The young actress has hardly stopped working since, going from Les Mis to the Toronto and Broadway companies of Ragtime, followed by a brief stint in high school ("It was my fun, normal time!" she quips) and then the Broadway revival of Fiddler on the Roof. "I've kinda had to grow up fast," Michele says frankly, "but it's made me who I am. I have some awesome friends from high school, and I've also been able to work with people like Marin Mazzie, Audra McDonald and Brian Stokes Mitchell—I mean, come on! I wouldn't change any of it. This is exactly where I want to be."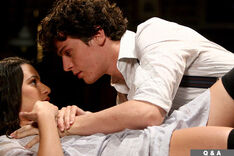 Sounds of Spring
Michele's journey with Spring Awakening began at 14 when she originated the role of Wendla in the first workshop. Since then, she's remained one of the only constants in the show's development. The other constant: Duncan Sheik's acclaimed contemporary rock score, which Michele declares she's "obsessed" with. "I was raised on the classic Broadway shows, but there's another side of me that's listening to Kelly Clarkson and rockin' out to pop music," she says. "That's the amazing thing about this show—the way that I grew up listening to Alanis Morissette's Ironic or the way that girls blast Since U Been Gone is the same way you can blast Bitch of Living or Don't Do Sadness. There's a song in Spring Awakening for every single kid out there going through all of the issues of growing up. That's why I'm most proud to be part of this show."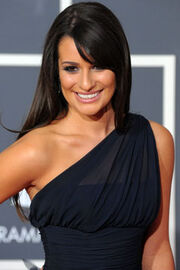 Baring It All
Michele has some of the most intense moments in Spring Awakening, including a controversial sex scene at the end of Act 1. Michele's character Wendla ends up topless onstage as she and co-star Jonathan Groff's character Melchior explore their sexuality for the first time. "People like to focus on that scene," she says. "I always get questions like 'How does it make you feel? How do your parents feel?' You know what? It's a sex scene. It's risky, but I am so comfortable working with [co-star] Jonathan Groff. He makes it easy for me." She's quick to point out that every cast member gets a moment to bare their souls onstage before the end of the show: "I don't consider [the sex scene] any more challenging or intense or risky than anything anyone else does on the stage," she explains. "Everyone is putting themselves out there." In 2016, Michele posed completely nude for the UK edition of Women's Health magazine. The spread included a shot of her doing a standing pose with her back to the camera, fully exposing her bare butt. She told the magazine that being naked was no issue for her and that she felt in her best shape physically and emotionally.[11]
Eponine or Wendla?
Michele faced a dilemma most young actresses would dream of—whether to play Eponine in the revival of Les Miserables (she was cast during rehearsals for Spring Awakening's off-Broadway run) or follow Sheik and company uptown. "I can't express to you how much I love Les Mis," she says. "I grew up with it. It will always be important to me. But after working on Wendla for six years, I felt I owed it to her and myself and the creative team to take this next step." She remains hopeful of getting another chance to sing "On My Own" one day. "Maybe they'll revive it a third time. Why not?" she says with a smile.
Role Model
Asked about her dream roles, the sprightly young actress speaks first of her favorite leading lady. "I'm such a fan of Idina Menzel!" Michele exclaims. "I think she's made a wonderful career in this business. I love her so much, and any role she's played, I'd love to be able to follow in her footsteps." Indeed, the "L" word becomes a refrain when Michele talks about her future onstage. "I love the theater!" she says with joy. "I'd love to be able to play all different roles, whether it's Maureen in Rent or Maria in West Side Story. I would just love to be involved in this business forever."
Television and movie roles
While on the west coast, she went along to audition for some television pilots. The second one she read for was Glee, and she was instantly cast as high school vocal diva Rachel Berry. Making the transition from theatre to television, Michele has continued to wow fans with her powerhouse lead vocals. This young actress has been nominated for two Golden Globes, an Emmy and a Teen Choice Award. She went on to win a Satellite Award in the Best Actress category, a People's Choice Award for favorite actress in a comedy and also shared a Screen Actors Guild award for an Outstanding Performance by an Ensemble in a Comedy Series.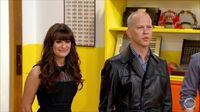 Lea landed her first movie roles with New Year's Eve (2011) and Dorothy of Oz (2012). In the movie New Year's Eve Lea played the role of Elise, who is a back up singer for Jon Bon Jovi. Dorothy of Oz, it is a computer-animated film based on the book by Roger Stanton Baum by the same name, Lea plays the title role of Dorothy Gale.
Lea guest mentored on the Season Two's premiere, Individuality, of The Glee Project.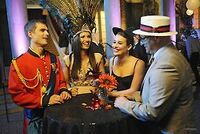 She appeared in an episode titled "Lea Michele's Halloween Bash," on Top Chef on October 30, 2013. The episode was shot in June in New Orleans and Lea brought her dad with her.[12]
She performed "Cannonball" on Ellen and The X Factor in December 2013, and on Tonight Show, Good Morning America (along with "Battlefield"), and Big Morning Buzz Live in March 2014. She performed "On My Way" on Ellen in March 2014.
Michele tweeted on 28 July 2014 that she gets appear on her favorite show, FX's Sons of Anarchy.[13]
Michele was announced, in January 2015, to have joined Murphy's new comedy horror anthology titled Scream Queens. It is set to premiere in the fall of 2015 on FOX[14] and her character's name is Hester.[15] It was originally assumed to be Brittany due to a leaked call sheet.[16] She confirmed she'll come back for the second season.
Michele was announced, in March 2015, that she will star in the William H. Macy directed film, The Layover.[17] However in May 2015, filming for The Layover had begun and Alexandria Daddario had since taken over Michele's role.[18]
In June 2016 it was announced that Michele and Robert Buckley will star in Hulu's six episode Anthology series Dimension 404. Michele will portray Amanda and Buckley will portray Adam.[19]
In February 2017, Michele was announced to be cast as a co-star in ABC's upcoming Untitled City Mayor pilot. If the series is to be greenlit, Michele will unlikely appear in the third season of Scream Queens - if renewed.[20] Michele began production as Valentina "Val" Barella on March 16, 2017. The Untitled City Mayor pilot would be titled The Mayor and would get an series order in May 2017.
In June 2019, Michele announced she would star as Olivia Anderson in a tv movie named Same Time Next Christmas for ABC. The movie filmed in August/September in Hawaii and air in December 2019.
Music
Louder
Michele revealed that she was on the road to making her debut album in September 2012.[21] The album was completed in June 2013 after nearly a year of production. It was supposed to come out in the 2013 summer.[22][23] However, due to the circumstances, the record has been pushed back to a release date in 2014.[24] She did the cover photo-shoot for her album on October 13, 2013.[25]
Michele, in an interview with ELLE Magazine, said that the album was done before Monteith's death and the studio asked if she wanted to add anything. She did, and "Cannonball" and "If You Say So" were added to the album. "If You Say So" were also the last words Cory said to Lea. When Michele thinks about Cory she plays "You're Mine" (recorded well before Cory's death) and says that "it was ours."[24]
The LOUDER track list was released on Michele's Instagram and Twitter on December 8, 2013.[26] The track list includes: "Cannonball", "On My Way", "Burn with You", "Battlefield", "You're Mine", "Thousand Needless", "Louder", "Cue the Rain", "Don't Let Go", "Empty Handed", and "If You Say so".[26] The deluxe version of the album consists of three additional songs; "What is Love?", "Gone Tonight" and "The Bells". An extra song "To Find You" was released on the Japanese CD version of Louder.[27]
The album was released on March 4, 2014 in the US, and March 3, 2014 in the UK. However, UK iTunes does not list the deluxe edition.[28]
"Cannonball" was written by Sia Furler,[29] "Empty Handed" was written by Christina Perri,[30] and "If You Say So" was co-written by Michele and Furler.[24] "Don't Let Go", "Cue the Rain" and "Gone Tonight" were co-written by Michele and Felicia Barton.[31]
Louder Tracklist
Snippets of the songs where released on Amazon.com in February 2014.[32] The full release versions of the songs was released in February 2014 on iTunes,[33] but won't be available for download till March 2014.
"Cannonball"[34] (released December 10, 2013. along with her album pre-ordered.)[35] "Cannonball" music video was released on January 9, 2014 and got 1M views on January 10, 2M on January 12, 5M on January 24, 2014, 6M in early February 2014 and 9M by early May 2014. "Cannonball" lyric video was released on January 29, 2014. "Cannonball" In Studio Performance video was released on April 15, 2014.
"On My Way" (it was released on February 24, 2014 and was available for download on February 25, 2014.) "On My Way" music video was released on May 19, 2014.[36]
"Burn With You" (it was released on February 25, 2014.)
"Battlefield" (premiered on JustJared.com on December 27, 2013, and was also available for download once her album was pre-ordered.)[37]
"You're Mine" (it was released on February 10, 2014 and was available for download on February 11, 2014.)[38]
"Thousand Needles" (it was released on February 25, 2014.)
"Louder" (surprisingly released on billboard BETA on January 13, 2014 and was also available for download the same day.)[39]
"Cue the Rain" (it was released on February 25, 2014.)
"Don't Let Go" (it was released on February 25, 2014.)
"Empty Handed" (it was released on February 25, 2014.)
"If You Say So" (it was released on February 25, 2014.)
Extra Tracks
"To Find You" (it was released on the Japan Louder CD version.)
"What Is Love" (exclusively released on The Music Mix (EW.com) on January 27, 2014 and was available for download on January 28, 2014.)[40]
"Gone Tonight" (it was released on February 26, 2014.)
"The Bells" (it was released on February 26, 2014.)
Louder signing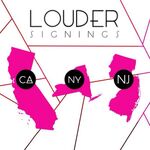 On 21 February 2014 Lea announced that she would do a LOUDER signing on the following dates:[41]
Westfield Garden State Plaza in Paramus, New Jersey on 3 March 2014 at 5pm.
Sony Store, Madison Ave in New York, NY on 4 March 2014 at 6:30pm.
Fye Smith Haven Mall in Long Island, NY on 5 March 2014 at 6pm.
Barnes & Noble, The Grove in Los Angeles, California on 8 March 2014 at 2pm.
Rue 21 in San Diego, California on 22 March 2014 at 3pm.
On March 3, 2014, Lea announce that in the summer she would be going overseas for some very special appearances and that there would be a tour for her album.
Places
Michele revealed at PaleyFest 2015 that she will begin to work on her sophomore album, beginning in April 2015.
She described it as a return to her "more standard kind of background".[42] She began recording on April 13.[43] The album was said to be released in early 2016[44], however it was changed to late 2016.[45] Michele would push back the release to early 2017 due to the second season production of Scream Queens.[46][47] The album will be released on April 28 and was available for pre-order on March 13.
Michele tweeted on June 7, 2016 that the final touches on the album were being made. Michele said it was done but was making some quick finishing touches in July 2016.[46]
Michele announced on August 4 that the album finally had a name although she didn't disclose it; Jon would help with the title and with some lyrics. She posted polaroid pictures of herself (and with others) throughout the years that held memories and hinted at the sophomore album's title for a week in January 2017. The title was revealed on January 26 to be Places.
Ali Tamposi wrote a song about a special moment in Michele's life for the upcoming album. The last track will be about Cory but it will be a hopeful song.[48] [49]
She did the cover shoot for the album on December 12, 2016 and filmed a music video for an unknown track from the album the following day.
There will be eleven songs, thirteen with the two bonus tracks. The tracklist will include: "Love is Alive", "Heavy Love", "Getaway Car", "Run To You", "Sentimental Memories", "Hey You", "Tornado", "Believer", "Proud", "Anything's Possible", and "Heavenly".[47][50][51][52] Two bonus tracks, "Truce" and "Letting Go", were available on the exclusive Target edition.
Michele and former Glee co-star and friend Darren did an acoustic version of "Getaway Car" in April 2017.
Places Tracklist
Snippets of songs were heard when Michele did "An Intimate Evening with Lea Michele" in three locations in January 2017. Michele announced that she'd continue the tour in March and would add more tour dates, it will begin in April and end in May.
"Love is Alive" (released on March 3)
"Heavy Love"
"Proud"
"Believer"
"Run to You" (released on March 30)
"Heavenly"
"Anything's Possible" (released on March 13)
"Getaway Car" (released on April 20)
"Sentimental Memories"
"Tornado"
"Hey You"
Truce (exclusive Target edition)
Letting Go (exclusive Target edition)
Christmas in The City
Michele announced her third album in May 2019[53] and it's an album she's "always dreamed of making".[54] The title and tracklist were revealed on September 18 through Michele's social media platforms and an exclusive article from People magazine. The music is slated for an October 25 release date and will feature Darren, Jonathan and Broadway star Cynthia Erivo on a track. The album's preorder will begin on September 20.
Christmas in The City Tracklist
"It's the Most Wonderful Time of the Year"
"Have Yourself a Merry Little Christmas"
"Christmas in New York"
"I'll Be Home for Christmas" (feat. Jonathan Groff)
"Do You Want to Build a Snowman?"
"Rockin' Around the Christmas Tree"
"Silent Night"
"White Christmas" (feat. Darren Criss)
"Silver Bells"
"Angels We Have Heard on High" (feat. Cynthia Erivo)
"O Holy Night"
Books
Brunette Ambition
Michele revealed that she signed a deal with Harmony Books to write her first book, titled Brunette Ambition, in May 2013.[55] The book will be a part memoir, part how-to and part style guide.[55] Michele gave a sneak peek behind the scenes photo of her at her Brunette Ambition cover shoot in May 2013.[56]
Brunette Ambition was set to be released on May 13, 2014 in hardcover and on audio - according to Amazon.[57][58] However, Brunette Ambition was pushed back a week till May 20.[59]
The Brunette Ambition book cover was released on February 3, 2014 and was then available for pre-order.[60]
She began to record the book on audio on February 23, 2014[61] and finished on March 9, 2014.[62]
She had a book signing for the release of Brunette Ambition in May 2014.
You First
Michele announced that she was writing another book on June 16, 2014.[63] She tweeted on December 23 that the book was all finished and would be out in the fall of 2015.[64]
The title of the book was revealed, in February 2015, to be You First: Journal Your Way to Your Life and would be released on October 27, 2015.[65] Michele gave a sneak peek behind the scenes photo of her at her You First: Journal Your Way to Your Life cover shoot in April 2015.[66] You First: Journal Your Way to Your Life was released on September 22, 2015.
The You First: Journal Your Way to Your Life book cover was released on April 25, 2015 and was then available for pre-order on Amazon.
She would have a book signing in September 2015
Filmography
Year
Title
Role
Notes
1998
Buster and Chanucey's Silent Night
Various characters
2000
Third Watch
Sammi
("Spring Forward, Fall Back")
2008
Around the Block
Herself
("Pilot")
2009
Glee
Rachel Berry
main role, 2009 - 2015 (121 episodes)
2010
The Simpsons
Sara
voice ("Elementary School Musical")
2011
The Cleveland Show
Rachel Berry
voice ("How Do You Solve a Problem Like Roberta?")
New Year's Eve
Elise
Elevator Story
2014
Legends of Oz: Dorothy's Return
Dorothy Gale
voice
Sons of Anarchy
Gertie
("Smoke 'Em If You Got 'Em")
2015
Scream Queens
Hester Ulrich
main role, 2015 - 2016 (23 episodes)
2017
Dimension 404
Amanda
Hulu Original Series
The Mayor
Valentina "Val"
main role, 2017 - 2018
2019
Same Time, Next Christmas
Olivia Anderson
ABC TV Film
Awards and nominations
Quotes
"

But as far as doing more television, I don't think that will be something I'll do unless it were some sort of continuation of playing Rachel Berry, because I think she's the greatest character ever.

"

—Lea
"

When we're doing the serious stuff, I'm like, 'Oh, let's get back to the comedy,' and when we're doing comedy, we crave more of those dramatic story lines. But I think it's so equally balanced on the show that I feel satisfied. I did every sort of tragic Broadway musical possible -- I died, I had abortions, I was poor, I was an immigrant. ... Thankfully, Glee came along because I just couldn't do the tragedies anymore.

"

—Lea
"

I remember looking up to Barbra Streisand in high school, and told myself 'Finally, Jewish singer who didn't get a nose job'.

"

—Lea
"

That wasn't supposed to be funny. That was my serious moment. Now I'm going to do it again and I want you all to cry.

"

—Lea, during her audition for Glee.
"

Listen, my father has offered Jonathan millions to marry me, right Jonathan?

"

—Lea, at an interview.
"

Cory is such a goofball. I swear to God, that kid can make me laugh.

"

—Lea
"

When Cory and I were doing our scene, the crew came up to us and they were like, 'Look. We just want you to know that Darren and Chris were really hot. They went for it,' So I was like, 'Listen, Monteith. We've got to do better than them. We've got to turn these people on! And we have to top those boys!' Poor Cory. But it was great. It really was.

"

—Lea, about the sex scene.
"

Broadway is the air that I breathe.

"

—Lea
"

I plan on playing every role on Broadway.

"

—Lea, on her career aspirations.
"

If anyone tells me I can't eat, then I'm going to tell them to you-know-what themselves.

"

—Lea
"

It wasn't until I came back to see the show that I was like, 'Oh my god. I did that every single night.' I was sitting next to people and I was like, 'Cover your eyes! Cover your eyes!'

"

—Lea, on the sex scene in Spring Awakening.
"

The first song I ever sang was "Angel of Music," and I haven't stopped singing since.

"

—Lea
"

I'm such a huge Radiohead fan. I wanted to make sure we kept the integrity of this incredible band.

"

—Lea, on singing Creep by Radiohead for Glee.
"

My personal style couldn't be any further from Rachel's. I am very comfortable, casual, and simple, and Rachel Berry is just Rachel Berry.

"

—Lea
"

Never be afraid to sing out.

"

—Lea
"

Don't forget to hug your friends today.

"

—Lea
"

I've always been proud of my body. Hollywood's Hollywood, but that's not going to change.

"

—Lea
"

When I was in high school, although I wasn't like Rachel, I understand her. I was similar in the sense that I didn't conform to what people thought was cool. It was important to do what I believed in.

"

—Lea
"

Glee means you're always a star no matter what. Dream big & never give up. Believe in yourself and who you are. Love, peace and happiness!

"

—Lea
"

When you learn to accept yourself and appreciate all the things that make you different and unique that's when it will get better.

"

—Lea
"

"Rise and Shine" along with a meaningful quote or hearts or a smile.

"

—Lea, on her usually Twitter quote.
"

Lea: It was a very hard show to do every night, emotionally. Um, I remember one night coming off stage covered in sweat – Jonathan's, not mine – and tears, probably some blood somewhere. And I just said 'ahh I just want to do a comedy!'

Jon: You don't miss my sweat?

Lea: I - [Lea laughing] I was going to say that I still get your sweat but that sounded really inappropriate. [Jon laughing]

Jon: Right and we'd have to explain the context [Lea first than Jon:] and we don't want to get into that.

"

—Lea and Jon, Sweat (and Spring Awakening).
"

Louder is like me, I'm loud, I come from an Italian family. I don't stop talking.

"

—Lea, why her album is titled Louder.
"

I somehow feel the insane love Cory and I had for each other morphed into this strength that I have now. There's just something about knowing he's watching everything I'm doing and feeling like I have to do everything now not just for me but for him. I also have a safety net below me - if I fall or if it's too much, my friends and family will be there to catch me.

"

—Lea, "Spring Awakening" article, Teen Vogue.
"

My favorite song in Louder is, 100 percent, "You're Mine" I listened to it the other day - it was the one song I had the most emotional reaction to, just because that's my relationship with Cory.

"

—Lea, "Spring Awakening" article, Teen Vogue.
"

During Glee, I felt like I was scratching that itch of being an artist. I was at a great place in my life and I was unbelievably happy - my relationship with Cory made me feel like I could reach for the stars and more. So I was like 'I'm going to challenge myself and do this record now.' It's obviously pop, but I think it shows me off as a singer.

"

—Lea, "Spring Awakening" article, Teen Vogue.
"

Lea: If I had to kiss you right now, I most certainly could not.

Jon: Really?

Lea: I don't think I could. I really think I would laugh too hard. Whereas we used to make the hell out.

Jon: Especially onstage. There was that one time - well, maybe I shouldn't talk about that while we're eating.

Lea: You were sick!

Jon: Yes. During the hayloft scene, where we always open-mouth kissed. I had the stomach flu and I was going to vomit in your mouth. You opened your mouth and I was like "Nuh-uh"

Lea: And at intermission you were vomiting so hard! I was laughing hysterically.

Jon: It wasn't funny! I was in so much pain. Ugh.

Lea: Remember the night we hid from security and slept in the scary-ass Eugene O'Neill Theatre with John Gallagher Jr.?! Oh, God, we had the best time. We sat on the stage with a bottle of wine and prayed to the theater gods for blessing us with such success. We pricked our fingers - I still have a black dot on my finger from that, by the way. We put a little blood on a paper and framed it. Christine Jones [the scenic designer] took that piece of paper and built it into the set that goes around with all the Spring Awakening touring productions.

Jon: When we carved our names in the theater, you said something so sweet. I still remember it because it meant so much to me.

Lea: Are you going to cry?!

Jon: A little bit.

Lea: What's wrong with you? Get it together!

Jon: You said "I would give up this entire experience for our relationship,"

Lea: It's so true. At the end of the day I would most certainly give up Spring Awakening, which was the greatest experience of my life, to have met you. In this lifetime, if there is anything you need, it's a best friend. It's so crazy to talk about Spring Awakening because I feel like we've lived ten lifetimes since then. I was the one always saying to you "I'll never get that part. No one will ever hire me." The biggest limits are the ones you make for yourself. You believed in me a lot.

"

—Lea and Jon on their friendship., "Spring Awakening" article, Teen Vogue.
"

There's just something about knowing he's watching everything I'm doing and feeling like I have to do everything now not just for me but for him. I also have a safety net below me—- if I fall or if it's too much, my friends and family will be there to catch me.

"

—Lea, The March issue of Teen Vogue
"

I'm not perfect but I love myself, flaws and all.

"

—Lea
"

That was actually my dad's idea. He wanted to do it and got one on his ankle. I thought it was so cool, so I went with him and got it too.

"

—Lea, on her number '5' tattoo
"

Obviously the last track was a song about Cory. And on this new one, the last song is about him again. But it's a very hopeful song because I'm in a different place. I'm stronger.

"

—Lea
Links and Social Networks
Trivia
She has a wide vocal range. Her vocal range is D3-D6. In an interview, she revealed she is a belter and soprano; however, she is often mistaken as a mezzo-soprano. Her vocal range spans 3 octaves.
She is Jewish on her father's side, but was raised Catholic.
She was roommates with co-star Dianna Agron for less than 6 months and Jenna Ushkowitz stayed with Lea in New York when they both got the call about Glee being picked up for 13 episodes.
She is good friends with her former Spring Awakening co-stars Jonathan Groff and Phoebe Strole.
Broadway fans also wished for the role of Rachel's biological mother to be played by fellow Broadway singer and legend Idina Menzel straight from the show's first episode due to their uncanny similar appearance. Lea and Idina had met through Broadway before and Idina is one of Lea's idols. Lea has said that she has been told her entire life how much she looks like Idina, who is also a fellow New Yorker.
She wants to do Sweeney Todd and Wicked with co-star Chris Colfer.
She only wakes up once she has had coffee, which she loves.
She once had a bumper sticker that said CHEERIOS on her car.
She is 5'3", 5'4" on a good day.
Her mom Edith gave up her career of nursing to support hers.
Her favorite song to record was Don't Rain on My Parade and favorite duet was Faithfully.
Her favorite song by Barbra Streisand is My Man.
She wants a quaint house, a husband, a stable job, a pet or two and a few kids before she dies.
Cory Monteith was the one who gave her a Twitter account and her twitter name @msleamichele in 2009. He actually put Rachel Berry as her password but Lea changed it. She would delete her account in July 2020.[67]

She changed her handle name in February 2017 to LeaMichele.

She has 18 tattoos as of 2016.

A gold star for Rachel
'I Believe', a song from Spring Awakening in teal ink on her right wrist
A butterfly on her back for her mom; another butterfly on her foot for her cousins
A tattoo on her left hand side (her left rib - a cross and "My Angel Now") in memory of her deceased grandfather
Two music notes from Queen's 'Bohemian Rhapsody' on her right shoulder
A tattoo with the word "Imagine" that Kevin McHale and Jenna Ushkowitz also have.
On July 16, 2011, Lea Michele announced that she got 2 new tattoos, 1 out of the 2 can only be identified, but the other one remains unknown.
"Our city, our love" on her foot, which was later altered to butterflies.
She and Cory had unknown matching tattoo's, suspected in 2012 (confirmed December 2013).
In October 2013, a new tattoo with the words "If You Say So", which was Cory's last words to her, was seen. However, the tattoo would be covered up with another in 2019.
In December 2014, she posted a picture of herself and then boyfriend, Matthew, getting a tattoo together.
In April 2016, she posted a picture of her new tattoo, a small coffee cup in memory of her deceased grandmother.
In April 2016, she got the number '5' in memory of her quarterback along with her father.
In July 2016, she was seen with a "Finn" tattoo (revealed on the cover of Women's Health; got in December 2011).

Before her audition for Glee, she rented a car and ended up in a car crash minutes before her audition. She ditched the car on the side of the road and ran to her audition. She had chunks of glass stuck in her hair and started pulling them out during the audition, but was not injured.
She got accepted to Tisch School of the Arts at New York University, but opted instead to continue working professionally on the stage.
She said if she wasn't an actress, she would be a lawyer.
On her Twitter, she said that her favorite things to do when she's not working is: watch any show on Bravo, cook, go on a hike, talk to her family, and hang with her friends.
She has belted an A5 during Halo/Walking on Sunshine.
Her dream Broadway roles are: Eponine (Les Mis), Eva Perón (Evita), and Elphaba (Wicked).
She would love to perform with Barbra Streisand or Celine Dion one day.
Her favorite song to perform in the 2011 Glee Live! tour is Happy Days Are Here Again/Get Happy with Chris Colfer.
Her favourite soup flavour is lentil.
She taught Mark Salling how to speak gibberish.
She stated that "Lucky" by Jason Mraz and Colbie Caillat is her and Jonathan Groff's song.
She stated that while she and Jonathan were in Spring Awakening, their nicknames were "Mom and Dad". Then one day she went into a cab and told Jonathan "Bye Dad!" and the cab driver overheard and asked her "Is he really your dad"?[68]
She meditates, which she expresses is good for the soul.
Her favorite movie is "Almost Famous".
Her favorite book at one time was is "Girl with the Pearl Earring".
Her favorite color is purple with a hint of lentil.
She once had a dog; a Yorkshire Terrier named Mia.
She said (before the end of Season 1) that if she had to bet if Rachel would end up with Jesse, Finn, or Puck, it would have to be Jesse.Source
She slapped Robert Ulrich (Glees casting director) in the face for her audition for Glee. The original script was for her to slap Finn, but since Finn wasn't there she slapped Robert Ulrich. Source
For the Lady Gaga Bad Romance dance number, she got injured, hence a floor-length dress to a special occasion, since she stated her injury was the size of a Golf Ball.
She cannot play an instrument.
Her audition song for "Spring Awakening" is I Don't Know How To Love Him from "Jesus Christ Superstar" (which she first sang when she was only 14 years old).
Her personalized workout is a free app on iTunes called Nike Training Club where she goes through her workout and does it with you.
She loves organic wine and dark chocolate.
During Spring Awakening she had a proposal from a random guy and she told him she had a boyfriend and the guy replied: Isn't Jonathan Groff gay?[69]
Lea performed four times at the Tony's. First for Ragtime in 1998, in 2004 for Fiddler on the Roof, in 2007 with Spring Awakening and once again in 2010.
She's the only cast member who has trouble understanding Damian McGinty's accent. Damian reported that before he left for Ireland, Lea understood him better.
She nearly hit Jon Bon Jovi with her car, with whom she co-stars in New Year's Eve.
The piano player for Glee messed up her audition song. She thought she wasn't going to get the lead, but, was actually doing things very accurate to Rachel Berry.
Has a scar/dent on her forehead usually covered by her bangs.
She named her first car after Kylie Minogue.
She was placed at number 13 on Maxim Hot 100 List. Source
The Glee Cast voted her the cast member with "Best Hair".
In an interview with Rolling Stone, Ryan Murphy described Lea Michele saying that "She's a once-in-a-generation voice and Broadway talent, in the tradition of Streisand and Patti Lupone".
Is number 10 on both AfterEllen's 2011 Hot 100 and AfterEllen's 2012 Hot 100. Is number 16 on AfterEllen's 2010 Hot 100.
Her favorite Rachel Berry outfit is Rachel's Prom dress in Prom-asaurus.
Her favorite Glee episode is New York.
She wants to learn Spanish.
She wants to go to Brazil.
She has been acting since she was 8 years old.
The first concert she ever went to was Madonna.
She geeks out over Game of Thrones, along with Jenna and Kevin.[70]
When she was younger, the scariest movie she's ever watched was E.T.
She has known Jenna since she was 8.
Blake's, Samuel's, and her birthdays follow each other (they are on August 27, 28, and 29).
She said she would like to be in Wicked and has sung a duet on the show with both of the original leads of the show (Maybe This Time with Kristin Chenoweth and I Dreamed a Dream, Poker Face, Next to Me, and Somewhere with Idina Menzel).
Her fans are called Leanatics.
In October 2012, a rumor started to spread that Lea was pregnant, however, she tweeted about it being false and said she knew she'd finally made it in Hollywood because of pregnancy rumors.
She sang My Man live while Barbra Streisand watched her.
Her favorite celebrity is Angelina Jolie.
Her fave shops are Betsey Johnson, Intermix, and Barney's.
She booked her first Broadway show on April 6 which was Les Mis.
Natalie Imbruglia, who became a household name with a cover of Torn, stated that she loved Lea's rendition of the song and thinks she'll be successful in which ever career she chooses.
She is the 7th member of the cast to release a solo album.
Her father, Marc, owned/worked at a deli when Lea was growing up and she even helped out before she got the role on Broadway.[71]
She described herself as the "Rachel Berry" type when she was younger.[72]
At the beginning of Glee Season 4 rumors spread that Lea did not get along with guest star Kate Hudson. However, those rumors were put to rest when Lea admitted that Hudson invited her to stay at her house after the tragic, unforeseen death of boyfriend Cory Monteith.
Lea became the first Glee cast member to chart on Billboard's Hot 100 as a solo artist, peaking at number #75 in its first week. Cannonball outsold every 2013 Glee single.
Michele had the most retweeted tweet of 2013: breaking her silence after Cory's death.[73]
Her favorite curse word is "f**king a**hole".
Her father, Marc, was on Glee as a bystander in "New New York."[74]
She dedicated her album Louder and her TCA Award to Cory Monteith.
Lea is an only child.
Gallery