Lights Out is the twentieth episode of Glee's fourth season and the eighty-sixth episode overall. It premiered on April 25, 2013.
When the power goes out at McKinley High, Will enlists the members of New Directions to "unplug" and perform acoustic numbers. While this happens, Ryder continues his long quest to discover who Katie is, along the way revealing a secret to the Glee Club leading to Kitty and Ryder's friendship to grow while Sue finds herself living a great life after being fired, becoming a training coach at a local gym, but Becky awaits her return and decides to tell Principal Figgins what happened. Meanwhile, in New York, Isabelle Wright asks Kurt to volunteer at the Vogue.com charity event, with Rachel and Santana in tow and while there, Santana finds herself. 
It was directed by Paris Barclay and written by Ryan Murphy.
Plot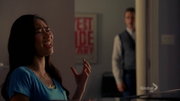 As Ryder frets over why "Katie" has yet to reveal herself to him, Will worries that their Regionals rivals the Hoosierdaddies have a ringer in big-voiced
Frida Romero
singing
The Star-Spangled Banner
 and decides
New Directions
needs to go bigger than ever with an epic stadium rock style. But an unexpected power outage at McKinley - during which
Figgins
insists the students remain in school - changes Will's plan: "It's Unplugged Week."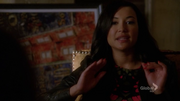 When Ryder tells Jake about the deep, dark secrets he's shared with Katie, Jake suggests that the secrets aren't going to go away - maybe Ryder should share them with people he actually knows. In New York, Rachel and Kurt confront Santana: having learned that along with working at Coyote Ugly she's bouncing at a lesbian bar and working as a cage dancer in another, they worry that she's squandering her talents, but Santana insists she needs time to figure out her life path and blows off their concern.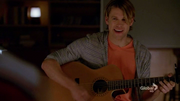 Sam breaks the seal on the Unplugged theme with an acoustic performance of the Righteous Brothers' You've Lost That Lovin' Feelin'  to which Ryder joins in on, with harmonizing assistance from the Glee club. When Artie balks at performing without the use of his synthesizer, Sam - who entertained his family during many nights when the power was shut off - calls out all the students on their overreliance on technology.
At Vogue.com, Isabelle reassures Kurt that while his admission into NYADA has cut into his internship hours, he still has a job there thanks to the quality of his work - but she needs his help wrangling celebrities for the New York City Ballet Gala, a high-profile charity event she's organizing. Meanwhile, Sue's found a new career as a personal trainer for pampered and privileged trophy wives. Blaine tells her he's concerned about Coach Roz's dubious instruction (like rib removal) and the fact that the students are still unsettled about the mysterious gun incident, and he urges Sue to reveal whatever secret truth lies at the heart of it.
Inspired by Sam's speech, Artie suggests going "Unplugged Squared" by performing without real instruments, using everyday items to create music instead. Kurt's involvement with the Ballet Gala sparks fond childhood memories for him and Rachel, although Santana's not interested in helping throw the party - but Kurt's promise of a gown from the Vogue.com vault that she can keep changes her mind.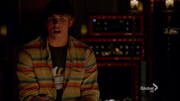 Ryder tries to work through some of his feelings with an acoustic performance of R.E.M.'s Everybody Hurts, followed by the revelation of the secret he's been keeping: he was molested by his female babysitter when he was 11. When the guys are surprised he's troubled by this, believing it to be every guy's fantasy, he backpedals on his admission.
Later, over dinner at Breadstix with a newly single and Puck-free Kitty, she explains that she had a similar experience with a friend's older brother that ultimately caused her to switch schools when nobody seemed to understand. She wants Ryder to know that she empathizes with his experience. Artie's musical concept is realized by New Directions in a performance of Queen's We Will Rock You.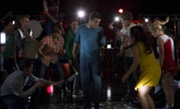 Becky pleads with Sue to come back, not sure she can endure Coach Roz's long run-on-sentence-filled tirades (Roz remains convinced that Becky is Sue's rapidly aged baby). Sue insists that she's moved on and is through devoting her life to the self-centered Cheerios, imagining a scenario of turning on them set to Little Girls from the musical "Annie." She says she doesn't miss the girls at all, but her longing gaze at Cheerios practice suggests otherwise.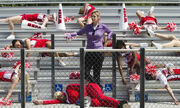 Before the Ballet Gala, at Isabelle's suggestion that every little girl starts out wanting to be a ballerina, Santana admits that she, too, loved taking ballet as a child, prompting a fantasy reverie of At the Ballet from the musical "A Chorus Line." Santana admits that she loves dancing but has no idea what she ultimately wants to do or how to get there, and Isabelle assures her that baby steps are okay.
Coach Roz complains to Figgins about Becky's ongoing belligerence, but Becky confesses to Figgins that she only acted out to be sent to the principal's office so she could unburden herself. The power at McKinley is restored, and the glee club's ready to plug back in, but Will insists on one more lesson a cappella and wants the students to really deliver.
Chatting online with Katie, Ryder explains that despite her deception, he has her to thank for opening up to his friends about his secret. But when faced with the prospect of leaving for lunch with Kitty or continuing to chat with his unknown love interest, Ryder chooses to stay at the computer even after Kitty admits that she doesn't easily warm to people and she's not likely to give him another chance.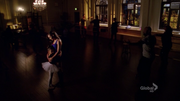 When Santana's new ballet instructor insists that the students had better not expect the class to be a simple stepping-stone into NYADA, Santana explains that she's just there because she loves to dance and wants to reconnect with her artistic side. She has a fantasy-like conversation with her younger self and starts the class.  Meanwhile, the Glee Club nails their last unplugged performance with a beautifully harmonized rendition of Billy Joel's doo-wop classic Longest Time.
Songs
The Star-Spangled Banner by Francis Scott Key sung by Frida Romero.
Background Songs
Call on Me by Eric Prydz.
Guest Cast
Special Guest Star
Guest Stars
Jane Lanier as Santana's dance teacher
Absent Cast Members
Trivia
Santana mentions the song Run Joey Run from Season One. This is the third time this song is mentioned, the first being in Laryngitis and the second in Prom Queen.
Ryder's spelling and grammar appears to have been improved immensely in this episode, despite the fact that he is dyslexic.
First episode without Finn since the previous episode. Cory Monteith was supposed to appear in this episode, but Finn had to be edited out of the episode. This was probably due to his recent rehabilitation.
This episode had a rating of 1.8 and was watched by 5.24 million viewers. Source
This episode was submitted for consideration of Sarah Jessica Parker for the 2013 Emmy's.
When listing people coming to the New York City Ballet Gala Isabelle Wright mentions Darren and Christopher, a reference to Chris Colfer (Kurt) and Darren Criss (Blaine).
Cultural references
The aerobic lesson Blaine attends is a remake of the original music video for Call On Me.
Deleted Scenes
Quotes
"

Mini Santana: Don't forget me.

Santana: Don't worry... I won't.

"

—Mini Santana and Santana Lopez
"

AHHH! Zombie apocalypse!

"
"

Blaine: Why did Sue Sylvester take the fall? Who is she protecting?

Becky: Bite me.

"
"

I will allow you to speak... Just don't sing.

"
"

Isabelle: Santana, how do you feel about Cherry Jones?

Santana: Whatevs!

"
"

First she started making fart noises every time I bent over, then she started making fart noises every time I blinked. Ain't nobody fart every time they blink... That's crazy!

"
"

Dear Journal, I speak to you one not as Sue Sylvester world class coach and educartix but as Sue Sylvester Freelance champion. I've purged myself of the toxic teen-town trauma parade that is McKinley High, and life could not be better. I'm making my own hours, rocking a fresh look, and getting paid twice the money to do what I do best, dishing out top tier abuse to trophy wives and self-hati single gals as a personal trainer

"
"

I didn't just want to get them out, I wanted to get in touch with them so I could maybe have the balls to tell you guys something

"
"

Found this out by the dumpster, with a little TLC and three clicks from Kurt's ruby slippers this bad boy could be soligable

"
"

Santana: Listen, I really love dancing. I just am not like you guys. I don't know what I want to do or how I'm even gonna get there.
Isabelle: But you have plenty of time to figure it out. And it doesn't have to be ballet or Broadway, just as long as it's something that you love, something that feeds your soul. And, Santana, baby steps are okay.

"
"

Isabelle: (on the phone) Oh, that's perfect. Thanks Darren, I appreciate. Oh, and listen. You're at my table, seated next to Christopher, so be nice. Alright, bye.
Kurt: Darren...?
Isabelle: Aronofsky. Christopher Nolan.
Kurt: Oh.

"
"

Isabelle: So, first of all, how's your dad?
Kurt: Oh! Thank you for asking. He's doing good. He's back at work and all of his treatments seem to be working.
Isabelle: Good. I'm happy to hear that.
Kurt: I thought you might've called me in here because, um, you're gonna fire me.
Isabelle: What? Why would I do that?
Kurt: When you gave me the internship, you said it'll be 24/7 and ever since I got accepted to NYADA-
Isabelle: You haven't been coming in as much. We've noticed. But... Quality trumps quantity, always.

"
"

And just when you thought it couldn't get any gayer, it does.

"
Gallery
Community content is available under
CC-BY-SA
unless otherwise noted.