Love, Love, Love is the first episode of Glee's fifth season, the eighty-ninth episode overall and a two-part tribute episode to The Beatles. It premiered on September 26, 2013. This episode was directed by Bradley Buecker and written by Brad Falchuk.
The New Directions are back in action and take on their biggest assignment yet: The Beatles! As Will enlists the kids to pay homage to the classic song catalog from the Fab Four, Blaine and Kurt attempt to answer questions about their future together. Meanwhile, Rachel's New York ambitions take an unexpected turn and Santana is on the ready to assist her. Back at McKinley, Artie, and Kitty's bond strengthens, Sue's scheming has got her the role of the Interim Principal and Blaine attempts to solve Tina's loneliness.
Plot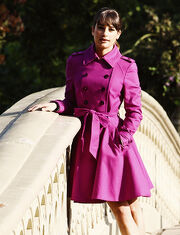 Rachel is arriving at a New York theater where some workers are putting up a Funny Girl poster, which she smiles at excitedly. The scene cuts to her auditioning for the role of Fanny with an actor named Paolo. The director tells her that she was lovely and then he leaves off together with Paolo, but not before Rachel manages to tell the latter what a huge fan she is. Rachel enters a room in the theater, picking up her coat and looking worried. The director asks Paolo what he thinks of her. He says he thinks she's charming and is suitable for the role, but he worries she might be too young. Rachel is, meanwhile, listening from the sidelines. The director agrees. Frustrated, Rachel looks as if she's about to cry and breaks into the performance of Yesterday, going out into the streets of New York. She seems concerned as to what might happen to her career. While at the Central Park bridge, she takes out her phone and looks at a picture of the New Directions' first win at Sectionals and reminisces her time as a part of them. She finally finishes the performance at her apartment, longingly staring at her reflection in the mirror.
Meanwhile, back in Lima, Will gives the New Directions a two-week assignment; Beatles. He thinks that, if they master the power of them, they can form a New Directions dynasty with two National wins in a row. Everybody seems very excited, except for Kitty. She doesn't know how anybody can relate to a "band from the 1940's," but the others give out stories of the members of the Beatles and how relatable they are. After practice ends, Artie goes up to Kitty, offering for her to sit on his lap, and with this they roll through the halls of McKinley. Artie offers to take her to Breadstix  as a thank you for talking to his mom; he is now going to Brooklyn Film Academy because of her. She says she hates Breadstix, so he asks her out to a carnival that's in town, but doesn't get an answer. They break out into Drive My Car, with Kitty dancing and Artie filming her.
Suddenly, they're at the carnival with the rest of their friends, enjoying and wrapping up the song. By the end, a cheerleader named Bree comes up to them and makes small talk. She asks them if they're a couple, but Kitty declines, saying they're only friends. Bree says that it's a shame as they're such a sweet couple and should definitely date. She also says she took a few pictures of them and posted them on Instagram. With this, she leaves. Artie says she seems nice, but Kitty says that she's a bitch out to destroy her. She tells him that she really likes him, but that she must keep her status to survive, so they agree to date, but secretly. Artie doesn't seem too happy about it.
The scene cuts to a tram in New York in which Rachel and Santana are sitting with their hair up in buns and in red uniforms. It turns out Santana got Rachel a job at the Spotlight Diner. Rachel thinks that it's a mistake and that she wanted the job before she blew her audition, but doesn't anymore. Santana somehow manages to convince Rachel that they're working actresses, but Rachel still isn't all that happy.
Back at McKinley, Blaine and Kurt are having a picnic in the courtyard before Kurt's departure to New York. Blaine asks Kurt about Adam, and Kurt says that things just never got serious. Then, Kurt jumps to the point: he says that the last time he was in New York and Blaine was in Lima, Blaine cheated, which Kurt finds unacceptable. Blaine says that they've been through this: he thought that Kurt was over with him, and he tries to make Kurt sure of the fact that he would never cheat on him again, but Kurt jokingly says that he would first need to sign a contract that restrains cheating. Blaine agrees to sign whatever he wants and begs Kurt for them to get back together. Kurt agrees. Blaine says that he has something prepared to convince Kurt to stay a little longer, but Kurt tells him he's not going to sit and listen to him serenade him again, which is why he also prepared something. He blows a whistle and a marching band comes out. They break out into Got to Get You into My Life. After the song, they kiss.
Sue
is entering the school while having a monologue - she's returning to McKinley.
Becky
confessed that she was the one guilty of the
school shooting
and is now serving her month-long suspension. According to Sue, she was begged to c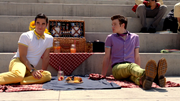 ome back, but she had to come back to the highest level. She is again the principal after residing in season two. It turns out she broke into
Figgins
' office in the middle of the night and planted gambling receipts, various pornograohy magazines, a polygmous marriage certificate, a bill of sale granting campus drilling rights to a fracking company, and an authographed copy of Mein Kamp - all which results in police storming into Figgins' office and arresting him and the school's superintendent to make Sue the interim principal. Sue is told that the position could become permanent if all goes well. In Sue's mind, she does not feel guilty about what she did because "the end justifies the means" and that "this time she will get it right."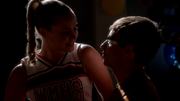 Meanwhile, Kitty and Artie continue to date in secret, often meeting in the Astronomy classroom which seems to be initiated by Kitty leaving notes in Artie's locker (and on the ceiling!). Even though they enjoy each other's company, the situation is bittersweet for them, especially Artie. They sing You've Got to Hide Your Love Away, and at the end Tina walks by Artie in the hall and seems to catch on that there is something happening between Artie and Kitty.
In the choir room, Will asks the group to listen up, as Blaine has a special announcement. Blaine informs the group that he and Kurt are "officially back together," which is met with some applause. Blaine also confides to the group that he now wants to ask Kurt to marry him, which is met with a rather awkward silence - Sam responds by jumping up and trying to pump everyone up, saying "gay marriage is good!" Blaine tells the group that he wants the proposal to be special and that he is asking for their help, but also will be asking for the Warblers, the Haverbrook School for the Deaf, and Vocal Adrenaline for their help as well. The New Directions are not very happy about this idea; Ryder refers to the Warblers as "evil incarnate little craps," Unique is not thrilled about the idea of asking for Vocal Adrenaline's help and an outraged Tina yells "Are you insane, have you lost your mind?!" Sam encourages the group to hear Blaine out. Blaine explains that he wants this gesture to be more than just an ordinary proposal, but also a cultural statement and that if they can convince "a few cutthroat showchoirs to stand side by side, anything is possible." Some of New Directions remain unconvinced, (notably Marley and Jake) and Artie tells Blaine that his intentions are understandable, but he feels that Blaine is "still too young."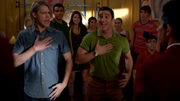 Despite any objections or reservations, New Directions comes together to help Blaine recruit the other show choirs, singing
Help!
The show choirs all agree to help with Blaine's proposal, with
Trent
of the Warblers expressing that it could help clean up their tarnished reputations.
Sebastian
interjects, taking a vote which all unanimously agree to in Blaine's favor.
Tina confronts Artie about his relationship with Kitty and he confirms that they are dating - but in secret. Tina demands to know why they have to keep the relationship under wraps and Artie tells Tina that she may be trying to help, but asks her to "Butt the hells out!"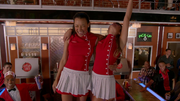 Over in NY, Santana and Rachel are working at the Spot Light Diner. Rachel gets a text message from Blaine regarding his intention to propose to Kurt. Rachel starts to share the message with Santana, when she points out who is show up and sitting in her section - the
Funny Girl
director and lead actor. Rachel takes this opportunity to try to convince them that she is a star. Santana and Rachel duet to 
Hard Day's Night
 along with several of the other waitstaff. After the performance, Rachel grabs Santana's hand and leads her out of the diner, telling her that they must go home - they have something special to do.
At McKinley, Will and Coach Roz sit in Sue's office - they fear that now they will both be fired. We learn that Roz apparently has a rather sketchy past, which includes having cheated to get her bronze metal, credit card fraud, and stealing her Lexus off a used car lot. Will tells her that they are "both screwed" and that Sue will take out both Glee Club and the Cheerios. Sue overhears the last part of the conversation and tells them that she is not firing them - yet. Sue goes on to say that they must both win their respective Nationals competition or they will be fired. Sue feels that with successful programs in the school, she will be able to hold on to her post as Principal Sue.
Back in the choir room, Tina exposes the secret relationship between Artie and Kitty and declares the fact that Kitty wanted to keep their relationship a secret is "emotional abuse" and goes on to say that Artie is a great guy who deserves to be loved openly, proudly and without conditions. Kitty agrees, although she is obviously annoyed with Tina. Kitty tells the New Directions that she wanted to keep it a secret, but only until she knew that she really liked Artie and was willing to risk her social standing at the school and getting hurt - by allowing Artie to "wheel into her heart." Kitty apologizes to Artie and tells him that they are "officially, publicly, shockingly - a thing." Everyone applauds, happy for Artie and Kitty, except Tina who seems unhappy that her plan did not go according to plan. Afterward, Blaine holds a meeting with Ryder, Jake, and Sam pointing out how mean and bitter Tina has become lately and how she used to be a sweet girl and that it is time for them to step in.
Meanwhile, the feud continues between Sue and Figgins. Sue tells Figgins that she plans on replacing his former secretary with Becky when she returns from her suspension - she will be referred to as Sue's "Beckretary." Sue then dumps a five gallon container of grade-D meat on the floor, which an outraged Figgins is left to clean up.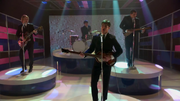 Blaine, Sam, Ryder and Jake ask Tina to come to the auditorium - Sam tells Tina that they love her and dedicate I Saw Her Standing There to her. The other New Directions girls join Tina as well. After the performance, the guys explain that they have noticed how lonely she has been lately and tell her that she can pick one of them to go to prom with (except Jake). Tina is moved by the gesture and is unsure at first, saying she likes Ryder's arms and Blaine is "her boo" but ultimately she picks Sam because he is "the least gay and least Asian" and she wants to change things up. Tina thanks the guys and both Blaine and Sam hug Tina.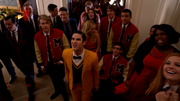 Later on, Burt is driving with Kurt, who explains that they are taking the back roads to the airport. However, Kurt already knows of Blaine's intention to propose. Kurt tells his dad that he loves Blaine and is sure that he is the one, but also feels that they are both very young to be getting engaged. Burt shares the story with how he met Kurt's mom - they were only 22 and just kids themselves, and how he asked her to marry him only six months into the relationship. Burt goes on to say that when they got married they had all these fantasies about what marriage was going to be like, but in reality it was much harder, then they thought. Kurt asks his father if he wished they'd waited, Burt tells Kurt that he doesn't regret it and in fact wished he could have met her earlier and had more time with her before she passed away. Burt tells Kurt that Blaine had asked him what he thought of proposing, but encourages Kurt to hear what Blaine has to say and make his own decision in the manner as Kurt is "his own man" now. Music starts to play at this point and Kurt walks toward the entrance of Dalton Academy, where Blaine meets him and sings All You Need Is Love. The rest of New Directions are also present with Rachel, Santana, and Mercedes and the Warblers, Haverbrook School for the Deaf, and Vocal Adrenaline backing Blaine up. The performance ends at the stairs where Kurt and Blaine met for the first time. Blaine proposes to Kurt with a heartfelt speech, Kurt accepts and they share a kiss, admire the ring and hug with everyone applauding them.
Songs
Guest Cast
Special Guest Stars
Guest Stars
Christopher Curry as Gunther
Christopher Cousins as Superintendent Bob Harris
Co-Stars
Jon Robert Hall as John
Todd Sandler as School Board Member
Julie Sufana as Nerdy Girl
John Autry as Deaf Choir #1
Lexi Marman as Deaf Choir #2
Nilson Avalos as Deaf Choir #3
Joshua Segovia as Deaf Choir #4
Maj Lesti as Deaf Choir #5
Weston Mueller as Deaf Choir #6
Tommy Korn as Deaf Choir #7
Gianni Manganelli as Deaf Choir #8
Jade Fowler as Deaf Choir #9
Treshelle Edmond as Deaf Choir #10
Emilee Wallace as Deaf Choir #11
Uncredited
Trivia
This is the only season premiere that is also a tribute episode.
Jacob Artist (Jake), Melissa Benoist (Marley), Blake Jenner (Ryder), Alex Newell (Unique), and Becca Tobin (Kitty) were promoted to main cast, while Heather Morris (Brittany), Amber Riley (Mercedes), Mark Salling (Puck), and Harry Shum Jr. (Mike) were demoted to recurring roles.
This is the first time since Nationals in Season Three that Vocal Adrenaline has made an appearance, a 23 episode gap.
This is the first season premiere in which the glee club doesn't recruit new members.
This episode had a rating of 2.0 with 5.06 million viewers. Source
Blaine references Kurt and Goldie, the parents of Kate Hudson, who plays Cassandra July.
The Spotlight Diner, seen for the first time in this episode is modeled after Ellen's Stardust Diner in NYC. Source
Kitty stating that the school year seems to be never-ending is likely a reference to the fact that season four's school year extends into season five, while in previous seasons the entire school year takes place over the course of a season.
This episode introduced Bree.
Deleted Scenes
There was meant to be a reunion scene with Kurt, Rachel, Mercedes, 

and Santana at McKinley.

Source

They were also meant to have a sleepover and sing "Getting Better." Source

Will and Figgins were meant to have a scene together Source
There is an unaired kiss between Kurt and Blaine Source
After Kitty insulted Ryder, He flung her ponytail, while Unique, instead of saying "I don't really know the beatles.", pointed out how Paul McCartney lost his mother to cancer and how he turned to music.
Errors
After Kitty talks with Bree and gets the Instagram alert on her phone, she only has her phone in her hand. However, when she turns around to speak with Artie, she magically has a stuffed lion in her hand.
When Trent is talking there are Dalton students, possibly the Warblers, behind him, Nick and the John. But then when the shot changed to Sebastian talking, there are only Sebastian, Trent, Nick, and John. Then the shot changed again to Blaine back to the 4 Warblers with the Dalton students behind them.
When Tina picks Sam as her prom date, Sam puts his hand around Tina's waist, and when the camera angle changes his hand are on her shoulder, and then again on her waist.
Ryder stated in the previous episode that he would leave glee club after Regionals, however he is there without any explanation.
At the beginning of the episode, when Will is telling New Directions they're doing The Beatles, Sam is wearing his backpack, but in another shot he isn't and then it changes back to him wearing it for the rest of the scene.
When talking to Sam, Ryder, and Jake, Blaine says that Tina was dumped by Artie because she faked the stutter. However, it was actually Tina who broke up with Artie in Audition, in order to date Mike Chang.
Kitty mentions to Artie that she hates Breadstix but has been seen there previously on two separate occasions. She has dinner there with Ryder in Lights Out, and she runs a meeting there for her Left Behind Club in The Break-Up.
Right before Blaine proposes to Kurt and they are standing on the stairs and rose petals are falling, the petals on Kurt's head and shoulders disappear and reappear with each shot.
Cultural References
The owner of the Spotlight Diner is called Gunther. It may or it may not be a reference to Friends, where Gunther was one of Central Perk's employee, where Rachel Green (Rachel Berry's namesake) worked for over 2 years.
During Blaine and Kurt's courtyard scene, Blaine mentions famous couples names. Bethenny and Jason are actually Bethenny Frankel and Jason Hoppy. Will and Jada are Will Smith and Jada Pinkett-Smith, and Kurt and Goldie are Kurt Russell and Goldie Hawn.
The phrase "The end justifies the means" quoted by Sue during her voice-over was not said originally by Jesus, like she stated, but by Niccolò Machiavelli in "The Prince." Actually, Christianity defends the opposite.
When Blaine is trying to convince the Glee Club about his proposal, he mentions Russia. Recently, Russia has been involved in a controversy battle for LGBT rights.
Kitty calls Tina as 'memoirs of a lame geisha', which is a reference to a novel, Memoirs of a Geisha, written by Arthur Golden, and lately adapted to a movie.
During the boys' conversation in the choir room, Sam mentions Red Dawn. Red Dawn is a movie released in 2012 directed by Dan Bradley and starred Chris Hemsworth.
Quotes
"

Kitty: The school year seems like it's never ending, and now we're wasting two whole weeks on a band from the 1940s. Seriously, can anyone still relate to The Beatles?

Blaine: Pretty much the entire world.

"
"

Okay. No, Rachel, you are not backing out. I basically had to show Gunther my left side boob to get you this job.

"
"

It's Principal Sylvester.

"
"

Do I feel guilty about what I did? Not at all. Jesus said it best: "The end justifies the means." Last time I was acting Principal, I squandered an opportunity for greatness. This time I'm going to get it right.

"
"

Look. I wanna this to be more than just an ordinary proposal. I want this to be a cultural statement. Hey! Our generation is at a turning point. People everywhere, except like... Russia, are beginning to see that it doesn't matter who you are or where you're from or, even what god you believe in. They're beginning to see that people really aren't all that different. And honestly, If we can get a bunch of cutthroat show choirs to stand side-by-side and unite in something, then anything is possible.

"

—Blaine
| | | |
| --- | --- | --- |
| " | Kitty: And even though I know he's getting ready to graduate and we're probably just as doomed as every other sad, broken, backwards relationship that's ever started in this Jesus-and love-forsaken choir room. | " |
Gallery
Community content is available under
CC-BY-SA
unless otherwise noted.