Makeover is the third episode of Glee's fourth season and the sixty-ninth episode overall. It premiered on September 27, 2012. 
In the third episode of the fourth season many characters experience immense change. Blaine decides that, since Kurt has gone to New York, he will shine in his senior year at McKinley. He signs up for many clubs, specifically running against Brittany for class president. Brittany and Artie pair up and Sam joins Blaine by becoming his vice-president. As they run against each other, they are also making themselves over. After Kurt faces his big interview at Vogue.com with Isabelle Wright (Sarah Jessica Parker), he decides to drag Rachel to have a total makeover. Rachel's immense change will alter her growing friendship with Brody, and at the end of the episode someone familiar returns. 
The episode was directed by Eric Stoltz and written by Ian Brennan.
Plot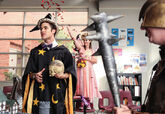 With Kurt missing, Blaine has decided that it's his turn to "shine" at McKinley and throws himself into countless extracurricular activities, until he finally lands on a pursuit that excites him: running against Brittany for class president. He pulls off the song Everybody Wants to Rule the World.
Meanwhile, Kurt faces his big interview at Vogue.com, meeting its editor and one of his fashion idols, Isabelle Wright (Sarah Jessica Parker). She's been impressed by his portfolio of his bold fashion choices, and hearing him speak so passionately about what fashion and style mean to him seals the deal: "Anybody who can pull off a hippo broach deserves to be here." He's got the job.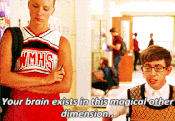 Artie agrees to be Brittany's vice presidential running mate when he realizes he can be the Dick Cheney to her George W. Bush. Brittany's empty platform of popularity makes Blaine realize he thinks his campaign should be about great ideas and making change - although his sincerity isn't shared by his schoolmates. When Sam admits he wishes Brittany had chosen him to balance her ticket, she "introduces" him to Blaine, and the two agree to team up as running mates. Before the debate, the four prepare, Artie and Brittany, Sam and Blaine. Sam and Brittany sing
Celebrity Skin.
Meanwhile, Will is feeling creatively dry on glee club lessons, and Sue suggests that it's because he actually achieved his dream of a national championship. She urges him to find a way out before the mundane daily grind of teaching destroys his spirit, and Will becomes caught up in the notion of joining a blue ribbon government panel to make a real change in arts education.
Kurt listens in on a Vogue.com pitch meeting and later admits to Isabelle that he's not blown away by the Web site's upcoming coverage. Isabelle admits that she feels in over her head and fears losing what she has, but Kurt promises to have her back.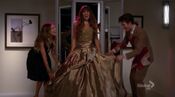 When some "mean girl" ballerinas at NYADA mock her, Rachel feels like she's back in high school again, but Kurt suggests that it's because she hasn't evolved her personal style. He promises a makeover that could change her life - and his too.
Kurt and Rachel sneak into Vogue's coveted couture vault afterhours ("It supposedly could withstand a nuclear blast") but are caught by Isabelle and security; however, when she hears Kurt's plan to make Rachel over, she's immediately on board. They sing The Way You Look Tonight/You're Never Fully Dressed Without a Smile. Rachel is completely madeover, trying on lovely dresses on the way.
Meanwhile, Kurt's focus on his own life leaves Blaine feeling ignored and lonely as he plans his campaign. Speaking to Emma as a counselor and not his fiancée, Will reveals his plans to leave McKinley, and she encourages him to do what he's always taught the kids: follow his dream.
At the debate, Artie's thoughtful but longwinded answers bore his classmates, while Sam's honest and flashy response to a question about his stripper past - complete with actual striptease - is better received. But Brittany's declaration of deep love for her school - which she plans to show by eliminating summer vacations and weekends - all but seals the election for Blaine.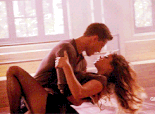 Vogue editor Anna Wintour emails a rare positive response to Kurt's video after Isabelle shows it to her. The video will be reshot for the Web site in Bali with a supermodel, but Kurt will get the credit. Isabelle's even more impressed when Kurt is equally excited that his makeover prompted Rachel to finally throw out her reindeer sweater. Wowed by Rachel's new look, Brody suggests that her outside finally reflect her insides. They rehearse together to Sheryl Crow's
A Change Would Do You Good
 and share a romantic moment but stop short of kissing. Still, something pushes Rachel to offer to make dinner for Brody the following night.
At Blaine's victory party, Artie congratulates him and reveals that his campaign caught Sugar's attention and she's finally going on a date with him. Kurt blows off a call from Blaine while enjoying himself at the Vogue offices, prompting Blaine to admit to Sam that he launched the whole campaign to get Kurt's attention, and without it, the victory feels worthless. Sam points out that Blaine did accomplish something: he's McKinley's first gay male class president, and Sam's first gay guy pal, in which marks the frist appearance of "Blam."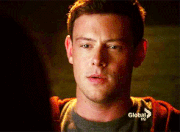 After Rachel accidentally burns dinner, she and Brody relax with a pizza dinner was just another attempt to try something new, she admits.
"I like the new me." Even though Brody promises not to cross boundaries, the two are soon making out passionately, until there's a knock at the door. Thinking Kurt's forgotten his key, Rachel answers the door and is shocked to discover Finn standing there - and Finn is stunned to see Brody in the background.
Songs
Background Music
Party Rock Anthem by LMFAO.
Moon River by Henry Mancini.
Guest Cast
Special Guest Star
Guest Stars
Phyllis Applegate as Birdie Lawrence
Sean Gunn as Phineas Hayes
Dan Domenech as Chase Madison
Suzanne Krull as Eccentric Vogue Woman
Co-Stars
Alissa Geraghty as Supermodel
Ina-Alice Kopp as Receptionist
Katherine McNamara as Bunhead #1
Bailey Noble as Bunhead #2
Ryan Salonen as Alpha Gay
Nicole Simone as Daphne
Absent Cast Members
Trivia
You're Never Fully Dressed Without a Smile from the musical Annie is used as part of a mash-up sang by Sarah Jessica Parker. Coincidentally, Parker was one of the replacements for Andrea McArdle who had the title role in the original production.
This marks the first Season Four appearance of Finn, although he doesn't have any dialogue.
Blaine got his first voice-over in this episode.
Dalton Rumba reappears for the first time since Sectionals, back in Season One.
Mister Monotony was originally planned to be sung in this episode. It was cut for unknown reasons.The performance and song was released as a part of the Deleted Scenes Special Feature on Glee: The Complete Fourth Season.
Chris Colfer has stated numerous times that he sees Kurt getting a job in fashion rather than entertainment, and in this episode Kurt applies to a fashion internship.
This marks the second time that both Party Rock Anthem and Moon River are used as background music. The first time for the former was during Sam's stripper scene in Hold on to Sixteen, the first time for the latter was when Kurt and Rachel had breakfast at Tiffany's in New York, however, the Arthur Fiedler and the Boston Pops version was used in that one. The version heard in this one was the original by Henry Mancini and His Orchestra.
Every piece of clothing Isabelle wears in this episode was designed exclusively for Glee by Vogue's own Anna Wintour, who did not receive any billing for her work.
The week that this episode aired, an episode of The New Normal, also co-created by Ryan Murphy, also contained a snide comment about the show Treme.
Kurt wears the same hippo brooch he wore in Dance with Somebody and Special Education throughout the episode. Like this episode, those ones had important plot lines for the Blaine-Kurt Relationship.
This is the first third episode of a season of the show where Mercedes, due to the fact that she's absent, doesn't sing at least one solo. The first season she sang Bust Your Windows in Acafellas, the second season she sang both I Look to You and Bridge Over Troubled Water in Grilled Cheesus, and in the third she sang Spotlight in Asian F. 
This episode got a 2.4 rating with a total of 5.79 million viewers. Source
Cultural References
In Blaine's speech, he mentions 'burning books', which is a reference to Fahrenheit 451.
Errors
When Kurt meets Isabelle in her office, she has a page open on her iPad that shows some of Kurt's 'interesting clothing choices', she accidentally presses the home button, but when zoomed back up its somehow gone back to the clothing page.
At the debate during Artie's speech, the clock is shown from moving from 2:30 to 3:00 - however, when he finishes his speech, the clock is shown to be 2:45.
The background picture on Kurt's phone has Kurt and Blaine wearing the outfits from The Break-Up.
Quotes
"

Blaine's Voiceover: The only time we're really in sync is when we're hate-watching Treme together.

"
"

Kurt: Hello?
Isabelle: Columbus.
Kurt: Excuse me?
Isabelle: You're from Lima. I'm from Columbus. And actually, I once got food poisoning in Lima at some Italian place. It was Bread-
Kurt: Stix?
Isabelle: Breadstix, yes.
Kurt: I can't believe you ate at Breadstix.
Isabelle: Well, I wish I hadn't. Isabelle Wright.
Kurt: Kurt Hummel.
Isabelle: So, Mr. Hummel, I have to tell you, I am very impressed with your online resume, especially this gallery of you and your rather bold clothing choices. Where did you find all this?
Kurt: Well, I...I made most of them. And searched the Internet for bargains. And, uh, that half-sweater there at the bottom, that belonged to my dead aunt, and I found it in her attic. And the embroidered calico vest was actually inspired by one of your designs.
Isabelle: Oh, yes, my quilted micro skirt collection. It was an epic fail.
Kurt: But like you said in Vanity Fair, 'I don't trust anyone who hasn't failed big at least once.'
Isabelle: Have a seat. So, I'm just gonna ask you a couple of routine questions I ask all potential hires. Who are your fashion icons?
Kurt: Audrey Hepburn, Michelle Obama, and not to kiss up or anything, but you.
Isabelle: And have you done any writing on fashion?
Kurt: Self journaling, mostly. I did weekly updates and, um, blogs on Project Runway since season one, and-
Isabelle: Wave your magic wand, where would you be in four years?
Kurt: Working here part time, graduating from NYADA and, uh, starting my first Broadway show. I know that sounds presumptuous.
Isabelle: No. Frankly, you should be more presumptuous, you know? This is New York. It's for dreamers. It's for people like you, who are just starting out, and people like me who very much want to re-invent themselves. No, you should dream. You should dream very, very big. And then you should work incredibly hard and make sure you do everything in your power to make it happen.

"
"

Isabelle: Anybody who can pull off a hippo broach deserves to be here.

"
"

Brittany: I know people like you are afraid of the spotlight sometimes, but did you know that Franklin Roosevelt was part-robot too and he's on Mount Rushmore.

"
"

Artie: I could be Cheney to your Bush.
Brittany: I'd rather be Landing Strip.

"
"

Tina: Please tell me you're gonna ask what one-third vintage meant last year.
Sam: Or why some teams can sing six songs and others only do one.

"
"

Brittany: I'm wrapping up the election by selecting Artie as my running mate. I think by bridging the human/robot divide we'll ensure that both students and vending machines will be voting for us.

"
"

Will: What happened to all my good ideas?
Sue: Oh, don't kid yourself, you never had any good ideas.

"
"

Sue: You were too busy chasing your bizarre childhood dream of a glee club national championship. And now that that's over, you're waking up to the incessant, mind-numbing tedium that is the day-to-day life of a school teacher. Take a look around you, William, at this sad panoply of walking human garbage. This is what you have to look forward to. In a few short years you'll either be an alcoholic, morbidly obese or both. That's what I like you call the full Charlotte Rae. Personally, William, I think you should take this opportunity to bow out gracefully and explore other job opportunities. Now your penchant for bland simplistic aphorisms could give you a leg up in the motivational hot air balloon poster business. And, of course, your complete lack of adult friends means you're well on your way to a career as a pedophile birthday clown. You had a dream, you achieved it, now move on, otherwise you'll end up like that, quietly smirking because you just did a little crop dusting. And now you're enjoying the sneaky tickle of your own stink as it ripples up your enormous, soupy butt crack.

"
"

Brittany: Look at Sarah Palin. She and her grandfather were super close and then he asked her to be his running mate. And they lost and now they're not even speaking.

"
Gallery
Videos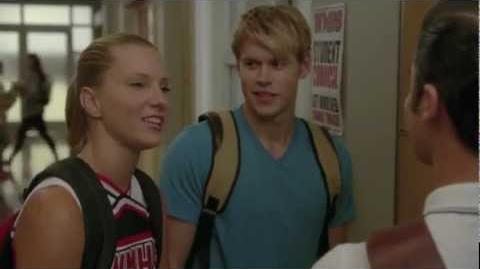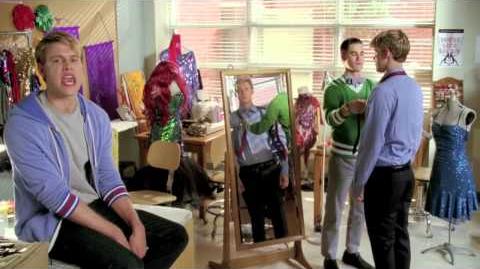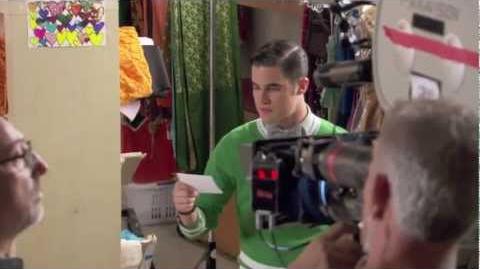 Community content is available under
CC-BY-SA
unless otherwise noted.