The Marley-Unique Relationship, more commonly known as Marlique, is the relationship between Marley Rose and Unique Adams. They have been best friends since Britney 2.0 and are always supporting and looking out for one another.
Episodes
Unique watches Marley perform New York State of Mind. Later on Unique approaches Marley with the other members of the New Directions as they apologize for making fun of Millie, her mother. Both girls are slushied by Bobby, Kitty, and Phil and are thus "officially" initiated into the glee club. (The New Rachel)
Unique tells Marley that as the new girls of the glee club, they should be friends. She asks Marley if she has her eyes on anyone, to which she replies that she likes Jake. Unique warns her that Jake has been seen with many girls from the school already, which leads to the performance of Womanizer in the gym with Tina as they're watched by Jake. After the performance, Jake says that he and Marley should hang out sometime. Marley agrees, but Unique seems disappointed. (Britney 2.0)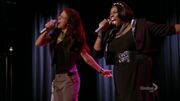 Marley and Unique are in the girls restroom discussing their ideal roles for the musical. When Unique confides in Marley that she wants to play Rizzo, she encourages her to audition. While Sue mocks Unique with transphobic comments, she tries to find a mean nickname for Marley, but is unable to. After standing up to
Sue
, Marley, and Unique perform
Blow Me (One Last Kiss)
as their audition song for Grease, strengthening their friendship. (
The Role You Were Born to Play
)
After Kitty initially refuses to let Unique go to her slumber party, Marley insists she will not go unless Unique is invited. Despite this, Unique is seen making fun of Marley, along with the other girls, in Kitty's performance of Look at Me I'm Sandra Dee. (Glease)
When Unique returns presenting femininely, Marley is glad to see her before Sectionals starts. Marley is confused though, because Unique's parents doesn't allow her to perform presenting femininely. Unique tells Marley that she can't let them control her true self. Marley is happy that Unique can be true to herself and be who she wants and can be happy at the same time and wishes she could be the same. Though after, Unique reassures her. (Thanksgiving)
Unique and the rest of New Directions give Marley food in the choir room, Unique telling everyone to give Marley her space and let her rest. After New Directions' initial loss at Sectionals, for the first time, Finn calls them to meeting after finding out that they've separated into other clubs in the school. When Tina leaves the auditorium stage and one-by-one the members of New Directions leave, Unique looks at Marley contemplating whether to leave her, but eventually, she does, leaving Marley and Finn alone. (Swan Song)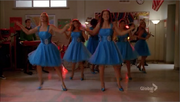 Marley and Unique dance in Tell Him with the New Directions Girls. They also sing a duet of Locked Out of Heaven in the Gymnasium for the Sadie Hawkins dance with the rest of the New Directions Girls (except Kitty). (Sadie Hawkins)
Marley defends Unique, when Tina insults her at the beginning of the episode. They perform Diva with Tina, Blaine, Brittany, and Kitty. (Diva)
Unique confronts Ryder about him kissing Marley and trying to create trouble for Jake and Marley's relationship. During The Bitch Is Back/Dress You Up, Unique places a tiara on the head of several New Directions members, including Marley and herself. (Feud)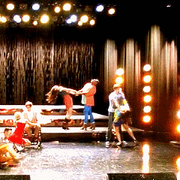 Marley and Unique sing You Have More Friends Than You Know with Blaine and Sam, which Marley wrote for the three, as she wants New Directions to sing one of her original songs. Unique compliments the song after singing it. At the end of the episode, they are both seen performing Marley's original song, Outcast, with New Directions. (Sweet Dreams)
During the New Directions' performance of Longest Time, Marley and Unique can be seen dancing and interacting with each other. (Lights Out)
Marley covers for Unique in this episode when it is revealed that Unique is the catfish that has been dating Ryder online and via texts. Unique is emotional about the fact that she likes Ryder and, in a flashback, she explains to Marley about why she did it. Later, when Ryder asks Marley why she would do it, she tries to cover up again, but Unique finally lets down her shield and tells the truth. She tells Marley that she doesn't have to cover for her anymore. Marley is confused and shocked, but she leaves as she is told, leaving the two to have a confrontation. (All or Nothing)
Marley and Unique can be seen only at the carnival while Artie and Kitty perform Drive My Car, and they ride in the bumper cars together. (Love, Love, Love)
At the Junior-Senior Prom, Marley and Unique, alongside Jake and Ryder, perform Sgt. Pepper's Lonely Hearts Club Band. (Tina in the Sky with Diamonds)
Unique starts to realize that cheerleader, Bree, is trying to get with Jake, when he decides to go help Bree and the Cheerios with a dance performance. After this, Unique grabs her phone and calls Marley, to warn her about Bree and Jake's interactions. She also suggests that Marley should fight back and show Bree and Jake that she can be risky. But Marley disagrees, saying that she doesn't want to be paranoid about Jake. (A Katy or A Gaga)
They are seen holding hands while running in the Hallways of WMHS and performing back-ups at You May Be Right. (Movin' Out)
Both of them, along with Tina, audition for the role of Virgin Mary for the living manger that the New Directions' were preparing. The three of them do so by singing Mary's Boy Child in the auditorium. After landing the role, Marley finds out why Kitty had refused to audition for it, despite wanting it so badly. She then makes a plan in which the Glee Club would convince her to get the role. Unique performed Love Child with Marley and Tina doing back-up, something which Kitty thought that was offensive, giving the fact Unique gave birth to a black Jesus doll, so they finally achieve their goal, when Kitty, infuriated, takes the part after all. (Previously Unaired Christmas)
Songs
Duets
Sang Together (In a Group Number)
Song
Episode

Solos with

Womanizer
Britney 2.0
Tina
This Is the New Year
Naked
Blaine, Sam, Jake, Brittany, Ryder, Artie, and Tina
Wannabe
Guilty Pleasures
Kitty, Tina, and Brittany
Mamma Mia
Rachel, Santana, Kurt, Kitty, Sam, and Blaine
You Have More Friends Than You Know
Sweet Dreams
Sam and Blaine
Outcast
Jake, Kitty, and Ryder
Sang Together (In a Group Number)
Trivia
Gallery
v - e - d

Glee Relationships




Character relationship(s) displayed:

Adam

Artie

Becky

Betty

Blaine

Bree

Brittany

Brody

Burt

Cassandra

Chandler

Cooper

Dani

Dave

Elliott

Emma

Finn

Holly

Jake

Joe

Kitty

Kurt

Lauren

Mario

Marley

Mercedes

Mike

Millie

Puck

Quinn

Rachel

Rory

Roz

Ryder

Sam

Santana

Sebastian

Shannon

Shelby

Sue

Sugar

Sunshine

Tina

Terri

Unique

Will
Community content is available under
CC-BY-SA
unless otherwise noted.