'Glee' Profile: Marley Rose
"

Sue Sylvester didn't win. Maybe she took away Glee Club, but she'll never take away what we had; we were part of something incredible.

"

—Marley Rose, New Directions
Marley Rose is a major character on Glee during the fourth and fifth seasons. Marley was a student at William McKinley High School. She was a member of the McKinley High School Glee Club, the New Directions. She's now a senior student.
She and her mother, Millie Rose, who works as a lunch lady at Marley's school, are poverty stricken. This, her mother's weight, and her low self-esteem has led to Marley being separated, as she was never accepted in any of her other schools. Marley aspires to one day be a singer on the radio, and is currently recovering from bulimia nervosa, which Kitty Wilde lured her into.
Her best friend is Unique Adams. It is revealed briefly in the episode Shooting Star that she writes original songs and in the episodes Sweet Dreams and All or Nothing, her songs are performed. Some songs are Outcast and All or Nothing. She was in a relationship with Jake Puckerman up until The End of Twerk, where she broke up with him after finding out about his affair with Bree.​
It is revealed in Homecoming, that Sue transferred her to another school after the disbandment of the glee club.
Initially a recurring character during the fourth season, she is promoted to series regular in the fifth season. However, she was demoted in the sixth season but does not return despite being invited for the series finale, due to Melissa's prior commitment with her show Supergirl. She is portrayed by actress and singer Melissa Benoist.
Biography
Not much is known of Marley's family background as of now, other than the fact that she and her mother, a lunch lady at McKinley, are facing poverty and no one has seen a father figure as of yet. It is revealed that she used to attend another school where she didn't have any friends prior to going to William McKinley High School.
Personality
From the start of Season Four, Marley is portrayed as a shy, sweet 16-year-old with a good heart. Upon joining the New Directions, Marley attempts to hide her identity to prevent being bullied over her mother's weight.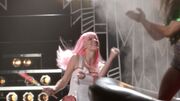 Marley is shown to have a huge passion for singing, saying she wants to sing on the radio rather than go for Broadway. In glee club, she forms friendships with Unique, Ryder, Blaine, Brittany and later a friendship with Kitty, as well as a father-daughter type of relationship with Finn. She is manipulated by Kitty into thinking that she's fat, and eventually develops an eating disorder, which culminates in her passing out at sectionals. Marley's kind personality often causes feuds between Jake and Ryder, especially when they both want her attention to go out with them.
According to Jake and Tina, Marley is a "total Katy Perry" - she loves cats, flowers and Julie Andrews, and refuses to wear a sea shell bikini top during the "Applause" number because it makes her feel uncomfortable.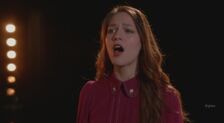 Marley has very strong values - she is wary of being in an intimate relationship, and this, at times, has lead to her being upset over her love-life. Marley's talent for songwriting is praised during Season Four, particularly by Blaine and Unique. Marley is often shown to apologize for her mistakes and is usually very forgiving. In Season Five, Marley seems to have gained more confidence and becomes more independent and open about who she is, whether people like it or not.
Relationships
Songs
Total - 40
Appearances
Trivia
Marley shares some similarities with Rachel Berry. Both of their surnames are based on a plant, both have brunette hair, and both have written original songs for the glee club. Many fans and characters have also referred to her as "the new Rachel Berry." In contrast, Marley is shy and quiet, and doesn't want to be a Broadway singer. Marley wants to be a singer. Just as Mercedes did, they both dated a Puckerman and have kissed a Puckerman.
She also shares similarities with Mercedes Jones. Both of them have never been seen sleeping with their respective boyfriends. Both have dated a Puckerman and a boy with dyslexia. They both have struggled with troubles such as self-image complex and eating disorder/disease. Both of them want to be great artists and either dream of being or end up as radio singer.
New New York was the first episode she did not appear since her first appearance in The New Rachel. She appeared in 35 episodes in a row throughout the entire series.
She is the only member of New Directions besides Rory Flanagan to not to appear in the series finale, as Finn Hudson appeared in a picture.
She is the only bulimic character on the show.
Her actress, Melissa Benoist, was married to costar Blake Jenner in 2016 before they divorced.
Gallery
Quotes
Main article: Marley's Quotations
Community content is available under
CC-BY-SA
unless otherwise noted.