Cobra Kai Season 4 - The Loop
Play Sound
Melissa Marie Benoist, born October 4, 1988[1], is an American actress and singer. She portrayed Marley Rose on the fourth and fifth seasons of Glee. She makes her first appearance as Marley Rose in the first episode of Season Four, The New Rachel. Aside from her role on Glee, she has appeared in a number of television series like Homeland, The Good Wife, Law and Order, and movies: Tennessee, Whiplash, The Longest Ride, and Danny Collins. She currently portrays Kara Zor-El/Kara Danvers (Supergirl) on then-CBS/now-the CW' show Supergirl.
Personal Life
Melissa was born to Jim and Julie Benoist[2] in Littleton, Colorado. She went to Arapahoe High School in Littleton.[2] In high school, Melissa felt like an outsider and was made fun of. She did a lot of extracurricular theater shows. She says she was a wallflower and spent a lot of time by herself, like eating lunch, but she was okay with it.[3] She graduated from Arapahoe in 2007.[4] Instead of attending graduation parties, she performed the play "Evita" with other cast members at the shut-down Country Dinner Playhouse.[5] She graduated from Marymount Manhattan College in 2011.[6]
Melissa had been reportedly engaged to her Glee co-star Blake Jenner since July 2013,[7] until conformation in December 2013.[8] Benoist reportedly got married to Jenner in late March 2015,[9] however it'd be reveled that the couple got married in June 2013.[10] In December 2016, Benoist would file for divorce citing irreconcilable differences for the reason[10]; the divorce was finalized in December 2017.[11]
She has been in a relationship with Chris Wood since 2017; the couple announced their engagement in February 2019.[12] They were married on September 1, 2019.[13] On March 5, 2020, they announced, via Instagram, that they are expecting their first child.[14] Their son, Huxley Robert, was born in September 2020.[15]
Career
Melissa made her film debut in Tennessee. In May,[16] she auditioned for Glee in New York at the Roundabout Theatre Company. She sang different songs for her five auditions: "Fidelity" by Regina Spektor, "King of Anything"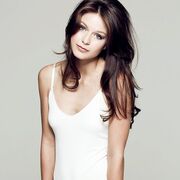 by Sara Bareilles, a Colbie Caillat song, and some musical theater songs. In July,[16] she got two screen tests in California for Ryan Murphy, the casting directors, and executive producers. Because the creators had been looking for Marley for a long time, she started working the day she found out she got the job.[3][17]
She and Darren Criss appear with Josh Duhamel in the opening of the 2013 Kids' Choice Awards.[18]
She was chosen, along with fellow Glee cast members Jacob Artist, Dean Geyer, and Becca Tobin as an ambassador for Coca Cola's new product, P10 300 ml Coke Mismo.[19][20] In June 2013, they were flown to Manila, Philippines to endorse the product by visiting different malls and meeting with fans.[21][22]
She was recently cast in Imagine, an indie film. She will portray Jamie, a desk clerk at a hotel frequented by one of her favorite rock stars of all time.[23]
Benoist was announced, in January 2015, to be tapped to portray Kara Zor-El/Kara Danvers (Supergirl) in the CBS's series, Supergirl.[24]. The series migrated to Vancouver and the CW network for its second season.
Filmography
Year
Title
Role
Notes
2008
Tennessee
Laurel (age 18)
2010
The Good Wife
Molly
("Nine Hours")
Law & Order: Special Victims Unit
Ava
("Wet")
Blue Bloods
Renee
("Privilege")
Law & Order: Criminal Intent
Jessalyn Kerr
("Delicate")
2011
Homeland
Stacy Moore
("Grace" and "Clean Skin")
2012
Glee
Marley Rose
2012 - 2014, recurring/main role (35 episodes)
2014
Whiplash
Nicole
2015
Band of Robbers
Becky Thatcher
The Longest Ride
Marcia
Danny Collins
Jamie
Supergirl
Kara Danvers/Supergirl
2015 - present, main role/director
2016
Arrow
2016 - 2018, 2020 (5 episodes)
DC's Legends of Tomorrow
2016 - 2017, 2020 (3 episodes)
The Flash
2016 - 2019 (5 episodes)
Patriots Day
Katherine Russell
Lowriders
Lorelei
2017
Billy Boy
Jennifer
Sun Dogs
Tally Petersen
2018
Freedom Fighters: The Ray
Overgirl
voice
Waco
Rachel Koresh
miniseries (6 episodes)
2019
Batwoman
Kara Danvers/Supergirl
("Crisis on Infinite Earths: Part Two")
Jay and Silent Bob Reboot
Chronic
The Stew
Susan
short
2020
Robot Chicken
Laura/Malorie Hayes
voice ("Sundancer Craig in: 30% of the Way to Crying")
Theatre
| Year | Title | Role | Notes |
| --- | --- | --- | --- |
| 2000 | The Sound of Music | Little Brigitta[2] | Town Hall Arts Center production |
| 2006[25] | Bye Bye Birdie | Kim McAfee[26] | Town Hall Arts Center production |
| 2006 | A Month in the Country | Vera | Town Hall Arts Center production |
| 2006[26] | A Chorus Line | Bebe | Town Hall Arts Center production |
| 2007 | Rodger and Hammerstein's Cinderella | Title Character | Town Hall Arts Center production |
| 2007 | Footloose | Ariel[27] | Town Hall Arts Center production |
| 2007[28] | Evita | Peron's young mistress[29] | Country Dinner Playhouse's final production |
| 2009[30] | Throughly Modern Millie | Millie Dilmount | Marymount Manhattan College production |
| 2009[31] | As You Like It | Rosalind | Marymount Manhattan College production |
| 2011[32] | The Unauthorized Biography of Samantha Brown | Kelly | Goodspeed Musical production |
Links and Social Networks
Quotes
"

I believe in making my opportunities and that I am responsible for my own future. I am going to be really careful about it and take it one step at a time, and hopefully it will turn out for the best. But I love it so much I don't think I would give it up for anything else.[2]

"

—Melissa Benoist
Trivia
Like the character she portrays, she also comes from a single parent family.[3]
She went to Marymount Manhattan College[26] and graduated in 2011. Jenna Ushkowitz also attended, but graduated in 2007.[6]
She likes Marley's wardrobe.[3]
She has two sisters named Jessica and Kristina.
She likes singing classic jazz and would like to sing any Ella Fitzgerald, Rosemary Clooney, or Etta James. If she could sing a contemporary song, she would sing something by Mumford & Sons.[3]
She loves the song "At Last" by Etta James.[3]
Her passion lies in acting rather than singing and she is interested in doing movies.[3]
She hopes girls watching find strength in Marley's struggles.[3]
She loves female singer-songwriters.[3]
She is obsessed with Michael Fassbender.[33]
She saw Matthew Morrison on Broadway in New York. She loved his performance in "A Light in the Piazza."[26]
In 2006, she was one of Denver Post's five "Can't Miss Kids."[2]
As a teen, she performed anonymously at Disneyland for three summers with the Academy of Theatre Arts run by Paul Dwyer and Alann Worley in Littleton.[29]
She was in a relationship with Nicholas Vorderman, who is a photographer.[34]
She has three tattoos: a wolf on her left wrist, a feather and the word "free" on the back of her neck, and a bicycle on her left foot.[35]
Her dog Farley is something that always makes her feel better.[36]
She has always wanted to visit Rio de Janeiro and see the Amazon.[37]
One of her guilty pleasure songs is MMMBop by Hanson.[38]
She would choose Legolas over Gimli.[39]
Her first time overseas was to the Philippines as a Coca Cola ambassador.[22]
She and AnnaSophia Robb went to the same high school.[40] They were both up for Choice Television Breakout Star at the 2013 Teen Choice Awards.
The recording studio was her biggest obstacle when she first began the show. She had rarely used one before and found it challenging.[41]
She says she is terrible at athletics.[17]
Her best friends are Blake, Jacob and Becca (confirmed in an interview).
She is the second Glee actor to play a DC superhero (Supergirl) in her own show, following Grant Gustin.

Interestingly, the characters of Jake and Ryder sang Superman to her in Dynamic Duets. Supergirl is Superman's cousin in the comics.

She is the only alive former series regular not to appear in any form during the final season.

She was invited in the series finale for I Lived performance, but was unable to come due to her Supergirl commitment.

She was the first Glee actress to have an Oscar-winning film.
She is one of four actors in Glee to also be in Supergirl. The others are Blake Jenner, Peter Facinelli, Grant Gustin and Darren Criss.
Gallery
Videos
References