The Mercedes-Sam Relationship, most commonly known as Samcedes, is the relationship between Mercedes Jones and Sam Evans.
They went to prom together, along with Rachel and Jesse, and were revealed to have been dating since in New York, though they kept their relationship a secret for unknown reasons. Since Sam moved away at the beginning of Season Three, Mercedes had started dating Shane instead. After Sam comes back to McKinley High School in Hold on to Sixteen, he swears to do everything he can in order to win her back.
Although Mercedes breaks up with Shane in Heart, she refuses to resume her relationship with Sam for a moment, and saying that although she loves him, she needs to find out who she is when it comes to love. Sam uploads a video of her singing on YouTube to give her the confidence to pursue her dream of being a singer, and when he shows Mercedes what he has done for her, the two share a kiss. They are seen dancing together in Prom-asaurus.
In Season Four, they are no longer together as Mercedes is pursuing her career in LA while Sam is a senior at McKinley. However, Mercedes would return to Lima and McKinley to help Finn along with Mike. Though in the episode New New York, feelings between the two of them still seem to be present as they are,along with Blaine, move into an apartment together. However, in the episode Bash, Mercedes and Sam re-kindle about their relationship, and finally start a committed relationship.
At the end of Season Five, Sam is hired by a modeling company, which means his dream has come true, so Sam decides to go back home for a while. Since Mercedes is going on tour and Sam leaving New York, adding the fact that Mercedes isn't ready to have sex with Sam yet, they decides to break up. They are on good terms now.
Overview
Sam, unfortunately, does not have a date for the prom in
Prom Queen
, so Rachel and Mercedes, who are also without dates, come together and they aall agree go together on a prom budget (alongside Jesse St. James, who joins later). During Rachel's rendition of Christina Perri's
Jar of Hearts
at the prom, Sam tells Mercedes she is beautiful and asks her to dance.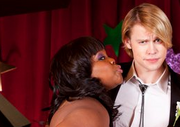 After coming home from New York, having come in 12th at Nationals, Mercedes and Sam happen to bump into Kurt and Blaine at The Lima Bean, making small talk with one another. The two say they just met in the parking lot, but when they stand in line at the counter, they wonder whether or not Kurt and Blaine caught onto them. When they decide that there is no way they know, the camera pans down to see them holding hands, implying that they are secretly dating.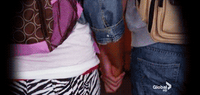 They break up when Sam transfers, as said by Mercedes in
The Purple Piano Project
. When Sam returns in
Hold on to Sixteen
, Mercedes tells him that their relationship was just a "summer fling," but Sam calls out to her in the hallway after she walks away that he is going to fight for her, no matter what, which makes her smile.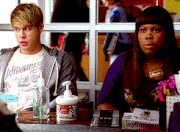 In
Yes/No
, Mercedes admitted that their "summer fling" was more than that and she still has feelings for him. In the following episodes, Sam continues to pursue Mercedes, even sharing a kiss with her in
Michael
, but Mercedes knows what she is doing is wrong and tells Shane about them, breaking up with him in
Heart
. However, she tells Sam that she wants to be single for a while, declining a relationship with him. Later on in
Saturday Night Glee-ver
, Sam uploads a video of Mercedes performing
Disco Inferno
to YouTube and tells her she is capable of doing anything & the two share their second on-screen kiss. In
Prom-asaurus
, the two attend the prom together, confirming they are back together.
By The New Rachel, it is revealed they have broken up, presumably due to Mercedes leaving to live in Los Angeles, however it has been shown that two are still close friends despite their split.
Episodes
Songs
Duets
Sang Together (In a Group Number)
Related Songs
Sang Together (In a Group Number)
Song

Episode

Solos with

Not While I'm Around
Bash
Blaine and Rachel
I Melt with You
Old Dog, New Tricks
Rachel
Take Me Home Tonight
Artie , Blaine, Kurt, Maggie, Rachel, and Santana
Pompeii
The Untitled Rachel Berry Project
Artie, Brittany, Blaine, Kurt, and Rachel
Related Songs
Sang Together (In a Group Number)
Song

Episode

Solos with

Take On Me
Homecoming
Artie, Brittany, Kurt, Puck, Quinn, Rachel, Santana, and Tina
What the World Needs Now
What the World Needs Now
Artie, Blaine, Kurt, Rachel, and Will
I Lived
Dreams Come True
Artie, Blaine, Kurt, Rachel, Roderick, and Will
Related Songs
Quotes
"

Sam: Mercedes?
Mercedes: Yes?
Sam: I just wanted to say that you look beautiful. Would you like to dance?
Mercedes: I'd love to.
(Mercedes takes Sam's hand)

"
"

Mercedes: Do you think they know?
Sam: I don't think anybody knows.
(They hold hands)

"
"

(Sam grabs Mercedes' hand)
Mercedes: What are you doing?
Sam: Holding your hand.
Mercedes: Don't. Sam look I-
Sam: Hey, I heard about your boyfriend.
Mercedes: Then you heard he's built like a bulldozer...We had a summer fling.
Sam: It was more than that.
Mercedes: I'll always have a special place in my heart for you but I've moved on, and you need to do the same.
Sam: I don't care how big or bad your boyfriend is. I'm gonna fight to get you back.
(Mercedes walks away smiling)

"
"

Sam: Hey. Pretty romantic huh? Think you're gonna get married someday?
Mercedes: After I win my first Grammy.
Sam: Do you have any idea who the guy is gonna be, because I know this awesome dude who has great impressions and is totally into you.
Mercedes: Sam, stop. I'm with Shane.
Sam: It's because I'm white right?
Mercedes: (Smiling) Are you insane?
Sam: Okay then, it's because he's such a stud athlete? The Letterman jacket makes all the girls go wild, I know.
Mercedes: It was a summer fling Sam.
Sam: You tell me, thinking about that Tilt-a-whirl at the carnival doesn't make you smile.
Mercedes: Okay that was fun.
Sam: That's what I thought.

"
"

Tina: Hey, what's wrong?
Mercedes: That song was so-so beautiful and moving. The first person I thought of wasn't Shane. It was Sam. I don't know. I thought it was in the past.
Rachel: Hey I think you just need to take it slow okay? And listen to your heart. Maybe the spark with Sam is still there.

"
"

Mercedes: Sam just tweeted that I smell good.
Sam: I won't stop until it's trending.

"
"

Sue: I said absolutely nothing about the implausible sexual tension between Mercedes and the Kentucky Fried Stripper.

"
"

(Sam shows Mercedes a video of her singing Disco Inferno on the computer)
Mercedes: That's me...
Sam: Yeah.
Mercedes: Wait. Did you post this to YouTube without asking?
Sam: Can you hear yourself? You're amazing! And you look stunning.

"
"

Sam: You ain't no skim milk, baby. You're the cream rising to the top.

"
"

Sam: Are you sure that's appropriate?.
Mercedes: You did not just ask that!

"
"

Sam: First time we danced like this was at last year's prom.
Mercedes: I remember.
Sam: Yeah, remember how I told you we're gonna get back together and you told me I was crazy - krayzee!
Mercedes: (laughing) That's 'cause you are.
Sam: Yeah well you kinda love it.

"
"

Mercedes: Sam gave me the courage to follow my dreams and become a singer. And without him I probably would've moved to L.A.

"
"

Mercedes: I ain't ashamed to say it. It got a little lonely out there. I missed you. Well I missed everyone.

"
"

Mercedes: So here I am, two bedrooms and a refrigerator.
Sam: That's cool.
Mercedes: It's crazy.
Sam: So uh, what are you going to do with the other room?
Mercedes: Oh well, you know I was thinking of storing my hair for my weaves in there. But then I got to thinking, maybe I should rent it out to a couple of nerds I knew back in high school.
Sam: Yeah, but Blaine and I need a place so you could just rent it to us.
(Mercedes gives Sam a look)
Sam: ...Oh you were talking about us.
Mercedes: Yes I was. (laughs)

"
"

(Sam digging through his pockets)
Mercedes: Um, what are you doing?
Sam: I'm gonna make a wish.
Mercedes: Are you about to throw a coin in the East River?
Sam: No…I'm gonna to make a bunch of wishes and they're all going towards that same wish-oh, there's a screw, that you, Mercedes Jones, will open your eyes and realize the we are perfect for each other.
Mercedes: (laughs) Sam.
(Sam chucks a bunch of coins into the river)

"

—Bash
"

Sam: Listen up everybody, Mercedes and I have an announcement, drum roll please.
Mercedes: Sam and I…
Sam: We are officially dating again.

"

—Bash
"

Sam: Fact, sex is awesome. It's like one of the greatest things that god ever invented. But what's better than sex? Um, horseback riding. Um, Skydiving probably. And hearing you sing. I-I don't need to think about this anymore. I know I've said this before, but this time I really mean it. I can live without sex, but I can't live without you.

"
"

Rachel: Well Sam definitely loves you because I don't know any other nineteen year old boy who would say it's okay to wait if he wasn't like, totally in love with you and obsessed with you.

"
"

Sam: Are you still a virgin?

"
Trivia
They are the second couple to start dating over the summer, the first being Tike.
It has not been revealed as to why Sam and Mercedes decided to keep their relationship hidden when they first started dating.
They are the second couple that has their own theme song (the first is Klaine). Their theme is a piano melody of Summer Nights.
Most of their major scenes seem to happen in the school hallway.
Mercedes is the first girl Sam has knowingly cried over.
Sam is the only guy Mercedes admitted to being in love with. (Heart)
Sam is the only guy Mercedes has cheated with.
Mercedes has called Sam "crazy" twice. (In Michael and Prom-asaurus)
One of their scenes in Heart was cut in which Sam gives Mercedes an ultimatum.
Sam's locker in season 3 contains a great amount of pictures of Mercedes.
They have both been referenced to chocolate, Mercedes as Chocolate Thunder and Sam as White Chocolate.
Sue says that she can feel sexual tension between them. (Big Brother)
Mercedes is Sam's only girlfriend that hasn't publicly humiliated him.
They attended prom together two years in a row.
They have both been in The God Squad with Quinn and Joe in Season Three. They have been the only two members sometime prior to Heart, being that Joe had first joined at the same time Quinn had rejoined.
Emma Pilsbury found them to be a great couple. (Dance With Somebody)
There was no official ending or break-up to the relationship. When Season Four aired, their relationship was not mentioned and Sam began pursuing Brittany.
Both have pursued a relationship with each other the most out of their other relationship.
They are the first straight couple of former New Directions members to live together.

They are the first straight couple to share a bedroom as well.

Sam has stated on multiple occasions that they have chemistry and are perfect for each other.
Tested is the first time Sam has outright said "I love you" to Mercedes.
Sam declared that Mercedes's voice is better than sex.
Rachel believes that Sam and Mercedes are soulmates.
Their kiss in Tested was included on Glee's Top 5 On-screen kisses countdown.
They were included on Glee's Top 3 Unsinkable Ships countdown.
Gallery
v - e - d

Glee Relationships




Character relationship(s) displayed:

Adam

Artie

Becky

Betty

Blaine

Bree

Brittany

Brody

Burt

Cassandra

Chandler

Cooper

Dani

Dave

Elliott

Emma

Finn

Holly

Jake

Joe

Kitty

Kurt

Lauren

Mario

Marley

Mercedes

Mike

Millie

Puck

Quinn

Rachel

Rory

Roz

Ryder

Sam

Santana

Sebastian

Shannon

Shelby

Sue

Sugar

Sunshine

Tina

Terri

Unique

Will
Community content is available under
CC-BY-SA
unless otherwise noted.