'Glee' Profile: Mercedes Jones
Play Sound
"

Oh hell to the no!

"

—Mercedes Jones, Homecoming
Mercedes Jones is a major character on Glee. Mercedes was the first student to audition for New Directions. At the beginning of the series, she develops a close friendship with Kurt Hummel and a strong rivalry with Rachel Berry. At the end of Season Three, she reveals that she accepted a recording contract at an indie label and moves to Los Angeles where she attends classes at UCLA. She occasionally returns to McKinley to mentor the younger students as a vocal coach. In Season Five, she moves to New York to work on her album and rekindles her relationship with Sam Evans. However, she and Sam break up again because their lives are going in different directions. Mercedes goes on a mall tour with Brittany and Santana, promoting her album. Mercedes later comes back in the last season of the series to help Kurt and Rachel recruit new glee club members, reveals that she's dating a rock star with whom she shares her celibacy vows with, and attends Brittany's, Santana's, Kurt's and Blaine's double wedding.
Mercedes is a main character from the beginning until Season 4. She was once demoted to a recurring character in Season 5, but was promoted again in Season 6. She is portrayed by Amber Riley.
Biography

Mercedes auditions for the Glee club with the song, Respect, and is one of the original Gleeks. Right after the auditions, Mercedes, with Rachel, Artie, Kurt and Tina, sing Sit Down, You're Rocking the Boat but they are disappointed because of the lack of a strong lead solo. Later on, when the Glee club recruited a new male member, she "divas out" and says that she "is Beyoncé and ain't no Kelly Rowland!" after singing back-up in You're the One That I Want. However, she began singing in an again and admitted they were actually starting to sound good. She goes to see Vocal Adrenaline with the rest of the Glee club and is shocked at how talented they are when they sang Rehab.
After Will Schuester decides to quit directing the Glee club because his wife is pregnant, Mercedes is given the job of providing her fellow Glee club members with stylish clothing when they sing, Don't Stop Believin'. To their surprise, Will decides to direct Glee club again after a talk from Emma Pillsbury. Mercedes is filled with joy.
During rehearsals, Mercedes argues with Rachel after she almost kicks her and complains in Will's choice of song. Later on, she gets into a dispute with Kurt Hummel when he tells her that she looks like a "technicolor zebra." Afterwards, she performs a solo in Gold Digger. She is seen doing back-up in Push It and Take a Bow.
Mercedes is worried that she won't ever get a boyfriend so she starts hanging out with Kurt. Mercedes hopes that it will eventually lead to a relationship. Mercedes thinks that Kurt returns her feelings and they link arms while going to see Vocal Adrenaline to hire their choreographer. Fellow Glee club members Tina Cohen-Chang and Rachel Berry have a "gayvention" telling Mercedes that they didn't want her to get hurt by feelings that Kurt couldn't return, Mercedes stood up for him saying that just because he dressed nice didn't mean he was gay (they said that he was too 'lady' beautiful).
During the Glee club car wash, Mercedes asked Kurt to make it official, but he told her that he was in love with someone else and looked at Finn, but Mercedes thought he was looking at Rachel so she smashed the front window of his new car, and then sung Bust Your Windows. Mercedes and Kurt both apologized to each other for the incident before Kurt told her that he was gay, making her the first person he ever told.
Mercedes shows encouragement to Tina Cohen-Chang when she gets a solo over Rachel. Through the rest of the episode she is seen to be in the background.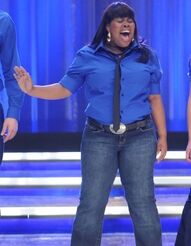 When April Rhodes is attempts to win the Glee Club's respect, she teaches Mercedes and Tina how to shoplift. They come to Mr. Schuester with new clothes and accessories saying that they love April. She performs backing vocals in Last Name and has a short solo at the end of Somebody to Love.
In order to beat the boys in a mash-up competition, Mercedes and the girls take vitamin D from Terri Schuester to enhance their performance of Halo/Walking on Sunshine.
Sue wants Mercedes in her group and refers to her as Aretha. When everyone else is nervous, she say that she is excited because she saw Sue's Corner last night and saw her give a speech about how much she loves minorities. Sue gives Mercedes the lead in Hate on Me. She sings Ride wit Me along with the rest of the group, but then says that they need to go and meet Sue. After Sue and Will get into a huge fight in front of all the kids, Mercedes and the rest of them storm out. Mercedes sings back-up vocals in Keep Holding On.
Mercedes dodges a slushie facial. Meanwhile, she mocks Mr. Schuester's choice of song Bust a Move because it is so old. After Kurt hits himself with a slushie, Mercedes takes him to the washroom to clean his face.
Mercedes had auditioned for the Cheerios, she sings "McKinley, hey!," but she was rejected by Sue. After Will decides they should sing Defying Gravity at Sectionals, Mercedes thinks they should sing something more black, Will says that they will find something for her. When her best friend Kurt competes with Rachel, she is supportive of him and winces sympathetically at him when he intentionally messes up a high F. Mercedes later sings lead with Artie and Tina in Proud Mary.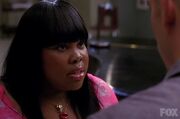 Mercedes is partnered up with Puck for the ballad they need to perform. She talks to Tina on the phone about how everyone is so rattled up about Quinn and Finn's baby that they can't express any emotions of their own in the ballads. So they all decide to perform one ballad for Quinn and Finn. She tells Puck about their idea and he is upset. When Mercedes asks what his problem is, Puck tells her that Finn is not the father, he is. Mercedes tells him that he should forget about it because Quinn chose Finn and he had no business screwing up her life more than he already had. She went to get Kurt and Finn and took them to the choir room. Mercedes performed lead vocals in Lean on Me along with Artie.
Mercedes and Artie perform the leads in the hairography number Hair/Crazy in Love performing with wigs. When they hear the deaf school perform Imagine, Mercedes starts to sing with them, then Artie joins in, then the rest of the Glee club. She performs back-up vocals in True Colors.
Mercedes and the rest of Glee club don't want their picture in the yearbook, however Rachel ensures that two of them get a picture so Mercedes votes for Rachel to be one of the two people. When Rachel asks her to be the second person, she lies about celebrating Kwanzaa. Then, Rachel gets them all cast in a mattress commercial. Mercedes says that she won't talk to any of them after she gets her record deal and becomes famous. She performs Jump in the commercial. After Quinn gets all of the Glee club a picture in the yearbook, while the pictures are taken Mercedes sings Smile along with Rachel and Finn.
Rachel decides to volunteer to sing at Sectionals. Mercedes is fed up with Rachel always having to be the "star." Therefore, she demands her right to be heard, leading her to sing And I Am Telling You I'm Not Going, which causes a standing ovation from all the others, even Rachel, who says Mercedes should indeed sing the ballad. Meanwhile, it's discovered that despite promising otherwise to Puck, Mercedes has told all the other Glee kids that Puck is the real father of Quinn's baby. The only one not told is Rachel, who everyone is afraid will tell Finn the truth (which she does, upon figuring it out herself).
Upon reaching Sectionals, it's discovered that the opposing schools have stolen their set lists, which Sue Sylvester has passed on in order to destroy the group. Rachel takes command and asks Mercedes to choose a different ballad to sing. Mercedes concedes to not having prepared another song and asks that Rachel perform instead. With Finn back as well, the group comes together to win Sectionals and get Will back.
After Sectionals, Mercedes along with the rest of the Glee feel elated at their victory, and think that their social status would be elevated. This fantasy is quickly dashed, however, as she, Rachel and Kurt all receive slushies to the face. At Glee rehearsal, the group is given the assignment of singing songs involving the word "Hello." When the group later discovers that Rachel is dating the male lead of their rivals Vocal Adrenaline, Jesse St. James, it is Mercedes, Kurt, Tina and Artie who confront her on it, with Mercedes trying to tactfully explain that Rachel should not date the enemy.
Sue Sylvester
insulting Will's hair again, and are surprised to see Will effortlessly make a comeback. Feeling bad for her, Kurt and Mercedes go and offer their make-over services to her, and in-exchange will b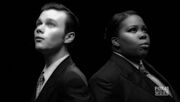 e allowed to borrow the male Cheerios for their Madonna Project.
Sue agrees, and together the three of them recreate Madonna's Vogue music video under the direction of Artie. Despite the new looks they offer Sue, she decides in the end she's better being herself, and that rather than change herself, she changes everyone else. Starting with Kurt and Mercedes. She then extends an invitation to them to join the Cheerios, doing musical performances to the cheerleading routines. Seeing as neither Kurt nor Mercedes have gotten solos under Will's Glee guidance, they accept and decide to do both Glee and Cheerios. Will is not pleased but accepts, and as if to make it up to them, gives them solos in Like a Prayer.
Sue admonishes Mercedes, telling her that she must lose ten pounds and wear the female Cheerios uniform, though Mercedes tries to explain that it "doesn't fit her right," and she'd rather wear the pants. Kurt pushes Mercedes to lose the weight, though he originally says that her body is fine the way that it is.
In the cafeteria, Mercedes leaves her lunch and gets mad at Artie and Tina for trying to get her to eat. She starts to hallucinate by seeing them, Rachel, and Jesse as food, and faints. The nurse tells her she has low blood pressure. Once she leaves, Quinn walks over to Mercedes and assures her that she went through the same thing. Mercedes is surprised at her kindness, and tells her how she is embarrassed at who she has let herself become. At the end of the episode, during a pep rally, Mercedes sings Beautiful, and most of the Cheerios and Glee Club members join her, thus proving to everyone that Mercedes is proud of herself.
Mercedes has meeting with Kurt, Artie, and Tina along with Brittany (only because she stayed), because they were angry that they were not on the Glist (except for Brittany, who was only fourth). They all try to get in trouble so they can be on the Glist. Mercedes dances with Artie, Kurt, Tina and Brittany in the library, which was Kurt's plan of how to get a bad reputation. They perform U Can't Touch This, which is ultimately ineffective because the librarian enjoyed their dance and asked them to perform for her church.
Puck feels he is at the bottom of the social heap and get's his eye on Mercedes who has all of the popularity. He decides to woo her and they have a duet of Lady Is a Tramp. Mercedes has a brief fling with Puck that doesn't set well with Santana and they angrily sing The Boy Is Mine. She quits the Cheerios and breaks up with Puck after realizing she needs to be true to herself.
Mercedes is present during Artie's dance sequence: Safety Dance. At the end she sings back-up during Dream a Little Dream.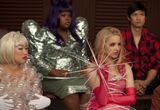 Mercedes try to give a new style to Tina. She looks very excited with the assignment of the week, Lady Gaga. With Rachel and Quinn spy Vocal Adrenaline, and Rachel discovers that Shelby Corcoran is her mother. She has a solo during Bad Romance. She with the girls, Kurt and Will are cheering the ND Boys performance and Puck's solo. At the end, she helps Finn with the Glee Club to defend Kurt for David Karofsky and Azimio.
Mercedes makes fun of Quinn when their assignment is to come up with a funk number. Quinn proves her wrong and shows her funky side. Meanwhile, Mercedes performs Good Vibrations alongside Finn and Puck and realizes that Quinn does feel the same as she has. Quinn apologizes to Mercedes, saying that Quinn will only be called names for nine months while Mercedes has had to deal with it her whole life. Mercedes replies, saying that Quinn is not angry, just hurt after being kicked out of her parents and Finn's house. Mercedes also offers for Quinn to come live with her as they have got a spare room after Mercedes' brother is at college. The entire glee club shows their rivals, Vocal Adrenaline, just what they've got ready for them at Regionals by performing Give up the Funk.
Regionals
, the New Directions perform a Journey medley at Regionals then Quinn's water breaks. The entire group (except Rachel) rush to the hospital. Quinn insists on Mercedes being in the delivery room and she bravely accepts, showing how much their relationship has developed. After losing, Mercedes and the rest of the glee club confess to Will how glee club has changed them and perform
To Sir, With Love
. They then celebrate and listen to Will and Puck perform
Over The Rainbow
after they learn they have got one more year of glee.
Mercedes says that the New Directions is now a family, and the bullies can bring it all they want. When New Directions performs Empire State of Mind in front of everyone, she has a solo. Later, when Mercedes finds out that Rachel plans to scare Sunshine away from New Directions, she agrees with Kurt that while they wouldn't like losing even more of what little spotlight she gets, she is more than willing to sacrifice it in return for a greater chance at winning Nationals. She enjoys Sunshine's performance of Listen, and really likes it, but is angry at Rachel after she sees that Sunshine is going to Vocal Adrenaline.
When Brittany Pierce expresses her disdain for Britney Spears, Mercedes can be seen confused as she asks "What the hell is she talking about?" Mercedes performs back-up vocals in Toxic, and in The Only Exception. Her role is totally minuscule.
Mercedes dances to Puck's Only the Good Die Young. When Kurt's father has a heart attack, she doesn't know what to say to Kurt . Instead, she decides that she'll sing to him, to show her support. She sings I Look to You, but Kurt doesn't appreciate it because he is atheist. Meanwhile, when Rachel is performing Papa, Can You Hear Me? at Burt's bedside, Mercedes is listening, and tells Kurt that her, Quinn, and Rachel are from different religions so one of them must be right (meaning that one of their prayers must be heard).
Later, Mercedes is seen crying during Kurt's performance of
I Want to Hold Your Hand
. Mercedes sees Kurt in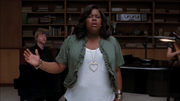 the hall and tells him that she doesn't know how to talk to him. She invites him to her church, but Kurt says that he doesn't want to go. But after Mercedes offers that Kurt can wear a "fabulous hat," Kurt laughs and finally accepts her invitation. At church, Kurt is seen as a "sore thumb" compared to everyone else. Mercedes asks the entire church to pray for Burt, because Kurt needs it. When Mercedes performs
Bridge Over Troubled Water
, Kurt sits down, but a few women lift him up. Kurt is smiling. Mercedes performs a solo in
One of Us
.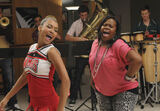 Kurt and Mercedes are sitting next to each other and Kurt claims that the new glee clubber, Sam Evans is gay, but Mercedes denies it. When Will opens up a Duets competition, she initially is unenthusiastic until Santana convinces her that if they team up for their duet, they would be, "the undisputed top bitches at this school." Then, she and Santana perform River Deep, Mountain High, and they were confident they were going to win. Despite a fantastic performance, they lose the competition and Mercedes has to hold Santana back as she tries to grab the free dinner coupons from Will.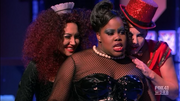 Mercedes was originally cast as Columbia, and performed in the background during
Damn It, Janet
with Kurt and Quinn. After
Whatever Happened to Saturday Night?
, Mercedes realized that the role of Frank-n-Furter was open, and inspired by the song 'Don't Dream it, Be it' asked to be Frank-n-Furter, because she really wanted a main role. She offered to modernize the song, and thus was cast as Frank-n-Furter. She performs
Sweet Transvestite
. She is also seen dancing in
The Time Warp
.
Mercedes sings lead vocals in Start Me Up/Livin' on a Prayer. She also laughs during the boys' mash-up as Kurt dances.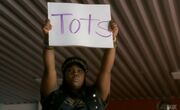 Mercedes rebels against Principal Sue when she finds out that tater tots are banned from the school lunch menu. Meanwhile, Kurt notices that Mercedes is feeling left out because of his new friendship with
Blaine Anderson
and starts to worry that Mercedes is using food as a substitute for love, and their friendship as a substitute for a relationship. He then tries to set up Mercedes with
Anthony Rashad
, a member of the football team, who Kurt is apparently on friendly terms with and who seems to find Mercedes attractive as he smiles at her and waves in greeting. At first Mercedes is hesitant, but eventually decides to give him a chance after Kurt confronts her about his concerns.
Mercedes performs in Marry You and Just the Way You Are. At the end of the episode, she is the most upset about Kurt's sudden transfer. She confronts Kurt about leaving, nearly crying. After Kurt leaves, her and Finn seem the most upset about it.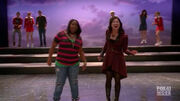 After Will told the glee club that they will change up the lead vocals a bit, Mercedes thought that she will get the lead vocals and is shocked that Sam and Quinn get the lead vocals. At the Sectionals competition, Mercedes is the first one to applaud for Kurt after the Warblers' performance of Hey, Soul Sister.
Later, Mercedes offered to take the lead vocals again if Quinn couldn't do it. When New Directions was performing, she had a solo in (I've Had) The Time of My Life. She also shared a quick smile with Kurt as the winners were being announced. When they all were back in the Choir Room deciding solos for a new number they were going to perform, Mr. Schuester offered to give the solo to Rachel who didn't get a solo in sectionals. Rachel said that the unsung heroes of New Directions (Tina and Mercedes) should get the solos instead. Per her request, Mercedes and Tina perform lead vocals in Dog Days Are Over.
Mercedes performs The Most Wonderful Day of the Year with New Directions. After Will tells New Directions what Christmas is about, Mercedes says that the Christmas tree they set up was a symbol of New Directions after winning Sectionals two times in a row. Despite talking about how they won, Mike, Tina, and she get a slushie facial from Azimio and Karofsky. When New Directions goes caroling, she performs We Need a Little Christmas along with New Directions.
Later when everyone is wishing wishes to Santa, she wishes for a pony, stating that she's been a very "good girl." When the Christmas spirit of New Directions got destroyed, Mercedes was angry about it. She also performs backup in Welcome Christmas. She later believes in Santa when Artie got the ReWalk. At the end of the episode, she comes, along with New Directions and Sue, to Will's house for Christmas.
Mercedes immediately rejects to having David, Azimio, and the rest of the football players joining the New Directions, due to all the slushies they were given and the way David bullied Kurt into transferring to Dalton. She is lady shown as a temporary member of the football team and is also shown performing in Thriller/Heads Will Roll mash-up. Mercedes is shown cheering on the football team as they score the winning touchdown.
Mercedes joined Rachel and Kurt in a sleepover to cope with Kurt's heartbreak over Blaine. She explains to both of them that some of the greatest divas have become stars through being single, and they should embrace it. This gives Rachel and Kurt the confidence to embrace being single for a while, though they're still not over their crushes. She is seen smiling during Rachel's performance of Firework, which is based on her advice. She also cheers on Kurt as he sings, along with the Warblers, Silly Love Songs
Sue joins glee club. Things don't turn out well for Mercedes because of this- Sue told her some things that Rachel said. It turns out that she wants the glee club to turn against each other, and uses Rachel and Mercedes as her toys. She challenges these two to a diva-off. They have their diva off and sing the song Take Me or Leave Me. Sue's plan doesn't work out, for they aren't enemies. After this diva-off, Rachel and Mercedes become friends again. Mercedes watch Lauren's I Know What Boys Like and sings backup in Sing.
Mercedes attends Rachel's party. She (like everyone else except Kurt and Finn) get drunk, and Mercedes (along with Tina) are "happy girl" drunks according to Finn. At school on Monday, Mercedes performs Blame It (On the Alcohol) with Artie, Santana and New Directions.
Mercedes (along with Finn) is shown believing that cucumbers can give you AIDS, after Holly Holliday uses one to demonstrate how to use a condom. At the end of the episode, she joins the Celibacy Club.
When Quinn agrees with Rachel, Mercedes says, "But if all the other teams are doing amazing songs, we're not going to be so good." She proceeds to write her own original song, Hell to the No. This is clearly the best song, and New Directions thinks that too. After Will compliments the song, he says they can't use it because it isn't what people are looking for at Regionals. When New Directions is having trouble writing a song, she tells them about when Sue threw sticks at her; this helps them write their original song, Loser Like Me. At Regionals she has slight solos in Loser Like Me, and is very overjoyed when they won.
Lauren tells Mercedes that she is the most talented singer in Glee club and tells her to demand for Respect, and Lauren becomes her manager. Mercedes makes ridiculous demands, and later in the episode she leaves the benefit after how she has been treated. Rachel catches up to her and attempts to persuade her to come back. After she returns and she decides that she will perform, she has one final demand, she wants New Directions to watch her perform. So she performs Ain't No Way with a choir which causes Sandy to cry. Rachel, awestruck with Mercedes, says she can't top her and ends the benefit saying that she was the best closing number.
She performs Born This Way with Tina, Kurt and New Directions. During the performance she wears T-shirt saying "No Weave," meaning she doesn't have weave sown to her head.
Brittany starts a new gossip talk-show, Fondue For Two, and has Mercedes and Tina ("the school's biggest gossips," as she introduces them ) as her first guests. They discuss the school gossip and eat fondue, when Brittany announces that Santana "plays for the opposite team," unknowingly indicating that she's lesbian. Tina and Mercedes are shocked, then grossed when their host let's her cat eat the cheese. They are most likely responsible for spreading the rumor through the school.
Mercedes, despite not wanting a boyfriend, is shown to be upset that no one has asked her for Prom, so Rachel convinces her to go with her and Sam. Later in the episode she meets up with Rachel, Jesse and Sam at Breadstix before the prom and discuss their expectations for the night. Finn and Quinn show up and this sparks some tension between Finn and Jesse, which she promptly defuses. At the end of the episode she sings Dancing Queen with Santana.
Mercedes competes with Rachel, Kurt and Santana for the solo which is to be performed at Nationals. She later takes offense when Jesse calls her lazy because her performance had no choreography. She is then furious because she thought she did really well; she also performs Pure Imagination with the rest of New Directions.
Mercedes is seen having an amazing time in New York as well as devastated when they lost at Nationals. Later on, she and Sam awkwardly run into Kurt and Blaine at the coffee shop, making the excuse of running into each other in the parking lot. After the conversation, Sam and Mercedes walk away and Mercedes asks, "Do you think they know?" and Sam replies, "I don't think anyone knows." and they are then seen holding hands. Mercedes and Sam start secretly dating in New York.
During the Jacob Ben Israel interview, Mercedes admits that Sam had a relationship with her but it ended when his father found work and moved to another state. At the same moment she reveals that Shane Tinsley is her current boyfriend, who looks very happy and she seems to like the way he talks. Mercedes then sings with New Directions in We Got the Beat to recruit new members since Quinn, Lauren and Sam left the Glee Club. and she is the first to start screaming like crazy when the food fight starts. Later she is getting food off herself from the food fight in the choir room and when Sugar Motta arrives Kurt is curious about why her name sounds familiar but Mercedes clears it up for him. She sings and dances with New Directions in You Can't Stop the Beat and has a solo.
Mr. Schuester tells Mercedes she needs to go to the new Booty Camp to work on her dance moves, though Mercedes doesn't understand why she can't sing and have the others dance around her. She is mentioned when Emma, Coach Beiste, and Artie are deciding who should play Maria in West Side Story (the school musical), Rachel or Mercedes. Because Mercedes hadn't auditioned yet they left the spot open to see if she could top Rachel's performance. Emma thinks Mercedes has the voice with the most soul in the school. When Quinn returns to New Directions, Mercedes is very happy to see her and gives her a big hug.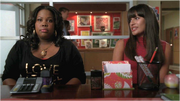 The episode opens with Mercedes coming late to Booty Camp because her alarm clock went off thirty minutes late and she says, "It kinda shifted my whole schedule." When Mike is trying to catch Mercedes up on the dance moves she starts to feel sick and claims it's because she hasn't eaten because she has been so busy with everything. Before Mercedes auditions in the cafeteria she is seen hugging Rachel and Shane tells her that she shouldn't be hugging her and that everyone is scared of Rachel Berry, but they should be scared of her. Mercedes is flattered and says,"I've been here for three years and no one has ever said that to me," and she smiles. She then starts singing Spotlight with Tina and Brittany as backup.
This then turns out to be her audition for the school play. Rachel feels threatened. She is seen cheering for Brittany in the number Run the World (Girls). Beiste and Emma are still tossing up as to who to choose to be Maria in the school musical. Will then says to them the only way to settle it is with a callback. When Mercedes finds out she starts getting all flared up and when Rachel attempts to hug her she pulls away and says, "Hug me after I get the part." This action was possibly influenced by Shane. Back in Booty Camp they are learning the new move "The Widowmaker" which is revealed to be possibly the hardest move in show choir ever. Mercedes is the last one standing as everyone else had got the move right.
She complains that her ankle hurts and this is when she has her big fight with Mr. Schuester saying that Rachel always gets all the spotlight and attention and asks why she isn't at Booty Camp. She then threatens to leave stating, "You know for two years I took it but not anymore. I'm done." Mercedes then knocks over the music stand and then the dream sequence of
It's All Over
takes place. After the song everyone has left the dance practice and Mercedes gloomily states, "It's over." In this episode, a diva-off takes place (more commonly known as the Maria-off) for the role of Maria in West Side Story. They toss a coin and Rachel wins but Rachel gives Mercedes the liberty to begin first.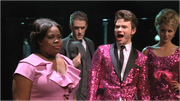 They were both very good and Rachel believes Mercedes was better than her. This is when Mercedes receives her first kiss by Shane. It is then revealed that Rachel and Mercedes both got the part of Maria but Mercedes isn't down with it. Mercedes believes that they only split the part because they couldn't say no to Rachel. She then gives Rachel the part. In
Fix You
Mercedes is seen looking at all the people getting the roles in the play very jealously. At the very end of the episode Mercedes asks
Shelby
if she can join her glee club which implies that she has recently quit New Directions.
Mercedes approaches Santana asking her how many solos she was given last year. Mercedes uses this to try convince Santana to join Shelby's all girl group because they would get all the solo's. Her proposal intrigues Santana but she says she could never leave Brittany and Mercedes tells her to bring Brittany along. Later Mercedes is approached by Brittany and Santana and they tell her that they want to join Shelby's choir. The five of them (Brittany, Santana, Mercedes, Sugar, and Shelby) discuss their group name, which they conclude to be The Troubletones. They sing Candyman in the auditorium.
Mercedes briefly appears at the end, while in the audience, she enjoys the performance of West Side Story.
Mercedes is seen playing a game of dodgeball against the New Directions during
Hit Me with Your Best Shot/One Way or Another
. After the Troubletones win the game, all of them except Mercedes pelt Rory with dodge balls. Mercedes can be seen with a worried look on her face as this is going on. Mercedes comes into the Troubletones rehearsal with the idea for an Adele mash-up, also bringing up that Santana should play fair from now on, both physically and verbally. Mercedes also nominates herself leader of the Troubletones, to which Santana protests but accepts. During The Troubletones performance of
Rumour Has It/Someone Like You
, Mercedes is seen giving Santana looks of concern because of the problems Santana is going through.
During the Troubletones' assignment with New Directions, Mercedes is seen defending Santana against a homophobic jock and performing with the girls in I Kissed a Girl.
Mercedes is approached by Sam, who has returned to help the New Directions win sectionals. Sam and Mercedes talk about their past relationship to which Mercedes claims was just a summer fling. Sam on the other hand states that it was more than that. Mercedes tells Sam that though she will always have a special place in her heart for Sam, she has moved on and tells Sam to do the same. As Mercedes is walking away, Sam yells out that he will fight to get her back and Mercedes continues walking away.
Mercedes and Santana led the performance of
Survivor/I Will Survive
with the Troubletones during sectionals. During New Directions performance of their Jackson 5 medley, Mercedes is seen laughing and smiling while Sam does a dance during
ABC
. The Troubletones lose sectionals, something Mercedes and the rest of the Troubletones are devastated about, Mercedes later stating that they should have won.
Quinn approaches Mercedes, Santana, and Brittany in the girls' bathroom and invites them back to the New Directions. Though a little skeptical about the offer, Mercedes, Santana, Brittany, and Sugar go to the auditorium where New Directions are performing We Are Young and they take part in the song, Quinn pulling Mercedes into the group, meaning that Mercedes as well as Santana and Brittany are back in the New Directions.onship|Sectionals]], but they end up losing to New Directions. However, they, along with Brittany and Sugar, are invited back into their former glee club and they all sing We Are Young.
Mercedes opens the episode singing All I Want for Christmas Is You. In the glee club's holiday special, Mercedes and Rachel are the first to arrive at Kurt and Blaine's "bachelor chalet." They bring Kurt jewelry which he assumes was owned by Elizabeth Taylor, but which Mercedes reveals (in a jokey aside) to be a knockoff. The four of them sing My Favorite Things together. While hanging stockings, they discuss the poor weather ("I think these are the end times," Mercedes deadpans) before Finn and Puck arrive to lead them in an upbeat rendition of Santa Claus Is Coming to Town. After the club is forced to end the holiday special early, Mercedes and the rest of New Directions perform Do They Know It's Christmas? at the homeless shelter.
The episode begins with Mercedes and Sam singing Summer Nights with New Directions as a tribute to the summer they spent together. After a brief choir room scene where Mr. Schuester announced that he was going propose to Ms. Pillsbury, Sam follows after Mercedes and brings up a conversation of marriage, particularly saying that he was the one Mercedes should marry some day. Mercedes brings up her relationship with Shane but Sam is not deterred for he brings up a fun moment they had while dating over the summer. A moment that Mercedes admits was a fun time, but still states that she is with Shane. Later while at her locker, she turns around in shock after seeing Sam get slushied in the hall. She goes to his side asking if he is okay and wipes some of the slushie off of Sam's face. Shane appears and asks Mercedes what she was doing and Mercedes replies that she was helping out a "friend." Mercedes, though hesitant, leaves with Shane, is seen sympathetically looking back at Sam.
Mercedes, Tina, Rachel, and Santana later approach Mr. Schuester about the assignment that he gave the glee club about a marriage proposal song for Ms. Pillsbury. They sing The First Time I Ever Saw Your Face, and Mercedes envisions Sam. When the song is over, Mercedes walks off the stage in tears to the girls bathroom where Rachel, Santana, and Tina follow. When asked what's wrong, Mercedes tells them that she pictured Sam during the song, and not Shane. She is confused because she thought she was over Sam. Rachel tells Mercedes to take it slow, and to listen to her heart. In glee club, while Rachel is singing Without You, Sam and Mercedes each glance at one another.
Mercedes and the New Directions face off with the
Warblers
singing
Bad
. Mercedes is also seen congratulating Quinn on her acceptance to Yale and with the rest of New Directions, gets up to hug Quinn. Later, Mercedes gets a text from Sam, asking her to meet him in the auditorium. Mercedes is confused but goes to meet him anyway. She sees Sam on stage where he tells her that she is immortal and puts her name in lights as a symbol of her future success. Sam then asks Mercedes to sing a duet with him because they never got the chance, saying she can go back to Shane afterwards. Mercedes tries to decline the offer but ends up singing the duet,
Human Nature
with Sam. As their duet is ending, Sam and Mercedes draw closer and kiss for the first time on screen. At the end, as a way to make peace with the Warblers, Mercedes and the rest of the New Directions sing
Black or White
.
Mercedes and Sam attend a non-couple counseling session with Ms. Pillsbury where they talk about the complication of their relationship ever since their kiss in Michael. Ms. Pillsbury suggests that Sam and Mercedes that they avoid talking to each other for a week. At a sleepover with Rachel and Kurt, Mercedes compares herself with Bella from Twilight regarding the decision she had to make between the two guys she has feelings for. Rachel then confesses that Finn proposed to her and Mercedes voices that she does think that was a good idea. Rachel then proceeds to tell Mercedes and Kurt that she knows that Finn is the one when Mercedes asks her if she was sure. Mercedes then considers which is the right one for her between Sam and Shane. The scene skips to Mercedes singing Don't Wanna Lose You in the choir room to Sam, though Sam tries to avoid eye contact but eventually gives in. Mercedes then walks up to Sam and starts singing in front of him, something Sam smiles about. After, Sam starts singing Bamboleo/Hero to Mercedes with the help of the Glee club boys, and Mercedes enjoys his performance.
Near the end of the episode, the week that Sam and Mercedes have to avoid talking to each other is coming to an end. They meet in the hallway and just as Mercedes is about to say something, Shane approaches to remind her that they were to get lunch off campus. Shane then takes her and they begin to walk away, leaving Sam with a stricken look on his face. As they are walking away, Mercedes looks back at Sam with a similar expression and watches as he walks away in the opposite direction.
New Directions
still needs money to travel to Regionals, so Mercedes founds a group called
The God Squad
. They make it their assignment to perform songs, for students, for other students on Valentine's Day to earn money. Together the God Squad performs
Stereo Hearts
to Rachel, having been paid for doing so by Finn, and
Cherish/Cherish
to Brittany in the name of Santana. When the members have an argument about if they should perform to a gay couple, Mercedes states that she is fine with doing so.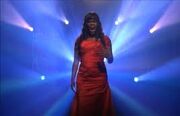 Her relationship with Sam is also continued. She gets asked out by Sam to be her date to Sugar Motta's party at
Breadstix
, and is presented with a small statue of one of the Three Wise Men, that Sam painted to look like St. Valentine. Mercedes then reveals that she has told Shane about what had been going on between herself and Sam, and that she has gone on distance. When Sam asks if they now can be truly together, Mercedes declines.
She confesses her love to Sam, but explains that she is feeling remorse since she made Shane very sad by cheating on him, and she is having issues about being a bad person. She says that she has to be alone for the time being to solve those issues, thus declining Sam's present and his offers to be his date or his girlfriend. Mercedes then watches as Sam walks away looking dejected. Subsequently, she sings I Will Always Love You as part of glee-clubs assignments to perform "the world's greatest love song." She addresses this song to Shane as well as to Sam, who can't bear watching her and storms out of the choir room crying, leaving Mercedes in tears herself.
Mercedes and the rest of the God Squad make plans to visit Dave Karofsky in the hospital. Later during a Glee Club meeting in the auditorium, she states that she looks forward to seeing Rachel's children. During Regionals, her and the rest of the Trouble Tones perform What Doesn't Kill You (Stronger).
Sue takes over Booty Camp, and Mercedes suffers from her rage when she's caught texting. In addition, she calls out Sam and Mercedes for sexual tension after apologizing for her volatile behavior previous to the Booty Camp.
Mr. Schuester is worried about Mercedes future and comes up with a plan with Sue to get her, Santana, and Finn thinking about their future. When Mr. Schue, Sue, Blaine, and Joe Hart sing Night Fever in front of the New Directions, getting the other kids to participate, they announce Mercedes as one of the finalists for the competition they were holding. While talking to Kurt in the hallway, they are both approached by the lead singer of Vocal Adrenaline, Unique where Wade begins to tell them how much of a fan he is of Kurt and Mercedes and
asks for their help on what to do for his upcoming Regionals performance. Later Mercedes finds out the truth and is offend by Mr. Schue's and Sue's plan. She later states that she does have ambitions and goals and proceeds to sing
Disco Inferno
with Santana and Brittany as back-up. After her performance, she states that she does have a dreams and a goal, to sing a great hit song. She then confesses that she is scared to get far away for college and doesn't know where to go. It is then she also reveals that her father does not support her dream. Mercedes and Kurt are called into
Sue's
office where she calls them out for helping the competition. Sue comes up with an idea to sabotage Vocal Adrenaline's performance by getting Kurt and Mercedes to encourage Wade's choice to dress in drag for the competition, something Mercedes states Lima, Ohio isn't ready for. Kurt and Mercedes later feel bad about what they did and visit Wade to try and change his mind to which he does not. They also run into
Jesse St. James
who leads them away from Wade.
They worriedly watch as Wade and the rest of Vocal Adrenaline are about to perform but are surprised by how great the performance is actually going and begin to cheer him on. While walking with Kurt in the hallway, Mercedes is approached by Sam who leads her to an empty classroom and shows her a YouTube video he posted of Mercedes singing '[Disco Inferno. At first, she shows concern that Sam posted a video of her without her permission, but Sam shows her the positive comments that she received on YouTube. Sam then goes on to tell Mercedes that she can do anything and that he believes in her. After his talk, Mercedes and Sam then kiss. Near the end of the episode, Mercedes, Santana, and Finn are announced the final winner of the disco competition and they walk into the choir room wearing special suits which were the prize for the winners. Mercedes, Finn, and Santana, all feeling confident of their future and begin to sing Stayin' Alive and are soon joined with the rest of New Directions in the auditorium.
Mercedes holds a picture of Whitney Houston as she opens the episode with an acapella How Will I Know joined by Santana, Rachel, and Kurt. She and Rachel argue over the original intended actress in The Bodyguard, Diana Ross or Barbra Streisand. Mercedes is the first to confront Quinn that her romantic duet with Joe seemed like she meant it. Mercedes and Artie start off singing My Love Is Your Love, apparently as the only people who showed up for the optional Glee practice.
Mercedes and the girls get in trouble with Roz Washington when they're caught laughing at jokes about domestic violence, in relation to Coach Bieste's issues with abuse, and are forced to perform female-empowering songs. They sing Cell Block Tango, but are admonished for it. When the girls learn that Shannon has been abused, they sing Shake It Out to show their support and encourage her to take a stand.
When Brittany discusses about her idea for prom, Mercedes agrees. She attends senior prom with Sam. Meanwhile, Sam and Mercedes are seen dancing and they talk about last year's prom and Sam states that Mercedes thought it was crazy for thinking that they would get back together. It is also during this song that Mercedes and Sam look over to see Shane enjoying the prom with his date. They both smile and wave at Shane, getting a smile and wave in return. Mercedes stands right in front of Sam while he and some of the other ND Boys perform What Makes You Beautiful and near the end of the episode, Mercedes and Sam take their prom picture together.
During Tina's Dream, Mercedes and Brittany switch personalities. Mercedes confronts Shannon with Brittany and Santana after they learn that she is still with her husband, Cooter Menkins.
Mercedes is sick after eating a bad burrito and is put on bed rest, something she is sad about because she doesn't want to miss what may be her last chance to perform. Her part in the Troubletones is given to Quinn and Tina. Just before everyone prepares to perform, Mercedes appears, feeling a lot better thanks to Sue. She still lets Quinn and Tina keep their parts and joins in with the rest of the Troubletones for their performance of Edge of Glory. Later, Mercedes and Kurt visit Unique as Vocal Adrenaline is about to perform to wish her luck. Unique is nervous and with some pep talking from Kurt and Mercedes is goes on to perform and Mercedes and Kurt are seen cheering him on in the audience. During We Are The Champions, Mercedes gives Mr. Schuester a hug.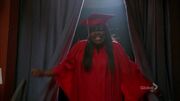 Mercedes starts off the episode singing
Sit Down, You're Rockin' the Boat
with the original members of New Directions (sans Finn). While Mr. Schue is giving the New Directions the assignment of singing a goodbye song, Mercedes comments that she wished she could lock the doors to the choir room so that they all could stay together. Later at her locker, Mercedes and Sam are celebrating her getting a recording contract thanks to the video Sam posted of her and they tell Santana all about it. She joins in the performance
You Get What You Give
with the rest of the graduating members as a way to say goodbye to the underclassmen. When the song is over, she looks truly sad for she will miss her friends. She enjoys the song the members of New Directions who are not graduating sing
In My Life
. She later graduates and is very excited. She, Rachel, Finn, Quinn, Puck, Santana, Kurt and Mike graduate with Puck and Finn singing
Glory Days
. They all receive their diplomas. Towards the end of the episode, she, along with the rest of New Directions, says goodbye to Rachel at the train station, while Rachel and Finn sing
Roots Before Branches.
Mercedes remains a main character during Season Four, but she only made ocassional guest appearance, mostly to help the glee club.
When Unique is welcomed to the glee club, Brittany confuses Mercedes with Wade and says, "That's a great haircut Mercedes, but I thought you graduated."
The Role You Were Born to Play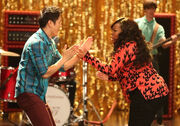 Artie enlists Mercedes and Mike, Mercedes as a vocal coach and Mike as a choreographer, to help Finn with his directing. Mercedes and Mike help Artie and Finn find someone to audition for the role of Danny Zuko in the school's production of Grease. She enjoys Marley and Unique's audition, as well as Kitty and Jake's. Mercedes and Finn both want Marley as Sandy Olsen in the play, and Unique as Betty Rizzo. Mercedes calls Kitty out on her attitude, and then joins in in Born to Hand Jive.
Mercedes reunites with Kurt and Rachel to McKinley. Mercedes also mentions her busy UCLA schedules and her back-up vocals. She invites both Rachel and Kurt to greet everyone, brings them to the stage with Kurt seeing Blaine, and Rachel seeing Finn, which develops awkward tension. Mercedes notices this and leaves, giving an excuse that she'll walk the kids through their warm-up. She performed in
You're the One That I Want
.
Mercedes returns and reunites with Mike, Santana, Quinn, Finn, and Puck in the auditorium. Together they sing, Homeward Bound/Home, and they're home for the holidays as promised. At Breadstix, Mercedes joins the other five as they speak about their experiences since graduating and discussing Rachel and Kurt's absence. Finn later asks them to mentor the newbies in the Glee Club, Mercedes having to mentor Unique. During Sectionals, Mercedes and Mike enjoy Over the River and Through the Wood/She'll Be Coming 'Round the Mountain.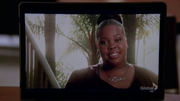 Mercedes makes a very brief appearance, in a video where she says good things about Sam. She says thanks to him, as she wouldn't have got to LA without him.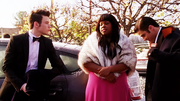 While Blaine and Kurt are making out in a car, Mercedes knocks and tells them that the wedding is about to start and she needs her "arm gays." Then, the three walk together to the church. She sings in
Getting Married Today
. Afterwards, she can be seen sitting shocked in the chapel when Sue walks down the aisle instead of Emma. She isn't seen at the after-party.
Mercedes appears in Rachel's hallucination helping her by doing back-up with Kurt, Tina, Artie and Finn for Don't Stop Believin', as Rachel uses the song as her audition for Funny Girl and flashes back to when the Glee Club first did it in the Pilot.
In this episode, Mercedes is first seen with Mike hugging Kurt as the three make a return to McKinley High. They all run inside of the choir room cheerfully as they all watch the performance Kitty gives. However, Mercedes criticized Kitty's performance, and it is revealed that Mercedes did not go to UCLA; however, she will have an album out. She has a brief confrontation with Kitty about it, and recalled that Mr. Schuester begged her to be the vocal coach for New Directions at Regionals. Meanwhile, Mercedes is seen with Kurt, Blaine, and Mike at The Lima Bean, and Mercedes states that her album will be called Hell to the No, in reference to her original song she performed, and consoles Kurt as he deals with his fear for his father's health. Mercedes motivates Marley to open up with her vocals, and performs Superstition with New Directions, and gives Marley a hug after.
Later on, Mercedes convinces Jake to be a dancer for her music video, and calls him "sexy as hell." Meanwhile, Mercedes got off a heated argument on the phone with her "producer," a flashback is shown where she is singing in the studio, and shares a photoshoot for her CD cover, but her producer convinces her to show more of her skin, AND she refuses; therefore, her CD would be rescheduled until she agrees to take the photoshoot; this disappoints Mercedes.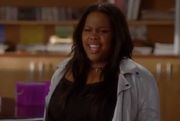 Later on, she comes inside of the choir room, she made a decision about her career, and she doesn't have a record deal anymore, but has her own record. She performs Higher Ground after that, and as she performs, she takes off her jacket and continues on and gets applauded from the Glee Club. Mercedes belts out in vocals and asks everyone what will they will do for Regionals. At the end of the episode, Mercedes is seen watching New Directions perform For Once in My Life, and joins them while they perform.
Amber Riley was demoted to guest role in Season Five, making Mercedes a recurring character.
Mercedes is seen in Ohio, at Dalton, helping out Blaine with his proposal to Kurt during All You Need Is Love, where she hugs Kurt and cheers for them.
At the beginning of the episode Mercedes sings
Seasons of Love
with other alumni and New Direction members. Mercedes returned to Lima for the special memorial for
Finn
that
Mr. Schuester
planned. She is seen in the choir room listening to Mr. Schue's speech and is the first to step out to sing in honour of Finn. Mr. Schue gives everyone a day to think about what they want to sing, but Mercedes says that she can't wait for another day. She has been bawling for three weeks and thinks that if she doesn't "get it all out" right away she'll never stop crying. She makes a short but powerful speech about Finn, stating how he was the first cool kid to be nice to any of the glee club members and that he was their leader. She ends the speech by looking up and saying "We love you, Finn." She then starts singing
I'll Stand by You
, which is the song Finn told her he sang to "his" baby's sonogram. She is later seen in the choir room watching other performances, getting extremely emotional during
Make You Feel My Love
.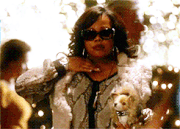 Mercedes enters the doors of the hotel in glamour, looking famous. She talks to the New Directions about how she got a new record deal with Sony Music Entertainment. She explains that one day she sitting outside her car selling her album when a lady bought one, who gave it to Kanye West then he gave it to Kim Kardashian and then she gave it to Ryan seacreast and ended in Sony music and Mercedes go on meeting with bunch of rich dudes in Sony music. Artie then asks her if she has a real chihuahua and replies saying it's a "fohuahua" -- a fake chihuahua.
Later, Ryder mentions Mercedes when he is talking to Jake about Marley, saying that Mercedes could help Marley get one of Marley's songs noticed. She is next seen walking down the aisle of the 2013 National Show Choir Championships as everybody take pictures of her.She welcomes Burt and Carole as they arrive just as New Directions begins their performance. She is seen in a flashback in I Still Haven't Found What I'm Looking For. She is then seen with Carole and Burt hugging and enjoying the New Directions performance.
Later, she goes outside to find Marley, who has given up on her singing career. She tells her that she can pout about it for three minutes then get over, stating that if she would have gave up every time a record label rejected her she would've been no where. Marley then asks how she knew and she replies with "two little birdies told me" stating that Jake and Ryder do care for her a lot, but that does not mean to date them, and she hugs her.
Mercedes walks down the halls of McKinley. She is expecting there to be banner saying "Welcome Back Mercedes!" or even a red carpet for her return, but there is nothing. She states she is the biggest star that McKinley has ever had. She arrives in the choir room, having a conversation with
Unique Adams
about her record deal, as Unique can't wait for Mercedes's album to be released. She then reunites with former glee club rival Rachel Berry. Her and Rachel rush for the center chair in the room, then have conversation about all they have done since they graduated. They compliment each other, then Mercedes sits in the back of the choir room.
Mercedes appears on
Brittany
's web show
Fondue For Two
. When Brittany asks Mercedes and Rachel what song they are going to perform for glee club, they both reply
Defying Gravity
. However, controversy sparks immediately between Mercedes and Rachel, who agrees to have another diva-off with her.
Before the music begins, she thinks to herself that in here worldly matters don't matter when she is in the choir room, they always just seem to go away when she is here. She begins singing Defying Gravity with Kurt and Rachel. As the song comes to a close both her and Rachel become anxious to see who won the diva off, Will then postpones the voting till tomorrow. Mercedes then talks to Artie, Marley, Jake, Kitty and Ryder in a classroom, persuading them on how much more she has accomplished and how she deserves to win the diva off.
Meanwhile, in the choir room, Mercedes and Rachel anticipate for the voting. However, when Santana belittles Rachel, she leaves the room and cries in the bathroom. Mercedes comforts Rachel, saying she knows how hard life is. Stating when record labels turn her down it's just like Santana, Puck, or Quinn putting her down. Therefore, the two reconcile after the feud, and they accept the tied results from the diva-off.
Mercedes and Kurt discuss the memories that McKinley brought, and they encourage Rachel and Santana to reconcile based on a brief dispute she and Kurt had. The two perform I Am Changing. Next, she is included in the video that Holly made for Will's un-born son. Later, she performs Don't Stop Believin' with the entire New Directions and alumni.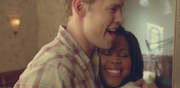 Mercedes surprises everyone at the
Bushwick Apartment
and reveals she's moving to New York. She allows
Blaine
and
Sam
to live with her, but asserts that Sam lives by her rules after his attempts to kiss her. At the end, Sam and Mercedes both walk in the city of New York.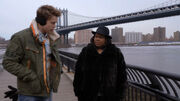 Mercedes attempts to stay comfortable living with Sam, but Mercedes realizes the awkward, romantic tension, but emphasizes that her relationship with Sam is in the past. However, the two make out while watching TV, but as they have dinner at the Bushwick apartment with Artie, Blaine, Kurt, Rachel, and Sam, Mercedes denies any flirtatious interaction with her and Sam.
Mercedes and Sam walk around New York when talking about their relationship. Sam tries to prove that they are perfect for each other and Mercedes tells him that she needs to think about it. She addresses that they are going to have to be some ground rules if they are going to work out, she then performs You Make Me Feel Like a Natural Woman with her back-up singers.
Mercedes discusses Sam to her backup singers, but until Sam walks to the restaurant, she seems embarrassed by his awkward behavior. As Sam continues to talk about his modeling career, Mercedes worries of what her back-up singers would think of him. Her friends, later on, deprecates Sam as Mercedes' boyfriend due to their different races. However, Mercedes starts to become uncertain of their relationship, realizing the effects it may have on society's views. Therefore, she asks Sam to move out of the apartment.
Mercedes appears at the hospital for her support and hopes for Kurt's safety after a gay bash. Meanwhile, Mercedes invites Sam to the studio where she records to apologize for the incident that occurred, but instead of talking about it, she dedicates Colorblind to him. Sam goes into the recording room to hug her. Finally, Sam and Mercedes are once again official, but the others were surprised due to their apparent lack of chemistry. Sam and Mercedes kiss each other at the end, and the two appear happy while watching Kurt perform I'm Still Here.
Mercedes makes out with Sam on the couch in their apartment, but when Sam then rubs up Mercedes's legs, leading her to stop him. Mercedes admits that she is a virgin, emphasizing her difficulty with being intimate because she hasn't done anything before. When realizing Sam is a virgin, Mercedes reveals that she is not ready to take things to the next level until the time is right.
The couple both go to Mercedes's church, and she encourages Sam not to worry about it. However, Sam continues to focus on having sex, by giving proof that he doesn't have any STDs. Mercedes notices that he is focusing too much on sex, and she is still uncertain, but she wants to keep her loyalty with God. Mercedes performs I Want to Know What Love Is to Sam, after called out by the preacher.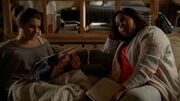 Mercedes and Rachel converse at the
Bushwick Apartment
. Mercedes confides in Rachel for advice about first times, because it would be a one-sided experience for her, and she thinks that she wouldn't be good at it. However, Rachel tells her Sam wouldn't care because he's a good person.
Mercedes and Sam go to the Spotlight Diner on a date. Sam tries to buy an expensive dessert for Mercedes, who believes that he is attempting to do this to allow them to have sex, but Sam is trying to prove his love for her. Meanwhile, the two perform Let's Wait Awhile with Artie and Julie, walking around New York. Mercedes goes back to the church for God's prayer, leading to her decision to wait to have sex when she is married. Sam is upset over this decision, but Mercedes wants to ensure that Sam is the right person to give her all to.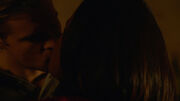 Next Mercedes walks into her apartment receiving a call from Sam. Fearing that Sam may break up with her, she walks into the living room lit with candles from Sam. He tells Mercedes that he went back to her church and prayed about them. He notes that being with her is more important than having sex, and the two kiss each other.
Back at the Bushwick Apartment, Mercedes thanks Rachel for her advice about sex. It leads on to a conversation of Rachel's difficulty with finding a new person after Finn's death. Therefore, Mercedes suggests to Rachel that she should move on and find someone new. This demonstrates the development of their friendship.
Mercedes is pleased with Tina's arrival for Rachel's opening night. However, when Tina starts to discourage and worry Rachel, she pulls her out of the Bushwick Apartment. leading her out of the room. Mercedes also shows shock when Sue unexpectedly arrives, but she is bemused by Sue's motives.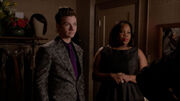 After the
Funny Girl
performance, Mercedes celebrates her accomplishment in Rachel's dressing room. Mercedes, and the others, celebrate Rachel's opening night at a gay club. She performs in
Pumpin Blood
. Afterwards, Mercedes, and the rest, meets Sue and her new lover Mario. She then looks in disgust at Sue and Mario, later applauding Rachel for standing up to Sue. Later, she expresses her excitement after the reviews for
Funny Girl.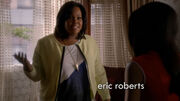 Mercedes arrives home at her apartment in disappointment, discussing that the trepidation of her album's release being shelved. Santana tells her that Mercedes is still doing better than her. Remembering the greatness of their duets in high school, Mercedes insists that Santana to help her find a hit for her album.
In the studio, Mercedes and Santana try to warm up, but have trouble getting musically communicating. Santana suggests that they get out of the recording studio to try and find a different vibe. Leaving the studio, they go through the basement of the building, singing Doo Wop (That Thing). The sound is great, and the producer tells Mercedes that she has herself an album.
Back in the recording studio, Mercedes asks her producer if she can record her last song as a duet with Santana. DeShawn is skeptical, but Mercedes insists, telling him that it's the take she wants. When the producer asks how she expects the single to sell well with an unheard duet partner on the album, Santana agrees. Mercedes is exasperated when Santana decides to leave.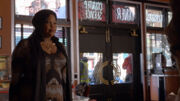 Later at the Spotlight Diner, Mercedes presents Santana with a contract. She tells her that she has managed to wrangle her a deal, saying that she makes her better. Santana protests and slides the contract over to her, but Mercedes deeply encourages her to take the opportunity. Just as Santana is about to sign, Kurt bursts in. He informs them of the Rachel situation, and suggests some of his idea for organizing a distraction. 
Mercedes accompanies Rachel, Sam, and Artie to a shelter for rescue dogs. Rachel wants to host a benefit for the animals in order to restore her image. Meanwhile Sam falls in love with one of the dogs, and wants to take him home. Mercedes, however, doesn't want a pet. Mercedes sings I Melt with You with Sam and Rachel, to calm the dogs down. Meanwhile, Mercedes is appalled with the fact that Sam brought a McConaughey to the apartment without her permission, who destructs the apartment, and leaves Mercedes infuriated. She decides to give McConaughey a chance, but if the dog causes any conflict, she wants Sam to take the dog back.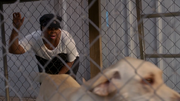 Although Sam is confident in taking responsibility of McConaughey, Mercedes still doesn't advocate the idea of having a dog. Sam is bothered by Mercedes's judgement of his lack of responsibility, and feels concerned about their relationship because of their different aspirations. Mercedes feels remorseful for his feelings, but insists that they try to find a good home for McConaughey. At the Broadway Bitches event, Mercedes sits together with Artie and Sam. She is not present at Kurt's show, but does perform Take Me Home Tonight at Rachel's event, together with the rest of the group and Maggie. During the song, they give McConaughey away to a family wanting to adopt a pet.
The Untitled Rachel Berry Project
Mercedes proudly supports Sam and his modeling gig. Later at a mall, Mercedes prepares to perform for her tour. She introduces Brittany Pierce as her new back-up dancer, before performing Shakin' My Head in front of adoring fans. At the end of the performance, Sam runs on the stage and hugs Mercedes. Meanwhile, Brittany, Kurt, and Rachel give Mercedes an intervention, who believes that Mercedes should break up with Sam before she goes on tour.
Sam is heartbroken when he admits to Mercedes that he kissed a girl during her modeling gig, and feels that he cheated. Although Mercedes denies this, the two tearfully make a deal before she leaves for her tour - that if she decides not to wait for Sam, she'll return for him. The two break up but on very good terms. At the end, everyone goes their separate ways, while performing
Pompeii
, as Brittany and Mercedes depart New York in a taxi.
In Season Six, Amber Riley was once again promoted to a series regular.
A character based off of Mercedes, called Infiniti, appears in Rachel's TV show. Mr. Schuester says that he has to accept that in Vocal Adrenaline there's no Mercedes and her high notes.
Mercedes first appears with Santana and Brittany in the auditorium and later joined by the other Alumni. They return to McKinley High School to assist Rachel in forming a new Glee Club. Mercedes performs Take On Me with the rest of the alumni to help recruit new members for the glee club. Meanwhile, Mercedes appears to convince the Tea Party Patriot Club to join New Directions. However, when an offensive comment is made by the club captain, Mercedes confronts them, telling them not to join. Mercedes is intrigued with McKinley student, Roderick's voice, and with the alumni, she convinces Roderick to join New Directions. At the end, Mercedes performs Home with the alumni and New Directions at the bonfire.
Tina tells Becky that she has to sing the "Mercedes Part" just like Mercedes. She is also seen briefly in flashbacks during Will You Still Love Me Tomorrow/Head Over Feet.
During conversation with Rachel, Sam mentions, that he's still in love with Mercedes.
When Sam wants to kiss Rachel, she responds that he said that he was still in love with Mercedes.
Mercedes is first seen, when Rachel and Kurt present her as a "Secret Weapon". She enters and asks is it her queue. Later, she is seen talking with Rachel about coming back to Brodway and Rachel's relationship with Sam. She says, that she has nothing against them. To give her a little inspiration to coming back to New York, Mercedes sings Baby It's You. After that, she is seen talking with New Directions Boys and Alumni Men. She asks them for help to realize Rachel where is her destiny. Mercedes and Rachel come to the Auditorium and watch Arthur's Theme performance. After that, Rachel calls Mercedes and says, that she decided to coming back to Broadway. Mercedes supports her. At the end of the episode, Mercedes, along with the rest Alumni, New Directions, and Will support Brittany and Santana. She says, that she loves them and treats them like a family. During What the World Needs Now, at Will's place, she is seen talking with Kitty and then with Kurt.
Mercedes is first seen, when Sam walks into the class and asks for help for Rachel. Mercedes asks Sam what she needs help on now, since she just helped her for a week. She, along with the rest of friends decide to help her with moving out from her house. Later, she is seen in the choir room with Alumni and New Directions. They show Wheel of Musical Fortune. Artie says, that whoever spins it, sings a duet with a person where it lands on.Mercedes states that she'll go first, spins it, where it lands on Roderick. Mercedes, not remembering who Roderick is, asks around (Mason pointing to Madison, as she raises her hand). Roderick tells her, and she states how they'll be great together. Later, they are seen singing together All About That Bass. During Time After Time and Somebody Loves You she is seen to having fun. She even dances briefly with Blaine during his duet with Kurt. During Rachel and Sam's duet she is seen helping along with other friends with moving Rachel's things out from her appartment. At the end of the episode she is seen watching Unique's perfromance I Know Where I've Been.
Mercedes, along with Tina and Rachel help Santana and Brittany pick perfect dress for the wedding. She is seen having fun with girls. Later, she is seen talking with Rachel, Santana, and Brittany. She encourages Rachel to sit next to Sam at the wedding. She says, that Carole won't have nothing against them. Just before the wedding, Brittany asks Mercedes to bring her spider. At the beginning of the wedding, Mercedes, along with Artie sings At Last. After Blaine's mom announces it, she, along with Sugar, Santana, Brittany and Mothers sings I'm So Excited. She is seen to have fun performing it.
The Rise and Fall of Sue Sylvester
She is seen during Sue's interview saying what bad Sue has done to her. Later, she is seen with Blaine, Sam, and Rachel. Rachel announces, that she got the role in musical. Mercedes is really happy for her.
She's seen via flashback from the 2012 Sectionals, Regionals and Nationals.
Kurt, walking in the hallways once again, sees another girl (Mercedes) wearing a pink fedora walking past. He calls out to her, running to her. He introduces himself to her, saying that he's heard about how she hit a high note in in her choir, saying that he wants to be like her. Mercedes stops, and turns around, telling him that he looks cute, but he wouldn't fit in with the choir. Kurt tells her that he didn't mean that, explaining to her about the glee club. He tells her that he wants to audition, but doesn't know what to do, thinking he has no identity, while she does, saying inside he has potential. Mercedes links arms with him, saying she'll help him. Kurt explains that he lets the clothes do all the talking, but Mercedes encourages him to be himself, as they walk up the stairs. She states that she knows the perfect song for him.
Back to the same day, when Kurt talked in voiceover, Mercedes walks in the hallways, talking to herself, states her name and explains how she doesn't have many friends, but doesn't get picked on. She explains that they're are a lot of white people, and there's one black kid that she finds boring. Matt Rutherford, the black kid, says hi to her, but she ignores him with a lazy response. She explains that she's a big star in her church with her voice, but not at school, telling us that it will all change when she signs her name on the glee club list. She walks up, and signs it.
Later on that day, the bell rings, as Mercedes walks out of her classroom. Rachel, who was waiting for her, introduces herself, and says that she noticed that she signed up for the glee club. She then rapidly compares how her size is good for her voice, making her talented, like her. Mercedes tries to avoid her by saying she'll see her in glee club, but Rachel says that they're both going to compete for the female lead, confusing her with genuine kindness. Mercedes, believing that she's making her confused on purpose, states that she's experienced all this before, and knows how to deal with it. Rachel, seeing that Mercedes performs in a church choir, says that one of her dads is black. Mercedes, further confused, asks her what she said. Rachel repeats, but Mercedes walks away in disbelief, saying that she has to go to gym class. Rachel runs up to her, saying she wants to go to her church. Mercedes, once again in disbelief, says if she really wants too, to which Rachel shrugs.
Rachel walks in to the church and sits, and Mercedes begins to perform I'm His Child. Other people walk in and sit, as the church choir sings with Mercedes. Rachel, seeing how powerful Mercedes' voice is, is astonished. The people in the church also begin to sing along with her, nodding their head to the music. Mercedes finishes the song, to which Rachel is slightly threatened my how good she is.
At the end of church, Mercedes talks to the members of the choir, as Rachel walks up to her. When the members finish talking and go away, Rachel compliments Mercedes on how she is, and that knows her audience will love her in the future, accidentally offending Mercedes. Mercedes tells her that where her voice goes, her one will be with her. Mercedes' mother, from afar, watches their discussion. Mercedes walks away, as Rachel looks slightly hurt.
Later in the choir room, the five members sit, not talking to each other. Will walks in, welcoming them. He give them gloves, and tells them that they're doing Sit Down, You're Rockin' the Boat, saying when he was in glee club, they performed that song and got a standing ovation. He says that Artie will lead. Rachel interrupts, saying she should lead because she was a member in the original glee club, and the first song sets the tone for the group as a whole. Will firmly tells her that Artie will sing, and that everyone will have turns of singing solos. When Will states he may do Grease for Sectionals, he asks who wants to be 'Sandy.' Rachel and Mercedes both raise their hands, (Kurt raising his slightly). Rachel, infuriated, states that she's the only person who can play Sandy. Mercedes comments on if its because she's white. Rachel begins to explain that they need to be taken seriously, about who has the best voice. Mercedes states that she has the best voice. They glare at each other, when Will tells them to warm up.
Will walks into the choir room saying that they're moving to the auditorium, informing them that Principal Figgins believes that they are important, which is why he's giving it to them for a little while. He tells them to get sheet music for "You're the One that I Want." Mercedes asks who gets to sing the solo, to which Will replies that Rachel will. Angered, Mercedes says that she can belt higher than Rachel. Rachel interrupts that she belts just as good or even higher than her. Mercedes tells her that they should have a sing-off right at that moment. Will cuts in, saying they won't have a sing-off, but he'll keep the idea with him for later exercises. He tells Mercedes that Rachel has the solo, and that everyone else will have one eventually. Mercedes, hurt, states the white girl always goes first.
That night, Mercedes sits crying in church, as her mother walks towards her. Her mother sits beside her, asking why she's crying. Mercedes explains that she didn't get the solo, and that Mr Schue will never give her a solo and states that she wants to quit, because no one will see her the way she sees herself. Her mother reassures that she's young, and that glee club had just started. She continues, saying she's a star, and the responsibility for being a star is sharing it, and that the reason she may have gotten the solo is because she needs it. She informs her that Rachel will make her better, pushing her to raise her expectations, believing that they'll become friends. Mercedes laughs slightly, but her mother states that stars have a way of finding each other. They hug.
In the Lima Bean, Kurt and Mercedes talk about how Finn joined the glee club as if he's Jesus. Kurt continues, saying that he quits and then joins again, bossing them around as if their his slaves. Mercedes agrees, but tells him that they need him because he's on the top of the food chain, and he may need them too. Kurt sarcastically says that the guy who is popular wants to hang out with them, saying that he doesn't trust him because he gets everything he wants, and will bring jocks and Cheerios to join them, pushing them away. Mercedes states that nobody pushes her out, or him. They get their coffee, and Mercedes says that he was bossy, convincing her to make their costumes. Kurt volunteers to help her. She goes to get sugar, asking a guy (Blaine). He gives it to her. Blaine turns back to his friend, who talks about how it was amazing that he came out. Blaine says that he's relieved that he did it. He asks the guy, Joe, when he's coming out. Joe, offended, states that he's straight. He walks out, Blaine apologizing to him from behind. Kurt and Mercedes are sitting, still discussing about Finn. Kurt says that Rachel's the reason he's still there, because she has a crush on him (in his mind, he fights with himself that he also has a crush on him). Mercedes agrees, and calls an emergency meeting.
The following day at the emergency meeting, Kurt, Mercedes, Artie and Tina talk about the things that Finn has done, Kurt saying that he wants them to do "Don't Stop Believing." Rachel walks in, offended at how they started without her. Mercedes states that she's 10 minutes late. Rachel states she should be glad that she came, and that they shouldn't have emergency meetings without Finn. Kurt tells her that the meeting is about that. Rachel states they cant kick him out again, because she brought him back in. Kurt tells her to kick him out again, knowing that Artie and himself are not her ideal male lead, and he states that he doesn't care, but doesn't want an evil jock in their midst. Mercedes interrupts, saying that she doesn't consider him to be an evil jock, but his girlfriend, Quinn, is a bitch. Artie tells them that when the other jocks locked him in a Port-a-loo, Finn saved him and wheeled him home, apologizing to his mom about the incident. Mercedes says that Finn never called her fat, unlike the other jocks. Kurt also tells them that he let him take off his Marc Jacobs jacket, before getting thrown in the dumpster. Tina finishes off, saying he's cute. Rachel states that he may not be as different as them, and that he just wants to be accepted for who he is than who other people label him for. Rachel continues, saying if they exclude him, then they're just like the other people who excluded them, and states that in McKinley, her life sucked, but not that week, because she now has made friends. She tells them that the club may become special to them, forming them to become who they want to be, and that when they look back at their time in the club, they should be proud of what they accomplish. They all decide to keep Finn in the club.
In the auditorium, the New Directions, (with Finn), perform Don't Stop Believin'. Will walks in, watching from a distance, beginning to cry again, as they all perform in sync, and seeing how good they are. Unseen, Sue watches from afar, with Quinn and Santana, from above. Puck also watches from the other end of the auditorium, walking out before they finishes. When they finish, they bow their heads.
Will walks into the packed choir room, Rachel announcing he's inside. Everyone claps for him as he walks to the center of the room, everyone crowded around. Will states that it's the most exciting day of glee club since the alumni had joined (Kitty, Tina, Artie, Mercedes, Sam, Blaine, Kurt and Rachel being present in the room). Will asks them to take a seat, to which Rachel asks him when they'll start auditions, Kurt pointing out how the rule "whoever wants in, gets in" rule. Will corrects him, saying that he'll form new groups along with the New Directions, bringing back The Troubletones and making a new all-boys' equivalent called The Duly Noted, as well as a Junior Varsity group for those who need more practice before joining the "big leagues". Mercedes asks how he'll be running all those groups, and the school. Will explains that he's not going to be running the groups, Artie asks if he'll teach the New Directions, but Will tells him that he's interviewed a candidate that he likes. He picks up his ukulele, saying he's prepared a song to say farewell to them. He heads to the back of the room, saying that his life changed in that room and learning about how the message of the lyrics of a song contributes with it. Sam gets his guitar, and they both sit at the back of the choir room, playing, as Will begins to sing Teach Your Children. The alumni begin to cry along with Will as he sings the song. At the end of the song, everyone applauds for Will. Will stands up and blows a kiss to Rachel, who mouths a "Thank you" to him.
In the auditorium, Artie, Blaine, Kurt, Sam, Rachel and Tina walk in. Mercedes, on stage, tells them to stop, and explains to them that they need to listen to her, because she doesn't want to cry. They walk to the middle of the auditorium. Mercedes informs them that she's been picked up to be the opening act for Beyoncé's new world tour. They all cheer for her, and Mercedes tells them that when she came back, she's been trying to remember who she was. But, she can't remember the "old Mercedes" that well. When getting the call, she didn't think it was a mistake, as the "old Mercedes" would have done, but because of them, she was able change, and make her know that good things are possible, and that its not common to find people like them. They begin to go up to her, but she stops them again, telling them that she'll lose it, and start crying. She tells them that with all the things that are happening in her life, she won't be able to see them for a while. She dedicates a song to them, wanting to walk out like she'll see them all the next day, like its not goodbye. She begins to sing Someday We'll Be Together, with a church choir singing from behind. They all dance along to her singing. Mercedes walks up to them and hugs them all as she continues to sing. She then walks up the auditorium steps, to the top entrance, as the alumni begin to cry, while she still continues to sing. She stops at the top, belting out the final note. They all look at each other in silent sadness. Mercedes blows a kiss to them, and walks out. Artie officially states that Mercedes has left, and they all look up at the entrance that she walked out of.
Five years later in New York, Mercedes gets out of her limo and walks to Tina and Artie. Tina begins to explain that when the movie she's in, directed by Artie (that Mercedes was initially supposed to do, but was too busy with headlining her own world tour), has been nominated for a film festival. Artie asks her if he can borrow her songs for the movie, as Blaine and Kurt come out from their taxi. Mercedes tells them they can, and they all rush in to the apartment, Blaine informing Mercedes about how Sam has a new girlfriend but they're not working out. Mercedes responds to him about how Sam is still texting her as Tina and Artie kiss.
They knock on the door to Rachel's room, where Rachel is getting ready. Kurt walks to her as Rachel tries to get up, telling her to not stress herself. Rachel states that she'll be fine and can't wait till the baby comes out. Blaine states that they've brought food to help the baby's brain grow. Tina asks Rachel (after hearing from Kurt and Blaine) about why she agreed to be their surrogate. Rachel informs her that its a full circle of how she was raised, but tells Tina that Blaine and Kurt have helped her out in her life and wants to make them happy. She tells them that they'll be lovely parents. Jesse walks in, saying he can't wait for the moment and that he's ready to start their own family with Rachel, and is revealed to be Rachel's husband. He tells her that they'll be late, and they walk out as everyone else says goodbye to them.
Later she watches with Artie, Tina, Mercedes, Kurt, Blaine, Kitty and Roderick and other people the Tony Awards and cheers, when Rachel wins the Award for Best Actress for her.
Together with the rest of the cast she joins the performance of
I Lived
, and cheers and laughs with them, when the camera zooms out of the auditorium's re-dedication plaque.
Personality
Mercedes is a self-described "diva." She is confident, outspoken, headstrong, and very loyal to her friends. However, despite her strong personality, she is also known to be very sensitive and strives to find someone to love and be loved. Furthermore, Mercedes is extremely supportive and sympathetic to her friends, such as when she let a pregnant Quinn live with her after she was kicked out of her house and helped Santana's record ambition come true at the possible expense of her own.
Mercedes is a strong Christian and plans to wait until she married to have sex. Although her friends come from different backgrounds, she still prays for them to show support.
Relationships
Songs
Total - 122
Solos
Duets
Solos (In a Group Number)
Season One
Song
Episode
Solos with
Gold Digger
Showmance
Artie and Will
Push It
Artie, Finn, Rachel and Tina
Somebody to Love
The Rhodes Not Taken
Artie, Finn and Rachel
Proud Mary
Wheels
Artie and Tina
Imagine
Hairography
Artie, Finn and Rachel
Jump
Mattress
Smile
You Can't Always Get What You Want
Sectionals
Hello, Goodbye
Hell-O
Finn and Rachel
Express Yourself
The Power of Madonna
Quinn, Rachel, Santana and Tina
Like a Prayer
Finn, Jesse, Kurt and Rachel
Bad Romance
Theatricality
Kurt, Quinn, Santana and Tina
Good Vibrations
Funk
Finn and Puck
Give up the Funk
Artie, Finn, Kurt and Tina
Any Way You Want It/Lovin' Touchin' Squeezin'
Journey
Artie, Finn, Kurt, Puck and Rachel
Don't Stop Believin'
Artie, Finn, Kurt, Puck, Rachel and Santana
To Sir, With Love
Artie, Finn, Kurt, Rachel, Santana and Tina
Back-up singing
Solos
Duets
Solos (In a Group Number)
Season Two
Song
Episode
Solos with
Empire State of Mind
Audition
Artie, Finn, Puck, Rachel, and Santana
One of Us
Grilled Cheesus
Finn, Kurt, Quinn, Rachel, and Tina
Time Warp
The Rocky Horror Glee Show
Artie, Brittany, Finn, Kurt, Quinn, Santana (album) and Tina
Start Me Up/Livin' on a Prayer
Never Been Kissed
Brittany, Rachel, Santana, and Tina
Forget You
The Substitute
Artie, Holly, and Santana
We Need a Little Christmas
A Very Glee Christmas
Kurt and Tina
Welcome Christmas
Artie and Rachel
Deck the Rooftop
Glee: The Music, The Christmas Album
Artie, Finn, Rachel, Santana, and Tina
Last Christmas
Finn and Rachel
God Rest Ye Merry Gentlemen
Quinn, Rachel, Santana, and Tina
Blame It (On the Alcohol)
Blame It on the Alcohol
Artie, Puck, and Santana
Loser Like Me
Original Song
Finn, Brittany, Rachel, and Santana
Born This Way
Born This Way
Kurt and Tina
I Love New York/New York, New York
New York
Artie, Brittany, Finn, Rachel, and Santana
Back-up singing
Solos
Duets
Solos (In a Group Number)
Season Three
Song
Episode
Solos with
You Can't Stop the Beat
The Purple Piano Project
Artie, Finn, Kurt, Rachel, and Tina
It's All Over
Asian F
Finn, Kurt, Mike, Puck, Santana, and Will
Candyman
Pot o' Gold
Brittany, Santana, and Sugar
Rumour Has It/Someone Like You
Mash Off
Brittany and Santana
Survivor/I Will Survive
Hold on to Sixteen
Brittany, Santana, and Sugar
We Are Young
Finn, Quinn, Rachel, Sam, and Santana
My Favorite Things
Extraordinary Merry Christmas
Blaine, Kurt and Rachel
Do They Know It's Christmas?
Artie, Blaine, Brittany, Finn, Kurt, Puck, Rachel, Santana, and Tina
Summer Nights
Yes/No
Finn, Kurt, Puck, Rory, Sam, Santana, Sugar, and Tina
The First Time Ever I Saw Your Face
Rachel, Santana, and Tina
Black or White
Michael
Artie, Kurt, Rachel, and Santana
Stereo Hearts
Heart
Joe and Sam
Cherish/Cherish
Joe, Quinn, and Sam
Love Shack
Blaine, Brittany, Kurt, Rachel, and Sugar
Fly/I Believe I Can Fly
On My Way
Artie, Blaine, Finn, Rachel and Santana
What Doesn't Kill You (Stronger)
Brittany and Santana
Stayin' Alive
Saturday Night Glee-ver
Finn and Santana
How Will I Know
Dance with Somebody
Kurt, Rachel, and Santana
My Love Is Your Love
Artie, Blaine, and Kurt
Cell Block Tango
Choke
Brittany, Santana, Sugar, and Tina
Shake It Out
Santana and Tina
Edge of Glory
Nationals
Quinn, Santana, and Tina
Paradise by the Dashboard Light
Blaine, Brittany, Finn, Kurt, Mike, Puck, Rachel and Santana
You Get What You Give
Goodbye
Finn, Puck (episode), Sam (album), and Rachel
Unreleased songs
Solos
Solos (In a Group Number)
Solos
Duets
Solos (In a Group Number)
Season Five
Song
Episode
Solos with
Seasons of Love
The Quarterback
Kurt, Mike, Puck, Santana, and Tina
Defying Gravity
100
Kurt and Rachel
Happy
April, Blaine, Holly and Will
Not While I'm Around
Bash (EP)
Blaine, Rachel, and Sam
I Melt with You
Old Dog, New Tricks
Rachel and Sam
Take Me Home Tonight
Artie, Blaine, Kurt, Maggie, Rachel, Sam, and Santana
Pompeii
The Untitled Rachel Berry Project
Artie, Blaine, Brittany, Kurt, Rachel and Sam
Back-up singing
Solos
Duets
Solos (In a Group Number)
Season Six
Song
Episode
Solos with
Take On Me
Homecoming
Artie, Brittany, Kurt, Puck, Quinn, Rachel, Sam, Santana, and Tina
What the World Needs Now
What the World Needs Now
Artie, Blaine, Kurt, Rachel, Sam, and Will
I'm So Excited
A Wedding
Brittany, Maribel, Santana and Whitney
I Lived
Dreams Come True
Artie, Blaine, Kurt, Rachel, Roderick, Sam and Will
Appearances
Trivia
Mercedes is the first character to sing a solo. However, the song was unreleased.
Mercedes is named after her mother's favorite actress, Mercedes Ruehl.
Mercedes is the only New Directions alumna who has been to all New Directions competition performances between 2009 and 2013. Either as a member of the team, a rival or in the audience.
Mercedes is the only main character who has ever been promoted to series regular again after previously being demoted to a recurring character.
She mentored the New Directions more times than any other alumnus.
Alongside Tina, Will, Rachel, and Artie, she is one of the only characters to have at least one solo per season.
Mercedes, Rachel, and Will, are the only three characters to have a solo in the first and last episode of the show, however Mercedes was the only character whose first solo was unreleased.
Her main idols are Beyoncé, Aretha Franklin, Whitney Houston, and Mariah Carey.
Mercedes is the first person that Kurt comes out too.
Season Four has the least amount ever of her solos: she only had one.
Season Two has the most amount of her solos: she had seven.
She appeared in 94 episodes.
Gallery
Quotes
Main article: Mercedes' Quotations