'Glee' Profile: Mike Chang
Play Sound
"

It's just gonna be me and my sweet moves on that stage.

"

—Mike Chang, A Night of Neglect
Michael Robert "Mike" Chang Jr. is a major character on Glee. Mike is an alumnus of William McKinley High School. He is also a former member of New Directions and the McKinley Titans. Mike, along with his friends Matt Rutherford and Noah Puckerman, joins Glee Club in Preggers after winning their first football game with the club's help.
Also known as the "Other Asian," he is usually referred to by his full name of Mike Chang and is considered to be the New Directions' best male dancer. In Season Two, Mike also gained more confidence about his singing after doing a duet with Tina Cohen-Chang (whom he began dating in Audition), during the episode Duets. He and Tina were the couple that had lasted the longest, only having a few arguments occasionally and problems about their futures. They stayed together for two seasons. Their streak ended in The New Rachel of Season Four, where it is revealed that they broke up when Mike moved to Chicago to attend college.
Mike was a recurring character in Season One and Season Two, but was made a regular for Season Three to Season Four. He became a recurring character again in Season Five and Season Six. Mike is currently attending the Joffrey Ballet Academy of Dance in Chicago, but returns to McKinley at times to be the dance coach for the New Directions.
He is portrayed by actor, singer, and professional dancer Harry Shum Jr.
Biography
Personality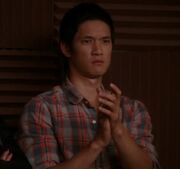 Despite being a member of the football team in Season One, Mike appears to be much, much less cruel and much more sensitive than the rest of his teammates, having not shown to bully anyone on screen or mentioned as one. After joining the Glee Club, Mike seemed to bond quickly with the rest of the group, often praising fellow members and those less popular than he is. He is shown to be good-natured and generally tolerant of being mocked or wronged. On the rare occasions where he is actually angry with someone (usually in regards to one of his friends being hurt), he will not hesitate to step up and confront others. Mike also seems to favor Glee over football, as seen when the coach ordered the players to choose between the two, he chose Glee. Mike comes to love the club so much, that he becomes visibly emotional at the prospect of the club being disbanded at the end of Season One.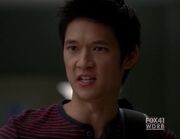 In Season Two, it is further shown that Mike cares a lot for his friends in Glee Club and will go to great lengths to help them out. In Furt, he and Artie (who despite briefly competing for Tina seem to be friends) confront Karofsky about his treatment of Kurt. Mike and Artie both appear to be very upset and angry about the bullying. In The Sue Sylvester Shuffle, he joins the other Glee Club boys in confronting the rest of the football team for slushing Artie. Aside from being a somewhat talented football player, Mike loves to dance, his style being pop-and-lock. While his capacity in singing seems to be sub-par from his performance in Sing! (which was exaggerated), he more than makes up for it in his spectacular dancing performances. His skill is so good, he is asked to choreograph the final number in Sectionals along with Matt, Santana, and Brittany. He also even appeared in a sickness induced dream that Will had, during which they together performed the song Make 'Em Laugh, where they both performed amazing dancing feats, flips and physical comedy. During Special Education, Mike and Brittany collaborated to create yet another piece of stunning choreography for their second time at Sectionals, this time relying heavily on acrobatic flips and aerial spins. He performs several of Michael Jackson's most iconic dance moves during a rendition of P.Y.T (Pretty Young Thing) Mike is also shown to be a good student and rather knowledgeable in trivia, shown through his participation in the school's academic decathlon club. He exhibits pride in being a Brainiac and is indignant when the rest of the Glee Club complains about having to work hard against adversity yet fails to support his team's endeavors at a recent competition. This is one of the few times where his emotions have actually moved him to voice out loud his anger and frustration (other notable moments being the confrontation with Karofsky in Furt and reprimanding Rachel in Audition).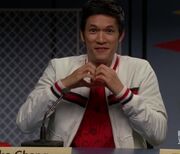 It is revealed in Journey that prior to joining Glee, Mike never allowed himself to dance outside of his bedroom for fear of being made fun of, revealing he was afraid of not fitting in. Mike also appears to have a low self-confidence about his singing voice, as shown in Duets, not knowing if he could sing or not and thinking he was only good at one thing: dance. After his duet project, Mike says that he is more confident in his singing voice and his social skills, thus volunteering for the role of Dr. Frank-N-Furter in The Rocky Horror Glee Show. This growth seems to be evident when he can be heard singing a song properly in Furt. The musical number performed, Marry You, had him harmonizing with Tina during the first few lines in the chorus, proving that he is indeed capable of singing.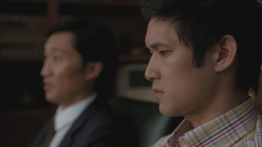 In Asian F it is revealed that Mike is pressured by his father to get all A's so that he can get into Harvard University, and that his father doesn't know that Mike loves to dance. It is shown that Mike is conflicted between appeasing his father and following his dreams of becoming a dancer.
Relationships
Main article: Mike-Tina Relationship (Tike)
In
Season Two
,
Tina
breaks up with
Artie
and starts to go out with Mike. They developed feelings for one another over the summer, when they were both counselors at Asian Camp in charge of teaching tech-savvy Asian kids about the arts. During one flashback, they kiss in front of a group of kids, and one of them snaps a picture. Tina is shown to have become enamored by Mike's amazing abs during his dance routines in Asian Camp. After shrugging off Jacob Ben Israel's notions about their romantic relationship as "racist," they are seen holding hands.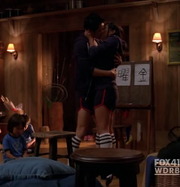 In Season Three, their relationship is still going strong, Tina admits losing her virginity to Mike, but it isn't clear if he lost his virginity to her, although Mike has never previously appeared to be in a relationship on the show. This season there is more conflict between Mike and Tina, for instance their small argument in Asian F where Mike comments on Tina's stutter. However they have made up by he end and lovingly embrace after we learn Mike got he part of 'Riff' from West Side Story. Also, in Hold on to Sixteen there is an argument where Tina calls Mike a 'coward' and as it appears Mike resented being called a coward, and Mike walks away leaving an obviously upset Tina as he says, "Maybe my dad was right and we shouldn't be together." This clearly gets to Tina as she reacts by confronting Mike's father Mike Chang Sr. This leads to yet another minor argument, but the couple sort it out when Mike Chang Sr. arrives at the sectionals performance during ABC and then later urges Mike to fulfill his dream and become a professional dancer. Mike Sr. made his decision mainly because of Tina's confrontation. This leaves Mike delighted, but the sudden realization of him being too late to fill dance school applications saddens him. Tina then admits she filled one in for him and this leaves Mike slightly tearful, and then he declares his love for Tina in front of his father, and Mike Chang Sr. gives what looks like his final approval of the couple.
In 
Season Four
, Tina and Mike broke up their relationship over the summer break, but they still agreed to remain friends. However when Mike returned to help with the musical in
The Role You Were Born to Play
, Tina found it extremely awkward and difficult to be around him. After the musical in
Glease
, the two thought that perhaps calling off their relationship was too early to call, and that perhaps they should talk about their future.
Main article: Brittany-Mike Relationship (Bike) In Mash-Up, it appears that Mike and Brittany had a some sort of relationship going on. When Mike decides to choose Glee over football, Brittany runs to give him a hug and is heard saying, "I love you." They also have many background moments and are often paired up together, most likely because of their similar dancing abilities. At one point, they are also thought to be having an affair with each other when they are practicing a routine for Sectionals in Season Two, but this proves to be false, according to Brittany.
Songs
Total = 17
Dance
Season One
Season Two
Season Three
Appearances
Trivia
On the football team, his football number in Season One was #28, but was changed to #22 in Season Two.
Despite being a series regular in Season Four, Mike only had speaking lines in five of his eight appearances throughout the season.
He and Brittany are seen as the best dancers from the original New Directions.
Besides Matt, he is the Season One Member with the least amount of solos and songs in general; he had one solo and seventeen songs in total.
Gallery
Quotes
Main article: Mike's Quotations
Community content is available under
CC-BY-SA
unless otherwise noted.