Molly Helen Shannon, born September 16, 1964, is an American comic actress. She is known for her roles on Saturday Night Live, Superstar, Year of the Dog, and she guested starred on Glee as Brenda Castle in 2010.
Personal life
Shannon was born in Shaker Heights, Ohio to Margaret (Peg) Keating and James F. Shannon.[1] She has two sisters, Mary Beatty and Katie (deceased). Sadly, when Shannon was four she was involved in a car accident that killed her mother, her sister and a cousin.[2] She attended St. Dominic School in Shaker Heights for grade school, and Hawken School in Gates Mills, Ohio. Shannon attended New York University, where she studied drama and graduated from NYU's Tisch School of the Arts in 1987.[3]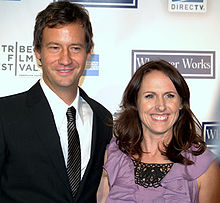 She married Fritz Chesnut, an artist, on May 29, 2004 and they have two children, Stella (born 2003) and Nolan (born 2005).[2][4]
Career
Televison and movie roles
Before Saturday Night Live, Shannon had a struggling career in movies, her most notable being a supporting role as Meg in the 1989 horror film remake of The Phantom of the Opera with Robert Englung. In 1991, she had a brief appearance in the second season of Twin Peaks, and in 1993, she appeared with minor roles in two episodes of In Living Color, the first in a fake TV commercials with Chris Rock (played by Shawn Wayans), and the second in a sketch with Jim Carrey, playing LAPD Sergeant Stacey Koon.
Shannon's major break came in February 1995, when she was hired as a featured player on Saturday Night Live to replace Janeane Garofalo, after Garofalo left mid-season. Shannon was one of the few cast members to be (along with David Spade, Norm Macdonald, Mark McKinney and Tim Meadows when Lorne Michaels engaged in a major cast overhaul between seasons 20 and 21.
She appeared in a 1997 episode of Seinfeld entitled "The Summer of George," where she played Sam, the co-worker who drove Elaine Benes crazy because she did not swing her arms while walking. She also appeared in Sheryl Crow's video for the song "A Change (Will Do You Good)" and played the recurring role of loony neighbor Val Bassett, Grace Adler's nemesis, on Will & Grace, appearing in five episodes over the sitcom's eight-season run. In 1998, she played the role of Emily Sanderson in the film A Night at Roxbury, featuring Will Ferell and Chris Kattan who were also cast members of SNL at the time.
In 1999, Shannon starred in Superstar, a feature film based on her most famous SNL character, Mary Katherine Gallagher, the awkward Catholic school student who aspires to be a musical superstar.
Shannon left SNL in 2001, surpassing Victoria Jackson as the show's longest-serving female cast member (she has since been surpassed by Rachel Dracth, Maya Rudolph, and Amy Poehler). In 2003, she appeared in the romantic comedy My Boss's Daughter and the television remake of The Music Man.
In 2004, she starred in a short-lived Fox network television series Cracking Up with actor Jason Schwartzman. That same year, she guest starred in an episode of Scrubs and starred as Mrs. Baker in the film Good Boy!. In 2006, Shannon was featured in the Sofia Coppola directed movie Marie Antoinette as Aunt Victoire. The next year, Shannon guest starred on ABC's Pushing Daisies and the film Evan Almighty. Shannon also made a rare move to drama, appearing in the critically acclaimed film Year of the Dog in 2007.
Shannon hosted Saturday Night Live on May 12, 2007, making her the second former female cast member to host (after J ulia Louis-Dreyfux) and the first one to have been a cast member for Lorne Michaels (Louis-Dreyfus was a cast member under Dick Ebersol).
In 2008, Shannon starred as Kath in the US version of the hit Australian sitcom Kath & Kim. Also in 2008, she starred in an episode of the comedy series Pushing Daisies and the TV movie More of Me.
After her project on Glee, she returned to Saturday Night Live for a special Mother's Day episode on May 8, 2010, and also the October 2010 reunion special "Women of SNL."
As of Spring, 2012, she has replaced Pauley Perette as the spokesperson for Expedia.com.
Shannon was announced, in April 2015, to star in the HBO series Divorce. She will portray Diane, Frances' (fellow Glee guest star Sarah Jessica Parker) high-strung friend. [5]
She will reprise her role as Gail in the Netflix original eight-episode series Wet Hot American Summer: First Day of Camp and it will air in July 2015. Jayma Mays, Glee recurring star, will also star in it.
Shannon will star in the William H. Macy directed The Layover.
Glee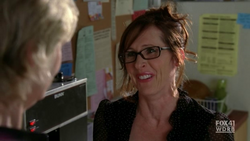 Molly Shannon portrayed the character of Brenda Castle in the episodes Bad Reputation and Dream On.
Castle is the badminton coach and astronomy teacher of William McKinley High School. She is also an alcoholic and a drug addict. Castle has stood up against the main antagonist on Glee, Sue Sylvester multiple times, and has shown interest in Will Schuester.
She was only seen in Season One.
Books
Shannon's first children's book,Tilly the Trickster, was released September 1, 2011.
Broadway
Shannon replaced Katie Finneran in the role of Marge McDougall in the Broadway revival of Promises, Promises on 12 October 2010, and will remain through its closure on 2 January 2011 along with co-stars Sean Hayes and Kristin Chenoweth.
Filmography
Year
Title
Role
Notes
1989
The Phantom of the Opera
Meg (New York)
1991
Twin Peaks
Judy Swain
("Episode #2.12")
1992
In Living Color
Officer Trainee/Various
1992 - 1993 (5 episodes)
1993
General Hospital
Surrogate Mother #2
("Episode dated 1 April 1993")
1994
Sister, Sister
Cashier / Checker
("Out Alone" and "Wedding Bells & Box Boys")
Ellen
Woman
("The Houseguest")
The John Larroquette Show
("Another Average Night")
1995
Saturday Night Live
Various
1995 - 2010 (118 episodes)
Return to Two Moon Junction
Traci
1996
Lawnmower Man 2: Beyond Cyberspace
Homeless Lady
1997
Seinfeld
Sam
("The Summer of George")
The Single Guy
Melody Pugh
("Macho Men")
Dinner and Driving
Arguing Woman in Cafe
1998
Daydream Believer
Susan Bradley
short
The Thin Pink Line
Aanl
A Night at the Roxbury
Emily Sanderson
Happiness
Nancy
1999
Will & Grace
Val Bassett
1999 - 2020 (8 episodes)
Superstar
Mary Katherine Gallagher
My Neighbors the Yamadas
Matsuko Yamada
voice: English version
Never Been Kissed
Anita
Analyze This
Caroline
2000
How the Grinch Stole Christmas
Betty Lou Who
My 5 Wives
Barbara Van Dyke
SNL Fanatic
Anna Nicole Smith
TV short
2001
Shallow Hal
Mrs. Mary Larson
uncredited
Serendipity
Eve
Osmosis Jones
Mrs. Boyd
Saturday Night Live Primetime Extra 1
Elizabeth Taylor
TV short
Wet Hot American Summer
Gail von Kleinenstein
2002
The Santa Clause 2
Tracy
Sex and the City
Lily Martin
("Unoriginal Sin," "Cover Girl," and "The Big Journey")
2003
Good Boy!'m
Mrs. Baker
My Boss's Daughter
Audrey Bennett
Ed
Linda Berringer
("Babysitting")
The Music Man
Mrs. Eulalie Mackechnie Shinn
TV movie
American Splendor
Stage Actor Joyce
2004
The Twelve Days of Christmas Eve
Angie
TV movie
Scrubs
Denise Lemmon
("My Last Chance")
Cracking Up
Lesley Shackleton
2004 - 2006 (8 episodes)
2005
Here Comes Peter Cottontail: The Movie
Jackie Frost
voice and video
American Dad!
Kristy
2005 - 2007 ("Deacon Stan, Jesus Man," "Not Particularly Desperate Housewife," "Meter Made")
2006
Air Buddies
Molly
voice and video
Gray Matters
Carrie
The Amazing Screw-On Head
Patience the Vampire
voice and TV movie
My Gym Partner's a Monkey
Pretties
("I Fear Pretties/The Magic Fish")
Talladega Nights: The Ballad of Ricky Bobby
Mrs. Dennit
LiTTLEMAN
Soccer Mom
Marie Antoinette
Aunt Victoire
2008
Pushing Daisies
Dilly Balsam
("Bitter Sweets")
More of Me
Alice
TV movie
Evan Almighty
Eve Adams
30 Rock
Katherine Catherine
("The Fighting Irish")
Year of the Dog
Peggy
The Mastersons of Manhattan'm
Amanda Masterson
TV movie
2008
Kath & Kim
Kath Day
2008 - 2009 (17 episodes)
Igor
Eva
voice
Snow Buddies
Molly
voice and video
2009
The New Adventures of Old Christine
Jeannie
("It's Beginning to Stink a Lot Like Christmas")
What Goes Up
Penelope Little
2010
Neighbors from Hell
Tina Hellman
(10 episodes)
Glee
Brenda Castle
("Bad Reputation" and "Dream On")
Web Therapy
Kirsten Noble
("Mistress of the Web," "Meet the Press," "Dream Girl")
2011
Up All Night
Nancy
2011 - 2012 ("Hiring and Firing" and "First Birthday")
Bad Teacher
Melody (Garrett's Mom)
The Middle
Janet
2011 - 2013 ("Thanksgiving III" and "The Name")
2012
Partners
Cassandra
Hotel Transylvania
Wanda
voice
Web Therapy
Kirsten Noble
("National Exposure" and "Adaptation")
The Five-Year Engagement
Onion Chef
Casa de mi Padre
Sheila
2013
Hannibal
Kidnapper
("Oeuf")
Trust Me
Janice
Scary MoVie
Heather Darcy
Enlightened
Eileen
(4 episodes)
Happily Divorced
Peggy
("I Object")
Jessie
Col. Beverly Shannon
("G.I. Jessie")
Raising Hope
Maxine
2013 - 14 ("Extreme Howdy's Makeover" and "Thrilla in Natesvilla")
Bob's Burgers
Millie
voice, 2013 - 17 (3 episodes)
2014
Life After Beth
Geenie Slocum
The Spoils of Babylon
Meredith Sennheiser
("The Foundling" and "The Rise of the Empire")
Bambi Cottages
Cathleen Burke
TV Movie
Benched
Judge Conner
("Solitary Refinement")
The Millers
Miss Pam
2014 - 15 ("Con-Troversy" and "Diggin' Up Bones")
2015
The Greens Are Gone
Deborah
Me & Earl & the Dying Girl
Denise Kushner
Fresno
Margaret
Mulaney
Markie
("Worlds Collide")
Wet Hot American Summer: First Day of Camp
Gail von Kleinenstein
(7 episodes)
Larry Gaye: Renegade Male Flight Attendant
Emily McCoy
Hotel Transylvania 2
Wanda
voice
2016
Miles
Pam Waltson
Nerdland
Business Woman
voice
Childrens Hospital
Paula Reilly
("Through the Eyes of a Falcon")
Animals.
Olivia
voice ("Cats")
Other People
Joanne
Divorce
Diane
2016 - 2019, main role (24 episodes)
2017
Wet Hot American Summer: Ten Years Later
Gail
(3 episodes)
The Layover
Nancy
We Don't Belong Here
Deborah
Life in Pieces
Allie
("Chef Rescue Negotiator Necklace")
Fun Mom Dinner
Jamie
The Little Hours
Sister Maria
2018
Spy Kids: Mission Critical
Murna
voice (7 episodes)
Hotel Transylvania 3: Summer Vacation
Wanda
voice
Wild Nights with Emily
Adult Emily
Half Magic
Mistress Valesca
Private Life
Cynthia Grimes
2019
The Other Two
Pat Dubek
(6 episodes)
Jay and Silent Bob Reboot
SouthBest Airlines Lady
Sextuplets
Linda
2020
Horse Girl
Joan
Promising Young Woman
Mrs. Fisher
Gallery
References
Community content is available under
CC-BY-SA
unless otherwise noted.