This article is about the episode. You may be looking for the EP or the Season Two episode New York.
New New York is the fourteenth episode of Glee's fifth season and the hundred and second episode overall. It premiered on April 1, 2014.
Blaine, Sam and Artie move to New York after graduation, and all struggle to adapt to life in the Big Apple. Kurt and Blaine find that living in such close proximity to each other causes unwanted friction between them, and Elliott is forced to step in. Artie is once again taken advantage of due to his disability, and Sam is lacking in motivation, much to Blaine's frustration. Meanwhile, Rachel happily benefits from her major role in Funny Girl, but learns an important lesson in the process. An unexpected arrival draws them all back together.
The episode was written by Ryan Murphy and directed by Sanaa Hamri.
Plot
This episode opens a few months after graduation. Rachel has returned to New York after spending time on the road performing in Funny Girl. The producer, Sidney, thanks Rachel for her hard work with the gift of a town car and her own driver. Rachel is shocked but pleased with the gesture. Rachel takes the town car to meet her friends for lunch, singing Petula Clark's Downtown. While Rachel enjoys her luxurious ride downtown, Kurt, Blaine, Artie, and Sam also make their way to meet Rachel on foot or taking the subway, also singing Downtown. Rachel offers to buy her friends lunch, because they have all been so supportive during the out of town run of Funny Girl. Blaine and Kurt ride along with Rachel in the town car while Artie and Sam have to take the subway because Artie's wheelchair won't fit in the car.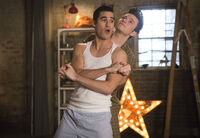 The next day, Blaine makes a pancake breakfast for Kurt. They talk about how their relationship has changed, mostly for the better, now that they are living together. Kurt jokes that they are turning into an "old married couple"; though Blaine disagrees and starts singing You Make Me Feel So Young and Kurt joins in. Several scenes are shown of Kurt and Blaine's live-in life together; having a pillow fight, their morning routine and bringing groceries home. As Kurt and Blaine are about to have an intimate moment, Sam (who has been sleeping on the couch) interrupts them, much to Kurt's annoyance. Kurt asks Blaine to have a talk with Sam since he was only supposed to be staying in the loft for a few weeks - which turned into months. Blaine, as Sam's best friend, agrees to address the issue. Meanwhile, Artie is rolling down the streets of NY, reflecting on his move to the city and how it was hard adjusting at first but now he feels that being in a chair in a city where everyone walks has been an advantage. Artie reveals that although taxi cabs must take wheelchairs and the buses are all accessible, he prefers to take the subway because of the exposure to the culture, or as Artie calls it, "The city beneath the city". Unfortunately, as Artie is reflecting on all this, one of the subway passengers steals the backpack off of his wheelchair, containing his laptop and a script he is working on. Artie attempts to catch up with the mugger, but is unable to reach him before he gets to the stairs.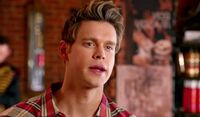 Later, Blaine comes home to find Sam playing video games. Apparently he has not moved all day from his position on the couch. Blaine, making good on his promise to Kurt, tells Sam he is worried about him and encourages him to make some changes to improve his chances of getting a modeling job. Sam tells Blaine that his agent's assistant has made the suggestion several times that he cut his hair, but he doesn't want to. He reveals that he doesn't like NY very much, because it is crowded and everyone is "rude". Blaine encourages Sam to face his fears and embrace change. He takes Sam to Times Square and they sing Best Day of My Life and dance with several street performers. Sam seems to enjoy himself, and after the performance Blaine declares that it is time for Sam to conquer the city. Later, Kurt is in a mime class at NYADA. Blaine has also joined the class unbeknownst to Kurt and it becomes evident that he is starting to feel crowded by Blaine.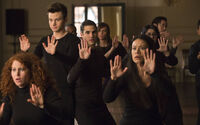 Meanwhile, Sam, reinvigorated after his talk with Blaine, decides that it is time for a change after all and cuts his hair. The haircut seems to give Sam a boost of confidence. Back at the loft, Artie is on the phone with police regarding his stolen laptop, but the police are apparently unable to do much. Kurt comforts Artie, but is distracted by Blaine, who is loudly using his SodaStream machine. Rachel joins the group and asks Blaine to make her some lemon water, since it is good for her throat. She tells Artie that despite his experience, he shouldn't give up on the subway. Rachel tries to comfort him by telling him about a time when she had accidentally given a homeless man $10 when she had only meant to give him $1.00, but Artie doesn't think the comparison between the two situations is appropriate. He accuses Rachel of being too pampered, referring to her town car. Kurt, fed up with both Blaine and Rachel, leaves the apartment.
Kurt meets Elliott at a guitar shop and confides in him some of his frustrations. Elliott advises Kurt to be honest with Blaine and set some boundaries, as having some "alone time" is a healthy thing. Kurt seems grateful for the advice, and he and Elliott perform Rockstar. Meanwhile, Rachel is in her town car reflecting on what Artie had said about her being sheltered. She decides that she doesn't like being "glassed away from the masses" and has her driver drop her off in Chinatown.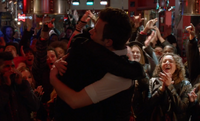 At the loft, Blaine is taping off areas of the apartment to set up a workspace. He reveals that he doesn't quite feel at home at the loft, since it was originally Kurt and Rachel's apartment, and he is craving his own space. Sam comes home and tells Blaine that with the help of his new haircut, he has landed his first modeling job. He reveals that he will be moving out since the modeling agency is putting him in an apartment. Blaine seems sad that Sam will be moving out but is also happy for him and they share a congratulatory hug. Kurt comes home and is immediately furious at Blaine for rearranging things in the apartment without consulting him first. He calls the workspace "hideous," referring to the loft as his home, rather than a space they are both sharing. Blaine retaliates by pointing out that not all of Kurt's design decisions are brilliant. Kurt says that Elliott was correct about their needing boundaries in the relationship, which makes Blaine angry. Kurt demands that Blaine put everything he moved back in its proper place, but Blaine tells Kurt to do it since it's "his apartment". Blaine leaves and goes to Elliott's loft. He accuses him of trying to "steal" Kurt away from him. Elliott remains level headed and reassures Blaine that he is not after Kurt and only thinks of him as a friend. He also says that Kurt is clearly in love with Blaine as he talks about him all the time. Blaine apologizes and comes to realize that some boundaries in a relationship is healthy.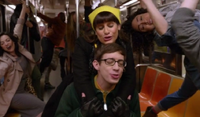 Rachel asks Artie via text to meet her at the subway. Rachel tells Artie that he was right about her being sheltered and suggests that they take the subway together. Artie is hesitant at first, but ultimately agrees. Rachel strikes a deal with Artie and they decide to ride the subway together every day so Artie won't get mugged again as long as he will keep Rachel in line when she starts to lose her way. They sing Don't Sleep in the Subway together. Several people join in with them and dance along. Meanwhile, Sam moves into his new apartment and discovers that his new roommate, who turns out to be a girl, is also named Sam. Blaine comes home after confronting Elliott and seems apologetic over the situation. He tells Kurt that Elliott is a good friend. Kurt says that Elliott is one of the few real friends he has made since moving to NY. Blaine says he didn't come home right away because he needed some time to think and Kurt says he has also been doing the same. Blaine tells Kurt that he thinks he should move out so they can take a step back to evaluate the situation. Kurt initially fears that the move will be a step back in their relationship, but Blaine assures Kurt that making the decision together will actually make them stronger. Meanwhile, Sam becomes alarmed when he discovers his roommate is a pill popper and decides to move out.
Back at the loft, Artie and Rachel come home and tell Sam, Blaine and Kurt that they saw the mugger who stole Artie's laptop on the subway. Artie tells the group that he intercepted the mugger from stealing from an old lady with pepper spray, which was a vindicating experience for him. Everyone is excited for Artie, especially when he reveals that he was able to get his laptop back. Blaine and Kurt share the news that Blaine will be moving out of the loft, but reassure everyone that they are not breaking up. Blaine and Sam decide to get an apartment together. Mercedes arrives at the loft unexpectedly and Rachel jokes with her that she can never leave.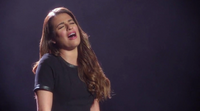 Kurt, Blaine and Sam help Mercedes move into her new apartment. Mercedes reveals that she decided to come to NY to work on her new album. She also invites Sam and Blaine to rent out her second bedroom, but warns Sam that nothing romantic can happen between them, much to Sam's disappointment. Rachel leaves for a Funny Girl rehearsal, where she performs People while reflecting on living in NY with her friends. Several scenes are shown of Mercedes and Sam settling into the new apartment, Kurt and Blaine enjoying some much needed alone time, and Artie finally being able to ride the subway without fear. The episode ends with Rachel, Blaine, Kurt, Sam, Artie, and Mercedes enjoying a dinner together.
Songs
New New York, an EP accompanying the episode, was released April 1, 2014.
Glitter Rock Vampire, an original song sung by Blaine Anderson and Elliott Gilbert.
Guest Cast
Guest Stars
Nicholas Kadi as Alain Marceau
Riley Voelkel as Sam
Charles Melton as Gavin
Co-Stars
Genson Blimline as Man on Crutches
Ric Stoneback as Angry New Yorker
Manos Gavras as Dmitri
Uncredited
Aiden Arrows as Guitar store clerk
Marc Sarfati as New York resident
Will Sherrod as NYADA student
Absent Cast Members
Trivia
The episode received a 0.9 rating and was watched by 2.59 million viewers. Source
This is the first episode of the series to not have any scenes in McKinley High School.

It's also the first to take place exclusively in New York.

This is the first episode in which Marley, Ryder, and Jake are absent since their introduction and the second without Tina.
The episode never tells viewers at what time it takes place, however characters refer to the time as, "months later," referring to after graduation, which took place in May/June. However, judging by the clothing of the characters, it could be around October or November. 
Artie, Blaine, Rachel, and Sam all have a voiceover in this episode, making this episode the one with the largest number of voiceovers in it.

Kurt is the only main character present in the episode not to have a voiceover.

This is the second episode ever where all the main characters present in the episode (only 5) sing a song, the first being The Power of Madonna.
In the scene where Kurt and Blaine are making out before Sam arriving, Kurt is wearing the same checked vest he wore in a couple of scenes of The Purple Piano Project.
Starting with this episode, every subsequent episode had an digital EP released for it.
This is the last episode to feature Elliott Gilbert.
Both Lea Michele's dad (Marc Sarfati), and Chris Colfer's current boyfriend (Will Sherrod) appear in this episode, but are uncredited.
This is the first episode since A Katy or A Gaga to not feature Will singing in any capacity.
Errors
Before singing Rockstar, Elliott refers to the band that wrote it as A Great New World rather than A Great Big World.
Quotes
"

I don't know why they call it Times Square, I don't see any clocks.

"
"

I may not be a cool, steampunk, glitter rock vampire with tats and guyliner, but you know what? I love Kurt. I love him. He's my fiance, not yours, so back off!

"
"

I will bite your wax lips off.

"

—Mercedes to Sam
"

You can't just sit around waiting for a good things in life to come to you. You need to kick down some doors and make them happen.

"

—Sam Evans
Gallery