Over the Rainbow by Judy Garland (Israel Kamakawiwoʻole version) is featured in Journey, the twenty-second and final episode of Season One. It is sung by Will with Puck.
Will performs this song as a thank-you towards New Directions after their performance of To Sir, with Love, which was sung especially for him. It was announced that they get another year to perform as New Directions before Will starts singing with Puck, celebrating this joyful news. It is originally by Judy Garland for the movie The Wizard of Oz, though the Israel Kamakawiwoʻole version is covered. Over The Rainbow is included in Glee: The Music, Journey to Regionals. In this scene, we see Shelby adopting Beth in the hospital. It is the final song performed in Season One.
Lyrics
Will with Puck:
Ooooo hoooooo hoooooo...

Will:
Somewhere over the rainbow
Way up high
There's a land that I dreamed of
Once in a lullaby... (Puck: lullaby...)

Will with Puck:
Somewhere over the rainbow

Will:
Skies are blue
And the dreams that you dare to dream
Really do come true... (Puck: come true)
Oh, Someday I'll wish upon a star
And wake up where the clouds are
Far behind me...

Will with Puck:
Where troubles melt like lemon drops
High above the chimney tops
That's where you'll find me...

Will:
Oh, somewhere over the rainbow
Bluebirds fly
Birds fly over the rainbow
Why, then, oh, why can't I...? (Puck: I...?)
Trivia
Matthew Morrison also covered this song in a duet with Gwyneth Paltrow on his debut album, as well as in many of his solo performances (with backing singer Kiley Dean) and with Leona Lewis as a special one-off performance during one of her London concerts on her 2010 Labyrinth tour.
The song was also performed long before the airing of the episode during the 2010 Easter Egg Roll at the White House and during the May 28, 2010 performance of the Glee Live tour at Radio City Music Hall in New York
This was the song Matthew Morrison sang during his audition for Glee.
Gallery
Videos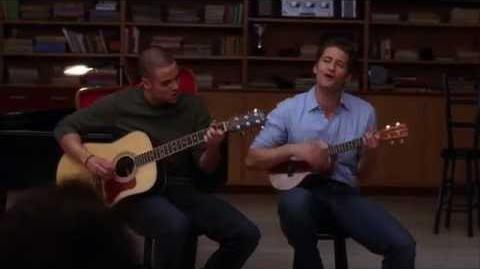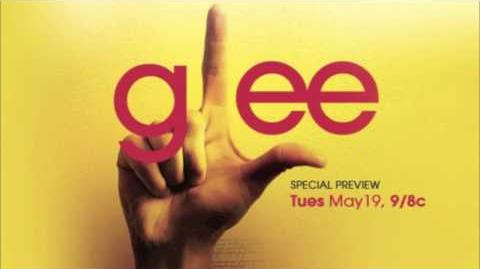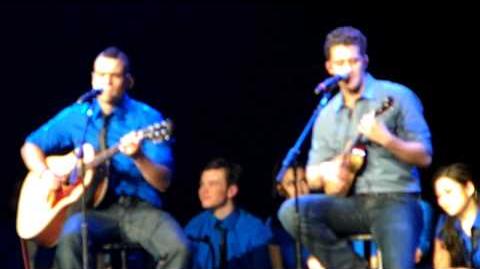 Community content is available under
CC-BY-SA
unless otherwise noted.