Piano Man by Billy Joel is featured in Dream On, the nineteenth episode of Season One. It is sung by Bryan and Will. Will takes Bryan for a drink, and the two sing this song as Will wants to remind Bryan how much he loved the arts. Afterwards they agree to audition for Les Misérables together.
Bryan first sung this song as a solo while competing as a member of The Singsations at Sectionals in 1992.
Lyrics
Will:
It's nine o' clock on a Saturday
The regular crowd shuffles in
There's an old man sitting next to me
Making love to his tonic and gin (Hahaha)

Bryan:
He said, "Son can you play me a memory
I'm not really sure how it goes
But it's sad and it's sweet and I knew it complete
When I wore a younger man's clothes."

Bryan and Will:
La la la de de da
La la de de da da dum
Sing us a song you're the piano man
Sing us a song tonight
Well, we're all in the mood for a melody
And you got us feeling all right
Trivia
Gallery
Videos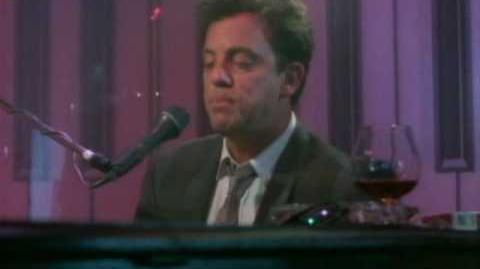 Community content is available under
CC-BY-SA
unless otherwise noted.